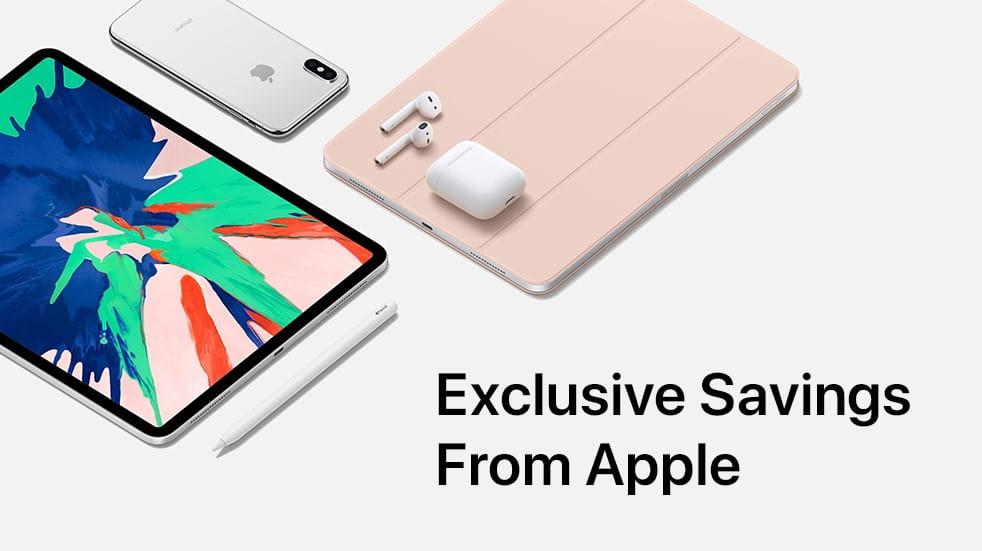 Members can save 10% on Logitech's Circle 2 Wired Security Camera Whether you're at home, on holiday, or simply next door, keep your house secure with Logitech's Circle 2 Wired Security Camera. Get notified of any unexpected household activity in real-time directly to your smartphone or tablet.
Features include unlimited live streaming, night vision, motion filtering, two-way audio, recorded footage and more.
Enjoy no-fuss and easy set-up in minutes.
Apple discounts for Boundless members
Boundless members can now enjoy great discounts on their favourite Apple products. Choose from a range of cutting-edge products and services from this ground-breaking company and receive discounts you wouldn't normally find on the high street.
With great savings on Apple iPhones, Apple Watches, Macs, iPads, iPods, AirPods (2nd generation), accessories and software, you can enjoy the latest Apple technology whilst saving the pennies.
---
Your benefits with Apple1
Save 10% on Apple accessories, including Beats Headphones
Save 2% on iPhone
Save 2% on iPad + free engraving
Save 6% on MacBook Air and MacBook Pro
Save 6% on iMac, Mac Pro and Mac mini
Save 10% on selected third-party products and software (incl. GoPro, HP Printers, Osmo and Philips Hue)
Save 6% on HomePod, smart keyboard for iPad Pro, Apple Pencil and Pencil Case
Save 5% on iPod + free engraving
Save 2% on Apple TV and Apple TV 4K
Save 2% on iPad + free engraving
Take advantage of the exclusive, free personal set-up session, in-store pick up and Today at Apple sessions
1Current discount exclusions:
Apple Watch Hermes, Apple Watch Edition, Apple Watch Studio, iPad Air, HomePod mini, AppleCare+, iPhone 12, iPhone 12 mini, iPhone 12 Pro & iPhone 12 Pro Max
You can also enjoy Apple TV+ for a year2 when you purchase a new iPhone, iPad, iPod touch, Mac or Apple TV, with access for up to six people.3
2£4.99/month after free trial. One subscription per Family Sharing group.
3One subscription per Family Sharing group. Plan automatically renews until cancelled.
Trade-in
Get up to £400 towards a new iPhone.
With Apple Trade-in, you can get credit towards a new iPhone when you trade in an eligible smart-phone. It's good for you and the planet.
https://www.apple.com/uk/shop/trade-in
Finance options available.
Current exclusions:
AppleCare+
AirPods Pro
Apple Watch Hermes
Apple Watch Edition
Please login for some examples of Boundless member savings
Join Boundless for only £ per year to take advantage of this Apple discount offer
---
Some example Boundless member savings:
MacBook Pro 16-inch - £2,254.80, saving £144.20 off RRP
Beats Studio3 Wireless Over Ear Headphones - £270, saving £29.95 off RRP
iPod touch 128GB - £284.40, saving £14.60 off RRP
iPad Pro 12.9-inch, 1TB storage, Wi-Fi + Cellular - £1635.60, saving £33.40 off RRP
iPhone 11 Pro 5.8-inch display, 512GB storage - £1371.60, saving £27.40 off RRP
Login and click the "Find out more" link on this page to access the Apple Online Store for Boundless.
After your order for a new Apple iPhone, iPad, Mac or Apple Watch ships, you'll receive an invitation to schedule your one-on-one online session. Apple will help you get the most out of your new device, tailor your session around what you want to explore and get answers to any questions you may have. This is free of charge and available exclusively from Apple.
Pick it up at an Apple Store
You can choose to pick up most items at an Apple Store — usually within an hour. If you'd like someone else to pick up your order, enter their name and contact details when you place the order.
If you want to learn even more about Apple products, why not book a free session on the Today at Apple Program. Sessions are free, and you can book as many as you need. To book a class, click here to find your local store and find out more about Today at Apple below.
Today at Apple
Today at Apple is an in-store programme running around the world, including Photo Walks and Kids Hour at all 495 Apple stores. From Getting Started with Coding to How To: Sketch, Draw and Paint with iPad, stores collectively host 4,000 sessions a day, including some with very special guests. These sessions are great for teachers and educators who can make the most of this using their Boundless memberships.
Your individual employee annual allowance is:
3 x iPhone
3 x iPad
3 x Mac
3 x Apple Watch
10 x iPod
Unlimited software & accessories
Your annual allowance includes purchases for family members.
Full Terms & Conditions can be found online.
Please note: prices shown on the Boundless website by CSMA's Apple Store include your Boundless by CSMA discount.
When calling Apple remember to request EPP discount.