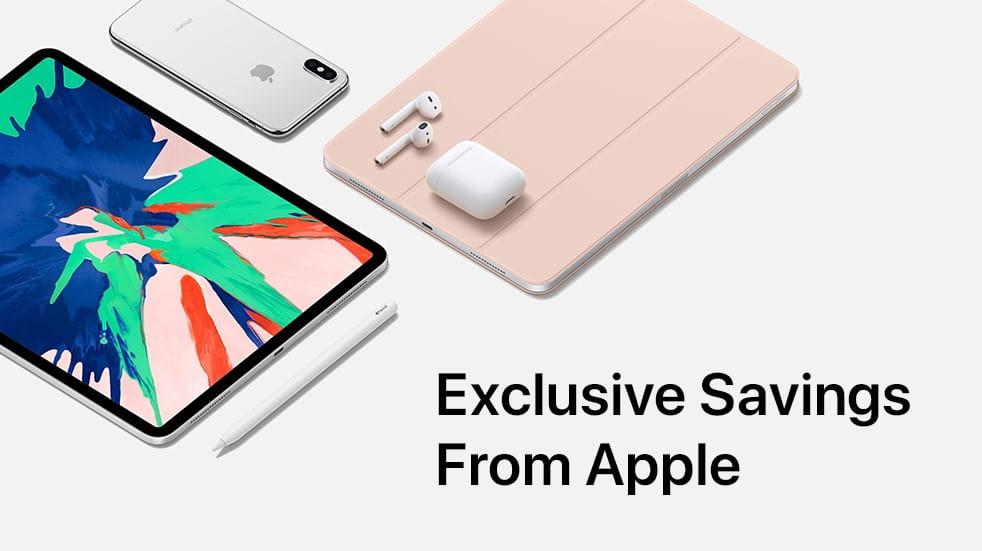 Boundless members can now enjoy great Apple discounts! Choose from a range of cutting-edge products and services from this ground-breaking company and receive discounts you wouldn't normally find on the high street.
With savings on iPad, iPhone, Apple Watch, iPod, Mac, accessories, software and technical support, you can enjoy the latest Apple technology whilst saving the pennies!
These offers are available to any Boundless members but work particularly well for NHS staff, MOD, military and teachers looking to save money on excellent Apple products that help with day to day tasks, measurement and entertainment.
---
Your benefits with Apple
Up to 6% savings on a range of Apple Technology
Save 10% on Apple Accessories, including Beats Headphones
Save 2% on iPad and iPhone
Save 6% on NEW MacBook Air and NEW MacBook Pro
Save 6% on iMac, Mac Pro and Mac Mini
Save 10% off select 3rd party products & software (inc GoPro, HP Printers, OSMO & Philips Hue)
Save 6% off HomePod, Smart Keyboard for iPad Pro, Apple Pencil & Pencil case
Save 5% off iPod + free engraving
Save 2% off Apple TV & Apple TV 4K
Save 2% off iPad + free engraving
Take advantage of the Concierge, Pick Up and Today at Apple services
Please login for some examples of Boundless member savings
Join Boundless for only £27 per year to take advantage of this Apple discount offer
---
Some example Boundless member savings:
Mac pro 8 core dual GPU - £3,664.80, saving £234.20 off RRP
Macbook pro 15" - £2,536, saving £162.20 off RRP
Beats studio 3 headphones - £270, saving of £29.95 off RRP
Ipod touch 128 gb - £284.05, saving £14.60 off RRP
Ipad pro 12.9" 1tb wifi and cellular- £1831.20, saving £37.80 off RRP
Iphone XS 6.5" display 512gb - £1419.60, saving £29.40 off RRP
When ordering online a new iPhone, iPad or Apple Watch you will receive an invitation via email (after shipment).
You can then select a suitable time for your session when an Apple representative will call you back and share a web link with you where you can see on screen the relevant product.
They will then either guide you through set up (if you want) or will use the time to show you different functions that you want to learn more about. These sessions are free of charge.
Pick it up at an Apple Store
You can choose to pick up most items at an Apple Store — usually within an hour. If you'd like someone else to pick up your order, just let us know. We can even help set up your new Apple products before you leave.
Once in-store, the Apple team will be happy to help with any set up or just general advice about your new product. Let them know what you want to learn about, they are always happy to talk you through the functionality and recommend suitable apps etc.
If you want to learn even more about Apple products, why not book a free session on the "Today at Apple" Program…
"Today at Apple"
"Today at Apple" is an in-store programme running around the world, including Photo Walks and Kids Hour at all 495 Apple stores. From Getting Started with Coding to How To: Sketch, Draw and Paint with iPad, stores collectively hosted 4,000 sessions a day, including some with very special guests. These sessions are great for teachers and educators who can make the most of this using their Boundless memberships.
Today at Apple sessions are completely free and you can book as many classes as you like. To book a class click here to Find your local store.
Join Boundless to access this and many more deals, discounts and offers from lifestyle, finance and travel brands.
Discount only applied to selected products. Discounts subject to availability.
In order to ensure you receive your discount on Apple products, click on the relevant product image from the Apple homepage.
Please note: prices shown on the Boundless by CSMA's Apple Store include your Boundless by CSMA discount.
While we always keep our saving messages as up to date as possible, Apple discounting is subject to change without notice, so please refer to their website to check the saving you receive.
Do not use the grey menu bar at the top of the Apple page as this will navigate you away from the discounted products.
Please note you will be redirected to the Boundless by CSMA's Apple Store. The T&Cs state that you will need to be a current employee or contractor but your status as a Boundless by CSMA member is acceptable for you to accept these.