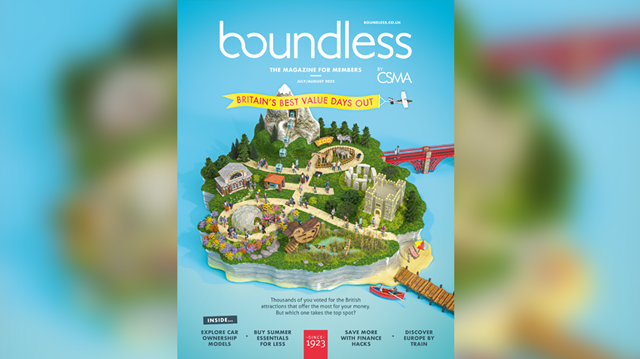 I love a bargain. It's a wonderful feeling when you receive great value for money, get more than you expected, or – even better – are gifted something completely free of charge. At a time when costs seem to be surging beyond all expectation, enjoying a great experience or product in exchange for less than you'd anticipated can be quite the thrill.
I'm sure I'm not alone in feeling this way, so almost everything you see in this issue has been written with value in mind, helping you find ways to save during these costly times. From cheap summer essentials and modestly priced European train travel to a thrifty but fulfilling hobby and the different ways you can 'buy' a new car, we've got you covered.
Sticking with this theme, on page 39 you'll find Britain's Best Value Days Out, a specially created guide to some of the finest attractions the UK has to offer without breaking the bank. Compiled by experts, but voted on by members, this feature has been months in the making – by you, and for you – so we hope you find it enjoyable and useful.
And if, like me, you enjoy a freebie now and again, you'll be pleased to hear there's not one but two free Boundless hospitality events taking place this summer. The first is at the Bristol International Balloon Fiesta from 11–14 August and the second at Eastbourne Airbourne from 18–21 August, where you can enjoy a complementary hot drink and discounted bar refreshments in the Boundless member-exclusive VIP area.
We hope to see you there.
HEATHER GLANVILLE, ASSOCIATION CHAIR
Login and enjoy the read!