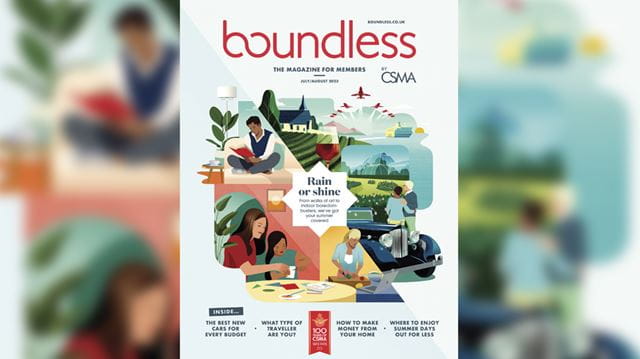 Summertime – and the livin' is easy', as the classic Gershwin number has it, crooned by everyone from Ella Fitzgerald to Lana Del Rey. But while it's always a pleasure to embrace the warmth and more leisurely days of summer, few would say that living was easy in 2023. Many of us are keeping a beady eye on our household costs, getting out and about but also tightening those purse strings where we can.
Our holidays and free time are incredibly important to us – survey after survey shows that even in tough economic periods, family breaks are a priority. So, we're delighted to be able to help Boundless members save money on more good times this issue. Take, for example, the idyllic foodie break in northern France you'll find described on page 54 – your Boundless travel discounts can help to make it even more affordable. Those of you who enjoy a good walk will find plenty of inspiration in our round-up of art trails, most of which are free (page 47). And we've got a whole host of great ideas to help keep the kids entertained over the summer without breaking the bank (page 61).
In May we introduced a new Boundless partner, tastecard, which includes Coffee Club too, and gives members big discounts on meals out and coffees at thousands of restaurants and cafés. Venues include Zizzi, Caffè Nero, Carluccio's and lots of local independent restaurants, all easily searchable on the tastecard app. On average, tastecard saves members nearly £400 a year – you can find out more about it on page 30.
This issue we're also looking at the most affordable new cars on the market. You can still buy a cracking car for under £15k – particularly when you factor in the remarkable savings (often thousands of pounds) available through our partner Griffin. If you're interested in a new set of wheels, do check out the offers at boundless.co.uk/griffin. Enjoy your summertime.
HEATHER GLANVILLE, ASSOCIATION CHAIR
Login and enjoy the read!