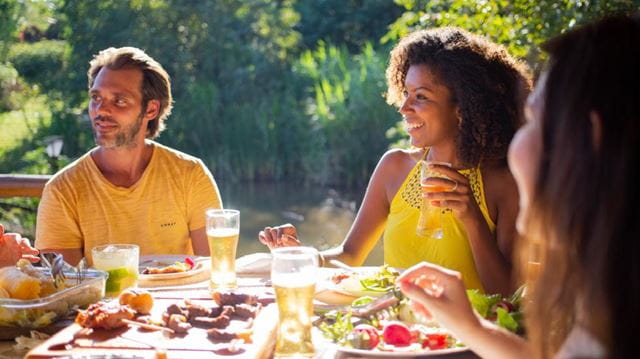 If you don't fancy going away this summer, or aren't able to book a getaway due to high demand, you can still make the most of the warmer months.
There are lots of simple things you can do at home – or close to your home – that will give you and your family a summer to remember. Here, we bring you a selection of ideas to inspire you, from making your own ice cream to gazing at the stars...
---
1. Pick your own fruit and veg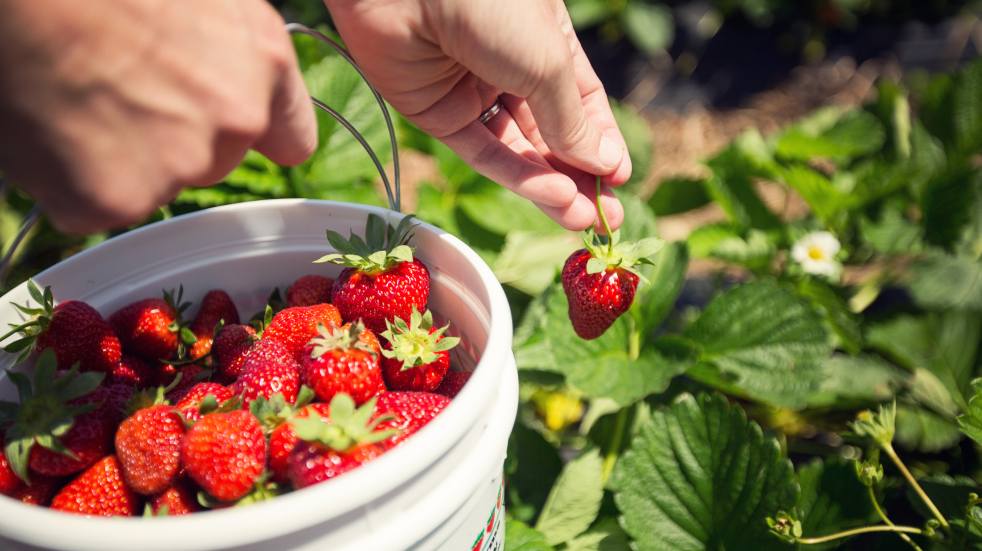 Fresh air, a gentle stroll and a bounty of strawberries – an afternoon at a 'pick your own' farm is a summertime joy. A harvest of strawberries, raspberries and redcurrants, beans and peas will now be ready – with plums, apples, pears and sweetcorn ripening later in summer. Meanwhile, there's usually a well-stocked farm shop with local honey and muddy potatoes. Find your nearest grower.
---
2. Watch an outdoor film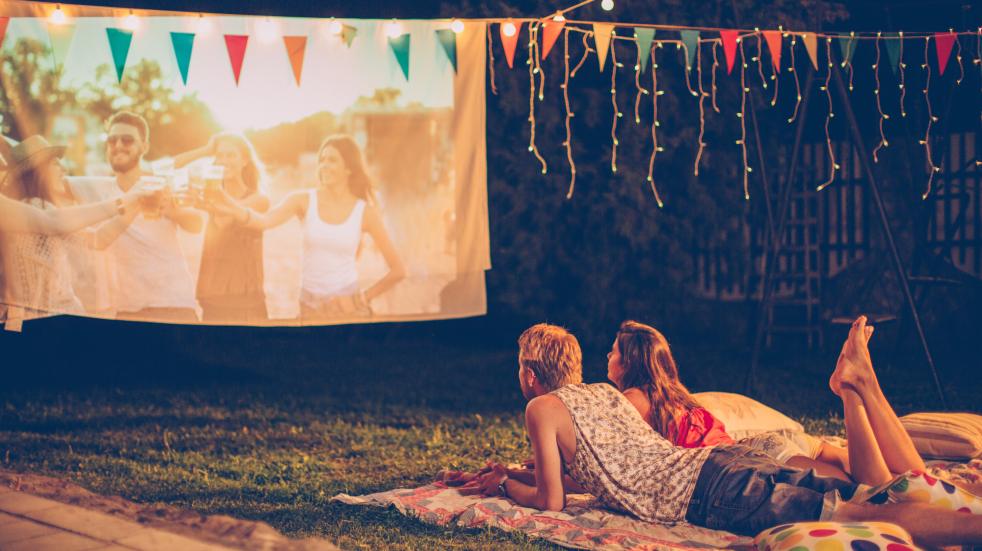 This is set to be the summer of outdoor cinema, with screenings scheduled all over the country, featuring new blockbusters, old classics and everything in between. Adventure Cinema has over 100 locations to choose from, The Luna Cinema hosts open-air and drive-in screenings, while Summer Nights specialises in screenings at beautiful heritage properties.
You could even create your own event with a projector and screen in the garden – if you don't want to buy the equipment, you can hire it – search online for 'outdoor cinema hire'.
---
3. Picnic like a pro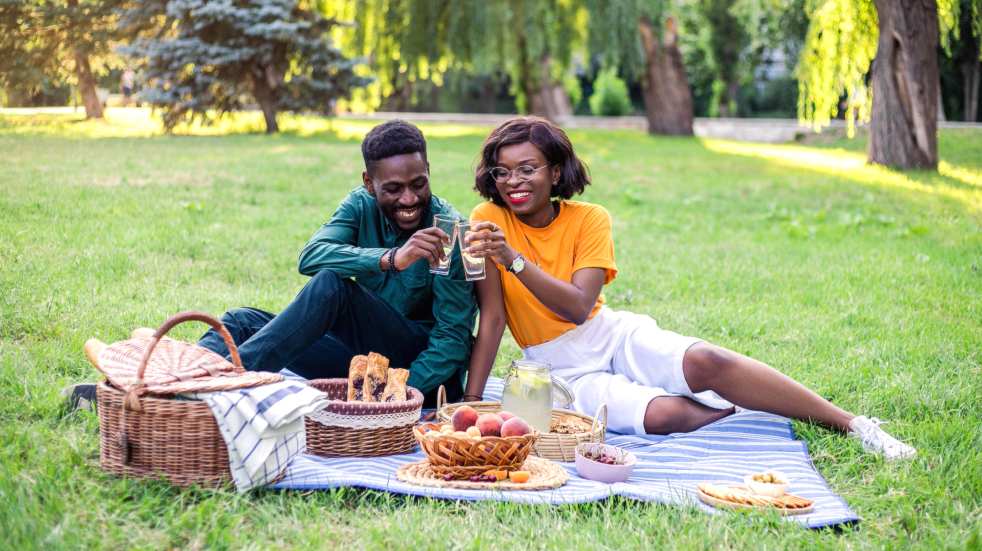 Lockdown led to some canny innovations in picnic kit design, with more of us dining outdoors than ever before – so now is the time to upgrade your gear. Firstly, your containers: from spill-proof vinaigrette bottles to boxes with pull-out compartments for nibbles and tapas, Sistema has excellent on-the-go storage (available from Tesco, Lakeland and others).
Meanwhile, Partner In Wine's insulated bottles (£35) and tumblers (£20) will keep your Sauvignon chilled for up to 24 hours. Sitting on a picnic blanket sounds idyllic, but it can sometimes trigger miserable back pain – so consider instead a Strongback Guru camping chair (£59, Amazon). With good lumbar support and armrests, it weighs just 4.7kg and folds up compactly.
If you're on foot, a VonShef Backpack will come in handy: these are packed with utensils, including a cheese knife and pepper shaker, yet are lightweight and comfortable to wear (from £34.99, VonHaus).
---
4. Make your own ice cream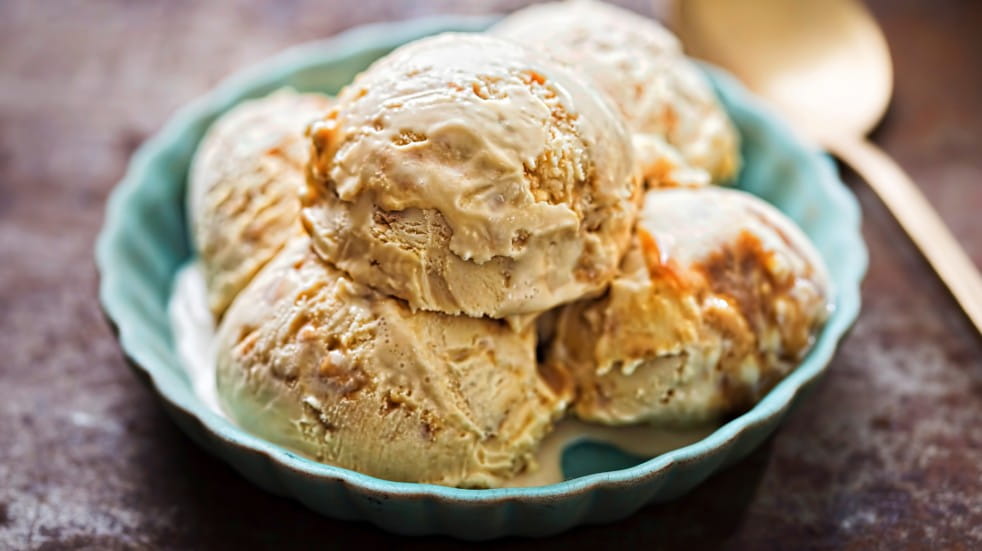 You don't need an ice-cream maker to create a soft, decadent scoop – just one magic ingredient: condensed milk. "Its high sugar content prevents the formation of ice crystals, resulting in a very creamy texture with no churn required," explains Richard Horsford, who teaches the Ice Cream Class at The Avenue Cookery School (£70). "Also, use whipped cream to aerate the mixture – this will make it light and fluffy."
Try it for yourself with Richard's simple recipe:
Honeycomb Ice Cream
(Serves six)
Ingredients
150g caster sugar
2 tbsp golden syrup
1 tsp bicarbonate of soda
300ml double cream
130g condensed milk
Method
1. Melt the sugar and syrup in a pan and simmer for three minutes or until it turns golden. It should be the colour of a Crunchie bar.
2. Remove from the heat and stir in the bicarbonate of soda with a metal spoon. Stop stirring, and let the mixture grow in volume in the pan. Pour it out onto a sheet of baking parchment and leave to set.
3. Whip the cream to form soft peaks, then add the condensed milk. Continue to beat until soft peaks form again.
4. Once the honeycomb is cold, break it up into small pieces and fold into the creamy mixture.
5. Pour into a container with a lid and freeze.
6. Remove from the freezer 20 minutes before serving.
---
5. Mix up a new cocktail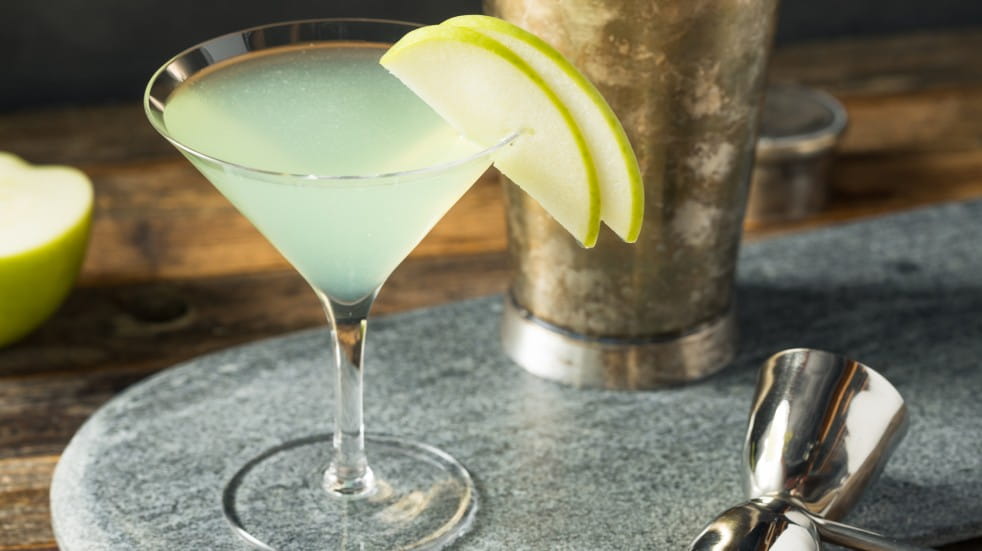 To make the perfect cocktail, you must have flavours that complement each other – but ones that surprise you, too." So says Salvatore Calabrese, celebrated mixologist and former President of the UK Bartenders' Guild. For summer, a splash of coconut syrup or yuzu purée (a Japanese fruit) are ideal for livening up your mojito or mimosa, respectively – both are available from Drink Stuff.
Here, Salvatore shares his recipe for Love Me Do, an alcohol-free cocktail he created for the Donovan Bar in Brown's Hotel, Mayfair. The jasmine green tea is very refreshing – and if you should slip in a dash of dry gin, we won't tell a soul...
Love Me Do
(Serves one)
Ingredients
25ml alcohol-free spirit (e.g. Strykk Not G*n, £18.99, Strykk)
50ml apple juice
15ml elderflower cordial
5ml lemon juice
75ml jasmine green tea, cooled
1 apple slice
Method
1. Pour all of the ingredients into a cocktail shaker with ice, shake well for 10 seconds.
2. Strain the liquid in a highball glass and add ice.
3. Garnish with a slice of apple.
---
6. Stargaze from your garden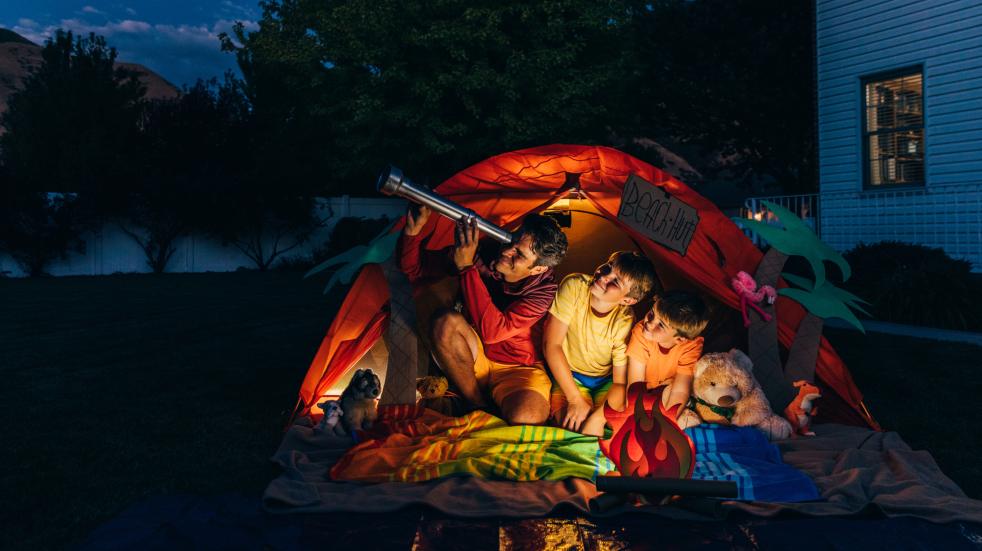 Even if you live in a city, you can still stargaze at home – you just need a few tricks to avoid light pollution. "Go outside and let your eyes adjust to the dark for 20 minutes," advises Megan Eaves, delegate for the International Dark-Sky Association and founder of Dark Sky London. "Turn off all the lights you can, and shield your eyes from any others using a wall, a tree or your hand." Soon, the stars will seem clearer and brighter.
A stargazing app will reveal their names and credentials: "SkyView Lite (free on Apple and Android devices) identifies exactly what you're looking at, simply by holding your phone up to the sky. My Moon Phase Lunar Calendar (free) notifies you when the moon is full, and ISS Detector (free) tells you when the International Space Station will be passing overhead."
If you don't have a telescope, a simple pair of binoculars will suffice, coupled with a tripod or rest to avoid the effects of hand- shake. "It's amazing what you can see with them," says Megan. "I've even spotted the moons of Jupiter through mine."
---
7. Give geocaching a go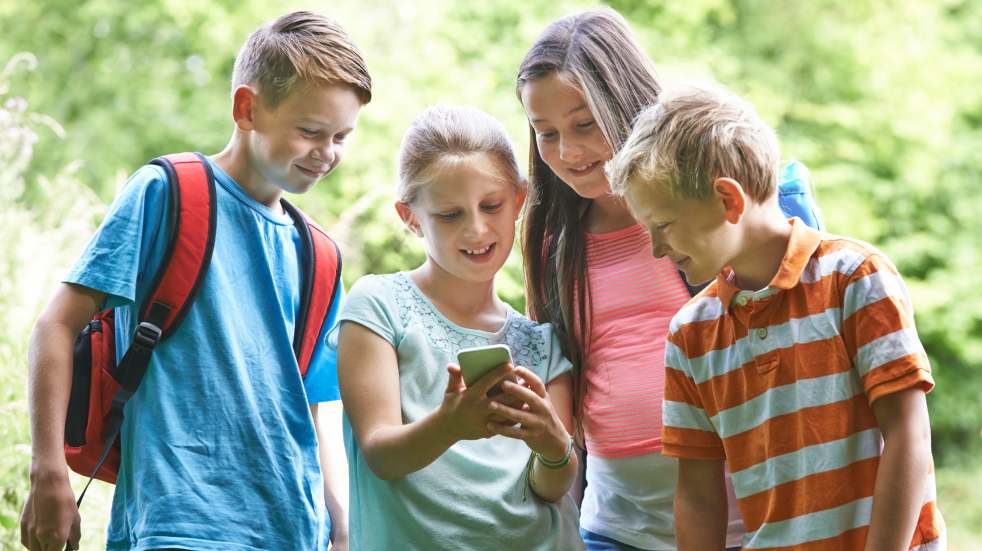 Perhaps you've heard of geocaching, but dismissed it as 'for the kids'? Think again: this outdoor pursuit is surprisingly engaging, and can transform a humble ramble into a treasure hunt. Simply download the free Geocaching app on a smartphone and follow the GPS coordinates to locate 'geocaches': small waterproof containers, often with a logbook inside. Sign your name to prove you've been there, then place everything back where you found it, for the next person to discover. You could compete with a friend to see who can find the most.
The concept is rooted in the Victorian era, when 'letterboxing' hikers hid postcards on Dartmoor. Today, there are hundreds of them.
---
8. Master the BBQ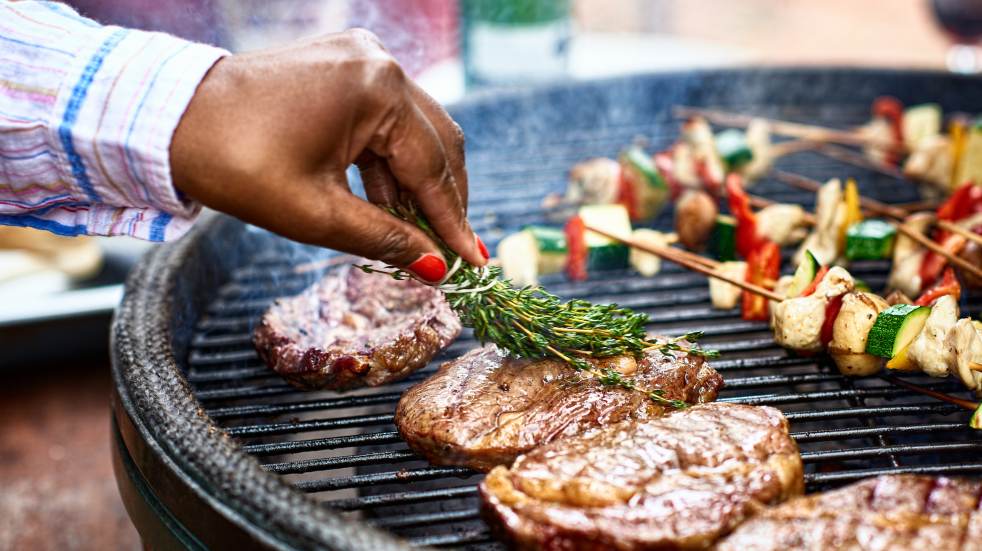 Instead of the same old sausages, try poshing up a burger with a delicious topping or grilling something extra-special, like a tomahawk steak or fresh langoustines. And to make your technique sizzle too, Marcus Bawdon, founder of the UK BBQ School, has this advice:
1. Use smoking woods to add flavour – a small fist-sized chunk of a wood such as cherry, apple or oak will work wonders. Add it to the coals or near your gas burners and let it gently smoulder.
2. Use your barbecue lid – it's not just there to keep the rain off. It turns your grill into an outdoor oven.

3. Use a thermometer – an instant-read Thermapen (from £39.99, Thermapen) will ensure your meat is thoroughly cooked, and give precision when grilling steaks. For medium-rare, you'll want an internal temperature of 55°C.
---
9. Follow an art trail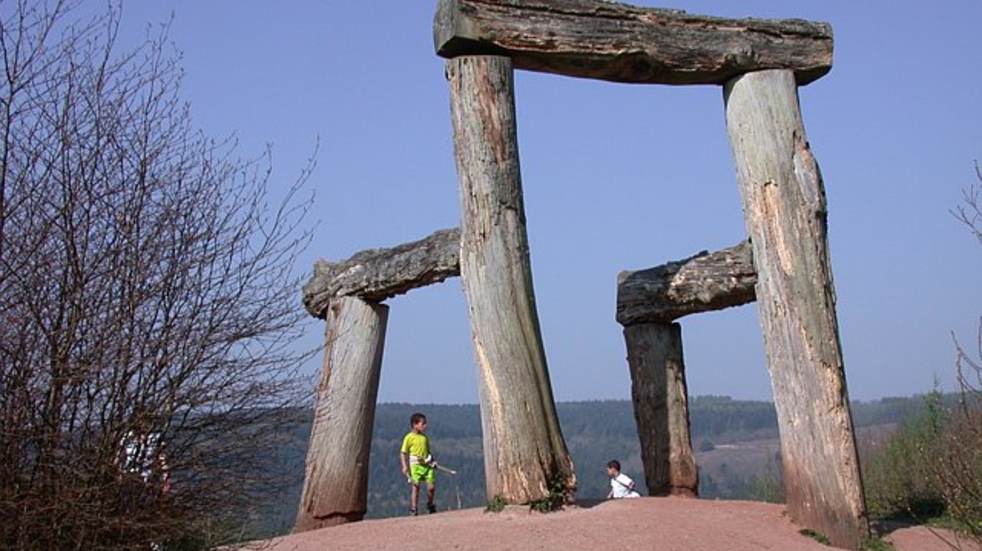 Photo: Eric Soons / Wikimedia Commons
Galleries are open again, but if you don't fancy brushing shoulders with strangers – or can't get a ticket – seek out some outdoor artworks instead. You can bring your own picnic to all of these venues:
Yorkshire Sculpture Park, Wakefield
This magnificent collection includes pieces by Barbara Hepworth and Ai Weiwei amid tranquil woodlands and meadows. Adult tickets £6, under 18s free.
Forest of Dean Sculpture Trail, Gloucestershire
This route is glorious in summer, with a giant stained-glass window suspended high in the tree canopy. Free.
Henry Moore Studios & Gardens, Hertfordshire
Surrounded by fruit trees and blossoming borders, Moore's giant bronze pieces catch the light beautifully. Adult tickets £6.35.
National Botanic Garden of Wales, Carmarthenshire
Discover water features and hand- carved sculptures in local stone, displayed among native Welsh plants. Adults £12.50.
---
10. Capture it all on canvas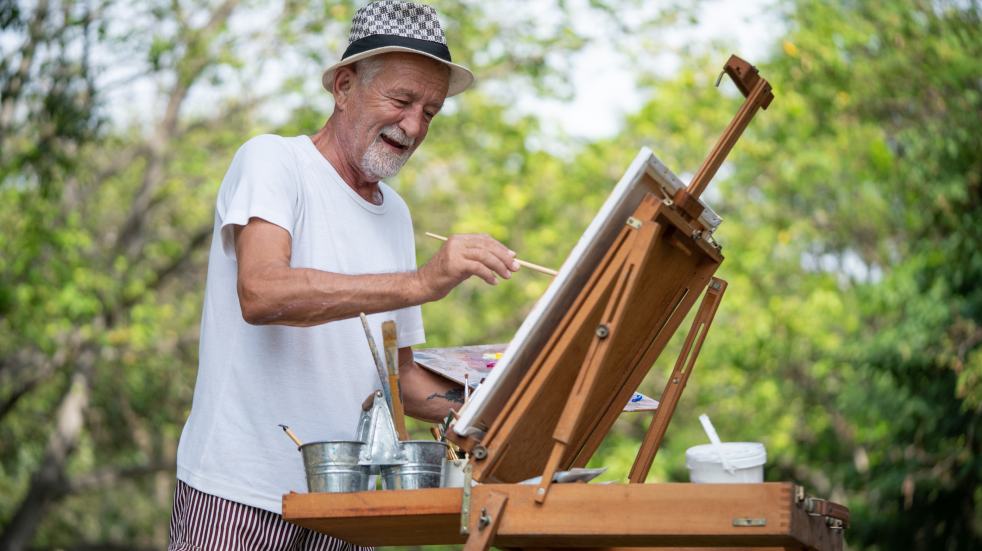 From Monet's Poppy Field to Hockney's A Bigger Splash, summertime is a generous muse indeed – so why not try your hand, too? Watercolour is a very versatile medium, and ideal for painting outdoors. Richard Fox, art tutor at the WI's Denman College, explains: "When you choose your subject – be it the coast, a meadow, or a view of your garden – try to ensure it has clear shapes and obvious contrasts of colours.
Watercolours love to be layered over each other, but they can get muddy: to avoid this, wait for each one to dry before painting the next. "You'll want two water pots: one for washing your brush, the other to be kept clean for painting. It helps to have an easel, but this isn't essential – a drawing board or garden table is also ideal.
You'll require good-quality watercolour paper (pre-stretched, to stop it buckling), clean tissue paper and a few brushes: Winsor and Newton offers a fine selection, as well as inexpensive boxes of paints."
---
Do more with Boundless
Save 20%* on a classic afternoon tea for two, delivered to your door
Indulge in an afternoon tea from Piglets Pantry. Jam-packed with traditional favourites and delivered straight to your door, it's perfect for a group celebration or just a luxury afternoon treat with a loved one. To find out more, click here.
Save 50% on a case of 12 luxury wines
Restock your wine rack ready for your next summer gathering. These carefully selected award-winning wines come from independent winemakers around the world and will be delivered straight to your door at no extra charge. To find out more, click here.
Photos: Getty Images, unless otherwise stated