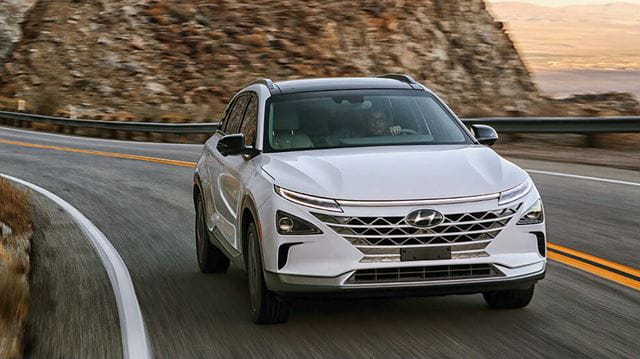 Our motoring expert, Paul Horrell from Top Gear, reviews six of the best new vehicles for fuel economy, speed, emissions and handling.
Fuel cell car: Hyundai Nexo
Here's the next thing for the prosperous low-carbon early adopter in you. It's a fuel-cell electric vehicle. Elevator pitch: hydrogen and pure oxygen gases are pumped into the fuel-cell 'stack'. Out comes electric current to drive the motor, and pure water as the only exhaust.
Fuel cells aren't new and long-term, hydrogen has potential. You can fill the car up in about five minutes, unlike the long waits with battery cars. If the hydrogen comes from renewable sources (electrolysing water, mainly) it's zero-carbon too. Although a fuel cell isn't as efficient as using that same electricity in a pure battery vehicle, when the electricity is generated remotely – solar from Africa or the Middle East, say – it could be a solution, as bulk transport of hydrogen is more feasible than long-distance electricity transmission.
The fuel cell demands clean oxygen, so there's rigorous onboard filtration. The result is that the Nexo purifies our polluted streets as it drives.
Now, the Nexo itself. It doesn't feel at all space-age. It's just a regular and very refined mid-size crossover. The loudest noise is a distant wooshing of the compressors and gas valves. The interior has consciously avant-garde styling but all the switches are easy to find and everything works as you'd expect. There's no learning curve. Comfort is excellent, and it has a full five-star NCAP rating.
The electric motor isn't anywhere near as powerful as other full-electric SUVs, including the similarly priced Jaguar I-Pace. But it keeps up with traffic, and it accelerates in a superbly smooth surge.
One huge 'but' remains. There are currently just 12 hydrogen filling stations in the UK, in four regional clusters. The Nexo's range is rated at 414 miles WLTP, well beyond battery vehicles' reach. But even so, the paucity of stations is a deal-breaker unless you live near one.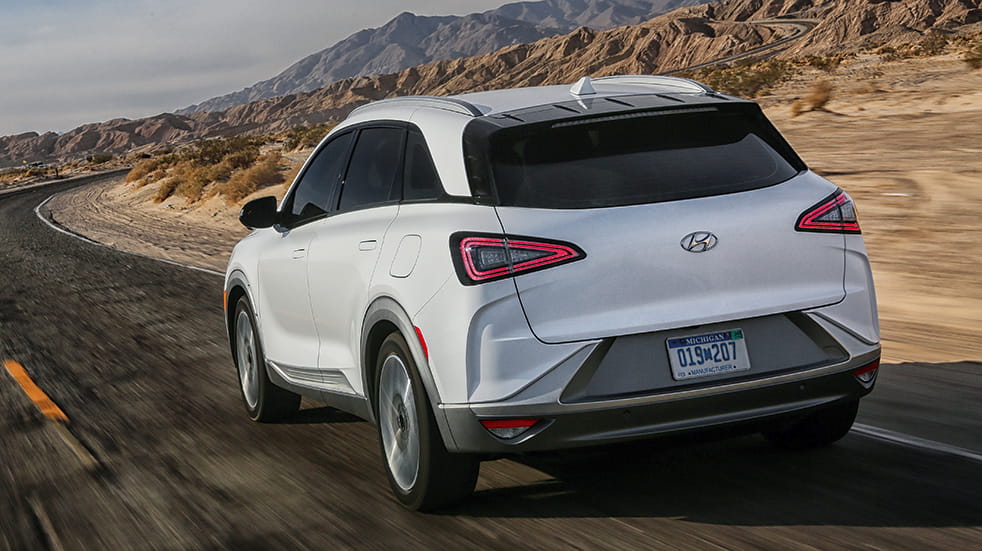 The spec: Hyundai Nexo
Engine: Hydrogen fuel-cell stack with hybrid battery FWD, single-speed transmission
Power & torque: 163hp, 395Nm
0-62mph: 9.5 seconds
Top speed: 111mph
Fuel economy: 65miles per kg hydrogen; range 414 miles (WLTP)
CO2 emissions: zero
Price: £65,995 after grant
---
Read more of our car reviews:
The best new cars for spring 2019
Why you should choose a new car
The essential six new cars for 2019
---
Crossover: Ford Focus Active estate
We've already said good things about the Focus, but the Active is an interesting twist. Its raised suspension, modified tyres and anti-slip systems and extended protective panels are ostensibly to tackle unmade tracks – but we all know they're mostly to shrug off urban potholes and parking dings.
It's still front-wheel drive, but so are many small crossovers. If that makes it sound like a half-hearted off-roader, well yes. But it also swerves many drawbacks that saddle those things. It's not too heavy, there's little fuel economy penalty, and it steers pretty much as well as the regular Focus while giving a notably more supple ride on bumpy roads. The estate version swallows loads of stuff, too.

The spec: Ford Focus Active X Estate
Engine: 1497cc 3cyl petrol, FWD, 6-spd manual or 8-spd auto
Power & torque: 150hp, 240Nm
0-62mph: 9.3 seconds
Top speed: 127mph
Fuel economy: 42.2mpg (WLTP)
CO2 emissions: 127g/km
Price: £26,000 (range starts at £21,900)
---
Crossover: Audi Q3
Audi was early into the small posh crossover market. This second-generation Q3 shows it has learned a lot since. It's 10cm longer and much more chiselled than the original. The growth bestows a family-sized rear seat and boot. Full-screen instruments and a central touchscreen modernise the interior, and a fast cellular connection gives you detailed traffic. The graphics look lovely, although clarity sometimes plays second fiddle to aesthetics.
Most models have Audi's quattro all-wheel-drive. You can get up to 230 hp, but really this isn't the sort of car to be driven racily. So unless you tow, keep your engine ambitions in check and explore the tempting menu of options.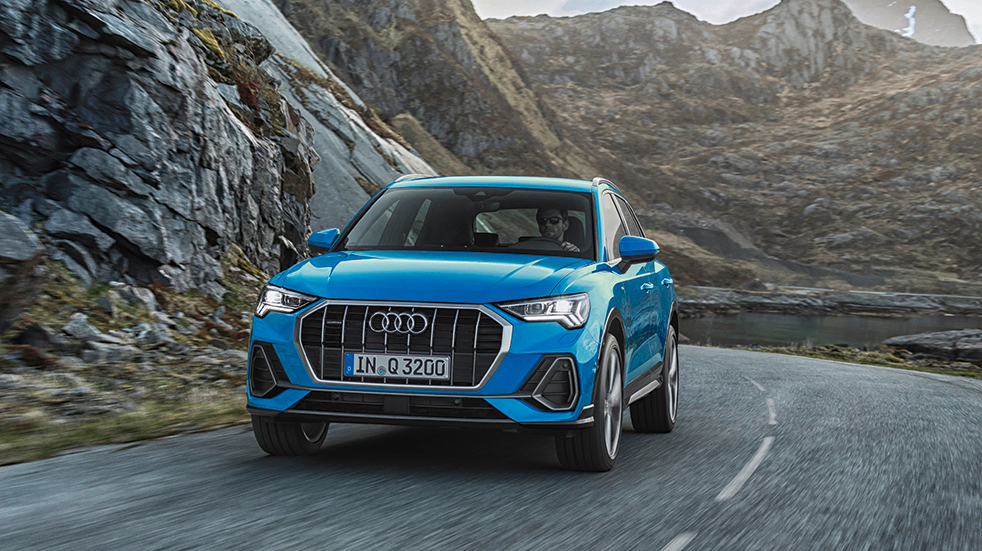 The spec: Audi Q3 35TDi Quattro s line manual
Engine: 1968cc 4cyl diesel, 4WD, 6-spd manual
Power & torque: 150hp, 340Nm
0-62mph: 9.3 seconds
Top speed: 131mph
Fuel economy: 39.2-40.4mpg (WLTP)
CO2 emissions: 149g/km
Price: £35,955 (range starts at £28,505)
---
4x4: Citroën C5 Aircross
Citroën's Picasso range have always been best-selling family MPVs. But now the fashion has turned to crossovers. Trouble is, crossovers mostly have less room inside. The C5 Aircross still has the most practical possible cabin, yet its chunky styling signals you're on-trend.
Instead of a rear bench, there are three seats, each of which individually reclines, slides and folds. So tall kids can get enough legroom, but young ones can slide nearer their parents and free up even more space in the already big boot.
Families generally object to flat-out acceleration and vigorous cornering, so the C5 Aircross doesn't encourage that. Instead it has a pampering suspension, relaxing seats and welcoming decor.

The spec: Citroën C5 Aircross Puretech 180 EAT8 Flair
Engine: 1598cc 4cyl petrol, FWD, 8-spd auto
Power & torque: 181hp, 250Nm
0-62mph: 8.2 seconds
Top speed: 134mph
Fuel economy: 35.2-39.6mpg (WLTP)
CO2 emissions: 131g/km
Price: £28,325 (range starts at £23,225)
---
MPV: Peugeot Rifter
Your eyes don't deceive you; the Rifter is indeed an adapted van. Its five seats are roomy and you can mount three child seats abreast. Behind them is a simply colossal boot. The number of storage bins and hidey-holes around the cabin beggars belief. The top version has twin long glass roof panels, with an aircraft-style console giving overhead lockers and lights. There are seat-back tray tables too (though no lifejackets). If that's not enough, the stretched body option has seven seats.
Vans aren't too brutal any more. On the move, the Rifter's controls are light, its ride reasonably smooth and noise moderate. If space trumps style for you, embrace its origins.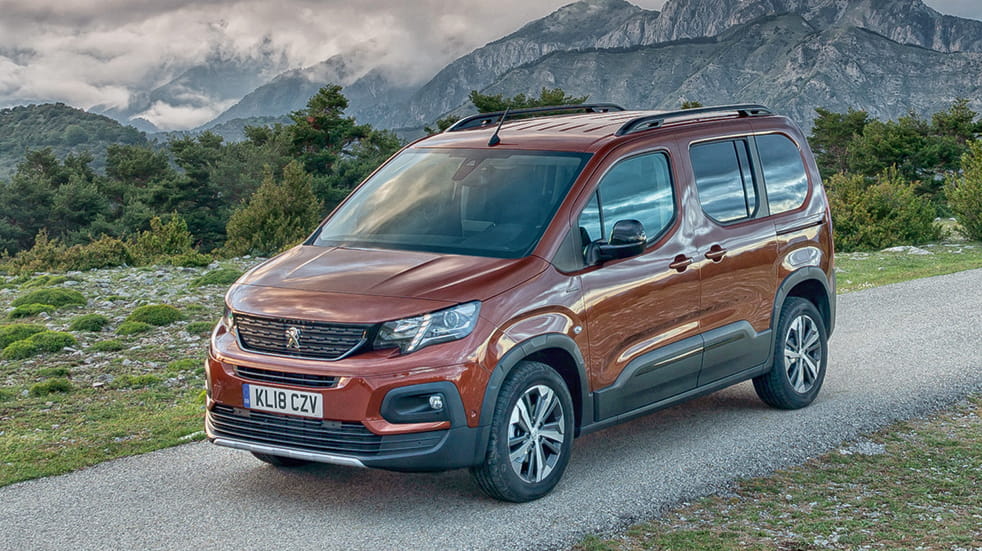 The spec: Peugeot Rifter Blue HDi 100 GT-Line
Engine: 1499cc 4cyl turbo diesel, FWD, 5-spd manual
Power & torque: 101hp, 250Nm
0-62mph: 12.5 seconds
Top speed: 109mph
Fuel economy: 46.1-51.6mpg (WLTP)
CO2 emissions: 112-117g/km
Price: £23,690 (range starts at £20,240)
---
Luxury: Range Rover Evoque
The original Evoque was a trailblazer in individual style among rivals where it's in short supply. It sacrificed space and outward visibility to achieve its chiselled looks. The new one's design is coolly planned down to the ornament-free minimum, but the distance between its wheels has stretched to provide (just) adult-size space in the back. Furniture is richly made, and lots of tech has been added, with a neat twin-screen system for information and control.
To drive, it does a good impression of the solid, refined authority you get in a big Range Rover. But its compact size makes it handy for urban work too, and novel camera-based systems improve the view when manoeuvring.

The spec: Evoque P300 HSE R-Dynamic
Engine: 1998cc 4cyl turbo petrol, 4WD, 9-speed auto
Power & torque: 300hp, 400Nm
0-62mph: 6.6 seconds
Top speed: 150mph
Fuel economy: 28.7-30.3mpg (WLTP)
CO2 emissions: 186g/km
Price: £51,050 (range starts at £31,600)