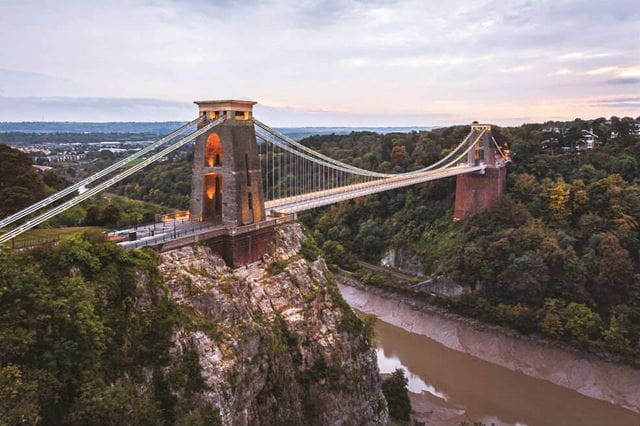 Bristol has undergone a dramatic cultural and artistic regeneration, but its maritime heritage is still evident everywhere you look.
Bristol's glory days as southwest England's most important port may be behind it, but the city has reinvented itself brilliantly, making it a perfect weekend getaway destination. Of course, its situation on the River Avon has always been Bristol's greatest asset: from Norman times, the city flourished as a maritime hub, and its reputation grew as explorers like John Cabot sailed away from its shores for the New World.
Brunel left his mark on the city with the instantly recognisable Clifton Suspension Bridge and former passenger steamship SS Great Britain, both of which are still huge tourist magnets. When Bristol's docks moved downstream decades ago, the city transformed its floating Georgian harbour into a leisure destination, lined with shops, eateries and museums; pleasure boats and historic vessels bobbing out on the water.
Today, visitors to Bristol come for its rich history and the vibrant arts scene, and nowhere are these better combined than at The Old Vic Theatre. The oldest theatre in England continually in operation is celebrating its 250th birthday this year with a grand redevelopment project and an impressive slate of performances.
Bristol from dawn til dusk
The best way to get around the centre is on foot and a great place to start is at Bristol's lively Floating Harbour. Its opening in 1809 meant that ships could remain afloat at all times rather than be subject to tides. These days, the harbour is awash with bars, restaurants, ice-cream parlours and shops, all with a pretty waterside view. Browse the market stalls that line the quay and people-watch as you linger over lunch at one of the many eateries – try Bordeaux Quay , a vast brasserie with outdoor seating, or the Arnolfini café-bar, which serves local beers and ciders. Art lovers may want to pop into the free galleries here, too.
Among the dozens of boats bobbing in the harbour are a few important vessels that highlight the city's maritime past. Climb aboard the Matthew – it's free – a replica of the caravel ship in which John Cabot sailed from Bristol to the New World in 1497, which in 2012 was part of the Queen's Diamond Jubilee Pageant.
Further along the quayside, the imposing sight of Brunel's 1843 revolutionary SS Great Britain looms large. The world's first ocean liner, designed by the pioneering 19th-century engineer, is hugely impressive and you can tour its well-preserved cabins and engine rooms – intrepid souls can even climb the mainmast. For a boat's-eye view of Bristol, hop aboard one of the various vessels offering tours of the harbour.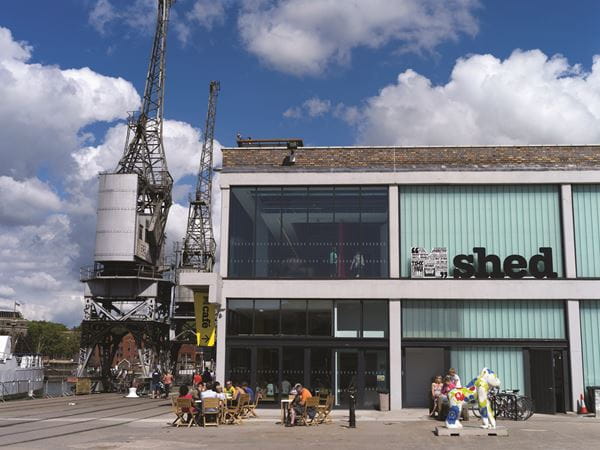 Two waterfront museums are definitely well worth a visit. The vast M Shed building offers an easily digestible tour of Bristol's history and includes a cool collection of historic bikes and motorcycles highlighting the town's history as a cycling hub. Outside, imposing old cargo cranes silhouetted against the sky hark back to its past as a port. Just across Prince Street Bridge is the Arnolfini, a free modern-arts museum featuring ever-changing exhibitions: we caught a touring show of international contemporary art featuring thought-provoking installations and photographs.
Bristol is known for its dynamic art scene – not least because it's the home turf of mischievous graffiti artist Banksy. Head to the artsy Stokes Croft neighbourhood for an outdoor gallery of street art, including some by the maverick artist himself.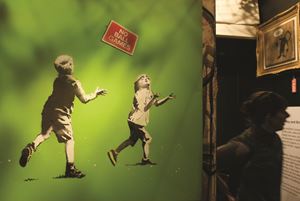 Then make your way to the Old City, Bristol's charming medieval heart. Stroll across Queen Square, a stunning green space lined with Georgian buildings and surrounded by cobbled streets. Nearby, the 273-year-old St Nicholas Markets boasts some of the finest buildings in the city, although its old-fashioned stalls sell very modern wares, from artisan fashion to endless types of food.
An afternoon spent in Clifton Village, a chi-chi corner of the city boasting elegant Georgian and Victorian buildings, is perfect for a bit of retail therapy. Stop at Wainwright's Coffee Shop, then head to Observatory Hill. The criss-crossing paths of this beautiful green space lead to Bristol's most magnificent sight – Brunel's Clifton Suspension Bridge, which spans the Avon Gorge. The view from the park is free, or head to the Clifton Observatory to enjoy a Victorian camera-obscura view of the city.
Bristol night life
Bristol's burgeoning foodie scene is attracting national attention. At Bulrush, proprietor George Livesey earned his stripes working alongside the Roux brothers and other top London chefs, and a local forager is employed to source the wilder produce featured on its modern British menu.
Dishes include salt marsh lamb and miso ice cream. For something simpler, Flour & Ash serves light and crispy sourdough pizza made from locally milled flour and pizza topped with three local Somerset cheeses. An atmospheric alternative can be found at The Glassboat restaurant on the harbour, where fine European cuisine is matched by a lovely waterside view.
The jewel in the crown of Bristol's arts scene is The Old Vic Theatre; a Georgian gem that's been undergoing a major facelift as part of its birthday celebrations. Head here to watch plays starring some of the biggest names in theatre in the Old Vic's Grade-I listed auditorium – it's been spruced up so that theatre-goers can enjoy plays in 21st-century comfort. The main foyer is currently being revamped into a welcoming space and community hub.
Enjoy a drink afterwards in the cosy vaulted cellar of The Beer Emporium – just across the road from the theatre, it offers hundreds of varieties of beer.
Vicki Power stayed at Berkeley Suites, apartments with hotel service. Suites include a special dinner rate at The Berkeley Square Hotel's restaurant, and complimentary use of the Nuffield gym. Visit cliftonhotels.com or phone 0117 925 4000.