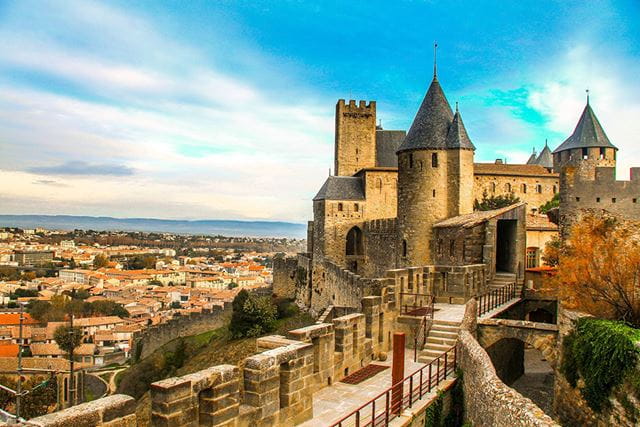 Rachel Roberts enjoys the wild beauty and world-class vineyards of south-eastern France
The magnificent medieval citadel of Carcassonne, in the heart of France's Languedoc-Roussillon region, is the stuff of fairy tales. Perched on a hill, 53 towers – many of them turreted, Disney-style – link a couple of miles of zigzagging ramparts; an architectural reminder of the area's tumultuous past.
Today, the towers don't defend the citadel against marauding enemies or religious minorities like the Cathars, who were thrown out in the 13th-century, but offer the perfect look-out across a region of exceptional beauty.
Covered in low-lying vineyards, scrubby golden gorse bushes, elegant Cypress trees and pale terracotta farmhouses, the landscape has echoes of Tuscany but feels somehow wilder and untamed. Wait until the summer crowds have dispersed and visit in autumn or spring.
Carcassonne
The UNESCO World Heritage Site was first settled 2500 years ago and you can take an engaging journey though its fascinating history in the citadel's stonework museum. Here are gargoyles galore, an entire original arch wall from the 15th century and a collection of original stone cannonballs used to defend the citadel in the middle ages. Then wander through the warren of alleyways and streets, spotting the oldest buildings; with its higgledy-piggledy, wooden-beamed houses and shops, the main square is a beautiful example of medieval architecture.
Canal Du Midi
Built in the 17th century, this network of waterways linked the Mediterranean to the Atlantic and paved the way for the Industrial Revolution. Today, the UNESCO World Heritage Site is mainly used for pleasure – drift down-river on a lazy boat tour towards Narbonne and lap up the magnificent countryside.
Lagrasse
Halfway between Carcassonne and Narbonne, this village has a deserved reputation as being one of France's prettiest. You reach it by crossing over a 12th-century hump-back bridge, adding to the feel that you're stepping back in time. Visit the famous Abbaye Sainte-Marie D'Orbieu, founded by Charlemagne in the eighth century and once one of the most important in the country. You might even catch a glimpse of one of the 34 monks who still live here.
Peyrepertuse and Queribus
Known as the Citadels of the Heights, these castles were strongholds of the Cathars in the middle ages. Seemingly clinging for dear life to the edges of jagged mountain ridges, it's worth the fairly steep walks to visit these remarkably well-preserved castles. At Queribus, pick up an audio guide to listen to a medieval soldier's humorous take on life in the castle, and marvel at the chapel in Peyrepertuse, which is largely intact.
Caveau de Cucugnan
Learn all about local wine production here, in the little village of Cucugnan. The owners are passionate about their wines here, all produced from the vineyards in the surrounding Corbières appellation. Join a winegrower's walk or simply indulge in a tasting session – Le Seigneur de Lagrasse, a light rosé with aromas of red fruit and pink grapefruit, is highly recommended! Stock up if you can, as these wines have yet to reach British stores. Terroirsduvertige.com
---
Places to stay
Auberge du Vigneron
Set in the hillside village of Cucugnan, this inn is the bee's knees. The former wine cellar has been re-imagined and retains all of its original features, including stone walls, fireplaces and timbered rooms, but with a modern twist. Try to get one of the rooms facing the mountains and castles; throw open your shutters in the morning and gaze upon a splendid landscape that feels as if it has been frozen in time. Auberge-vigneron.com
Hotel De La Cité
Despite its location in the middle of the citadel, this hotel has the kind of cocoon effect that can only come from a five-star establishment. Leave the milling throngs of tourists outside (Carcassonne is the second-most visited site after the Eiffel Tower) and soak up the experience. Despite having 60 bedrooms and 13 suites, the hotel retains an intimate feel thanks to the family management team. If it's out of your budget, pop in for a drink to see the series of paintings depicting the citadel through the ages, from the Stone Age to present day. Cite-hotels.com
---
Places to eat
Le Domaine d'Auriac
For a treat, head to this Michelin-starred restaurant set in a five-star hotel, just outside Carcassonne. Owned by the Rigaudis family since the 1960s, the place has a comfortable colonial feel to it, with dark-wood sculptures, shutters and plantation-style grounds. Dishes like sauté of line-fished sole and baby squid ink-flavoured pasta pique the palette, but it's the dessert of hot Grand Marnier soufflé with iced Auriac Cocktail that really blows your socks off. Domaine-d-auriac.com
Brasserie Donjon
Set in the heart of the citadel, and housed in Hotel de La Cité this brasserie makes a great stop-off place for lunch or coffee when you need to rest your weary feet. 'Donjon' may be French for dungeon, but there's nothing depressing about this brasserie. Grab a seat on the terrace if you can, order anything with goats' cheese or a cassoulet (a hearty Languedocian meat stew with white haricot beans) from the well-priced menu and you're on to a winner. Brasserie-donjon.fr