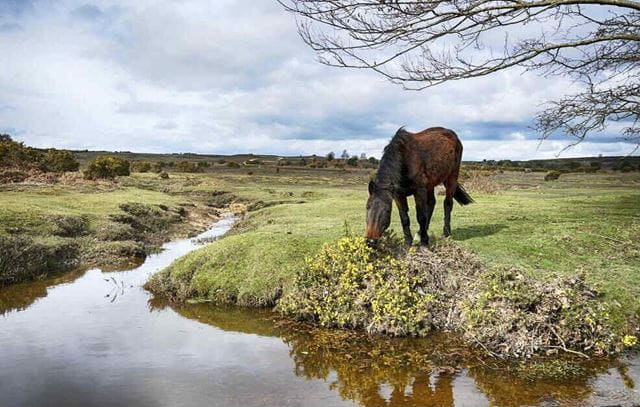 ---
Lewes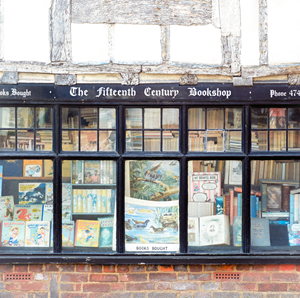 Little of Lewes's anarchic nature – in 2008 it invented its own currency – is on display in a town notable for a pleasing aspect that takes in handsome Regency buildings, shiplapped old cottages and, in Pell's Pool, a beautifully preserved 47m-long Victorian lido surrounded by trees and a lawn. The standout sights though are undoubtedly the Anne of Cleves House Museum, set in a stunning medieval timber house bequeathed to Henry VIII's third wife, and the impressive medieval St Michael's church, decorated with murals by Bloomsbury Set locals Vanessa Bell and Duncan Grant. The pair made their home at Charleston Manor, four miles away in Firle, and a walk to their stunning house and walled garden is a terrific way to experience the beauty of the South Downs.
Eat and drink: On the eastern bank of the River Ouse, the imposing Victorian pile that is Harveys Brewery features a shop selling more than 20 types of own-brewed ale using hops from Sussex, Kent and Surrey. Sample them at the adjacent John Harvey Tavern, or at the town's two best hostelries, the Gardeners Arms and Lewes Arms.
---
Tudeley Church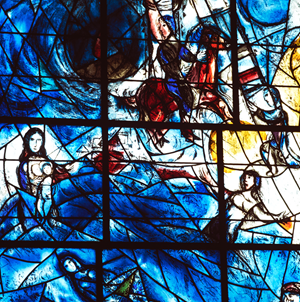 The tiny All Saints' Church in Tudeley, less than three miles from Tonbridge, has the distinction of being the only church in the world whose stained glass windows are all by Marc Chagall, and the contrast between the humble church and the rich European modernism of the artist's swirling blues and golds is unmissable. Chagall's hauntingly beautiful 12 windows were bought about by the tragic death in 1963 of a young modern art lover, Sarah d'Avigdor-Goldsmid, whose parents commissioned the artist to design the large east window as a tribute to their daughter. Arriving at the medieval church in 1967 to install the window, Chagall apparently said 'It's magnificent. I will do them all.' Experiencing his vibrant colours and scenes encompassing traditional Chagall tropes of hope and joy, such as angels, asses, birds and horses here in this very special little church is magical.
Eat & Drink: A ten-minute walk from the church, the Poacher & Partridge is filled with light and space inside and surrounded by lots of terrace seating outside. An eclectic menu ensures something for all tastes and pockets, staff are helpful and friendly, and printed local walks are a nice touch.
---
Ashwell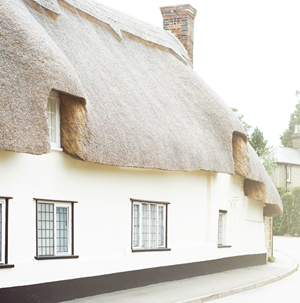 The commuter belt around London has many charming villages, but few of them can boast mummified rats in a mesmerising museum (Ashwell Village Museum), medieval graffiti and a hillfort as part of their attractions. Human habitation can be traced back 4000 years in Ashwell, and Ashwell Springs has been babbling away for more than a millennium. But it's the village itself that's the big draw; the gorgeous buildings here span more than 500 years, from the high street's 14th- and 15th-century Forester Cottages and sweet 16th-century timber-framed homes, to imposing edifices like the Victorian residence the Bury, with a garden designed by Gertrude Jekyll. In among them, local shops tempt you in with homemade produce and locally grown and produced fare; making up a picnic to enjoy on the spring's banks, or in the pretty Ashwell Cottage Garden, makes for a perfect day in the country.
Eat and drink: Rhubarb & Mustard on the high street has a fine range of local produce, including homemade cakes, and a coffee shop with seats inside and out in which to enjoy them. For something with a bit more oomph, the pretty Bushel & Strike offers a range of cask ale from local brewer Charles Wells, a large, attractive garden, and a restaurant serving modern European food in a bright setting.
---
Lavenham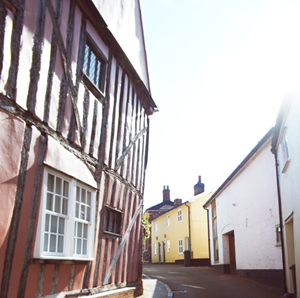 There's probably no spot in Britain more likely to make you think you'd wandered onto the set of a period costume drama than Lavenham. The period in question is medieval, and the village such a perfect evocation of it that it has to be seen to be believed, with 340 of its pretty lime-washed and brightly coloured buildings being listed. It has an equally jaw-dropping history: its market charter came from Henry III in 1257, in 1578 Elizabeth I is said to have visited, Constable studied here, and John Lennon and Yoko Ono took a hot-air balloon from the Market Square. Particularly good if it's raining is the Parish Church of St Peter & St Paul. Looking more like a cathedral, this late-medieval church has some outstanding features, not least a wealth of carving in oak and stone and amazing stained glass windows.
Eat and drink: The Swan Hotel is a great pitstop for a pint or a bite to eat, but you might end up staying way longer than you'd planned, thanks to comfy, fascinating interiors filled with RAF memorabilia, and a wall signed by British and American airmen. For home-style traditional food, the Angel is a real crowd-pleaser, from its décor through to a good range of daily specials.
---
Mersea Island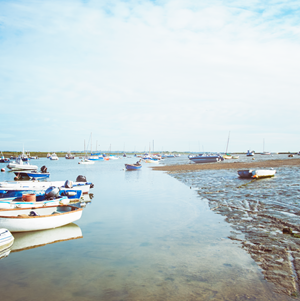 England's most easterly island, nine miles south-east of Colchester, is as surprising as the fact that Mersea really is an island…sometimes. Connected to the Essex mainland by an ancient Roman causeway known as the Strood, the occasional times it's submerged make getting here a real adventure. But once you're safely across, it's a serene and ethereally peaceful spot, offering some great walks along salt marshes once walked by rhinos, Romans and smugglers. Lapped by the gentle waters of a salt creek, the waters here produce oysters so good that, more than 2000 years ago Roman author Pliny the Elder declared them to be 'the only good thing to come out of Britain'. Get a closer look at the ancient beds on a Lady Grace Boat trip, which will take you close to Packing Shed Island, where oysters used to be packed in the 19th-century.
Eat and drink: The Company Shedis an unprepossessing shack on the beach that's been serving Colchester natives and super-fresh seafood for decades. Don't like oysters? At the Island Art Café, run by husband and wife James and Maggie Weaver, you'll find great fry-ups and fantastic cakes, plus a deli next door.
---
New Forest/Brockenhurst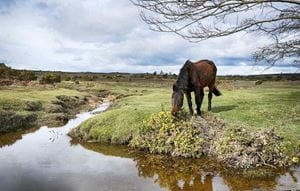 Brockenhurst's main claims to fame are its mention in the Domesday Book and, more recently, being the New Forest's largest village in terms of population, but these two bald facts give no insight into how much of a nature haven it is. Wild ponies wander down Brookley Road, deer can be glimpsed in the woodland, and donkeys graze on the green, while the displays of rhododendrons in the spring are a sight to behold. The village regularly floods when the small stream running through it bursts its banks, and it's not unusual to see cows wandering through the flooded streets, but the stream has its upsides too: just beyond the town's outskirts at the Balmer Lawn Hotel it even borders a small sandy stretch known as Brockenhurst Beach. To explore it all, hire a bike from Country Lanes Bike Hire and enjoy 100 miles of traffic-free cycle paths.
Eat and drink: Setley Ridge Vineyard & Farm Shop is perfect for picking up supplies for a picnic, including local wines. For an excellent meal in a gorgeous forest setting, the rustic Pig is the bee's knees. All food is produced from a combination of veg grown in the Pig's own walled garden and produce sourced within 25 miles of it. And if you overdo it, you can stay overnight.
---
Rochester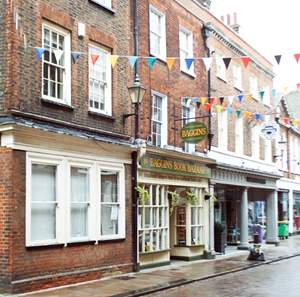 One of the nicest ways to explore this Medway town is to follow the trail of its most famous resident, Charles Dickens, using the leaflet from the Visitor Information Centre on the High Street. This takes in many of the town's key sites – including the 17th-century Guild Hall (now home to an absorbing museum), The Vines (formerly the priory vineyard of Rochester Cathedral), the majestic Cathedral itself (the second-oldest in the country, founded in 604) and, newly refurbished, the Elizabethan Eastgate House and Dickens' Swiss Chalet, where the author worked on some of his most famous novels. Vintage and antique fans will love the High Street's huge range of charity and antique shops, with standouts including the Oxfam Shop (complete with a separate 'music room and gentlemen's closet'), Baggins Book Bazaar, which will have bibliophiles thinking they're in heaven, and Fieldstaff Antiques, a real old-world cornucopia of wonders.
Eat and drink: The late-medieval half-beamed Coopers Arms has one of the prettiest beer gardens in town, and some of the best-kept beers served in it, including a good range of Kent beers and wines to accompany its traditional and extensive food menu.
---
Hythe & Dungeness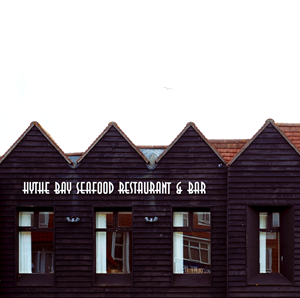 The stretch of south Kent coast from Hythe to Dungeness is one of the most alluring and surreal in England. Along it lie huge concrete 'listening ears', used as early radar devices in World War One, squat Martello towers standing guard along the seafront, old train carriages converted into homes, funfairs that look like 1950s throwbacks, and a vast shingle spit that's classified as Britain's only desert. Hythe, the easiest point to access by rail, is characterised by a tangle of streets filled with antique and vintage shops, as well as oddities like the Ossuary of St Leonard's Church, a church crypt filled with 1000+ skulls and other bones from some 4000 people. Connecting it to Dungeness 13 miles away is the Romney, Hythe & Dymchurch Railway, a 15in gauge railway featuring one-third scale steam and diesel locomotives and open-air carriages. A journey on it sums up this wonderfully strange area.
Eat and drink: The Potting Shed, housed in a converted corner caff, is a bright microbrewery with well-kept local ales, a good range of ciders and wines, and friendly staff. Hythe Bay Seafood Restaurant offers a seafront spot with far-reaching views of the coastline in both directions.
---
Chislehurst Caves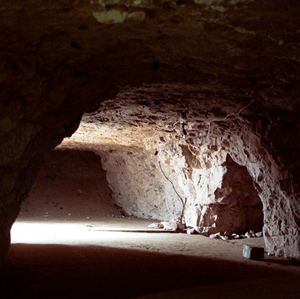 With their lamplit interior and fascinating history, vividly evoked by the occasional tableaux and excellent guides, these 22-miles of tunnels 30 metres under the Kent woodlands above make a wonderful trip out of town, particularly for kids. On a 45-minute tour, you get to learn how Chislehurst Caves were originally dug out to provide the chalk needed in the production of bricks for the building of London, but also how they've since served as a munitions store in the First World War, a site for mushroom-growing in the 1930s, a music venue in the 1960s (when David Bowie and Jimi Hendrix played here), and, in the Second World War, the largest underground air-raid shelter in the country. The caves are unlikely to take up the whole day, but if you're in a car, fill the rest of your time with a visit to Down House, the former home of Charles Darwin and his family.
Eat & Drink: The 18th-century Ramblers Rest, facing a nice patch of rolling green park beyond the cricket ground, is as cute as a button, with wood beams, real ale and good pub food inside and a flagstone terrace with picnic tables outside.
---
Cookham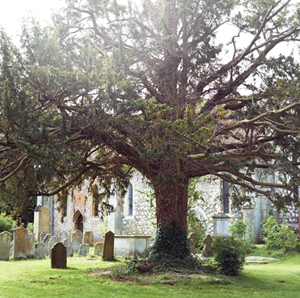 Exploring the scenes that inspired art are always interesting, particularly when it's as pretty a place as the Berkshire village of Cookham, where Sir Stanley Spencer lived for most of his life, painting many of the village's features and surrounding countryside. It's huge fun to wander through both finding the spots from which he painted these, and the excellent Stanley Spencer Gallery has a booklet detailing three walks of between 30 and 90 minutes that will help you do just that. The village itself has lots to offer and, further afield, Enid Blyton's childhood home at Old Thatch in Bourne End makes a nice three-mile round walk from it. The surrounding landscape's range of walks through riverside meadows and chalk downland offers the opportunity to do your own sketches and paintings, should the scenery inspire you as much as it did Spencer.
Eat & drink: The Teapot Tea Shop offers old-style service and fare in a fresh and bright space, and the Bell and the Dragon gastropub puts its focus firmly on food and wine; it even has its own white and red Burgundies, made under licence by Burgundy wine producer Olivier Leflaive.
Escape London – Days Out Within Easy Reach of London, by Yolanda Zappaterra, is published by Frances Lincoln, £9.99.