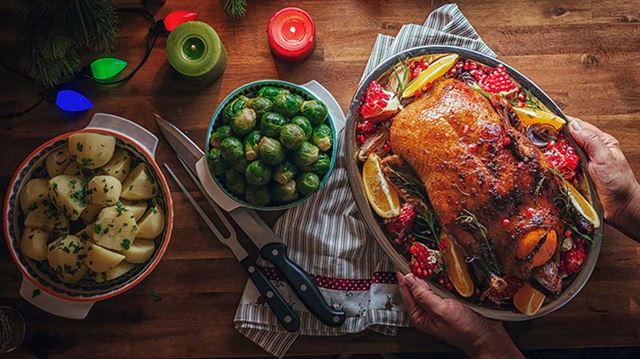 Preparing Christmas dinner can seem like quite a daunting task, especially if you have guests coming over.
With everyone looking forward to the most important meal of the year, pressure is on the chef to deliver something that's not only edible but positively sumptuous.
If you don't know where to start – or if you fancy trying something a little different to the norm – we're here to help you out. With the help of our friends at BBC Good Food, we've put together some delicous recipes covering every aspect of the festive meal, from the turkey to the veggies, and even desserts and cocktails. Your diners are in for a treat...
Don't forget, if you're a Boundless member you can save on all your festive food and drink via our shopping platform.
Turkey crown kiev
With chicken kiev firmly back in fashion, BBC Good Food applied the same irresistible garlic and parsley flavour and butter-basted succulence to this turkey crown, complete with a crunchy breadcrumb coating.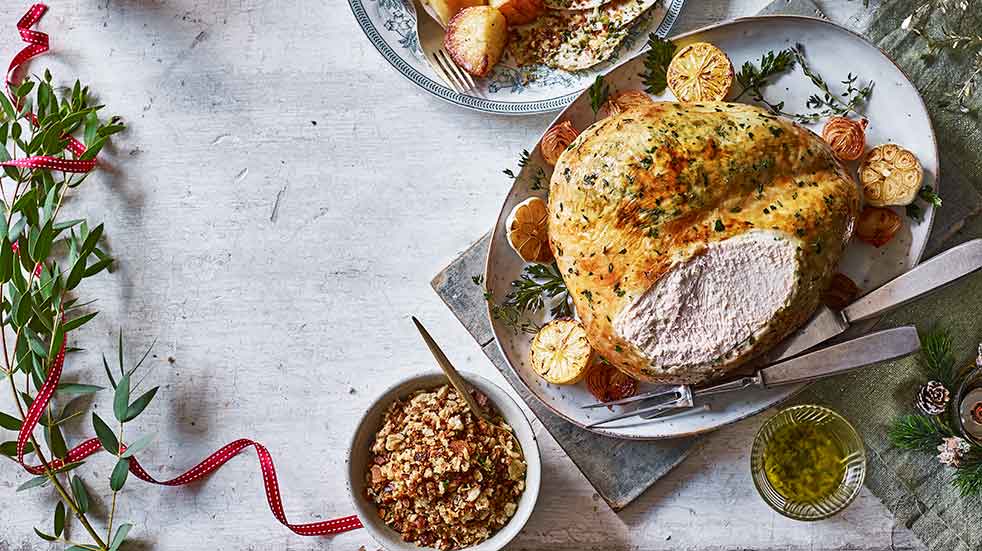 Serves 6 • Prep 45 mins • Cook 2 hrs plus resting
• 2kg turkey crown
• 200g ciabatta, baguette or sourdough, preferably stale
• garlic bulbs, lemons and shallots, halved, plus fresh herbs, to serve (optional)
For the garlic butter
• 250g butter, softened
• 5 garlic cloves, finely chopped or grated
• small bunch of parsley, finely chopped
• 1 lemon, zested and juiced
1 To make the garlic butter, place all the ingredients in a bowl and season well. Mash with a fork until well combined and set aside. Can be prepared up to a day ahead and chilled, or made two weeks ahead and frozen (allow to soften before using).
2 Sit the turkey crown on a board with the thicker part of the breast facing away from you. Using your hands, make two pockets between the skin and the meat, then get a long, thin-bladed knife and insert it lengthways into each pocket to make them deeper. Tip some of the garlic butter into a piping bag and pipe as much as you can into each pocket. Reserve about 3 tbsp of the garlic butter, then smear the rest under and all over the skin, so the crown is completely covered.
3 Heat the oven to 190C/170C fan/gas 5. Sit the crown in a roasting tin, skin-side up, and roast for 30 mins. Baste with the juices and return to the oven, then baste again after another 30 mins. At this stage you can also put the halved garlic bulbs, lemons and shallots in the oven, if using, but in a separate baking tray. Continue roasting for a final 30 mins (1.5 hrs total) until golden.
Meanwhile, blitz the bread into rough crumbs in a food processor. Check the turkey with a cooking thermometer – it should read 65C. Remove it from the oven and the tin, then leave on a warm platter to rest for 20-30 mins. Remove the garlic, lemons and shallots from the oven as well and cover to keep warm. Turn the oven up to 210C/190C fan/gas 7. Stir the breadcrumbs into the roasting tin and put in the oven, stirring occasionally, until golden and crisp. Melt the reserved garlic butter in a pan or microwave.
To serve, carve the turkey crown into slices, drizzle with some of the melted butter and scatter over the crispy crumbs. Garnish with the roasted garlic bulbs, lemon halves, shallots and some fresh herbs, if you like.
Per serving 744 kcals • Fat 45g • Saturates 25g • Carbs 18g • Sugars 2g • Fibre 3g • Protein 64g • Salt 1.3g
Fancy a change from turkey? Try this delicious Beef Wellington with Red Wine Gravy recipe from BBC Good Food. Or for a meat-free alternative, have a go at this yummy Vegetarian Wellington recipe.
---
Herb-infused roast potatoes (V)
It's easy to end up with loads of herbs knocking around the fridge at this time of year. Rather than watching them wilt, throw some in with your roast potatoes for an added burst of flavour.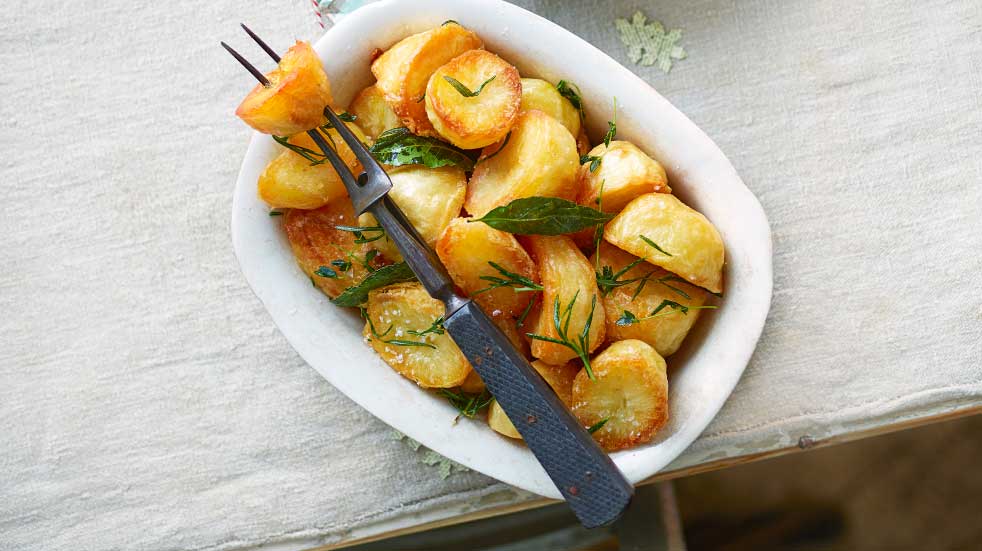 Serves 8 • Prep 15-20 mins • Cook 50 mins
• 2.5kg Maris Piper potatoes, peeled and halved or quartered (depending on size)
• large handful of mixed woody herbs (bay, thyme, rosemary) and parsley stalks, if you have them
• 100ml sunflower oil
1 Place the potatoes in a large pan of cold, salted water with the herbs. Bring the water to the boil and simmer gently for 8-10 mins until the potatoes are cooked through but not about to collapse. Gently drain the potatoes in a colander, but don't shake or ruffle up. Leave to drain and cool. If making ahead, place on a tray in a single layer and leave in the fridge, uncovered, until ready to roast. Can be made up to two days ahead.
2 Heat oven to 200C/180C/gas 6. Pour the oil into a deep roasting tin (the oil should be about 0.5cm deep) and put in the oven for 5 mins. Remove from the oven and gently tip the potatoes and herbs into the oil. Use a spoon or spatula to turn the potatoes until they're completely coated in oil, then return the tin to the oven and roast for 40 mins.

3 Remove from the oven and turn the potatoes in the oil again. Return to the oven for 20 mins, then turn the potatoes in the oil once more. Turn the oven up to 220C/200C fan/gas 7 and cook for a final 20 mins, or until golden and crunchy. Sprinkle with a little sea salt to serve.
Per serving 353 kcals • Fat 12g • Saturates 2g • Carbs 53g • Sugars 2g • Fibre 6g • Protein 6g • Salt 0.3g
---
Tuscan sausage, kale & ciabatta stuffing
If your favourite part of stuffing is the crispy bits, you'll love this recipe. It can be prepared up to two days in advance, then baked on the day. Cavolo nero or kale work beautifully in this dish, but if you prefer your stuffing to be just meat and bread, simply leave it out.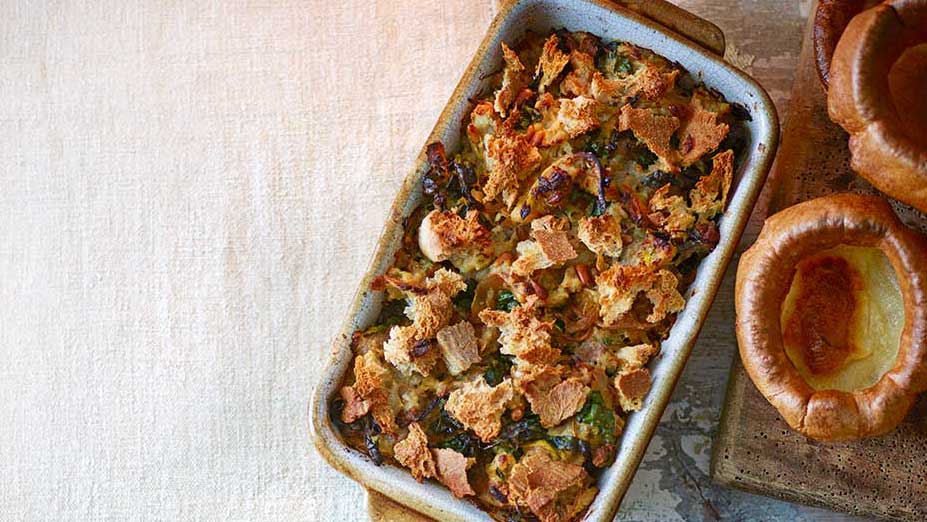 Serves 8-10 • Prep 20 mins • Cook 50 mins
• 270g loaf ciabatta, torn into chunks
• 350ml milk
• 4 tbsp olive oil
• 2 onions, finely chopped
• 1 heaped tsp fennel seeds
• pinch chilli flakes (optional)
• 4 garlic cloves, grated
• 3 large handfuls cavolo nero or kale, de-stalked and shredded
• 8 x good-quality pork sausages, meat removed from their skins
• 50g pine nuts, toasted
• 85g grated parmesan
• handful flat-leaf parsley, chopped
• large rosemary sprig, finely chopped
• 1 lemon, zested
• 1 egg, beaten
1 Soak all but one handful of the bread chunks in the milk and set aside. Heat the oil in a large non-stick pan and cook the onions with the fennel and chilli flakes (if using) for 10 mins until softened. Add the garlic and the cavelo nero or kale and cook for 5 mins until softened, adding more oil if needed. Leave to cool.
2 Tip the onion mixture and the remaining ingredients (aside from the handful of bread) into a large bowl, season generously and use your hands to scrunch everything together really well. Scatter the stuffing into a shallow roasting tin or baking dish. Can be kept in the fridge for up to two days before baking.
Top the stuffing with the remaining torn bread. To cook, heat oven to 220C/200C fan/gas 7 and bake for 30-35 mins until the top is crispy.
Per serving 339 kcals • Fat 22g • Saturates 7g • Carbs 21g • Sugars 5g • Fibre 3g • Protein 14g • Salt 0.8g
---
Red cabbage with port, prunes & orange (V)
Be patient with this side dish – the longer you cook it, the richer and spicier the end result will be.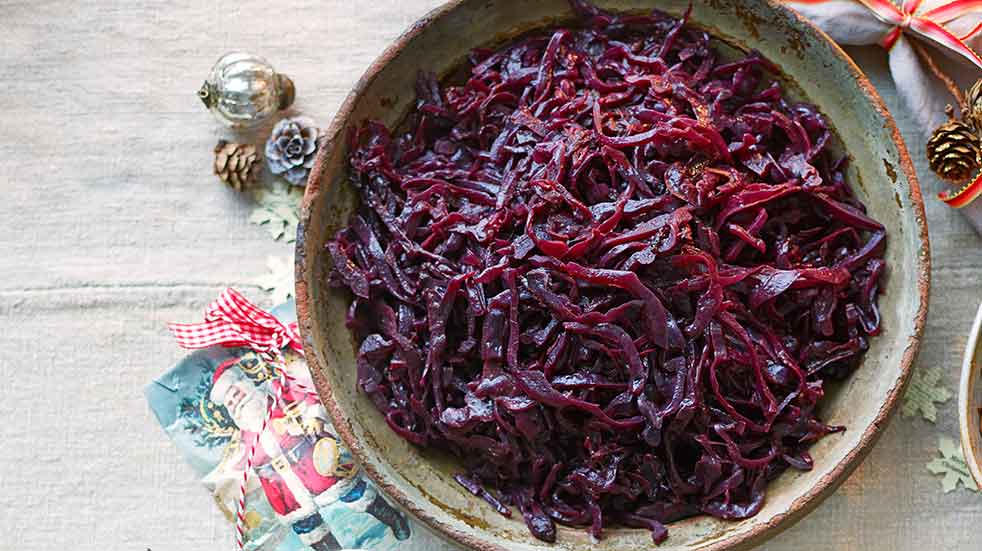 Serves 8 • Prep 25 mins • Cook 2 hrs
• 50g butter
• 1 large onion, sliced
• 1 large red cabbage, quartered, cored and thinly sliced
• 200ml port
• 1 orange, juiced and zested
• 1 large cinnamon stick
• pinch ground cloves
• 2 tbsp light soft brown sugar
• 100g pitted prunes, roughly chopped
1 Heat oven to 160C/140C fan/gas 3. Heat the butter in a casserole dish until sizzled to a nutty brown. Add the onion and fry for 15 mins over a medium heat until soft and starting to colour.
2 Tip the remaining ingredients into a large pan and cover with a tight-fitting lid. Put in the oven for 1 hr, then stir, cover and cook for a further 1 hr until the cabbage is tender. If it looks dry, add a splash of water; if there's still liquid in the pan once cooked, turn the heat up until it evaporates.
Season with a little salt and serve. Can be prepared three days ahead and chilled or frozen for three months; reheat in the microwave or in a pan on the hob.
Per serving 178 kcals • Fat 6g • Saturates 3g • Carbs 20g • Sugars 18g • Fibre 6g • Protein 2g • Salt 0.2g
---
Sizzled sprouts with pistachios & pomegranate (V)
Add a deliciously different side dish to your spread with these pan-fried Brussels sprouts and juicy pomegranate seeds, drizzled with pomegranate molasses.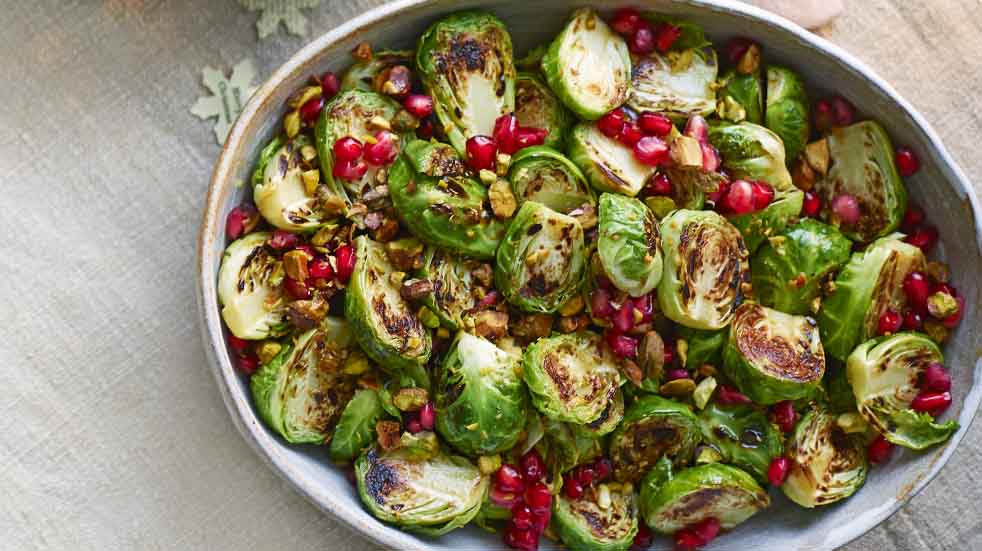 Serves 8 • Prep 10 mins • Cook 20 mins
• 3 tbsp olive oil
• 500g Brussels sprouts, halved
• 50g pistachios, roughly chopped
• 100g pomegranate seeds
• pomegranate molasses, to drizzle (optional)
1 Heat the oil in a large frying pan over a medium-high heat. Put the sprouts in the pan, cut-side down, and leave them to fry for 10-15 mins, tossing occasionally. If they're just lightly brown, carry on cooking for a further 5 mins until blistered.
2 Scatter over the pistachios and stir-fry until toasted. Remove from the heat and stir through the pomegranate seeds. Season with salt and tip into a serving dish. Drizzle with a little pomegranate molasses, if you like.
Per serving 126 kcals • Fat 8g • Saturates 1g • Carbs 6g • Sugars 4g • Fibre 5g • Protein 4g • Salt none
Get money off your Christmas shopping this year with the help of our Christmas gift guide.
---
Cheesy celeriac, leek & rosemary gratin (V)
This rich, indulgent gratin is spiked with mature cheddar and baked until molten and bubbly. The celeriac can easily be swapped for parsnip, turnip or potatoes, and a spoonful of mustard or horseradish stirred through the cream wouldn't go amiss.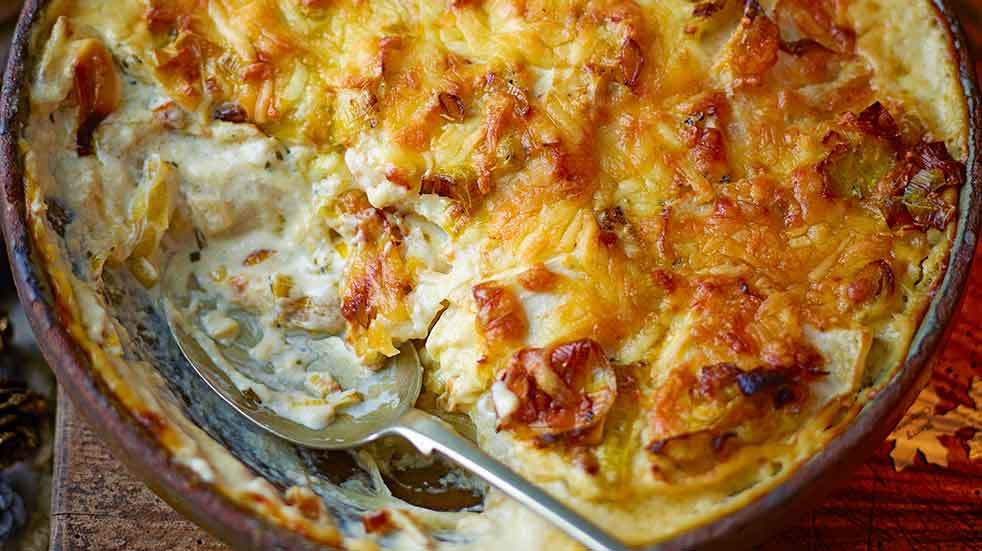 Serves 8 • Prep 25 mins • Cook 1hr 35mins
• 25g butter
• 2 leeks, outer layer removed, washed of any grit and sliced into rings
• small handful rosemary leaves, roughly chopped
• 1 bay leaf
• 300ml double cream
• 300ml milk
• 1 celeriac (about 500g), peeled, quartered and thinly sliced
• 100g cheddar or gruyère, coarsely grated
1 Heat the butter in a saucepan. Add the leeks, rosemary and bay leaf, then cover and cook very gently over a medium-low heat for 15-20 mins until the leeks are soft. Pour over almost all of the cream and milk, season and bring to the boil. Remove from the heat and leave to cool a little, then scoop out the bay leaf.
2 Pour a little of the leek mixture into an ovenproof gratin dish. Arrange a layer of celeriac in the dish, then season. Spoon over some more of the leek mixture, then scatter with a little cheese. Repeat the process, alternating between layers of the leek mixture and celeriac slices, then top with an extra drizzle of cream and some cheese. Can be prepared up to a day ahead and kept in the fridge.
3 Heat oven to 180C/160C fan/gas 4. Bake the gratin for 1 hr-1 hr 15 mins until the top is golden and the celeriac is tender when poked with a knife. If the gratin is browning a little too much, cover the dish in foil. Can be chilled, then reheated in a microwave or oven on a low heat with a drizzle more cream.
Per serving 314 kcals • Fat 29g • Saturates 18g • Carbs 5g • Sugars 4g • Fibre 4g • Protein 6g • Salt 0.5g
---
Sticky maple roots (V)
Carrots and parsnips are must-haves at Christmas dinner. Herby and slightly caramelised, these ones will go down a treat.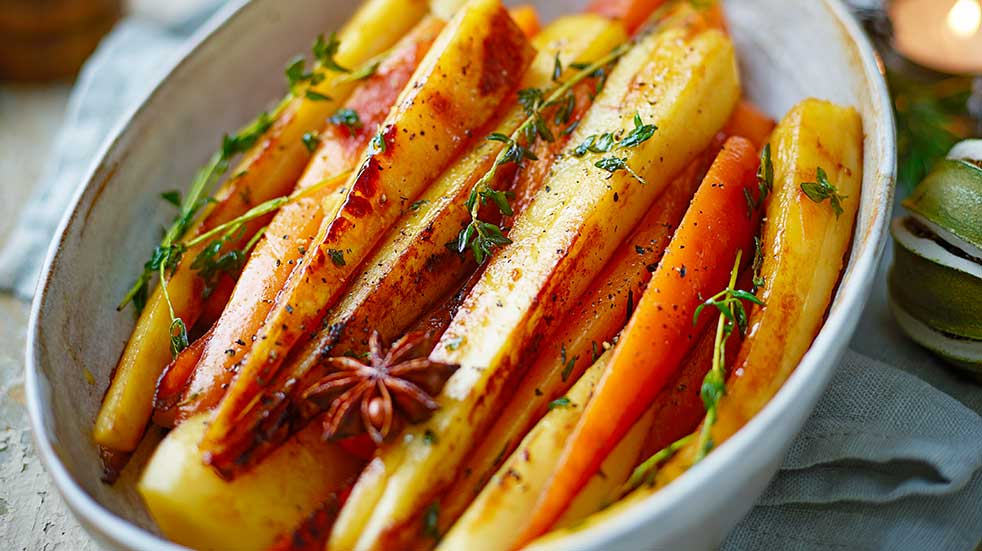 Serves 8 • Prep 10 mins • Cook 30 mins
• 4 large carrots, cut into thick batons
• 3 parsnips, cut into thick batons
• 40g butter
• 1 star anise
• few thyme sprigs
• 3 tbsp maple syrup
1 Tip the vegetables into a large pan with the butter, star anise, thyme, maple syrup and 250ml water. Season with salt, then cover and boil for 10-15 mins until the water has evaporated and the vegetables are tender. Turn down the heat and cook until the carrots and parsnips are starting to caramelise and turn a light golden brown. Shake the pan gently to cover the veg in the sticky syrup, then season with some cracked black pepper and serve it up.
Per serving 119 kcals • Fat 5g • Saturates 3g • Carbs 15g • Sugars 10g • Fibre 5g • Protein 1g • Salt 0.1g
---
Chocolate & cherry Christmas pudding
A twist on the classic Christmas pud, served with its own silky chocolate sauce.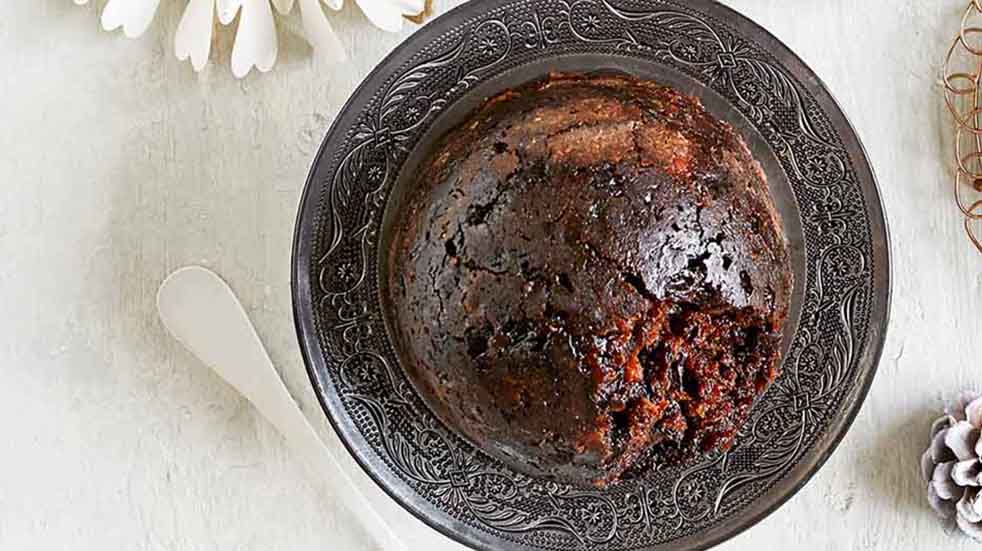 Serves 10-12 • Prep 40 mins plus several hours cooling • Cook 2.5 hrs
For the pudding
• 200g/1 heaped cup frozen dark sweet cherries, defrosted, plus extra cherries, left whole, to decorate the pudding
• 1 Conference pear
• 100g/3/4 cup raisins
• 100g/3/4 cup sultanas
• 100ml/7 tbsp brandy
• 100g bar 70% dark chocolate
• 100g unsalted butter, plus 2 tbsp for greasing
• 2 large eggs
• 50g/6 tbsp plain flour
• 100g/1/2 a packed cup dark soft brown sugar
• 1 tsp mixed spice
• 1 tbsp cocoa powder
• 50g/1 cup fresh breadcrumbs
For the chocolate brandy sauce
• 100g bar 70% dark chocolate
• 120ml/1/2 a cup double cream, plus extra to serve
• 2 tbsp golden syrup
• 3 tbsp brandy (optional)
1 Drain the cherries in a sieve over a bowl. Cut them in half. Peel the pear, then grate it coarsely.
2 In a large bowl, combine the cherries, pear, the raisins, sultanas and brandy. Stir well and cover with cling film.
3 Heat in the microwave on high for 3 mins, then leave to cool for 5 mins to let the fruit plump up. Break the chocolate into squares while you wait.
4 Tip the chocolate and butter into the hot fruit. Stir, then leave to melt. Let it cool, uncovered, for about 15 mins.
5 Meanwhile, rub 1 tbsp butter around the inside of a 1-litre pudding basin.
6 Lay two sheets of foil over each other and butter the one on top. Holding both sheets together, fold a 3cm pleat across the middle of the foil and set aside.
7 Beat the eggs together in a small bowl. Sift the flour, sugar, mixed spice and cocoa powder on top of the chocolatey fruit, then add the breadcrumbs, eggs and 1/4 tsp salt.
8 Stir everything together with a wooden spoon – it will be quite a wet mixture. Tip it into the buttered basin.
9 Cover the pudding with the buttered foil (buttery-side down), and scrunch it over the edge of the basin. Tie string tightly under the lip of the basin, and make a string handle to help you lower the basin in and out of the saucepan later.
10 Trim the foil so that a frill of about 5cm is left sticking out, then tuck the frill up and under itself neatly. The aim is to keep the pudding watertight beneath.
11 Put a heatproof saucer into the very large saucepan, then put the basin on top. Pour in just-boiled water to come halfway up the basin.
12 Cover the pan and steam the pudding for 21/2 hrs. Test the pudding is cooked by inserting a skewer through the foil – if there is any wet mixture, steam for 15 mins more then check again.The pan should be simmering rather than boiling hard. Top up the water levels as it cooks, if you need to.
13 To store, let the pudding cool and leave in a cool dark place to mature. Don't unwrap the foil.
14 To reheat, steam in a pan for 30 mins, or microwave on medium for 5 mins. Remove the foil to microwave, covering with cling film instead.
15 For the sauce, break the chocolate into squares. Put all the ingredients in a small pan and heat gently, stirring, until smooth. Serve the pudding topped with any remaining cherries, the sauce and a dollop of double cream.
Per serving 386 kcals • Fat 21g • Saturates 12g • Carbs 39g • Sugars 33g • Fibre 3g • Protein 4g • Salt 0.2g
---
Esther's retro trifle
Whether you have it after your main Christmas dinner or as part of a buffet tea, this delicious dessert by BBC Good Food's Esther Clark will go down a treat.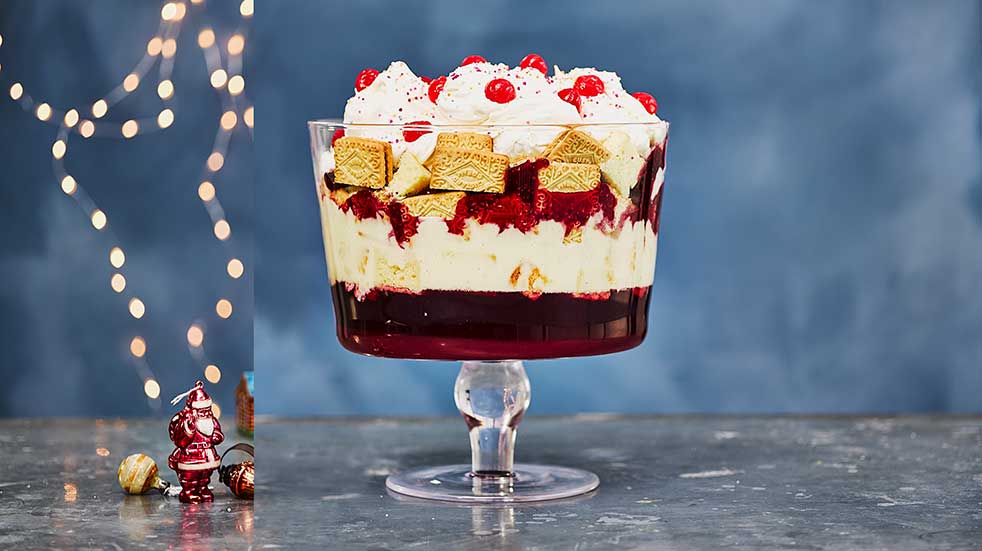 Serves 14 • Prep 30 mins plus cooling and at least 5 hrs chilling • Cook 10 mins
• 150g frozen raspberries
• 4 tbsp raspberry jam
• 600ml double cream • 3 tbsp icing sugar
• 300g madeira cake, cut into 3cm pieces
• 120g custard cream biscuits
• sprinkles and maraschino cherries, to decorate (optional)
For the jelly
• 6 gelatine leaves
• 150g golden caster sugar
• 1 lemon, zest pared and juiced
• 500g frozen raspberries
For the custard
• 800ml whole milk
• 1 vanilla pod, split
• 100g golden caster sugar
• 6 tbsp cornflour
• 5 large egg yolks
• 150g clotted cream
1 To make the jelly, put the gelatine in a small bowl and cover with water. Leave to soak. Meanwhile, tip the sugar, lemon zest and juice and 400ml water into a pan and simmer, stirring occasionally, until the sugar has dissolved. Add the raspberries and bring to the boil. Reduce to a gentle simmer and cook for 5 mins, or until the raspberries have broken down. Pour the mixture through a sieve into a jug. Squeeze any excess water out of the gelatine and stir through the raspberry mixture. Pour into the base of a large trifle bowl and chill for at least 5 hrs, or overnight.
2 To make the custard, heat the milk in a pan with the vanilla pod until steaming, then remove from the heat and set aside. Whisk the sugar, cornflour and egg yolks together in a bowl. Remove the vanilla and gradually pour the hot milk into the egg mixture, whisking constantly until well combined. Return to the pan and gently stir over a low heat until the custard has thickened. Stir in the clotted cream, pour into a bowl and cover the surface with a piece of baking parchment to prevent a skin forming. Leave to cool, then put in the fridge to chill until cold.
3 Put the frozen raspberries and jam in a small pan and cook for 5 mins until the raspberries have softened a little but are still holding their shape. Leave to cool. Whisk the cream with the icing sugar in a large bowl until it reaches a soft dropping consistency.
4 Arrange the cake pieces over the set jelly. Crush most of the biscuits, reserving some whole, and scatter over the cake layer. Whisk the custard to loosen, then pour over the biscuit layer. Top with the raspberry compote, pushing the whole biscuits into it around the edges of the bowl. Spoon over the whipped cream, then decorate with the sprinkles and cherries, if you like. Will keep in the fridge for up to three days.
Per serving 595 kcals • Fat 39g • Saturates 23g • Carbs 53g • Sugars 39g • Fibre 2g • Protein 7g • Salt 0.4g
---
Pomegranate & vermouth mulled wine
This recipe comes from BBC Good Food writer Miriam Nice, who says she often adds fruit juice to mulled wine but decided to include some vermouth this time for a bit of a festive kick.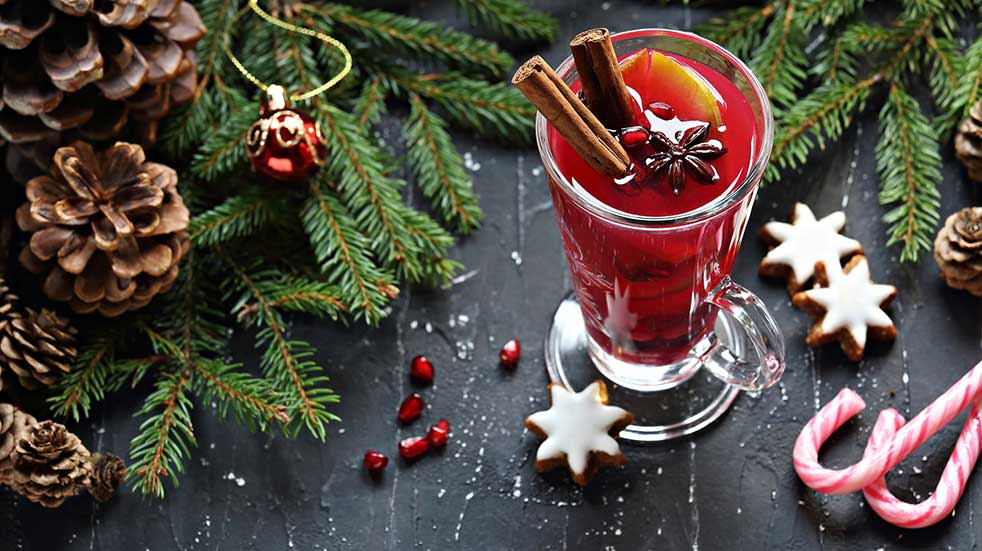 Serves 6 • Prep 5 mins • Cook 10 mins
• 500ml carton pomegranate juice (100% juice, not 'juice drink')
• 100ml red vermouth
• 200ml red wine
• 2 oranges, sliced, plus extra to garnish
• 2 tsp honey
• 1 cinnamon stick
• 4 cloves
• 4 allspice berries
1 Put everything in a large saucepan set over a low heat and stir to melt the honey. Simmer gently for 10 mins.
2 Taste for sweetness, then strain into heatproof glasses and garnish with extra orange slices to serve.
Per serving 92 kcals • Fat 0.1g • Saturates none • Carbs 12g • Sugars 12g • Fibre 0.1g • Protein 0.3g • Salt 0.01g
---
Espresso shrub martini
A 'shrub' is a syrup, usually made with fruit, sugar and vinegar. This one, created by Miriam Nice, uses coffee, taking the place of the standard coffee liqueur. Using a sweet-sharp shrub makes a drink taste stronger than it is.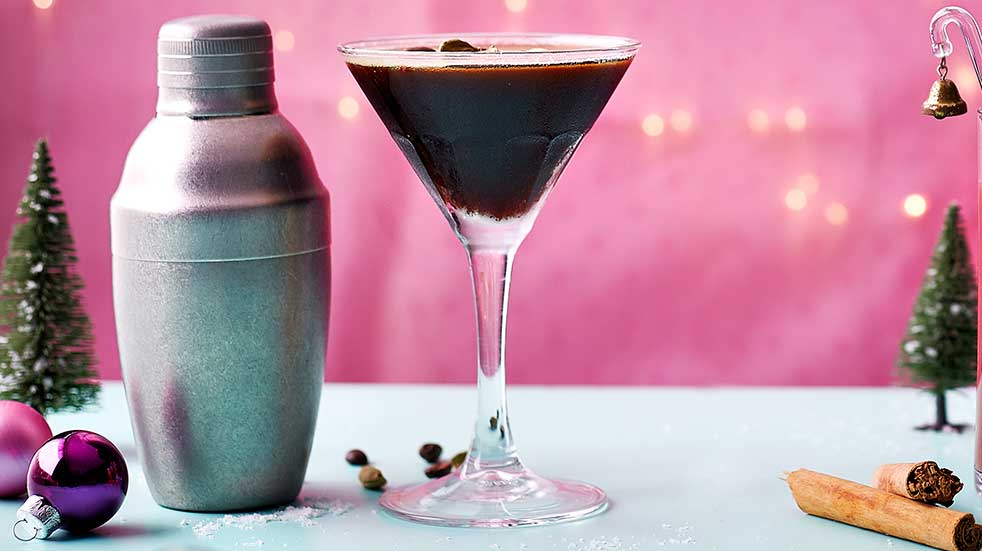 Serves 2 • Prep 10 mins plus chilling
For the coffee shrub
• 100ml strong black coffee or espresso, or use instant espresso powder
• 50g golden caster sugar
• 50g balsamic vinegar
For the cocktail ice
• 50ml coffee shrub (see above)
• 30ml vodka
• 50ml strong black coffee or espresso, or use instant espresso powder
For the garnish
• 4 coffee beans
• 2 cardamom pods
1 To make the coffee shrub, pour the coffee or espresso into a jug with the sugar. Stir to dissolve, then leave the mixture to cool completely before adding the vinegar. Transfer to the fridge and chill until needed. Can be made up to a day ahead.
2 To make the cocktail, put two martini or small coupe glasses in the fridge until cold.
3 Half-fill a cocktail shaker with ice, then add 50ml of the coffee shrub, the vodka and coffee or espresso. Shake really well, until the outside of the shaker feels cold, then strain into the chilled glasses. Top each with two coffee beans and a cardamom pod.
Per serving 135 kcals • Fat 0.1g • Saturates 0.1g • Carbs 16g • Sugars 14g • Fibre none • Protein 0.2g • Salt 0.04g
Fancy a hot beverage instead? Try one of these winter drinks recipes from BBC Good Food.
Photos: Getty Images, Toby Scott, Myles New, Melissa Reynolds-James, Sam Stowell and Emma Boyns