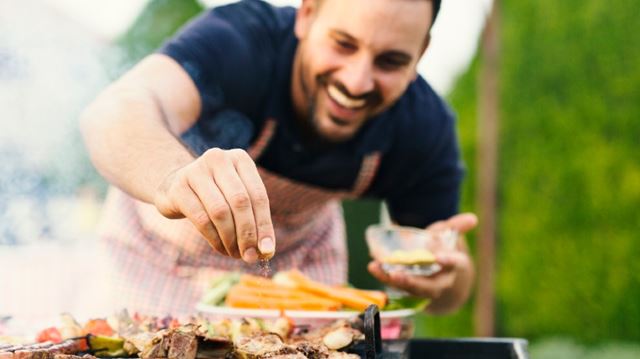 With non-essential retail shops having reopened in most places, now could be a great time to go out and buy some spring and summer essentials.
To give you some inspiration, we've rounded up some of our favourite items for spring and summer 2021. And with many of them available to Boundless members at a discounted price, you could end up saving quite a bit of money...
Find out more about joining Boundless by visiting our dedicated membership page.
---
Pitch perfect

Inflatable Four-Person Tent, £129, Lidl
Hotels aren't due to open for at least another few weeks, but one thing you can do right now is go camping – and Lidl has made it as easy as possible with its new inflatable four-person tent. Boasting a wide front section and a smaller rear compartment, the tent features mesh panels and large windows, ensuring plenty of ventilation. It also comes with a pump, reflective guy ropes and a carry sack. Simple and snug – what more could you want?
---
Anyone for bubbles?

Lay-Z-Spa Cancun AirJet, £350, Argos
What better way to spend a summer's evening than relaxing in a hot tub? Housed in a stylish rattan shell, the Lay-Z-Spa Cancun AirJet is a luxurious garden spa that will accommodate up to four people at a time. At the touch of a button, you can enjoy an intense full-body massage, thanks to the built-in 120 AirJet system – and what's more, it only takes five minutes to inflate.
Boundless members can get discounts on Argos products. To find out more, visit our Shopping Discounts Hub.
---
Life's a picnic

Fortnum's Wicker Hamper with Picnic Rug, £115, Fortnum & Mason
Whether you prefer sandwiches and tea or vol-au-vents and champagne, there's nothing quite like a picnic for bringing some sunshine into your life. We love this stylish wicker picnic hamper from Fortnum & Mason, which not only features a spacious insulated inner that'll ensure your food and drink stays fresh for longer, it also comes with a soft and luxurious blanket for laying out your spread on. Idyllic!
• Don't miss our guide to preparing the perfect picnic
---
Put the pressure on

Kärcher K2, £80, Wickes
Now that the weather is warming up a bit, you have the perfect opportunity to get outside and clean the car, the patio, the bikes and anything else that needs a good hosedown! Kärcher's K2 pressure washer will help you do it. With a 110-bar pressure level, this portable powerhouse will easily remove stubborn dirt – though you can switch lances and clean more delicate surfaces too. Even better, cleaning with a Kärcher pressure washer is said to use 80% less water than your garden hose, so you'll also save money.
Boundless members can get discounts on Wickes products. To find out more, visit our Shopping Discounts Hub.
---
Sitting pretty

Whether you want to relax with a book or need something to sit on while you do the weeding, this comfy seat will see you right. Its canvas polyester sail cloth base features a stunning 'Five Puffins' design by the wildlife artist Robert Gillmor, while its foldable legs are made from environmentally friendly hardwood. Go on, take the weight off your feet...
---
Get a unique view of nature

Nikon Aculon T02, £59.99, John Lewis
The warmer months provide a great chance to go outside and spend time among birds and animals. For a close-up look at how these incredible creatures go about their daily lives, carry a pair of binoculars with you. Nikon's stylish Aculon T02 set feature multi-layer coated lenses that increase light transmission, giving you a crystal-clear view. Weighing just 195g, they can be easily stashed away in your rucksack, ready for you to pull out at that opportune moment.
Boundless members can get discounts on John Lewis products. To find out more, visit our Shopping Discounts Hub.
---
Throw some shade

Michael Kors MK1090 Amsterdam, £168, Sunglass Hut
Add a touch of glamour to your life this spring and summer with these new, oversized women's shades from the award-winning US designer Michael Kors. With a neutral, gold-coloured metal frame, chain accents around the rim and a light-brown graded lens, they'll look great with any seasonal outfit. Let's hope we get some sunshine...
---
On your bike!

Pendleton Somerby-E, £999, Halfords
According to a report by Halfords, the cycling boom we've witnessed during the pandemic is set to continue – so why not hop on for the ride? We're rather fond of this mint-coloured electric bike from former Olympian Victoria Pendleton's company. Offering up to 50 miles of range off a single charge, it'll provide that extra bit of oomph you need when you run out of steam. Boasting a deep-padded seat, it's comfy, too, meaning you'll want to get out and about as often as possible.
Boundless members can get discounts on Halfords products. To find out more, visit our Shopping Discounts Hub.
• Read our guide to the best bike rides in the UK
---
Turn up the heat

Pacifique Metal Patio Heater, £186, Maisons du Monde
It can be frustrating having to come indoors once the temperature starts to drop – but you'll have no such worries with this patio heater from Maisons du Monde. Being gas-fired, it can be moved around freely without you having to be close to an electric socket, and you can also adjust the level of heating you get from it, giving you total control of your toastiness.
---
Fruity and fizzy

La Gioiosa Prosecco Rose Millesimato Brut 75cl, £9, Sainsbury's
A chilled glass of prosecco on a hot day is about as blissful as it comes. Give your palate a treat with a drop of this delicious fizz from the Treviso region of northern Italy. Subtle and refreshing, it contains hints of pomegranate and small red fruits, along with fragrant floral notes. The bottle is attractive, too – and will look even more so tucked away inside your picnic basket.
Boundless members can get discounts on Sainsbury's products. To find out more, visit our Shopping Discounts Hub.
---
A handy purchase

Burgon & Ball Love the Glove Oak Leaf Plum Gardening Gloves, £15.99, various stockists
You're probably going to be doing a lot of gardening this spring and summer, so you'll need a good-quality pair of gloves. Love the Glove's ultra-soft offerings are made of a hard-wearing fabric that doesn't stiffen when it gets wet. Two-way- stretch mesh between the fingers will stop your hands from getting clammy, and they're padded, too, providing protection to your hands during arduous tasks. We're especially fond of this striking Oak Leaf Plum design (pictured).
---
Cook up a storm

Weber Q2000 Titanium, £419, B&Q
Summer just wouldn't be the same without the smell of barbecued food wafting across the garden, and the Weber Q2000 Titanium is one of the most stylish outdoor cookers we've ever seen. It's also packed with features, with two burners, porcelain-enamelled cast-iron cooking grates that conduct heat evenly across the entire surface, a heat-resistant handle and side tables for holding your prongs and spices. You'll be the envy of your nighbours – and not just because of that aroma.
Boundless members can get discounts on B&Q products. To find out more, visit our Shopping Discounts Hub.
Main photo: Getty Images