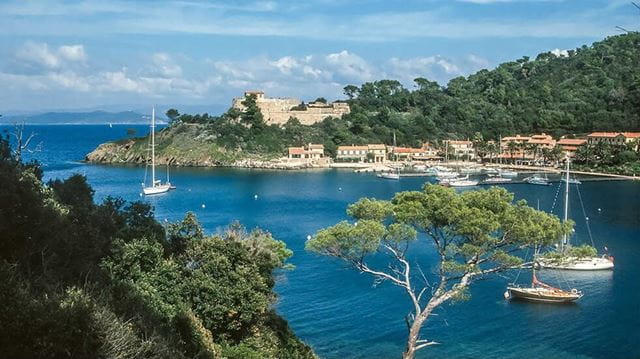 ---
Capri, check... St Lucia, check... Bali, Hawaii, Svalbard and the Maldives, check...
If you're looking for somewhere different, somewhere you've perhaps never dreamed of going to – or maybe never even heard of – but which is in fact an ocean pearl, an unsung urban oasis or a Caribbean cutie, read on for Yolanda Zappaterra's personal and decidedly idiosyncratic selection of top islands both near and far.
---
1. Saaremaa and Muhu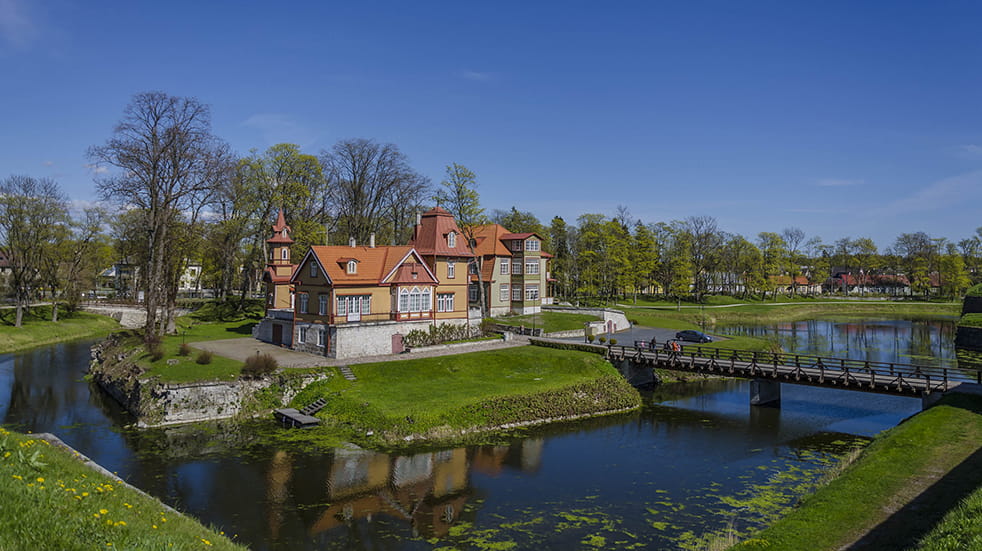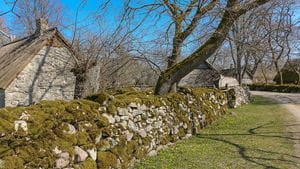 These two islands off the west coast of Estonia are filled with natural wonders such as the Lumanda Limestone Park, Kaali meteorite craters and Vilsandi National Park, famed for its wild orchids.
Combined, they feel like a throwback to gentler times, steeped in folkloric activities with a small population subsisting on tourism and tiny cottage industries.
Independent wineries, breweries, arts and crafts, soap-making, ostrich farming and juniper syrup-making are just some of the enchanting things to experience here – along with some excellent spas.
These islands have a torrid history of war stretching back to Viking raids and ending as recently as 1989, when the Soviets lifted a 43-year restriction on foreigners and most Estonians to Saaremaa.
Some of that turbulent past can be gleaned at the Muhu Museum (visitestonia.com/en/muhu-museum), and at Saaremaa's Kuressaare castle (saaremaamuuseum.ee/en/) and eye-popping Orissaare Military museum (visitestonia.com).
For more modern tales, stop for an amazing meal at Pädaste Manor (padaste.ee), where the ethereal and elemental nature of the Estonian island landscape is such that Pet Shop Boy Neil Tennant was inspired to write a song about it.
Get there
Via direct flights to Tallinn, then a 30-minute ferry from Virtsu.
---
2. Cape Verde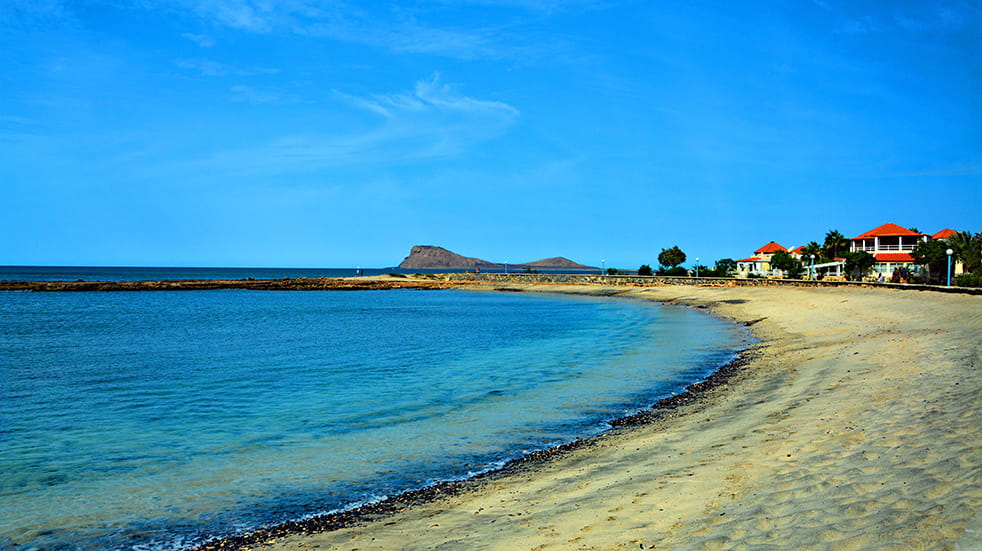 Some 1000km south of the Canary Islands, and around 460km west of Africa, the 10 islands that make up the Cape Verde archipelago enjoy year-round sunshine – and a unique atmosphere: a heady mix of soaring volcanic peaks, desert-like arid plains, lush fruitful valleys, and bustling towns filled with the sound of music combining the best of Portuguese and African rhythms and beats.
Boa Vista is the main landing spot for sunseeking British tourists, but it's also the base for hops to much more interesting islands, like Fogo, where Sao Filipe is a handsome mix of cobbled streets and handsome squares lined with colonial houses built in the elegant sobrado style, and where the soaring volcano Pico de Fogo gives a sense of the archipelago's varied scenery.
Beyond it, there are centuries-old dragon trees on Sao Nicolau, live musicians and a lazy ambience in Mindelo on Sao Vicente, a dramatic coastline and crags on Brava, saltpans and nesting loggerhead turtles on Maio, and perhaps best of all, Santo Antao, whose rugged peaks, dramatic valleys and spectacular canyons are, CV enthusiasts say, not only a highlight of Cape Verde, but of the world.
Get there
Via direct flights to Boa Vista or Sal, then short internal flights or ferries.
---
3. Skokholm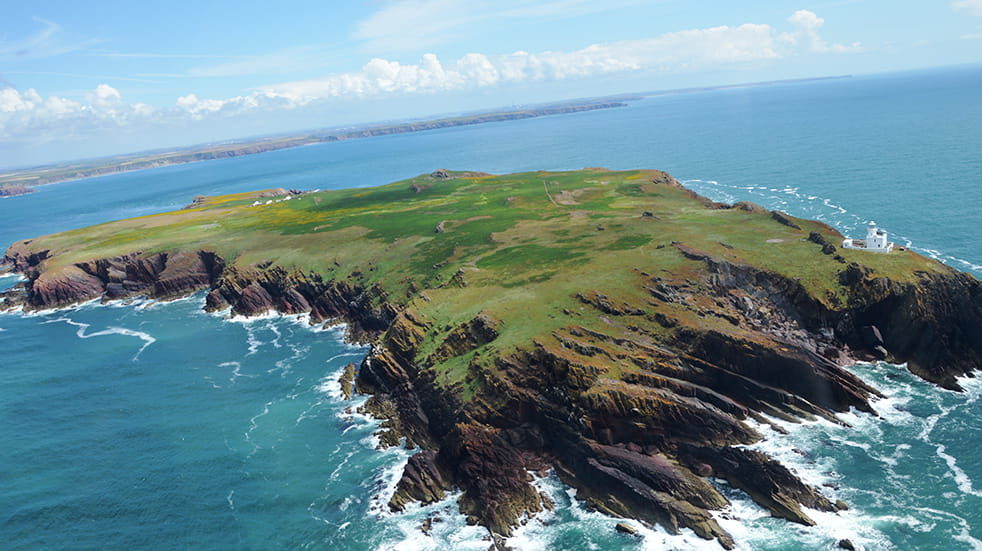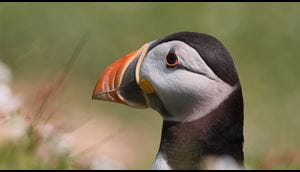 No, not a forgotten bit of Sweden, but a tiny uninhabited island off the coast of south-west Pembrokeshire in Wales featuring stunning red cliffs and an amazing abundance of natural resources.
The whole island, roughly a mile in length and half a mile across at its widest point, is a dedicated nature reserve, so if you get to visit it will just be you (and a maximum of 24 other humans), the sea and some glorious natural wonders, including 4500 puffins, a large population of storm petrels and, in spring, an amazing display of wild flowers.
Out at sea, dolphins, porpoises and seals can be spotted. For a while overnight stays were banned, but now overnight accommodation for limited numbers is available for a short time each year.
It's basic – think converted cowsheds and old cottages – but perfectly comfortable and almost certainly unlike anything you've even experienced before. For a little more luxury, sister island Skomer offers a range of self-catering options, via marloes.org.uk.
Get there
Via organised day trips from Martin's Haven on the mainland, including wildlife safaris or an evening boat cruise, or water taxis if you've booked accommodation. Visit welshwildlife.org for details.
• Aerial shot of Skokholm by Lucy Griffiths. Skokholm is owned and managed by the Wildlife Trust of South and West Wales
---
4. Nevis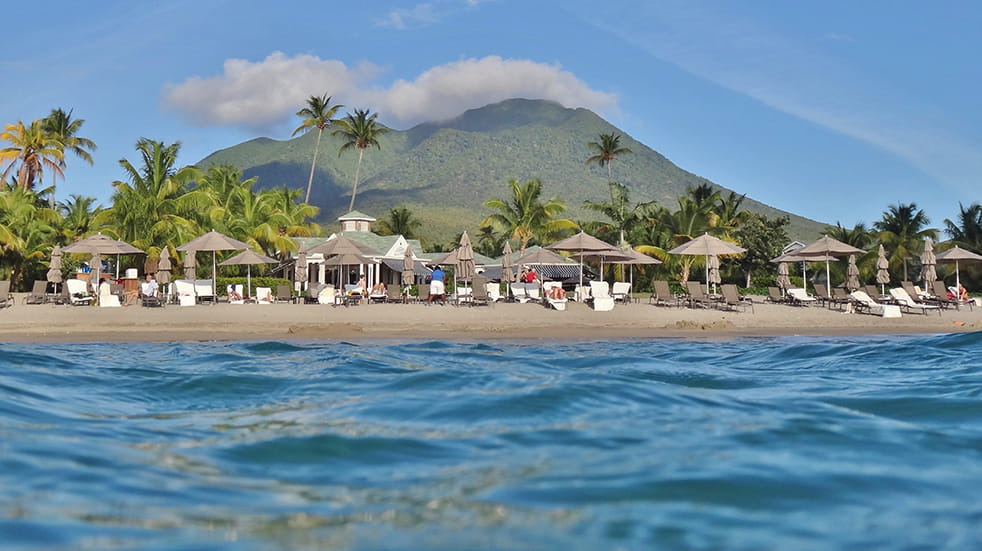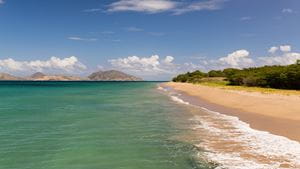 Tiny Nevis (pronounced Neevis) is, in our book, one of the Caribbean's friendliest destinations – perhaps because it's a wee bit harder to get to than many of its neighbours.
From the sweet, laidback main town of Charlestown, one of the nicest things to do is set off on the Nevis Heritage Trail, which takes in 25 historical and natural sites around the island.
If you're here at the right time you can catch a jazz festival on the beach, or a Killer Bee cocktail at Sunshine's Beach Bar (www.sunshinesnevis.com/) any time, or hire a bike to explore the island under your own steam (and sweat), or dine at the Nisbet Plantation Beach Club (http://nisbetplantation.com/), where 30 acres of lush gardens studded with palm trees – many named for guests who've been married here – gently roll down to a beautiful beach.
If you're here at the weekends, a Nevis cookout is a must; most villages have them, but for our money, the Water Dept's one on Pump Road, near Charlestown, is the best. There's music, lots of ice cold beer, fresh-cooked chicken and ribs, noisy locals enjoying dominoes and the kind of vibe you dream about in Notting Hill every August.
Less enticing, perhaps – at least for locals – is the area known as Devil's Copper, believed to be haunted but a top spot for a hike through some of the island's dramatic volcanic vents and waterfalls.
Get there
Via flights to St Kitts (with a one-hour stop in Antigua), then a 35-minute ferry crossing from the capital Basseterre to Charlestown.
---
5. Gozo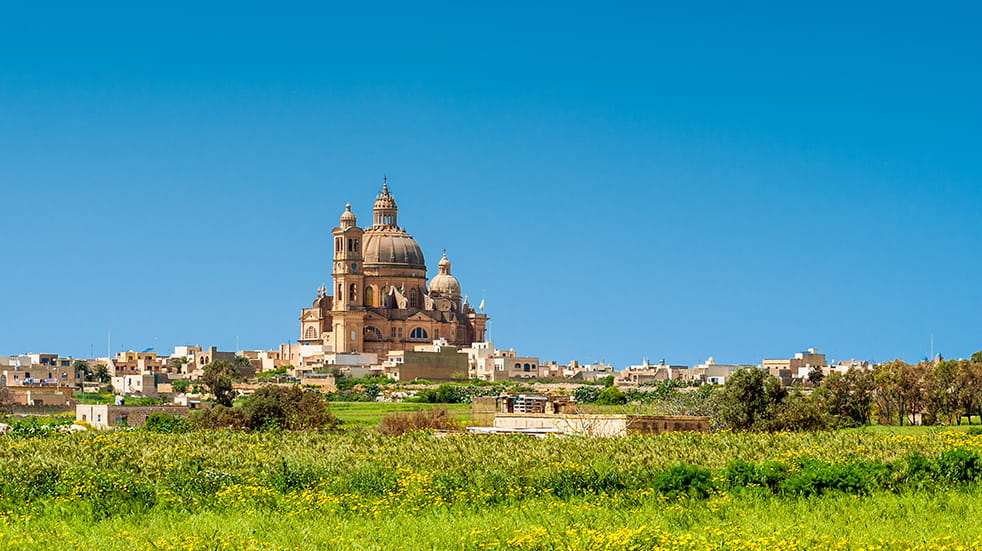 Malta grabs all the kudos for its undeniably lovely capital of Valetta, its megalithic 'temple' complexes which date back further than the pyramids and Stonehenge, and a plethora of absorbing historical attractions. But, for our money, Gozo – just a short ferry ride away – is just as deserving of your attention.
The Ggantija complex, dating from 3600BC to 2500BC, is smaller but more complete than its mainland counterparts and, because it has no protective cover or adjacent snack bar/shop, it feels even more mystical.
But then Gozo, in general, is more mystical than its buzzier near-neighbour. The terrain is more lush and fertile – resulting in the island producing half of Malta's produce despite being a quarter of its size – with stepped terraces of vines, olives and vegetables climbing rolling hills up to flat ridges.
Smaller urban settlements such as the charming palm-tree lined Rabat are contained rather than sprawling, so that the overall landscape is of large swathes of bucolic rural scenes, a coastline filled with beautiful bays, dramatic cliffs, saltpans and eroded limestone arches such as the Azure Window.
It all combines to make sightseeing here a real pleasure – especially when, in the distance, you spy the surreal outline of the Ta' Pinu basilica, looking for all the world like a bit of Catholic Europe plonked in this dusty landscape.
Get there
Via direct flights to Malta, then an hour's drive from the airport to Cirkewwa Harbour, Malta's most northern point, for a 30-minute ferry crossing to Gozo.
---
6. Flores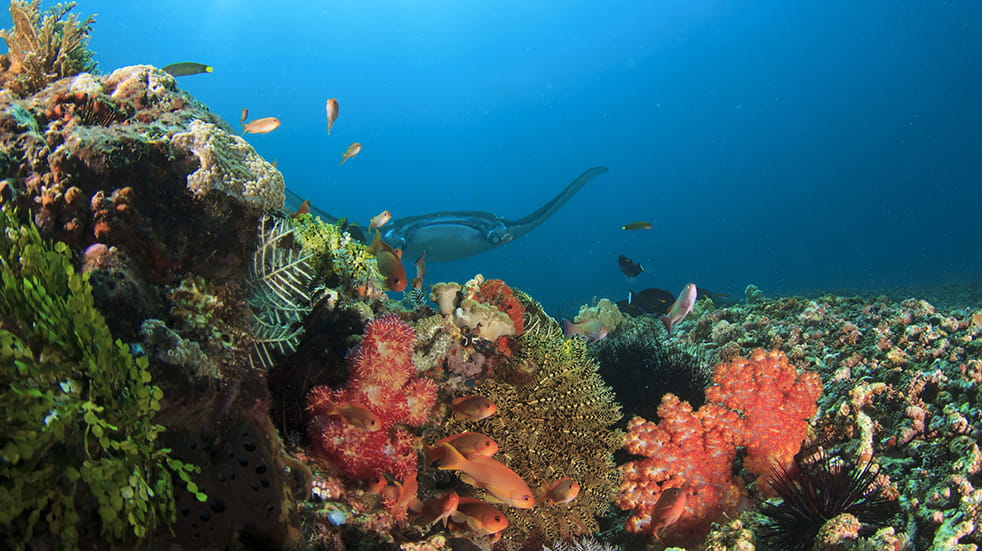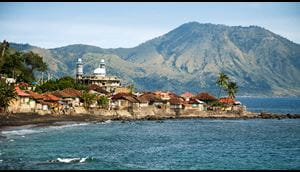 Bali is the obvious destination when it comes to choosing from Indonesia's 17,508 islands, but if you're considering such an adventurous destination, why not be a little more adventurous and opt for one of the lesser-known beauty spots in the country?
Flores can easily be reached from Bali or Jakarta and, once on the island, you should make one of the first things you do getting off it – specifically by setting off from the beguiling port town of Labuan Bajo to explore the marine life in the waters and islands of the spectacular Komodo National Park – including its famous dragons.
Back on land, travel some of the winding 670km Trans-Flores Highway to explore a stunning landscape that takes in smoking volcanoes, knife-edge ridges, lush interiors, dramatic canyons and dazzlingly colourful crater lakes.
This being Indonesia there are plenty of picture-perfect beaches to enjoy, and equally arresting villages that are seemingly unchanged in decades; catch them while you can, though – the secret is out about this paradise-like spot.
Get there
Via direct flights from Bali (1 hour) or Jakarta (2 hours) to Labuan Bajo on Flores.
---
7. Îles d'Hyères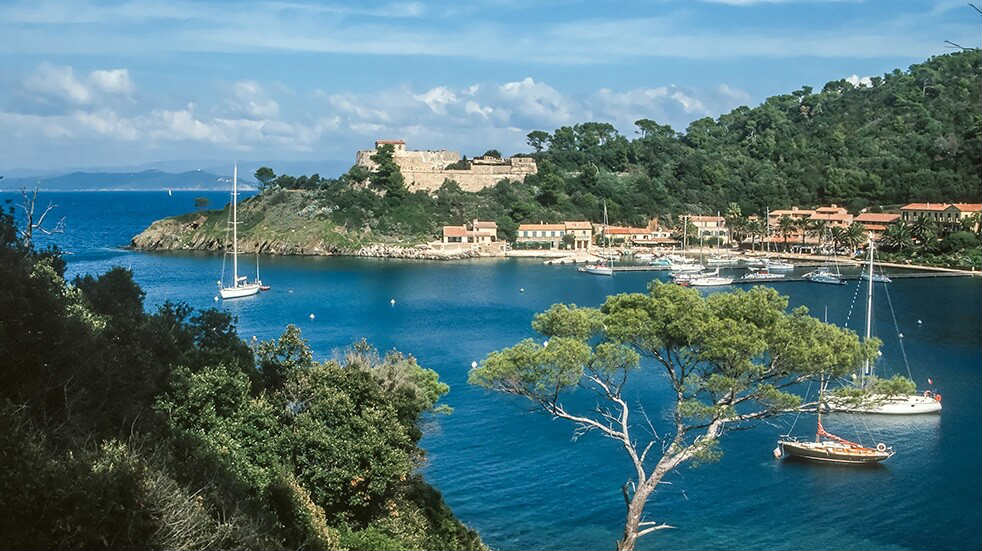 This alluring French foursome off the coast of the Provençal region of Var look are definitely something of a hidden gem – but one the Victorians knew a thing or two about, located as they are off the coast of Hyères.
This lovely town benefited from the patronage of not just Queen Victoria, but celebrities as diverse as Aldous Huxley, Robert Louis Stevenson, Edith Wharton and later, artistic leading lights like Picasso, Jean Cocteau and Jean Marais.
They all came to luxuriate in opulent houses and oriental-style villas set amid the palm-lined streets of the town, and enjoy the 400km coastline.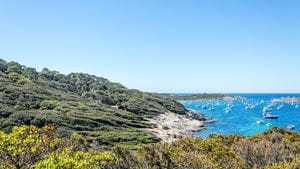 Of the four, Porquerolles (left) is by far the most popular, probably because it's just a 10-minute ride away from the French coast, has a charming village at its heart and makes for a glorious day of hiking or cycling on the numerous marked trails.
But even better is the national park island of Port-Cros (above), a haven for divers and snorkellers, who can find underwater signs telling them the names of the abundant fish and marine life on offer in and around the submerged caves here.
If you prefer terra firma, the island itself is magical – no transport of any kind other than your feet, which have the option of following three trails running along the coast and inland to discover all manner of beautiful natural attractions.
Get there
Via direct flights from London Stansted or City to Toulon-Hyères airport, then day boats to the islands.
---
8. Margaret Island, aka Margitsziget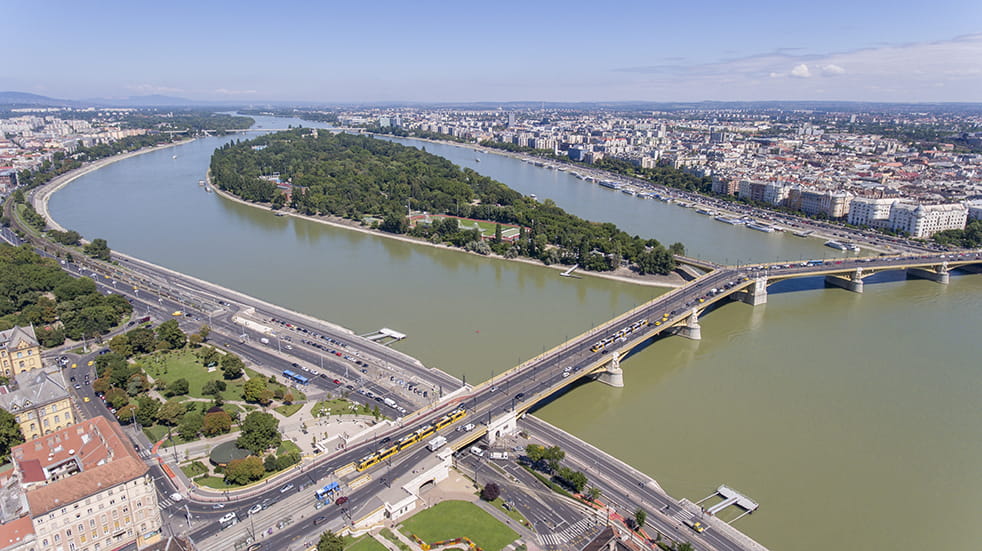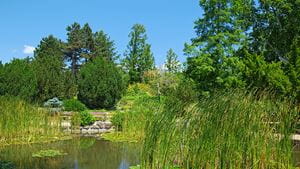 Europe's most famous river island is probably the Île Saint-Louis in Paris, but for our money, Margitsziget Island, set in the Danube and the heart of Budapest is just as lovely, and has a lot more to commend it.
For a start, the whole thing is a park, and can be navigated by an imaginative array of vehicles, from golf carts and electric scooters to bikes, all of which can be hired at Margaret bridge, which connects the island with the rest of the city.
Then there are the spas; not one but two, in the shape of family-friendly Palatinus, with thermal and adventure pools, and the more stately Danubius Health Spa Resort Margitsziget (visitbudapest.travel/activities), which offers both indoor and outdoor pools, plus hydro pool, whirlpool baths, a thermal bath, sauna, steam room and even the intruigingly named aroma cabin.
It's all very Soviet-era 70s décor and architecture, but that doesn't detract from the warming delights of the 70°C/170°F, mineral-rich natural water supplied by Sigmund spring (Zsigmond forrás) under the island.
Above it, the attractions continue with an Art Nouveau water tower which holds exhibitions and is the location for the Budapest Summer Festival (http://eng.szabadter.hu/), a Japanese garden with a waterfall, the ruins of a Franciscan church and, what surely no park should be without, a musical fountain playing Simon and Garfunkel.
Get there
Via direct flights to Budapest.
---
9. Mersea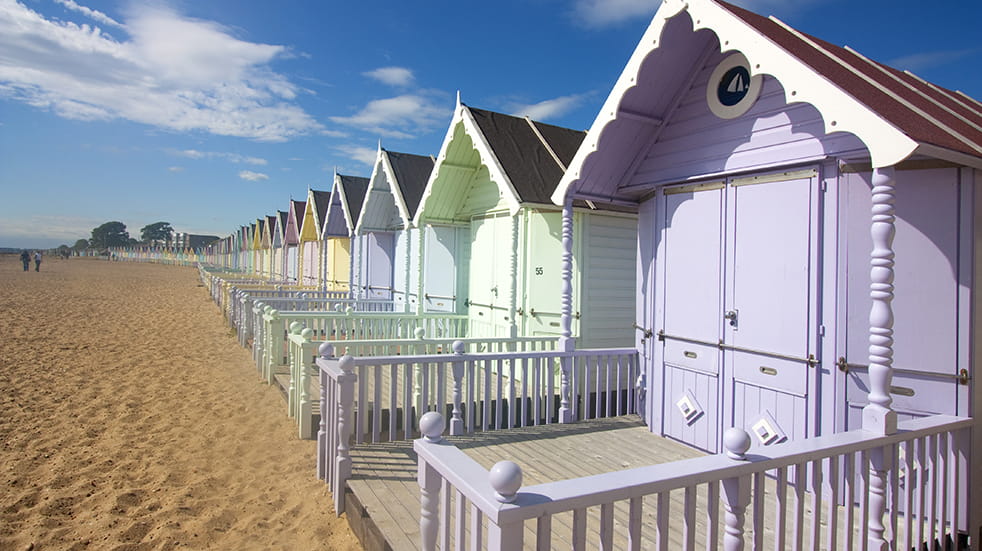 England's most easterly island, nine miles south-east of Colchester, is as surprising as the fact that Mersea really is an island… well, sometimes.
Connected to the Essex mainland by an ancient Roman causeway known as the Strood, the occasional times it's submerged make getting here a real adventure, but once you're safely across, it's an ethereally peaceful spot, offering some great walks in the Cudmore Grove Country Park nature reserve (visitparks.co.uk/places/cudmore-grove), or along salt marshes once walked by rhinos, Romans and smugglers.
If you're lucky, you might discover a fossil on the beaches and cliffs of East Mersea, where sharks' teeth and monkey, bear and bison bones dating back 300,000 years can be found.
But even the unlucky will have no trouble finding the Gigas 'rocks' and Colchester Native oysters declared by Pliny the Elder more than 2000 years as 'the only good thing to come out of Britain.'
See if you agree at spots like the West Mersea Oyster Bar (www.westmerseaoysterbar.co.uk), and East Mersea's Mehalah's at Oysters & Ale (tomhaward.wix.com/mehalahs), where you can also pick up a picnic hamper and set off to explore this most beguiling of destinations.
Get there
On the 67B bus running from Colchester to West Mersea.
---
10. And perhaps, one day… World Islands?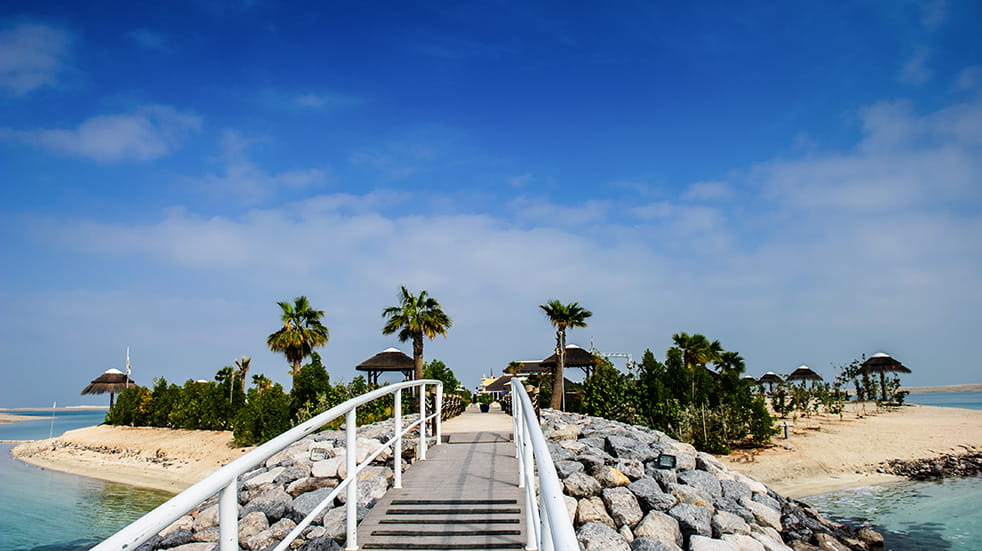 It could only happen in Dubai (or possibly Las Vegas) – 300 artificial islands constructed in the shape of a world map, plonked in the waters of the Persian Gulf four miles off Dubai's coast.
Conceived 14 years ago by the ruler of Dubai, it was full steam ahead for the World Islands archipelago until the financial crisis of 2008 put everything on hold. Development since has been slow to pick up steam, but the 'Heart of Europe' project is under way, with a projected roll-out in 2020 that will enable visitors to have breakfast in France, lunch in Italy and dinner in Germany.
For now, 'the Island' (theisland.ae) is currently the only development to have opened its doors to the public, and offers a bookable day trip that takes in two beaches, a swimming pool, beach volleyball court and, of course, a restaurant.
Get there
Via direct flights to Dubai, then speedboat transfer every hour from Jumeirah Fishing Harbour 1.