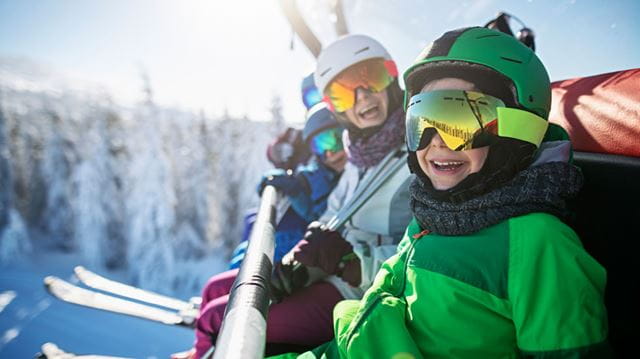 Don't be put off from experiencing the thrill of a holiday in a ski resort. There are plenty of great deals available and an abundance of help for beginners.
It might be the breath-taking views, the fresh mountain air, the adrenalin rush, or the joy of perfecting a turn. Or, perhaps it's the saunas, heated outdoor pools, ice rinks, tobogganing, lively nightlife, rich fondues, succulent steaks, and sharing stories of the day's adventures with a mulled wine in front of a cosy log fire.
Whatever the reasons, each winter millions of people choose to pack their thermals, head up into the mountains and spend their days hurtling back down again at varying speeds and levels of proficiency, many going back year after year.
Sadly, two thirds of Brits have never experienced a winter sports holiday, often put off by the fear of the unknown. If you like the idea of hitting the slopes but don't know where to start, read our newbie's guide, designed to unravel some of the mysteries and misconceptions.
How to find a cheaper ski holiday
Ski holidays are often dismissed as being too expensive and, to be fair, you won't find the ridiculously cheap deals you get for package beach holidays. But there are ways to ski more affordably. Just like beach holidays, you'll pay considerably less outside of the school holidays.
The cheapest weeks are generally in early December, right at the start of the season, and in early January, when the slopes are quieter too. If you're restricted to the school holidays, Easter is generally cheaper than Christmas or the February half term, particularly the second week, but the snow conditions might not be as good.
The cheapest resorts tend to be in Italy, Andorra and in Eastern European countries like Bulgaria, Poland and Slovakia, but even in France, Austria, and Switzerland you can find more affordable places to ski if you keep away from the large, fashionable resorts. Long-haul flights, of course, will bump up the cost of skiing in North America.
Alongside travel and accommodation, you'll need to factor in the cost of lift passes, lessons, and ski and boot hire, which can vary enormously, along with the cost of eating and drinking.
---
---
How to choose your ski accommodation
Choosing the right accommodation is key. Self-catering apartments or self-catering chalets might be cheaper upfront, but you'll need to consider the cost of dining out every night or buying food and drink from resort supermarkets, where prices are often inflated for a 'captive' mountain market. Self-drive holidays have the added benefit that, provided there's space in your car, you can take essentials with you or stock up en route at cheaper supermarkets before you venture up the mountains.
Hotels come in all shapes and sizes, from basic guest houses to luxury spa hotels, and with prices to match. Some will also have creche facilities and kids' clubs for little ones. You'll pay a premium for these services and for their central locations, and you'll be tied to set meal times.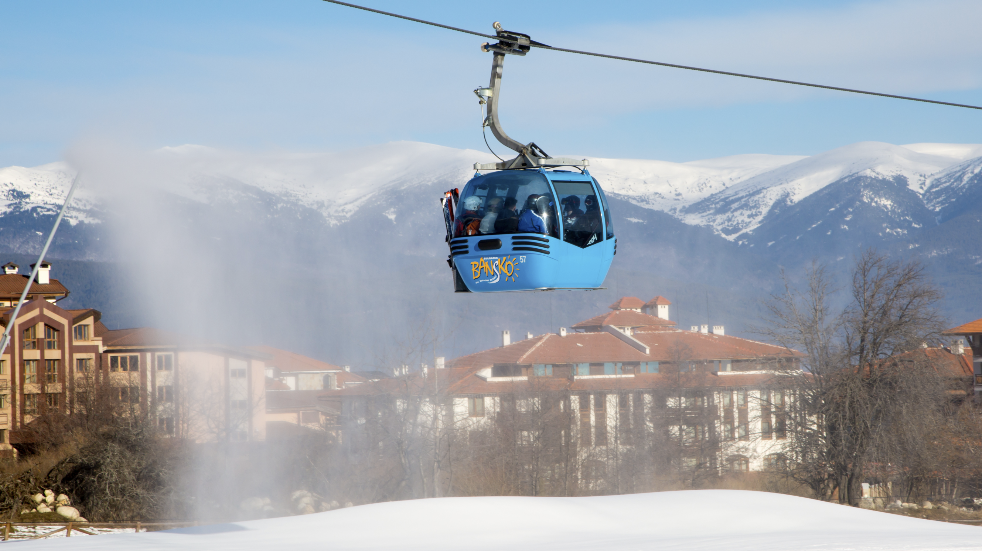 Fully-catered chalets are a popular choice, where your breakfast, afternoon tea and dinners are included and cooked by the chalet staff, usually two, who also do the housekeeping. Catered chalets allow you to budget up front and avoid the additional costs of dining out, although most chalet staff have at least one night off each week where you'll have to fend for yourselves.
Chalets usually have en suite bedrooms and a shared living area, and often saunas too, and are perfect for large groups and for sociable solos or couples. Many chalet specialists, such as Skibeat, offer discounts for large groups who fill the whole chalet, while good deals are often available on the last available rooms.
Take advantage of the cooked breakfast and afternoon tea (usually cake and sometimes bread and cheese or soup) and you might be able to skip lunch, while free wine at mealtimes will cut your bar bill. Whatever type of accommodation you book, you'll pay more if you're close to the resort centres main gondolas and chair lifts, and if you can ski in and ski out. If you've got little ones in tow, you won't want to be walking too far or having to get on a bus to get to the slopes. See more money-saving tips below.
Where and when to find the best snow for skiing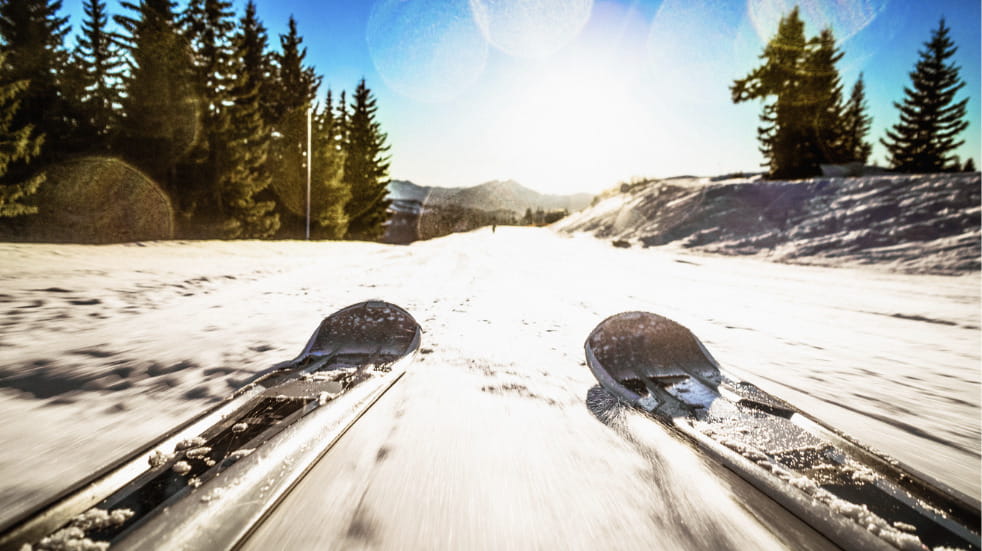 Skiing is best with a blue sky and a fresh dusting of snow underfoot, but of course the perfect conditions can't be guaranteed. Opting for a high-altitude resort is one way of raising your chances but also look for resorts with glacier skiing, where the ice below stops the snow melting. Many resorts also have snow-making machines if the snow doesn't come.
Ski seasons vary in length. Most run from mid-December to early April but some, particularly in North America and Switzerland, start as early as November and stay open until May. The Ski Club of Great Britain's website has regular snow reports and also historical snow data so you can check and compare conditions.
How to learn to ski
If you've never skied before, or only went once with the school, invest in a few dry-slope lessons before you go to help find your ski legs. Once in resort, don't rely on friends or your 'expert' partner to teach you. It will only end in tears (not necessarily yours!). Sign up to a ski school and learn from the professionals. Group lessons are generally cheaper although you'll learn faster with private tuition.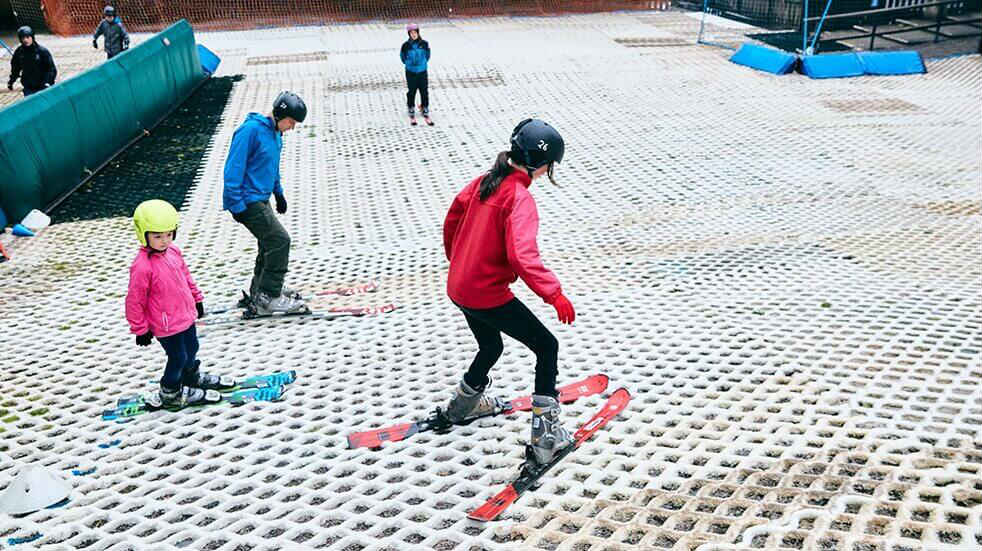 In many resorts you can save money by having lessons around midday, when our European neighbours are busy enjoying their long lunches. Choose a ski school that's close to your accommodation to avoid the hassle of getting there and back, and choose a resort with plenty of slopes for beginners.
Due to the gradients and widths of the slopes, some resorts are more suitable for beginners than others. Runs are graded by colour according to their difficulty: greens are the gentlest, then blues, then more advanced skiers will progress to trickier reds and finally the most challenging black runs. Opt for resorts with plenty of greens and blues, especially close to your accommodation. You don't want to have to tackle an icy red to get back to your chalet at the end of the day and you don't want to spend half a morning on gondolas and chairlifts to get to the gentler slopes.
For novices, making your way up the mountain can be just as difficult, or more so, than getting down. Getting on and off chair and button lifts can take a while to master, so choose resorts with alternatives, like tow ropes or magic carpets (essentially ski conveyor belts).
A week or two of half-day lessons and you should be starting to master the basics, such as how to stop and do a snowplough (pizza) turn. Fearless children (and adults) will pick it up a lot faster. Learning to ski is tiring so you might want to give yourself a break and try another activity. Most resorts will offer snowmobiling, cross country skiing, snowshoeing, tobogganing and hiking, and many will have ice rinks, heated indoor and outdoor pools, dogsledding, spas and other activities.
Most resorts also have pedestrian-friendly lifts and gondolas, so even if your partner decides to take the day off or there's a non-skier in your group, they can still meet you for lunch up the mountain and savour those fantastic view– and won't miss out on the après ski fun either.
Ski holidays: the essential rules
Do book your lift pass and ski and boot hire online in advance. Shop around and take advantage of early booking offers, family or group discounts, and you could save up to 50%. Make sure you buy the right pass too. If you're a novice, there's no point spending more to access a larger ski area when you'll only be staying local.
Do buy lip balm and sunscreen before you go. You'll pay much more in resort.
Do take advantage of Happy Hours. Drinks prices can be very high, especially in the more fashionable resorts.
Do get the advice of a ski specialist. Booking a ski holiday is a lot more complex than booking a fly and flop beach holiday.
Do make sure you're properly insured, not just for skiing but for other winter activities. If you're an advanced skier check you're covered for going off-piste.
Do wear a helmet. Helmets are no longer just for snowboarders. Many insurance policies now require you to wear a helmet at all times.
Do make the effort to get fitter before your trip. If you're not physically prepared you're more likely to injure yourself.
Do dress properly. Temperatures can drop significantly when you're higher up the mountain and the weather can change quickly too. Make sure you have warm gloves, thermal layers, fleeces, goggles, and waterproof breathable trousers and jacket, with secure pockets for your phone and lift pass.

Don't drink and ski. Alcohol affects your resistance and awareness of the cold, and also impairs your judgment, co-ordination and reaction time. Don't put your life and the lives of others in danger.
Don't skimp on equipment hire. You'll have a much lower risk of an accident if your skis and boots are well-maintained and fitted properly. Watch out in some Eastern European resorts where the standards aren't as high.
Don't underestimate the sun. The sun is much stronger at altitude so slap on the factor 50 and wear ski goggles or sunglasses with 100% UV protection.
Don't forget your snow chains if you're going self-drive. Even if the forecast is looking OK, mountain weather can change very quickly.
Don't overspend on designer ski gear, especially if it's your first time. Borrow what you can from friends. After all, skiing won't suit everybody and you might only wear it once.

Top ski holiday tips from the experts
"Buy children's ski gear in neutral colours so you can pass it on to younger siblings once they've grown out of it." Laura Hazell, sales and marketing director for ski chalet specialist Skibeat.
"Don't just avoid the UK school holidays. If you want quieter slopes and better deals, check the dates for school holidays in other countries too." Andy Hemmingway, product manager at tailor-made specialist Ski Safari.
"If driving, cook meals at home and freeze them for the journey, and try delicious locally-cooked meals delivered from one of the resort delis." Cathy Rankin, UK sales and marketing manager for apartment specialists Pierre et Vacances.
Good value ski resorts
Pas de la Casa in Andorra, Borovets and Bansko in Bulgaria, Kranjska Gora in Slovenia, Val d'Anniviers in Switzerland and Les Menuires and Aussois in France.
Resorts likely to have snow during the season
Tignes, Val d'Isere and Les Deux Alpes in France, Solden, Saalbach and Obergurgl in Austria, Zermatt in Switzerland, Vail and Breckenridge in the US.
Best ski resorts for beginners
Avoriaz, La Plagne, Meribel, Les Deux Alpes and La Rosière in France, Arinsal in Andorra.