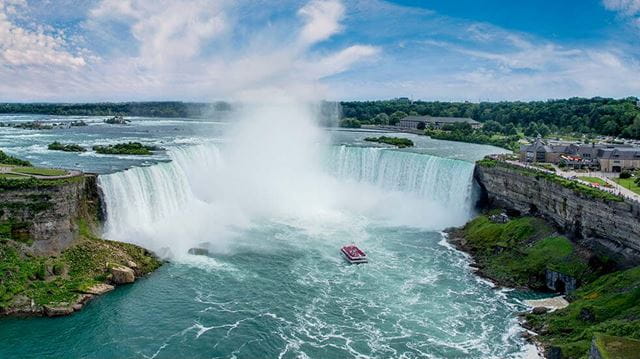 If you're looking for travel, adventure, history and the great outdoors as part of your holiday this year, look no further than a trip to Canada or Alaska with Canadian Sky.
Cruise the epic Alaskan wilderness
From glaciers and icebergs to forests and waterfalls, a view from the water will show you all the breathtaking contradictions of America's 49th state.
Few places on Earth evoke such a feeling of space as Alaska, known as America's last frontier state. Over thousands of years it has drawn people in with its rich resources like fur and gold, but more recently with its vast landscapes, and suitably oversized wildlife to match. With its forests, waterfalls, mountainous glaciers and towering icebergs, it takes sightseeing to a new level.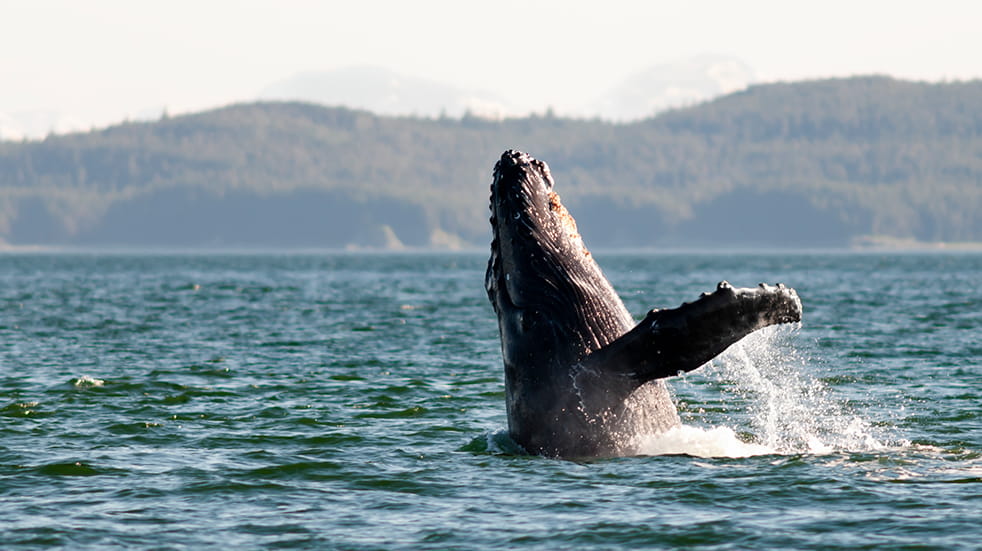 Go whale-watching in Alaska, America's breathtaking 49th state.
From much more comfortable lodgings than the first American explorers had to endure, modern visitors can cruise in to experience the local wildlife, go whale-watching and visit Ketchikan, the 'salmon capital of the world'. While you're there, take an exciting seaplane excursion over the magical Misty Fjords National Monument, set in 2.2 million acres of pristine wilderness. It's also home to the Tlingit Indians: visitors can admire their collection of totem poles – the largest in the world – and observe carvers carrying on this tradition.
For those who want to embrace the great outdoors there is no better place: Alaska is prime country for fishing, trekking and even zip-lining over the landscape.
To immerse yourself in the 49th state's frontier history, visit the picturesque capital city of Juneau, which witnessed Alaska's first major gold-strike, and have a go at panning to see if you strike gold.
Canadian Sky's recommended holiday
Celebrity Alaskan Fly Cruise, 8 Nights Cruise from £1,519pp
Trip highlights:
Journey past epic scenery of islands, thunderous waterfalls, glaciated mountains and dense forests as you cruise the Inside Passage
Head to Misty Fjords National Monument, a staggering 2.2 million acres of pristine wilderness
Enjoy wildlife and whale-watching in the picturesque Juneau
Cruise to the mighty Hubbard Glacier, six miles wide at the point it meets the ocean, where there's a chance you'll see icebergs calve
Price includes international flights, 1 night hotel accommodation and 7 nights with meals on board the Celebrity Eclipse
Extend your stay in Vancouver or add this or one of our other Alaska Cruises to your Canada or USA break
To book your Canadian Sky holiday
For more information or to see our full range of tours, visit the Canadian Sky website or call 01342 547005 for a tailor-made quote.
---
Enjoy maritime history in Atlantic Canada
Home to North America's first European settlement, Atlantic Canada is a land of rugged scenery, fascinating history and lauded cuisine.
Few places in the world can rival Canada for its jaw-dropping scenery. The country seems to have it all; awe-inspiring icebergs, wildlife-filled parks, sandy beaches, soaring mountains, shimmering lakes, verdant forests – the list goes on.
Atlantic Canada manages to cram all that and more into four picturesque provinces – New Brunswick, Newfoundland & Labrador, Nova Scotia and Prince Edward Island – which are a joy for anyone inclined towards exploring the great outdoors.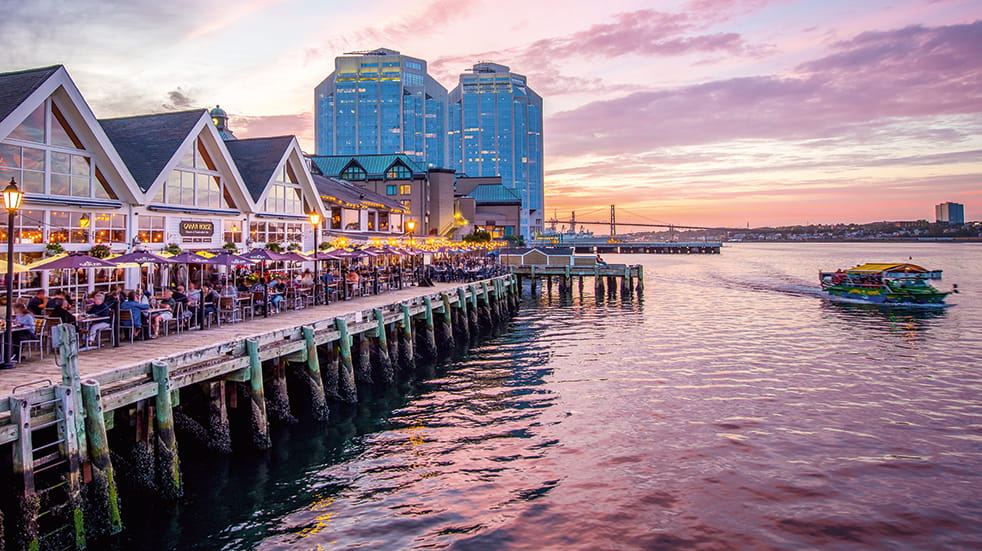 Discover the tantalising maritime past of Halifax in Nova Scotia, Canada.
What sets this corner of Canada apart from the rest of the country is its rich maritime history. This is where the first Europeans are thought to have set foot in North America; it is where some of the victims of the Titanic disaster rest; and it is where Al Capone made a name for himself running rum during Prohibition.
This rich history is brought to life in characterful towns such as Lunenburg, a UNESCO World Heritage site, renowned for its unique colourful buildings. These properties are distinct because they feature a Widow's Walk; a lookout point where worried fishermen's wives would wait for their husbands' boats to return from sea – or not, as was sometimes the case.
Atlantic Canada's relationship with the ocean has also impacted the local cuisine, with oysters, scallops, lobsters and mussels regularly topping menus.
Canadian Sky's recommended holiday
Enchanting Canadian Maritimes, 10 Nights Escorted Tour from £2,469pp
Trip highlights
Explore the city of Halifax and its maritime heritage, take a scenic cruise on Bras d'Or Lake and journey along the beautiful Cabot Trail
Visit the Green Gables House in Cavendish that inspired Anne of Green Gables, learn about lobstering in Shediac Bay, and admire the beauty of Peggy's Cove and the natural wonder of Hopewell Rocks
Enjoy access to tour guides and local guides throughout your visit for a fully informed stay
Price includes international flights with Air Canada, coach travel, and 10 nights' hotel accommodation (includes 16 meals)
Boundless members early booking offer
Book and pay for your 2019 tour by 28 Feb and save up to £200pp. For more information or to see our full range of tours, visit the Canadian Sky website or call 01342 547005 for a tailor-made quote.
---
Experience the diversity of Ontario
A land of shimmering lakes, vibrant cities and French connections, Ontario brims with urban swagger and bucolic bliss. It's easy to see why this province pulls in the crowds.
Crashing with devastating brilliance on the border of Ontario and New York, Niagara Falls is a place where you can't help but contemplate the awesome power of Mother Nature. What a privilege it is to listen to the thunderous roar of cascading water, while watching the quiet brilliance of rainbows forming in the mist. It's little wonder, then, that Niagara Falls is one of the main attractions in this picturesque province, which isn't short of natural beauty. Stretching from the Great Lakes to Hudson Bay, Ontario is packed with awe-inspiring parks, pristine forests and island-speckled waterways.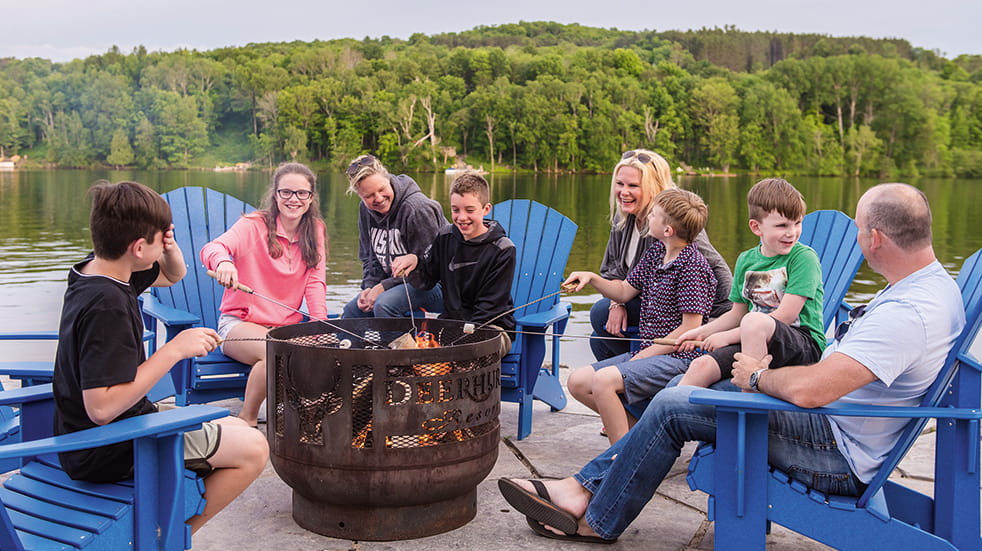 Toasting marshmallows next to Peninsula Lake at Deerhurst Resort, Ontario.
These open spaces serve up some quintessentially Canadian experiences, including ice fishing, canoeing and wilderness hiking – not to mention unique encounters with moose, wolves and myriad other species. For all its rural charm, though, Ontario is also adorned with plenty of urban sophistication. It is, after all, home to the Canadian capital, Ottawa, yet it is Toronto that remains the jewel in Ontario's crown. Officially the largest city in Canada, this multicultural metropolis has a verve and vitality befitting of a capital. Throw in a dynamic dining scene, energetic night life and lively neighbourhoods, and it's easy to see why Toronto is one of the world's most admired cities.
Canadian Sky's recommended holiday
Experience Ontario Lakes, Mountains & Niagara Falls, 10 Nights Self-Drive Tour from £1,669pp
Trip highlights:
Begin in Toronto to enjoy the sights of this cosmopolitan city
Experience Niagara Falls, with time to take a boat trip, a helicopter tour or a visit to picturesque Niagara-on-the-Lake
Have fun in Blue Mountain Resort, enjoying biking, hiking, zip-lining and more
Relax in Deerhurst Resort by Peninsula Lake, where there are endless outdoor activities to experience
Price includes international flights with Air Canada, car rental with fully inclusive insurance, 10 nights' accommodation (room only) and personalised road book
To book your Canadian Sky holiday
For more information or to see our full range of tours, visit the Canadian Sky website or call 01342 547005 for a tailor-made quote.