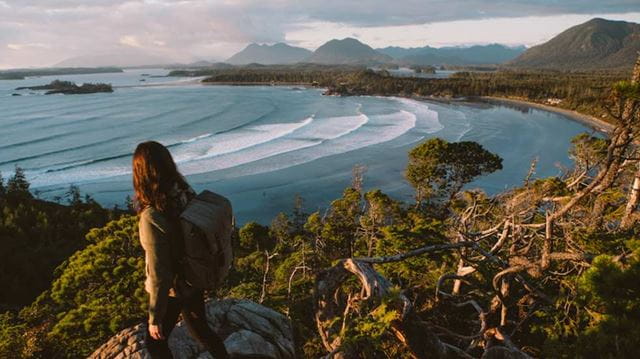 British Columbia is a land of giants, a meeting place of the tremendous. Here, Canada's mighty Rocky Mountains yield to long, lush valleys and lakes – tapering, eventually, to an edge-of-the-world coastline.
It's a region of pristine wilderness and cool, creative cities, where adventurous days are toasted with local award-winning wines and fresh salmon. Out on the coast – the south-western tip of Canada – the North Pacific teems with orcas and humpbacks, and forest trails lead to untamed, tranquil sands. After months of narrow horizons, this isn't just a holiday: it's a reawakening.
---
No-stress planning
With a little help from Canadian Sky's experts, BC's wild wonders are yours to discover on a bespoke self-drive itinerary. They'll arrange everything from flights, car hire and accommodation to day tours and activities; and with flexible booking and ATOL protection, you'll enjoy peace of mind, too. As each trip is individually tailored, the options are infinite – but to spark your imagination, here are two of our favourites.
---
A taste of adventure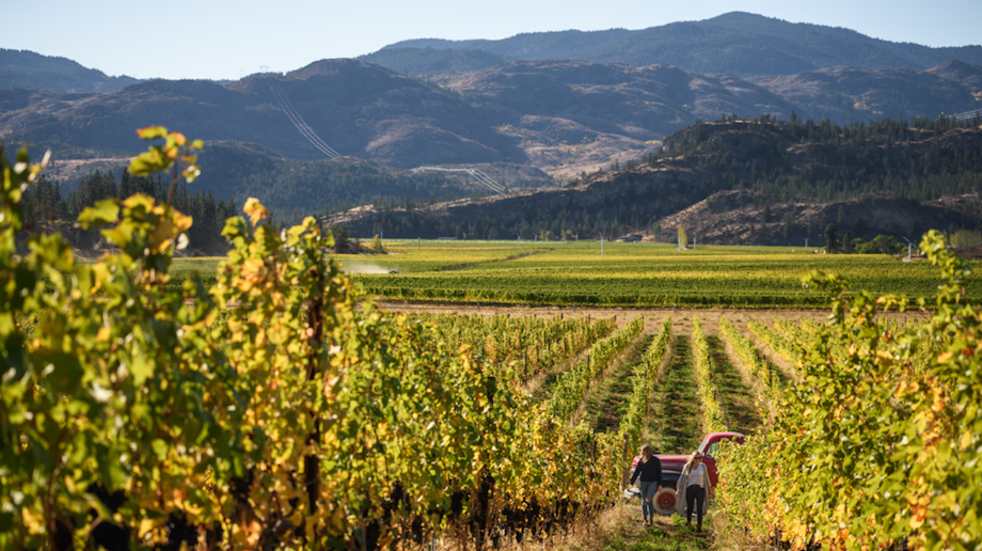 Take a lazy stoll through the vineyards of Okenagan Valley (Photo: Andrew Strain and DBC)
The city of Vancouver, Canada's culinary capital, is the first stop for 'Enjoy BC – Mountains & Menus': a 12-night road trip seeking out the region's best food and wine, with epic landscapes to match. For starters, you can feast on seafood and craft beer at Vancouver's Granville Island Market, and taste its famous Asian-fusion dishes on a food truck tour. The cultural scene is moreish, too, with concerts at the Orpheum Theatre and 10,000 years of history at the Museum of Anthropology.
Driving eastwards, you'll hug the Canada-US border before venturing up into the Okanagan Valley to the shores of Osoyoos Lake. With its sandy beaches and calm, clear waters, this is a heavenly spot for swimming, kayaking and paddle-boarding, then dining on just-caught salmon and bass.
Next, to Kelowna: the heart of the winelands, where day-trip options include a tour of the top vineyards with tastings and transportation provided. Or, hike a section of the Kettle Valley Rail Trail, which weaves through Myra Canyon Park on an old train track, its pathways spanning the forests and ravines.
Your final stop, Whistler, is renowned for its woodlands, waterfalls and winter ski season, but it's a favourite with gourmands, too. Maybe you'll choosea Hidden Gems tour, to discover some low-key local recipes; or a Finer Things tour, enjoying four courses in four different restaurants. The latter includes a trip to a wine cellar with 15,000 bottles: a fitting spot to toast your journey.
---
Vancouver Island in style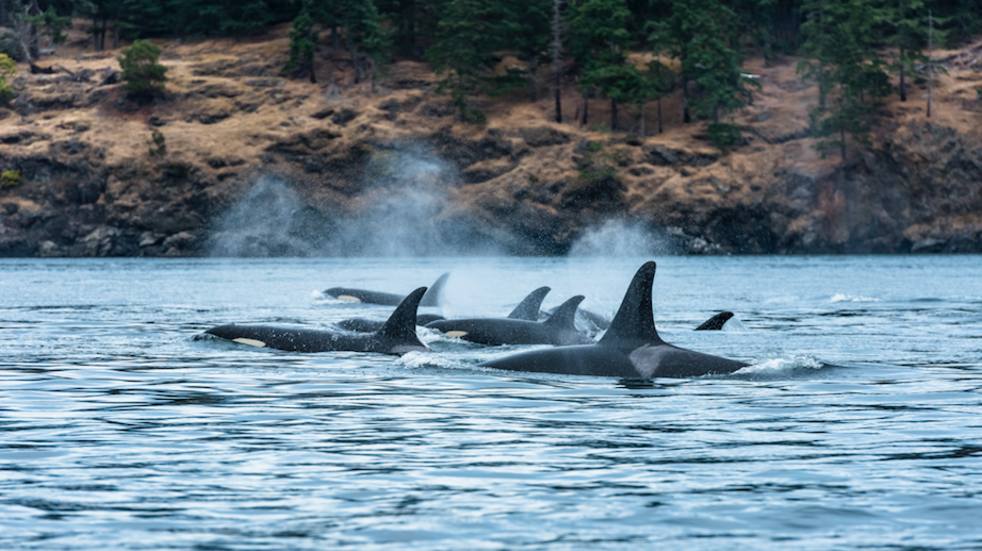 Experiencing orca whales swimming together off Telegraph Cove is an exhilarating sight (Photo: Reuben Krabbe and DBC)
Just off the coast from mainland BC, Vancouver Island is a place of wild, unspoilt beauty – but don't expect to have it all to yourself. No, the coastline is bustling with raucous sea lions and bobbing otters; and the inland with black bears and cougars. Offshore, pods of orcas and dolphins busy the bays, while 20,000 Pacific gray whales migrate along the west coast every spring. A quiet retreat this is not.
On Canadian Sky's 13-night 'Explore BC – Wildlife & Beaches of Vancouver Island' trip, you'll take a self-drive adventure into the fray. It begins in Victoria, with a city tour either on foot or by kayak – before heading west, to the coastal community of Sooke. Here, diving and fishing opportunities are plentiful, and the long shingle beaches perfect for picnics and walks.
Travelling northwards, Englishman River Falls offers freshwater swimming spots and thundering cascades, while a kayaking trip through Clayoquot Sound could feature otters, porpoises and eagles. More action-packed options include a trip to see grizzly bears, and a rafting expedition to snorkel with salmon.
The tour ends in Nanaimo, with its craft shops and seafood restaurants – but first, an unforgettable day's whale watching at Telegraph Cove. From June to October, the water roils with orcas. Safari boats are fitted with hydrophones, so you can hear their calls on the surface, while kayaking trips come thrillingly close to the action. Our tip? Do both. Social distancing be damned: it's a joy to encounter this crowd.
---
Explore British Columbia with Canada Sky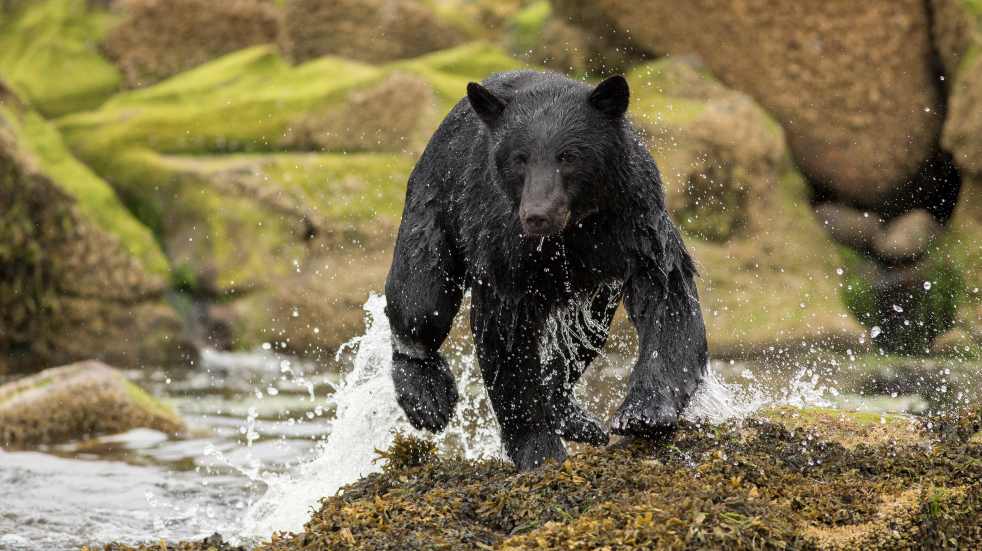 What will you see on your adventure? (Photo: Steven Fines and Northern Vancouver Island Tourism)
Holidays include a free excursion such as wildlife encounters, bike tours and kayak adventures Canadian Sky's 13-night self-drive tour 'Explore BC – Wildlife & Beaches of Vancouver Island' costs from £2,339pp, and its 12-night self-drive tour 'Enjoy BC – Mountains & Menus' costs from £1,659pp. Includes return flights from London to Vancouver, fully comprehensive car hire, an electronic roadbook, hotel accommodation, plus a free excursion worth up to £150pp for bookings made before 31 December 2021, exclusive to Boundless members.
To book, or find out more, cllck here or call 01342 332691 and quote 'BOUNDLESS'.
Main photo: Ben Giesbrecht and DBC