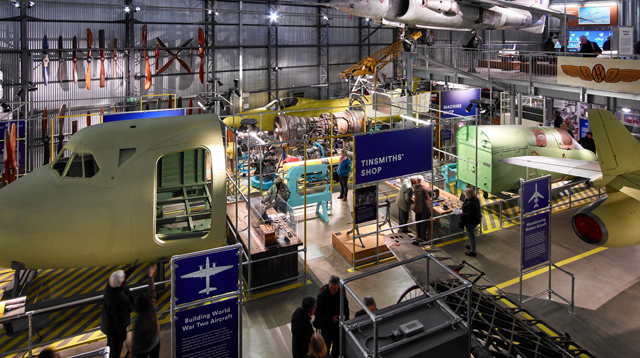 You and a guest are invited to spend a day at the fascinating Brooklands Museum, where you can explore Britain's aviation and motoring heritage, and step on board the legendary Concorde for a tour and interactive exhibition.
Discover the fascinating history of aviation and motorsport at Brooklands Museum, the site of the world's first motor-racing circuit and where some 18,000 military and civil aircraft were built over the years. Walk on the very track where the first-ever British Grand Prix took place in 1926, look inside the 'Stratosphere Chamber', designed by Barnes Wallis to test aircraft at altitude, and see the amazing 24-litre Napier-Railton racing car, built in 1933 and which holds the all-time lap record at Brooklands of over 143mph. In addition to tickets to the museum, members will also be given an interactive tour on Concorde (much of which was also built here) and be served afternoon tea at the Sunbeam Café.
Whats included?
Tickets to Brooklands Museum for two
Step aboard Concorde for a fascinating 35-minute tour – you'll be issued with a boarding pass, flight certificate, sit in real passenger seats, enjoy a virtual take-off and lots more
Afternoon tea at the Sunbeam Café
Experience gift pack including personalised voucher and message card
Cancellation indemnity
Step aboard the world's first supersonic passenger aircraft, which made its maiden transatlantic flight in 1973.
Included in the Concorde Experience
Complimentary Concorde boarding pass
Pre-flight briefing
Interactive on-board exhibition
Short film on the restoration project
Sit in real Concorde passenger seats
Take-off for a virtual flight
Complimentary Concorde flight certificate
Did you know?
Boundless Surrey Group members are visiting Brooklands Museum on 23 June 2020. Want to join them? Find out more.
Inspirational gift ideas are what Virgin Experiences do best – they keep the website fully up to date with a fantastic selection of over 2000 experiences. From adrenaline-fuelled driving experiences to Michelin-starred fine dining, you're sure to find an experience to suit you. Plus, as a Boundless member, you'll save 20 per cent on full-price Virgin Experience Days.
Terms and conditions
Ts & Cs apply Please visit here
Please note: This page links to an external website. Boundless by CSMA is not responsible for the content of third-party websites.