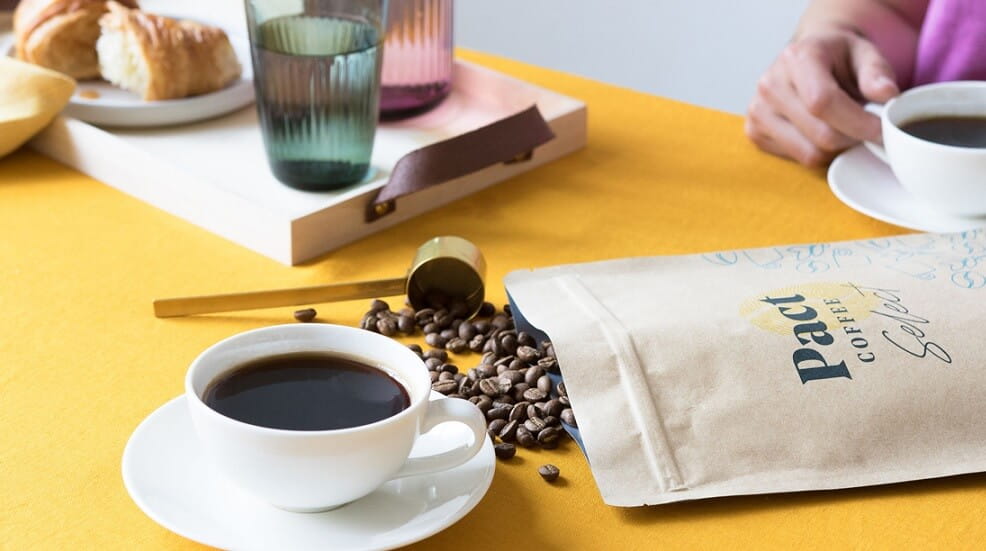 Pact Coffee are all about coffee without compromise. They don't buy bargain beans and don't sacrifice quality for the sake of profit. All of their coffee is sourced through the Direct Trade model. Why? It's a mutually beneficial set-up. They get you the best coffee, and farmers a better deal.
Want to join them? Get £5 off your first bag of freshly ground speciality coffee when you sign up to a Pact plan*.
Pact don't like the word "subscription". Life is too unpredictable to be tied down to monthly deliveries, whether you need coffee or not. Pact plans can be changed whenever, and however, you like - from delivery schedules, to what coffee you're receiving. It's always in your hands.
About Pact Coffee
Founded in 2012, Pact Coffee was created to change people's minds about coffee. They think about it like wine, not flour - it's a cupboard staple, but one that's infinitely better if it's been lovingly grown and expertly processed. They want the UK to realise that. Because everyone deserves a truly quality cup of coffee.
How to redeem this offer
Just follow the link to sign up to a Pact plan, create your own bespoke order and feel good about the fact they pay 25-125% more than Fairtrade for the best beans around. You'll be sipping the best coffee around in no time!
Terms and Conditions
*You'll receive £5.00 off your first bag of coffee or box of pods when you sign up to a recurring Pact plan, valid for new Pact Coffee customers only. Valid credit or debit card required. Offer is limited to one per person. You can cancel at any time. Offer expires 31/12/2019. If you have any questions, call 0203 095 3975 or email ahoy@pactcoffee.com.
Save £5 on your first bag.