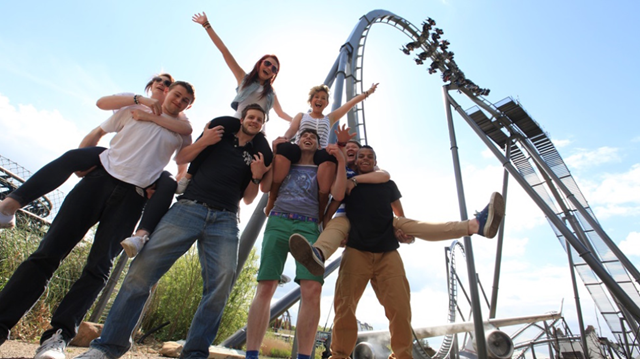 And with new rides and attractions opening every year, it's an ever-evolving theme park, meaning that it's never quite the same experience from one visit to the next. Here's our pick of the best Thorpe Park has to offer in 2017…
---
1. Derren Brown's Ghost Train
Designed in collaboration with British magician/illusionist/head-scrambler Derren Brown, this state-of-the-art ride opened in 2016 to rave reviews.

So nerve-shredding it has an age restriction of 13+ (while having the longest list of safety warnings of any ride in Thorpe Park), Derren Brown's Ghost Train isn't for the faint-hearted.

Utilising virtual reality headsets to simulate the terror of a demon invasion, Derren Brown's Ghost Train is one of Thorpe Park's most popular attractions and has been acclaimed as one of the most innovative and cutting-edge rides in the world.


---
2. Tidal Wave
When it opened, Tidal Wave was the highest water ride in Europe (Oakwood's Hydro later claimed the title in 2002), but while it no longer holds the record, it's still one of the most electrifying and dramatic water rides out there.

Set in a 1950s New England fishing village by the name of Amity Cove, the ride takes you up 85ft before plunging you at speed into the water below. Whether you're on it, or even just watching it, Tidal Wave is a real blast.


---
3. Colossus
One of the Park's main attractions, this heart-stopping roller coaster boasts a massive ten inversions including a vertical loop, cobra roll, double corkscrew and the UK's only quadruple barrel roll.

Set within the ruins of a recently unearthed Atlantean civilisation, Colossus takes riders to a height of 98ft before starting its white-knuckle descent. And with a surprise right at the very end, this ride still has the capacity to thrill, even at 15 years old.


---
4. I'm a Celebrity... Get Me Out of Here! Maze
I'm a Celebrity... Get Me Out of Here! has been a fixture on our TV screens since 2002. Following 12 famous (or famous-ish) faces into the Australian bush, the show has them competing for luxury food items by enduring a series of increasingly gruesome tasks, named Bushtucker Trials, to stay in the game.

Now, you can enjoy your own Bushtucker Trial and indeed feel like a celeb for the day, with Thorpe Park's I'm a Celebrity... Get Me Out of Here! maze. But be warned, if you're nervy around creepy crawlies and hate the thought of gunk, then best give this one a miss.

If it's your bag though, there's much to enjoy in this cleverly designed maze (there are even sound recordings of crickets to replicate the sensation of being in the Aussie bush), not least the introduction by familiar I'm A Celeb frontmen Ant and Dec.


---
5. Saw – The Ride
Inspired by the Saw film franchise, this blood-tingling ride was proclaimed at its opening to be the first ever horror-themed roller coaster.

Definitely not one for the squeamish, you'll experience a terrifying 100ft and 100º 'beyond vertical' drop along with three inversions, a zero-g roll, an immelmann loop, and a dive loop. And all with a few scary surprises that fans of the movie franchise will no doubt recognise.


---
6. The Swarm
One of Thorpe Park's signature roller coasters, The Swarm takes you to speeds of almost 100km/h with G forces of up to 4.5 – 'intense' barely covers it.

Described by The Daily Mirror as an "adrenaline-pumped experience that is simply not for the faint-hearted", The Swarm may not be the Park's longest-lasting ride (it last only 75 seconds), but it packs a lot into that time.


---
Boundless members save up to 54% on ticket prices