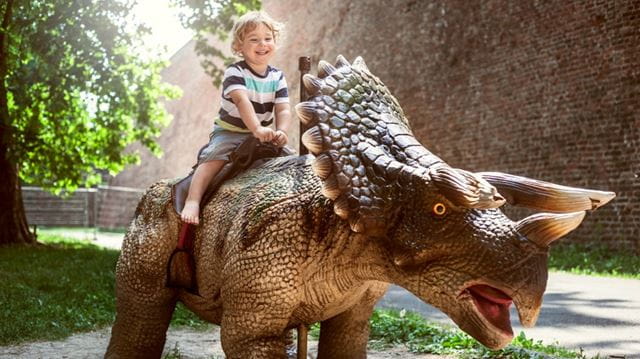 The Natural History Museum's Diplodocus, Dippy, is touring the UK until 2020. But if you can't catch him on tour, there are plenty more dinosaur attractions around the country.
Dippy, the 85ft Diplodocus skeleton usually found in of the London, has been popping up in cathedrals, parliament buildings community centres over the last few years. The iconic skeleton has already visited Belfast, Newcastle and Glasgow, and will then be reconstructed in the National Museum in Cardiff, Number One Riverside in Rochdale and finally Norwich Cathedral until 31 October 2020. His tour stops will include events such as lectures, discos and sleepovers.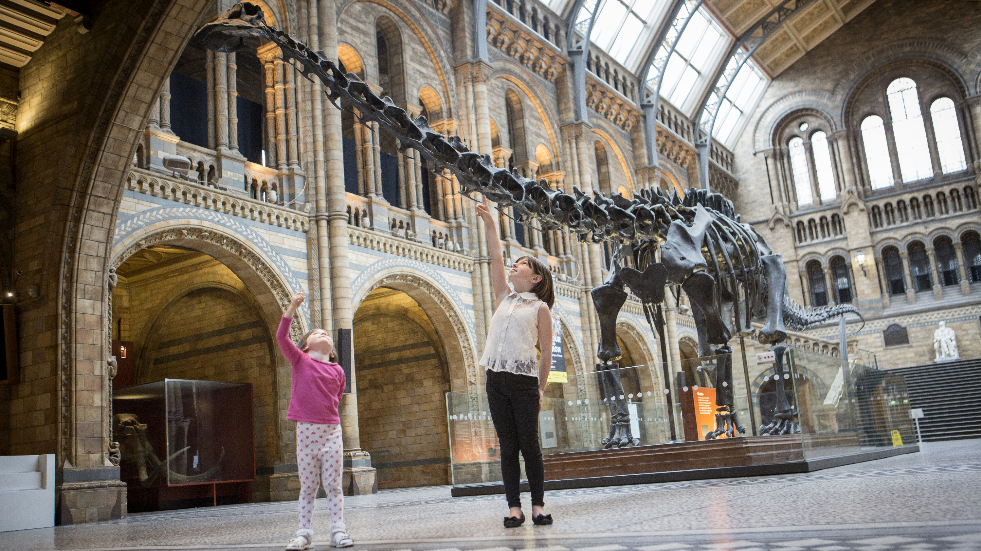 But while he's away from the Natural History Museum, here are ten other excellent dinosaur attractions for you to visit around the UK no matter your level of dino-expertise.
1. Dinosaur Isle, Isle of Wight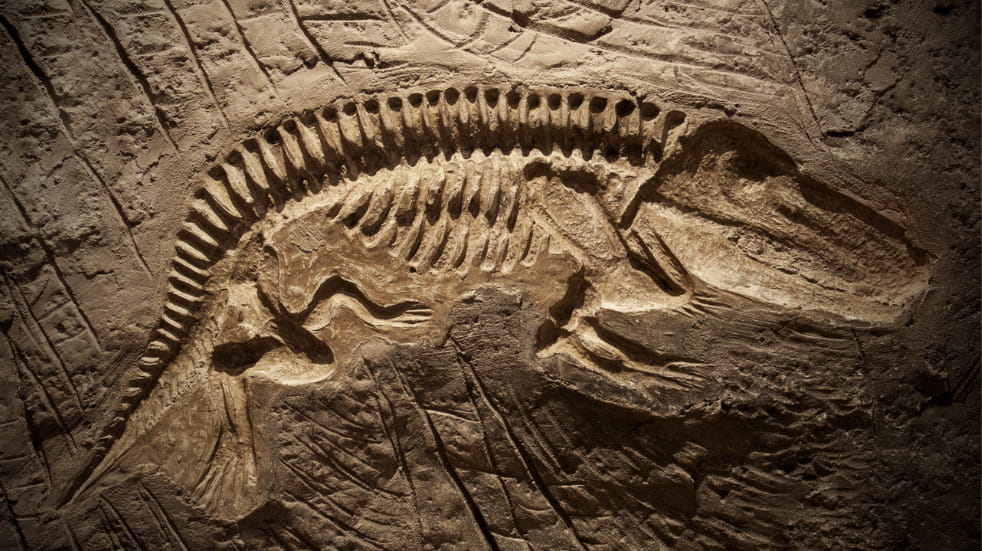 The Isle of Wight is the Dinosaur Capital of Britain, according to the Natural History Museum. Over 1,000 fossil finds are on display at the Dinosaur Isle museum, which itself is modelled on a giant pterosaur.
Kids can explore life-sized models of famous Isle of Wight dinosaurs, including the ferocious predator Neovenator. Plus, there's a robotic dinosaur, which they control.
---
Some other tips for family days out this winter:
The best London museums for kids
10 great family days out around Cardiff
Activities to keep the kids entertained on a rainy day
---
2. Natural History Museum, London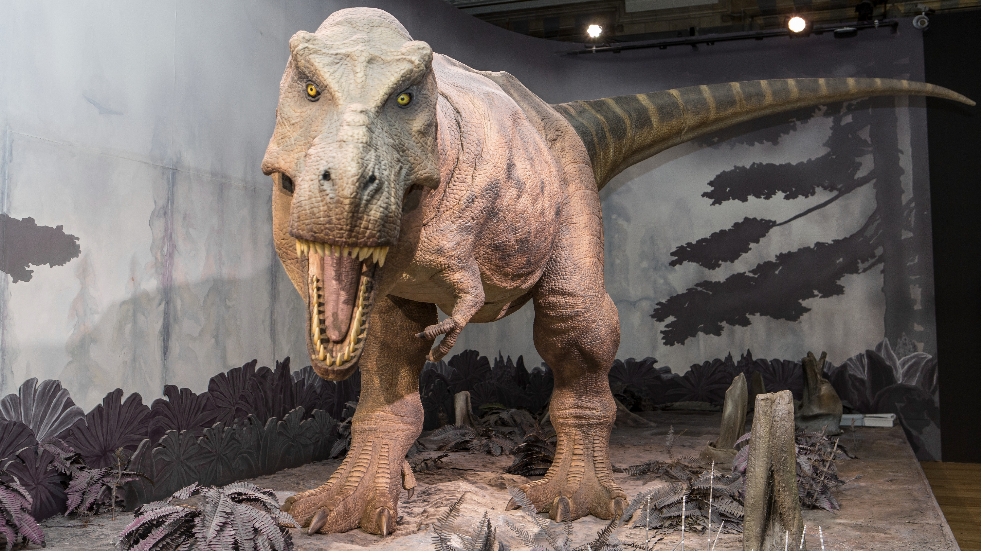 © Trustees of the Natural History Museum, London [2017]. All rights reserved.
Dippy may be on tour, replaced by a whale in his former location, but the London Natural History Museum still has a roaring T Rex, plus many fossils and specimens on display.
The stars of the exhibition include the first fossil ever found from a Tyrannosaurus Rex, the skull of a Triceratops, plus the skeletons of an Iguanadon and a Baryonyx – one of the largest meat-eaters ever unearthed in Europe.
---
3. Crystal Palace Park Dinosaurs, London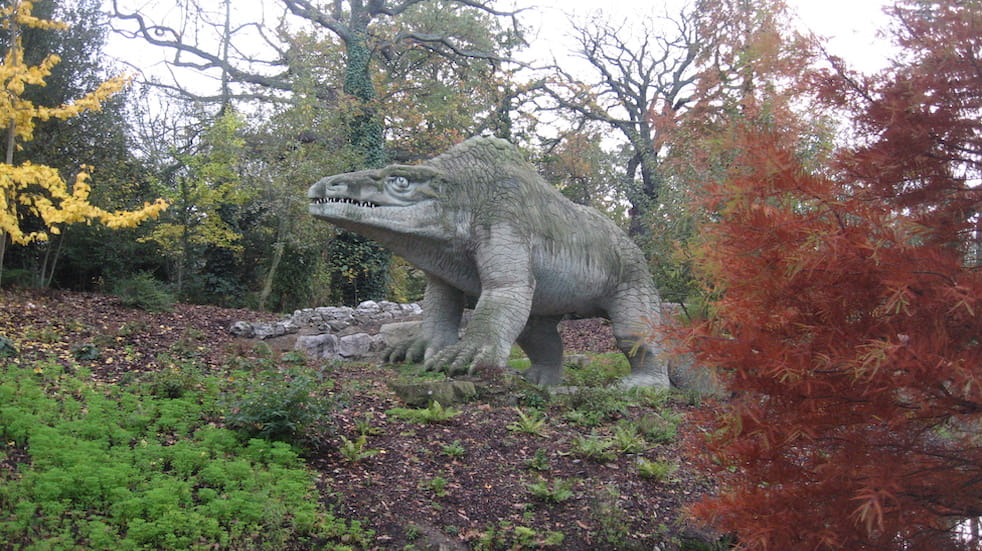 This iconic collection of sculptures – including dinosaurs and other prehistoric creatures like plesiosaurs and ichthyosaurs – has been surprising and entertaining people for over 160 years.
Originally opened in 1854, the exhibit in London's Crystal Palace Park saw enthusiastic visits from none other than Queen Victoria and Prince Albert. While the sculptures aren't entirely accurate by today's scientific standards, they'll still make a big impact on the dino obsessed.
---
4. Jurassic Coast, Dorset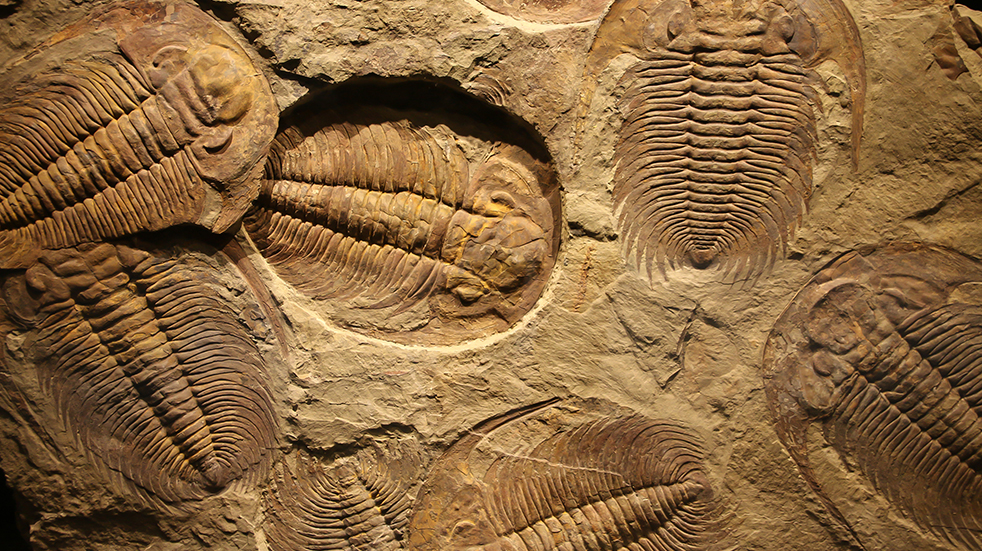 The Jurassic Coast in Dorset is a stretch of the British coastline that, as the name suggests, is famous for its fossils. Many are still being eroded from the cliffs of this World Heritage Site today, and tumble onto the beaches where anyone can discover them.
Caution is key, especially when dealing with cliffs and tides. Head between Charmouth and Lyme Regis for the safest beaches. Winter is often the best time to find fossils, too, as beaches are quieter and rough weather tends to reveal more of them.
---
5. National Museum of Scotland
A giant T-Rex guards the National Museum of Scotland's Natural World galleries, where kids can also learn about the lives of animals from the Arctic to Australia.
His friend (a stegosaurus skeleton) presides over the interactive Adventure Planet gallery, where kids can get hands on and uncover their own dinosaur skeleton.
---
6. Gulliver's Dinosaur & Farm Park, Milton Keynes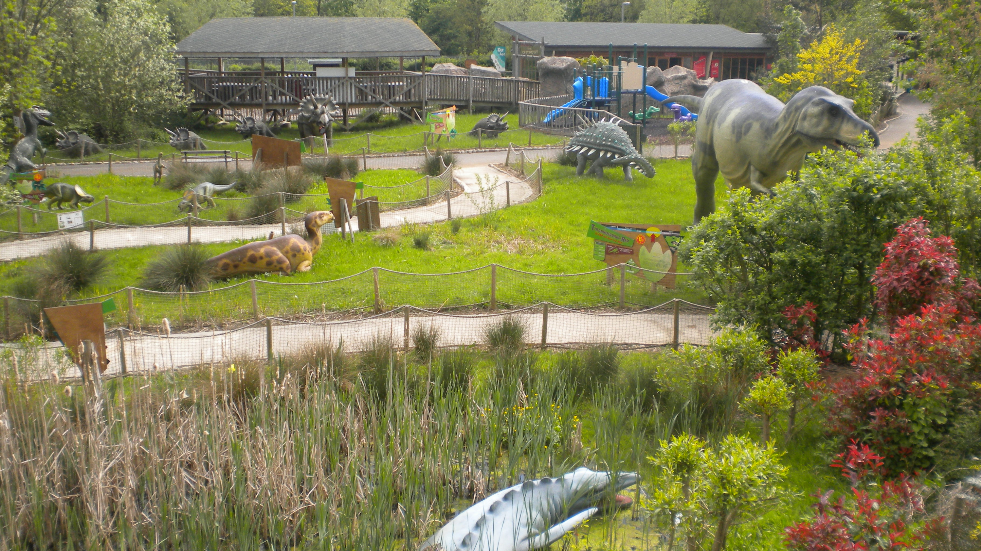 There's plenty for young visitors to do at the Gulliver's Dinosaur & Farm Park in Milton Keynes. At this double attraction reptile fans can explore the Lost World of the Living Dinosaurs, where 32 different kinds of animatronic dinosaurs roar and move around the park. Plus, there are dinosaurs to ride on, a river cruise, an observation tower and a reptile and bug centre. When they've had their fill of all things dinosaur, kids can visit the neighbouring Farm Park to pet animals, ride tractors and visit fluffy chicks.
---
7. ROARR! Dinosaur Adventure, Norwich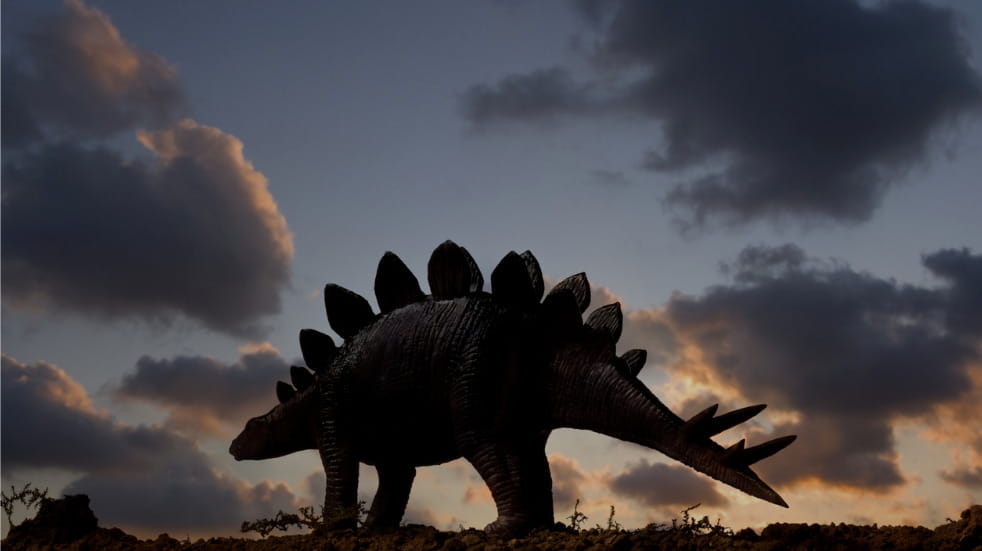 A herd of life-sized dinosaurs, including a Tyrannosaurus rex, Stegosaurus and Triceratops waits on the woodland trail at the ROARR! Dinosaur Adventure in Norwich. Budding palaeontologists can dig for fossils and bones.
Plus, there are a variety of play areas guaranteed to tire out kids of all ages, including an award-winning indoor soft-play centre, a 'stone age road race' circuit, a splash zone and an outdoor adventure playground.
---
8. Dan-yr-Ogof, The National Showcaves Centre for Wales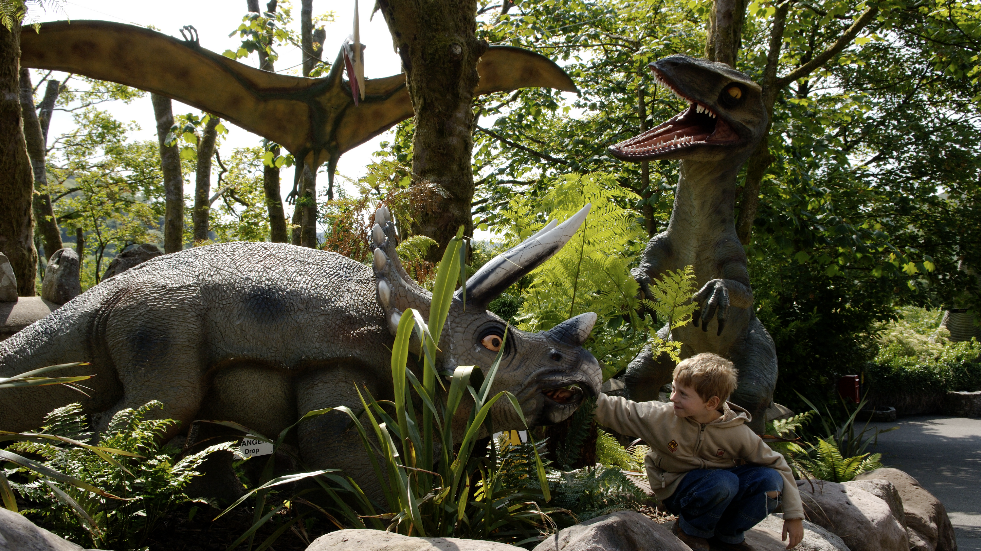 The stars of this Brecon Beacons attraction may be the three limestone caves that draw visitors from miles around – but the highlight for dinosaur fans is above ground. At the Dan-yr-Ogof showcaves outdoor dinosaur park are over 200 life-size models is set amongst woodland and waterfalls. Here, you'll find a Tyrannosaurus rex, giant flying predators and a massive Brachiosaurus – a herbivore that weighed the same as more than 15 elephants.
---
9. Dino Park, Dumfries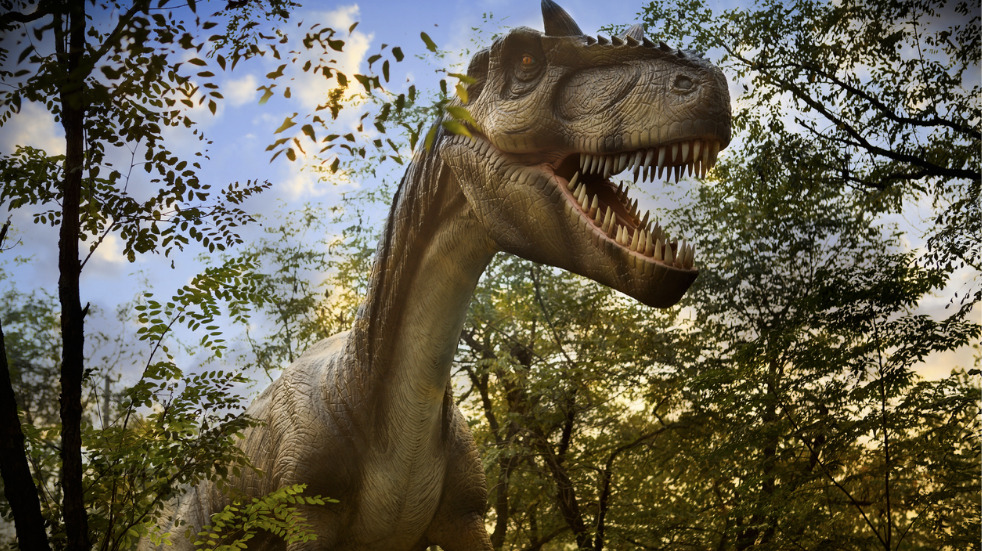 The leafy labyrinth at Dino Park in Dumfries hides 17 species of dinosaur, including a Tyrannosaurus rex, Brachiosaurus and Stegosaurus. Kids will love heading underground into a mine with a secret…
Then they can hunt for dinosaur bones and identify their finds, and let off steam in the tree house playground or indoor soft-play area.
---
10. Combe Martin Wildlife and Dinosaur Park, Ilfracombe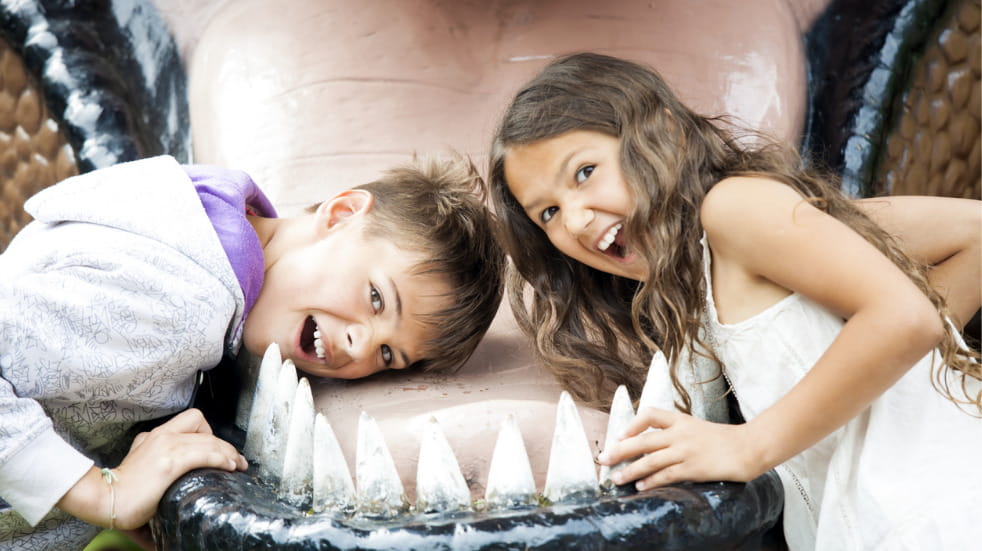 Thrill-seekers will love the Dino Express Train, complete with earthquake effects and cascading water, at the Combe Martin Wildlife and Dinosaur Park. And since it's located in sub-tropical gardens in an area of outstanding natural beauty, there's plenty for the more gentle-at-heart to enjoy, too.
Dinosaur fans can meet 'living' dinosaurs, watch free shows with a variety of animals, and explore a fossil museum. And if you're looking to see more wildlife, there are lions, wolves, sea lions, primates, meerkats and penguins in the neighbouring park.