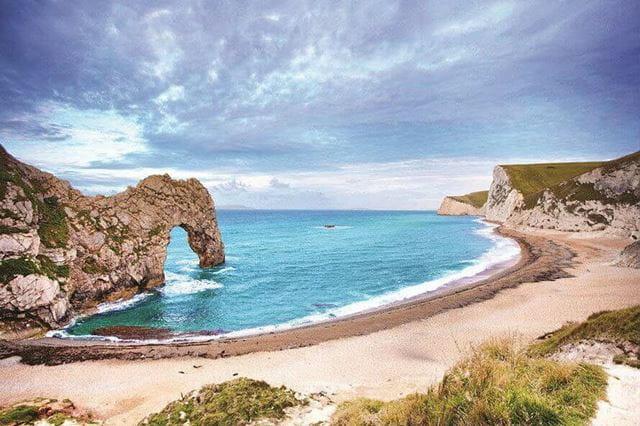 Catherine Eade enjoys perfect walking country – and an intriguing ghost village – on the South Coast
Dorset doesn't have any problems attracting visitors. More than half the county has been designated an Area of Outstanding Natural Beauty, while most of its coastline – rugged clifftops overhanging vast sandy beaches and coves – is a UNESCO World Heritage Site.
It's not hard to see why sun seekers flock to stunning scallop-shaped Lulworth Cove, the 18-mile-long Chesil Beach or the beautiful limestone arch of Durdle Door.
But Dorset is also a Mecca for walkers. Paths intertwining across the county link charming villages, ancient wooded valleys, rolling chalk downlands and secluded river valleys, with more than 4700 well-signed footpaths, bridleways and byways.
In fact the entire length of the Jurassic Coast can be walked on the South West Coast Path, which stretches some 630 miles (1014 km), from Minehead in Somerset, along the coasts of Devon and Cornwall to Dorset's Poole Harbour. (The Path was voted one of the most awe-inspiring hikes in the world in a recent CNN Travel guide.)
I have come to explore the coastline around Lulworth Cove, staying in a newly renovated walkers' lodge in the heart of Lulworth village, owned and run by outdoor and walking holiday specialists, HF Holidays.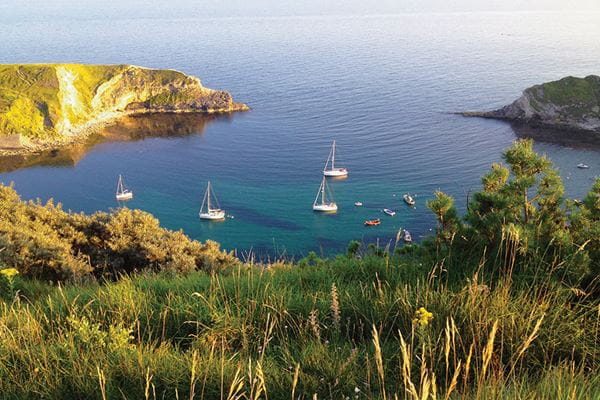 At weekends, walkers get to ramble freely over a vast area of land near to Lulworth Cove that has been untouched by developers for more than 70 years.
Our first day of walking begins with a visit to the deserted parish of Tyneham, deep in the Purbeck Hills, which was commandeered by Winston Churchill's War Cabinet just before Christmas 1943 for training troops. One can't help but feel a pang for the former residents, curling black and white photographs of many of whom appear on the walls of the church and schoolhouse – both of which remain intact.
Given one month to leave, the villagers received as compensation only the estimated value of the produce in their gardens. They left a notice pinned to the door of the church: 'Please treat the church and houses with care; we have given up our homes where many of us lived for generations to help win the war to keep men free. We shall return one day and thank you for treating the village kindly.'
They never did return. In 1948, the War Office issued a compulsory purchase order for the area and it has remained under MOD ownership ever since. The village is now an open air museum, surrounded by 7500 acres of heathland and chalk downland.
From the 'ghost village' it's a short ascent to the prehistoric ridgeway that runs along the top of the Purbeck Hills, and a pleasant if blowy walk along the cliff path to the massive Iron Age Flower's Barrow hill fort. A steep climb rewards us at the top with tremendous vistas stretching over an impossibly turquoise sea, from Portland to Poole Harbour.
The military ownership of this huge area of heathland has resulted in a landscape that, without any agricultural or other development, is home to an abundance of wildlife, including rare flowers, fungi and insects. Our group stops for a picnic lunch atop 2500-year-old Flower's Barrow, and is treated to both a history and geology lesson about the area while we munch our sandwiches. Chris, a former teacher who now works for HF Holidays as a walking guide, is a mine of information.
The wind in my hair, the sun on my face and the fact that there is no mobile signal creates the feeling that we are miles from the modern world. As we near Lulworth Cove an hour or so later it's a pleasant meander back to our accommodation for tea and cake.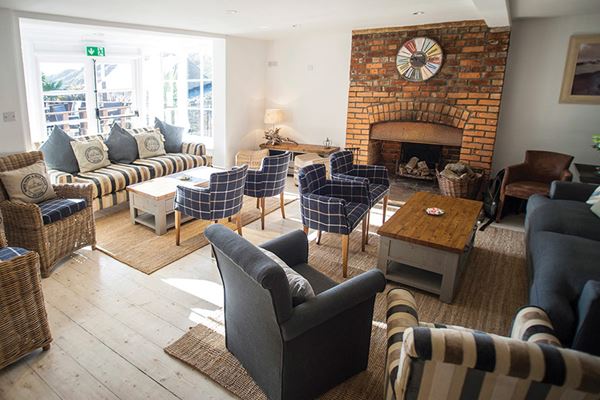 Formerly known as Lulworth Mill House, Lulworth Lodge is a haven for walkers keen to explore Dorset's coastline. A roaring fire in the living room before which fellow walkers meet and eat and exchange stories about their day, makes you immediately feel welcome – and if you can't see the sea from your bedroom window, you can from the outside decked seating area.
A 'Discovery Point' area is filled with walking and cycle routes, advice on where to go and up-to-the-minute weather forecasts. Should you return from your day's adventure muddy and wet there's a boot and drying room to air your kit ready for the next day's outing.
Evening meals take place around the long tables filled with other walkers and prove to be excellent, with locally sourced food and drinks, all rounded off with some piquant Dorset cheeses. Staff at the Lodge take orders for the following day's picnic lunch, and promise to fill flasks for walkers wanting a hot drink on their walk.
The next day we tackle a shorter walk in the opposite direction, through the quirkily named Scratchy Bottom valley towards Durdle Door. A short walk over the cliffs along the manmade path reveals this stunning natural rock formation that resembles a giant elephant's trunk arching down to the water.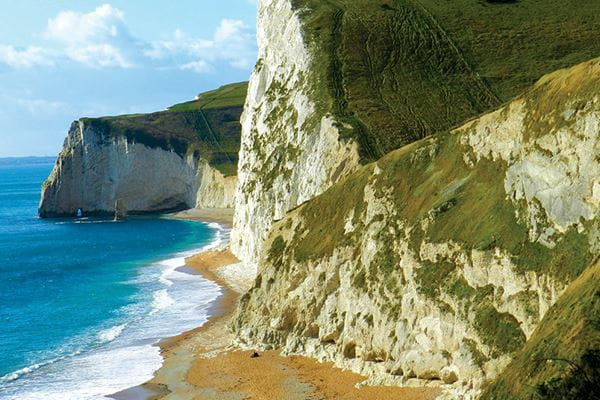 Another short circular walk from the lodge heads east along the coast before climbing the spectacular cliff edge of Mupe Bay and returning over Bindon Hill past the Fossil Forest – the most complete fossilised record of a Jurassic forest in the world. Another small group of walkers at the Lodge plump for this option, while a couple decide to strike out independently, taking a couple of maps to plan their own route.
If you're a seasoned walker and crave the challenge of a long-distance hike, there are plenty of trails to satisfy your urge. The Dorset section of the Wessex Ridgeway runs from Ashmore in the North past ancient hill forts and the Cerne Abbas Giant on its winding way to the coast at Lyme Regis; the Stour Valley Way follows the River Stour on its journey to Christchurch Harbour.
Lulworth Cove holds a special memory for me, reminding me of childhood summers when the hours stretched out like days, so it's a treat to be staying right in the heart of it, a stone's throw from the beach.
The 3 – 5 mile routes I've completed proved to be a nice taster for walking in the area, and I look forward to trying some longer hikes when I return.
Catherine stayed at Lulworth Lodge with HF Holidays