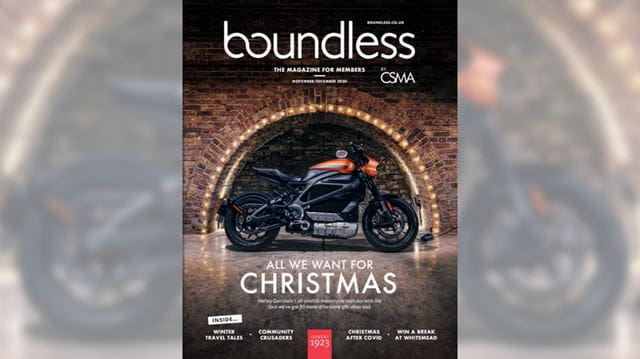 Welcome to the last issue of boundless magazine for 2020. I'm sure many of us are eager to close the door on what has been an enormously challenging year and move on to a brighter, healthier future. I know I am. It's more important than ever to savour life's more simple pleasures and to be grateful for what we have, and with this in mind I want to express my gratitude once again to the incredible public servants who have kept this country together – specifically during the pandemic in 2020, but generally throughout every day of every year in living memory.
Here at Boundless we're already looking to the future, planning for next year and adjusting our offering to reflect the 'new normal'. So far, we've created 10 brilliant virtual events for members to sign up to and there are still some great member days and flagship events in the works for 2021. We will keep our leisure retreats open while it's safe to do so and every booking comes with our 'book with confidence' guarantee, so if COVID-19 should get in the way of your well-earned break, we have you covered.
In the meantime, we wanted to bring a little bit of joy – seasonal or otherwise – to your doorstep. This issue, we test the Harley-Davidson LiveWire – the iconic brand's first electric motorbike – and introduce you to four individuals who have gone above and beyond during the pandemic. Plus, there's a bumper Christmas gift guide brimming with ideas that make good use of your shopping discounts, and the chance to win a mini-break for up to six people at Whitemead Forest Park.
HEATHER GLANVILLE, ASSOCIATION CHAIR
Login and enjoy the read!