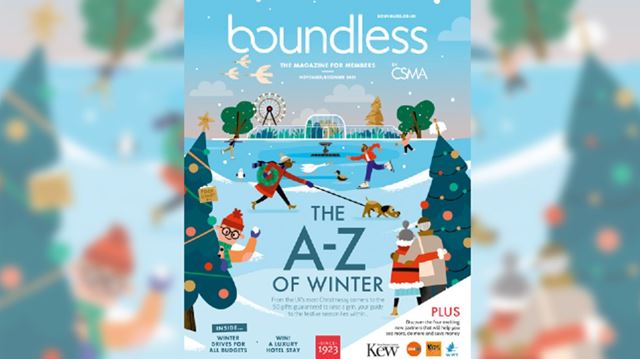 The final furlong of the year is undoubtedly a time for giving. Whether it's volunteering your time, a readiness to help causes and people outside your own four walls, or treating your loved ones with Christmas gifts, the spirit of generosity tends to take hold of us all at this time of year. In a similar vein, Boundless – committed as ever to providing value for its members – is bringing something extra special to the table, giving you even more in return for your membership fee. This is why we're delighted to announce four wonderful new benefits – Royal Botanic Gardens, Kew (Kew Gardens and Wakehurst); WWT; Kids Pass, and tastecard including coffee club membership. These new partnerships will create even more opportunities for you to make memories and connect with friends and family – those moments that we appreciate even more after the past couple of years. Find out more on page 69...

It is also in the spirit of giving back that we encourage you to have a go at philanthropy in this issue, with suggestions around how to donate your time and money, and even how to champion your own cause if you're so inclined. You will also enjoy our bumper Christmas gift guide, with 50 thoughtful present ideas for all ages, each with a helpful Boundless discount. And to really get into the seasonal spirit, turn to page 63 to find out what winter means to some of our favourite public figures, including Clive Anderson, Nick Bailey and our very own Vicki Butler-Henderson.

I wish you all a happy festive period.
HEATHER GLANVILLE, ASSOCIATION CHAIR
Login and enjoy the read!