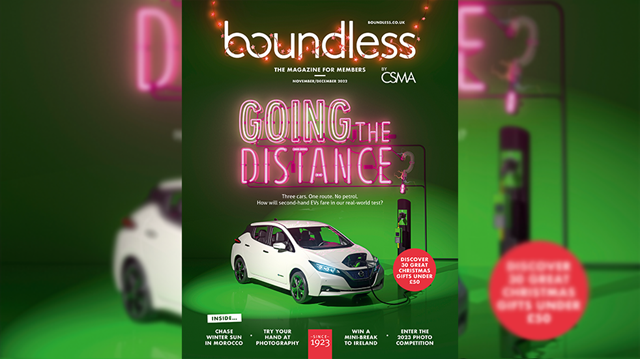 As another year draws to a close, I find myself looking back on some moments from 2022 with fond memories. It's been wonderful to see some of the old practices return in a way that, at times during the pandemic, seemed impossible: in-person get-togethers, exclusive member days, and a sense that we've made it through the challenge of a generation. That's not to imply that there aren't tough times ahead – there undoubtedly are – but there's also a great deal to look forward to: the joys of autumn, the excitement of Christmas and of course the promise of Boundless's 100th anniversary in 2023, bringing with it great cause for celebration. Keep your eye out for further exciting announcements in the next issue of boundless magazine. Needless to say, you won't want to miss out.
But for now, it's all eyes on the November/December issue, which has plenty to keep you delighted and inspired for the autumn and winter months ahead. Travel writer Yolanda Zappaterra suggests that we head to Morocco for reasonably priced, short-haul winter sun, while Vicky Parrott hits the road with not one but three used EVs to see if the second-hand market is as sustainable as it claims to be. We also round up some of the UK's finest illuminated events and bring you inspiring news on how your donations are making an impact through the Boundless Foundation. And that's not to mention our selection of 30 great-value gifts – everything you need for your loved ones this Christmas, without breaking the bank.
Lastly, as this is our first issue since the death of Queen Elizabeth II, we'd like to offer thanks to our longest-reigning monarch. As our highest-ranking public servant, she dedicated her whole life to public service with humility and grace. We are reminded of the kindness she showed towards everyone she met across our nation, the Commonwealth and the entire world.
Heather Glanville, Association Chair
Login and enjoy the read!