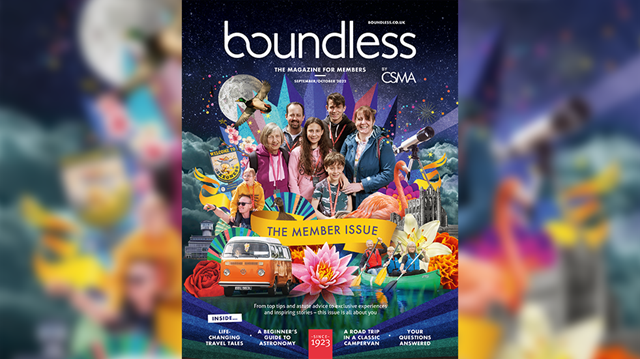 I'm delighted to be able to share this year's member special with you all. Every Sept/Oct issue the team creates a magazine that not only reflects your interests but also shares your stories, advice and recommendations, and captures your experiences – this year is no different. We asked you to get in touch and you didn't disappoint, so huge thanks to everyone who contacted us with something to contribute. This issue wouldn't be possible without you. If you'd like further involvement in wider membership matters and to help shape what your club has to offer, we'd love to have you as part of our valuable Member Panel. To find out more and sign up, please visit boundless.co.uk/memberpanel.
In the meantime, it's over the page to a jam-packed issue. Vintage vehicle enthusiasts will love reading about Vicky Parrot's escapade driving a refurbished classic VW camper van from Sussex to Whitby, simply so she could join in the fun at two of our splendid member events. Those of you who are cosmos-curious will enjoy our introduction to astronomy, and make sure you don't miss our Q&A section, where members' questions are answered by – you've guessed it – other members. We've also corralled a handful of experts who add their wisdom to the trusted font of knowledge that is the Boundless membership.
And lastly, if you love your club, why not introduce your friends? Give them access to all the membership benefits you value and you'll receive a £10 Love2shop voucher for every successful sign-up. You can find out more at boundless.co.uk/refer. Who knows – they could even see themselves on these very pages in the next member issue.
Heather Glanville, Association Chair