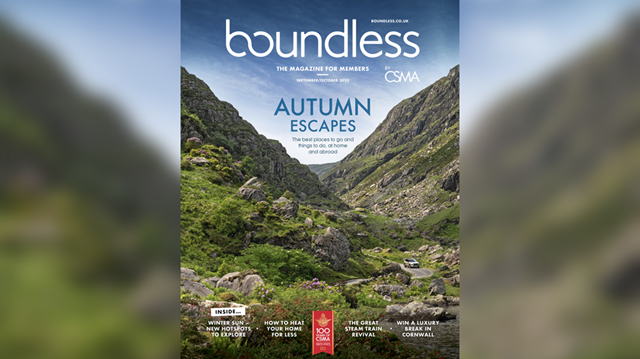 'Back to school!' That's the message in every shop window and TV ad break at this time of year, and many of you will be busy equipping your kids with new shoes and pens, or even packing them off to university.
But why should September's start-of-term excitement be reserved for the young*? Actually, it's the perfect time for us all to learn something new or develop a skill. At Boundless, we have our best-ever programme of online events, completely free for members. Among the highlights are masterclasses on birdwatching, creative writing and tracing your home's history, as well as first-hand insights into extraordinary times and places, from the Le Mans 24 Hour Race to the Gulf War. Do join us and broaden your horizons – you'll find all the details on page 42.
Talking of trying new things, have you sampled our new partner tastecard yet? You can make great savings at cafés and restaurants all over the country, so it's a budget-friendly way to sample a new cuisine (I've always been curious about Eritrean). This issue we put tastecard to the test in buzzing, city-of-the-moment Leeds – see our verdict on page 36.
As well as trying new things, there's also a growing movement to repair the old. International Repair Day in October is a focus for this 'make do and mend' philosophy, which is economical, environmentally friendly and – as anyone who has watched the BBC's The Repair Shop will know – hugely satisfying. We meet some fixers and restorers on page 58. Do let us know if you're a fixer-upper too – we know what a handy lot our members are!
HEATHER GLANVILLE, ASSOCIATION CHAIR
Login and enjoy the read!