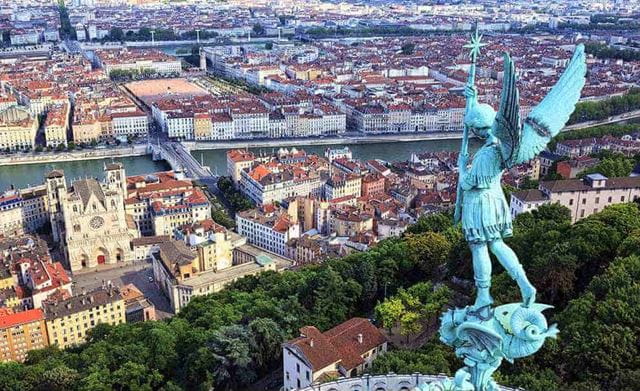 For some reason, Lyon, France's second largest city and the country's gastronomic centre, seems curiously under the radar, especially when compared to Paris. Given that it is one of Europe's most historical cities, has some fabulously preserved Roman ruins and a relaxed but sophisticated atmosphere, it's hard to understand why. Take a look at our list of the city's many highlights and you may want to quickly add it to your weekend-getaway wish list!
---
1. Enjoy a gourmet experience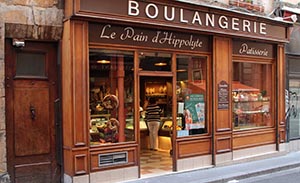 There are plenty of reasons why Lyon has a reputation as a culinary hot spot. It has over 1,500 eateries and is located within easy reach of many of France's most famous food-producing areas – including the Monts du Lyonnais, famous for its pork and the fertile regions of the Drome and Ardeche which provide the city with much of its fresh fruit and vegetables. It is also known for the quality of its boulangeries, patisseries and chocolatiers. One of the best places to see and sample some of its gastronomic delights is at Les Halles de Paul Bocuse, named after the city's most famous chef, who was one of the main instigators of nouvelle cuisine. The market is modern and spotlessly clean, selling top-of-the-range goodies including cheeses and chocolates. If you want to sample rather than just salivate, there are plenty of places to grab a bite with stalls serving everything from fresh fruit smoothies to plates of seafood washed down with great local wine.
---
2. Sample a taste of tradition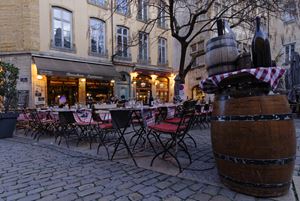 The Lyon Bouchons, with their cosy, relaxed interiors and checked tablecloths, are simple bistros that were first opened to serve the silk industry workers back in the 19th century. They were said to be started by the so-called 'mothers of Lyon' who created these traditional restaurants and are at the heart of the city's culinary reputation. The first bistro was apparently opened by Mère Fillioux, who passed on her skills to the even more famous Mère Brazie. There are plenty to choose from, particularly in the old town, all specialising in hearty comfort food – and Lyonnais specialities such as gateau de foie – chicken liver cake, sausages, duck and offal-based dishes.
---
3. Discover life under the Romans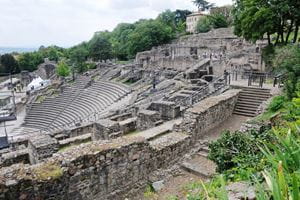 Lyon was the former Gaul capital and the Gallo-Roman museum, a modern building with exhibits arranged over different floors, has one of the most impressive collections of Roman antiquities in Europe. Highlights include the Lyon tablet inscribed with a speech by Claudius, beautiful mosaics, Dionysiac sarcophagi, a bronze chariot, and delicate jewellery found hidden in a wall. Just next door is the city's well-preserved Roman theatre.
---
4. Wander through the old town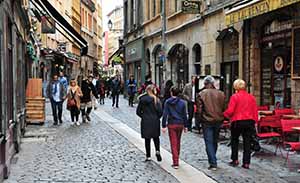 Known as Vieux-Lyon, most of this area dates back to the Renaissance and was made a UNESCO World heritage site in 1998. The area is divided up into different districts including St John, where you will find the city cathedral and its main street, also called St John, and running from north to south, between the Place de Change and the cathedral. There are some pretty squares, endless places to eat and cute little shops selling all manner of things from delicious chocolates to jazz LPs. Look out too for the traboules, hidden passageways running through courtyards and buildings, dating back to 15th and 16th centuries and used by silk workers, on their way to market. During the war they were ideal locations for clandestine meetings between Resistance fighters.
---
5. Go with the flow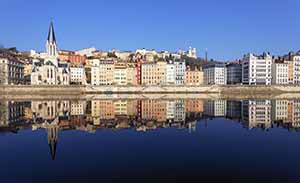 Both the Rhone and Saone meet in Lyon, forming a peninsular or Presqu'ile. Numerous bridges criss-cross the rivers and in the summer its banks are a popular places for locals and visitors to sit and enjoy the sunshine. Situated on the convergence of the two rivers, the Musee des Confluences is part of the dockland's vast regeneration project. Sometimes described as Lyon's answer to Bilbao's Guggenheim, its exhibits take the visitor through the story of mankind through over two million objects which range from a mummy to a piece of moon rock.
---
6. Get in touch with nature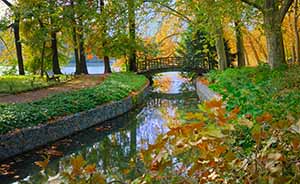 The Tête d'Or park is the city's favourite green escape, covering around 290 acres right in the heart of city. It is popular with joggers and cyclists as well as families looking for a break from city life. Take a paddle boat out onto the lake, enjoy a walk in the scented rose garden and kids will love the small zoo. There's also a restaurant, along with lots of shady picnic spots under the trees.
---
7. Take a view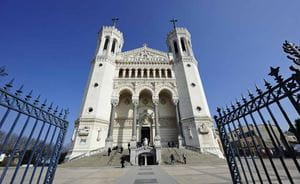 The hill of Fourviere is also sometimes known as the 'praying hill' and thought of as at the centre of Lyons spiritual life. Perched on the top is the slightly grandiose Basilique Notre-Dame de Fouviere, built in mock-Byzantine style between 1872 and 1876 its white turrets can be spotted, wherever you are in the city. Getting there is a bit of a work-out but if you are not up to the climb you can always take the funicular to the top. Nearby there is also an observatory and museum, as well as views onto the city.
---
8. Be a culture vulture
As you would expect from France's second city, Lyon is well endowed with museums. There are 30 in total covering all sorts of subjects from textiles and contemporary art to puppets and African art. For anyone with even a passing interest in cinematography the Musee Lumiere, located over four floors, in an elegant villa, tells the story of the two Lumiere brothers, Auguste and Louis. They are said to have captured the world's first motion film and held the first public screening. The museum explores the history and science behind their early films, first cameras, and colour photographs.
---
Where to eat
Le Grand Café de Negociants
Located right in the middle of Lyon, near to the main shopping streets, this is one of the city's most elegant brunch-or-lunch stops. Built in 1864, it still retails much of the original nineteenth-century style and the smartly attired waiters carry out their tasks with great professional aplomb. Despite the sumptuous interior, there atmosphere is relaxed and the the lunchtime specials offer good value for money, so you can experience some real old-world glamour without breaking the bank. lesnegociants.com/
---
Where to stay
Hotel Royal
If you are going to treat yourself, this is the place to do it: Lyon's oldest hotel is perfectly placed on the Place Bellecour, the elegant central square right in the middle of the Presqu'ile area, between the two rivers. It feels like a mix of a grand old townhouse and a modern boutique-hotel, with flawless service and a general air of discrete luxury. Its many famous guests over the years have included The Beatles (in 1965) and legendary French film director Bertrand Tavernier (in spring 2016). CSMA Club members stayed here on their 1927 trip to the Col de Galibier - and we stayed there again when we reprised the adventure for our July-August 2016 issue. The French chef Paul Bocuse, now 90, one of the founders of nouvelle cuisine is patron of the hotel's restaurant – and the on-site culinary school. Prices from around £150 for a double room. lyonhotel-leroyal.com/
The Institut Paul Bocuse, housed at the Hotel Royal, offers Gourmet Getaways – five-day residential courses in French cuisine, including lessons on history and technique plus trips to local producers and meals at a range of the region's top restaurants. institutpaulbocuse.com/
---
Getting there
Easyjet flies to Lyon from London Gatwick and London Luton. Return flights from £97. Journey time: 1 hour 40 minutes. British Airways flies to Lyon from London Heathrow, while KLM offers flights from Glasgow, Manchester and Bristol.