The presence of the Kia and Hyundai lends a Korean bent to the performance cars here - check out the other features of our top six new cars
The best sports car
1. ALPINE A110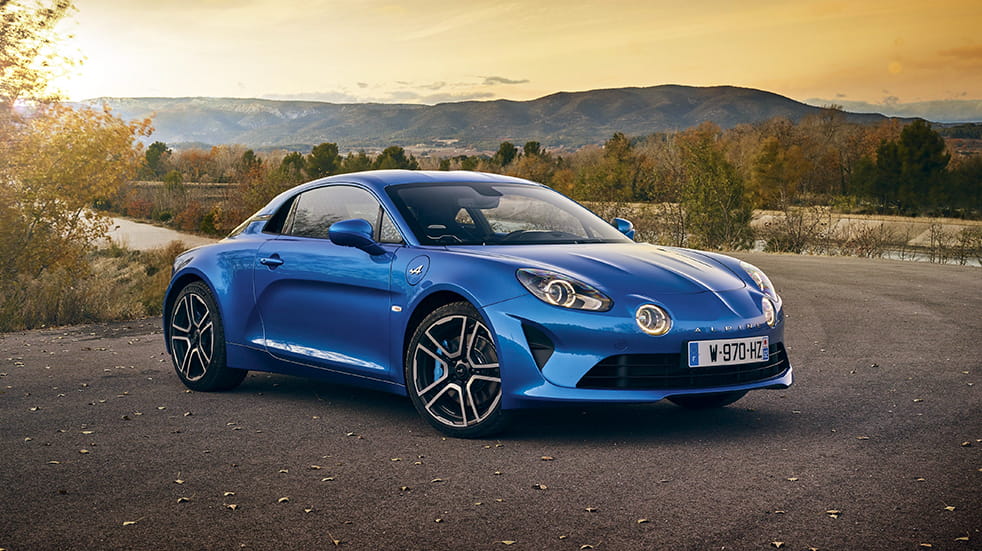 The French Renault-owned firm Alpine hasn't built a car for over 20 years. But now the company that made its name building small, lightweight sports cars is back.
The A110 might be a retro-inspired version of the 1961 original, but the thinking behind it is bang up to date. On the surface, it's a compact two-seat coupé in the mould of the Porsche Cayman or Audi TT. But underneath, Alpine has made it as light as possible.
Powered by nothing more exotic than a 1.8-litre turbocharged four-cylinder developing 252hp and 221lb ft of torque, it's fast enough to beat a 50hp-more-powerful Cayman to 62mph, and return notably better fuel economy and emissions. That's because, at 1,103kg, it's well over quarter of a tonne lighter than the Porsche.
This is expensive to do – and as a result the Alpine A110 will cost Porsche money when it goes on sale in the UK towards the end of 2018. UK specs haven't been confirmed yet, but Alpine is taking deposits of £2,000 via its app, and you can expect to pay around £45,000.
Because it's light, it drives differently to its rivals, flowing more gently over road surfaces and feeling less aggressive. The only drawback to this is that it does get buffeted by strong crosswinds (and the twin storage areas front and rear are very small), but by any measure this is a crisp, involving, sweet-handling and utterly delightful car to drive. It might not be as well built as a Porsche, but it's not far off, and it's a quieter and more comfortable machine for daily use.
THE SPEC: ALPINE A110
Engine 1.8-litre 4-cyl turbocharged petrol, rear-wheel drive, 7spd twin clutch
Power 252hp
0-62mph 4.5 seconds
Top speed 156mph
Fuel economy 46.3mpg
CO2 emissions 138g/km
Price from c£45,000
---
The best SUV
2. JAGUAR E-PACE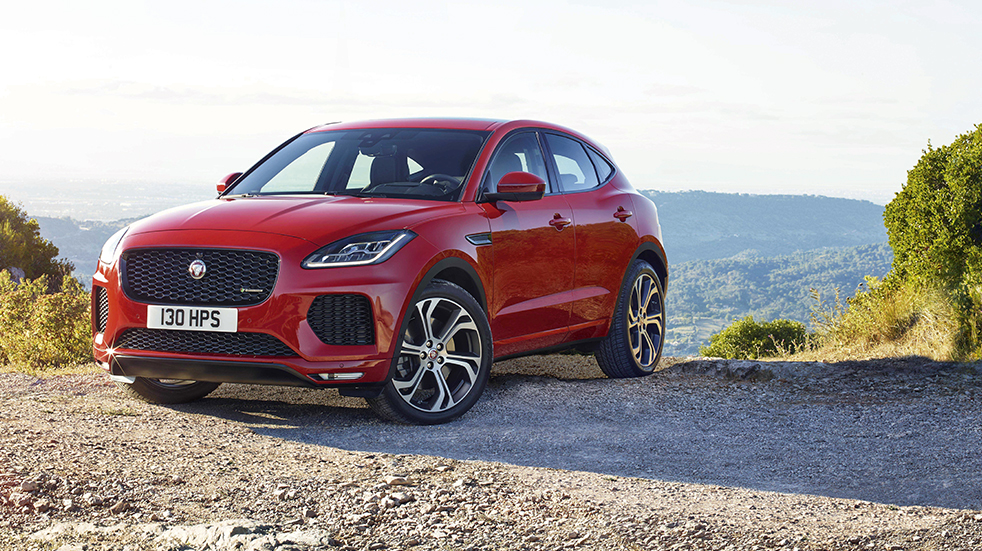 With its big brother F-Pace cleaning up for the big cat, a smaller offering was an inevitability. The E-Pace is exactly that, giving Jaguar an alternative to the big-selling Audi Q3, Mercedes-Benz GLA, BMW X1 and Range Rover Evoque – it's closely related to the latter.
It's good then, though its focus on handling does mean a sometimes busy ride. Powered by a pair of 2.0-litre Ingenium petrol and diesel engines (the petrol version was launched last year), power ranges from 150hp up to 300hp.
Stick with the 150hp or 180hp diesel, as anything else starts to look expensive. Neatly styled inside and out, it's not quite as polished all round as its established, predictable rivals, but it'll sell well, and deservedly so.
THE SPEC: D180 AWD
Engine 2.0-litre 4-cyl turbodiesel, all-wheel drive, 6spd manual
Power 180hp
0-62mph 9.9 seconds
Top speed 129mph
Fuel economy 54.3mpg
CO2 emissions 137g/km
Price from £28,500-£35,160
---
The best electric car
3. NISSAN LEAF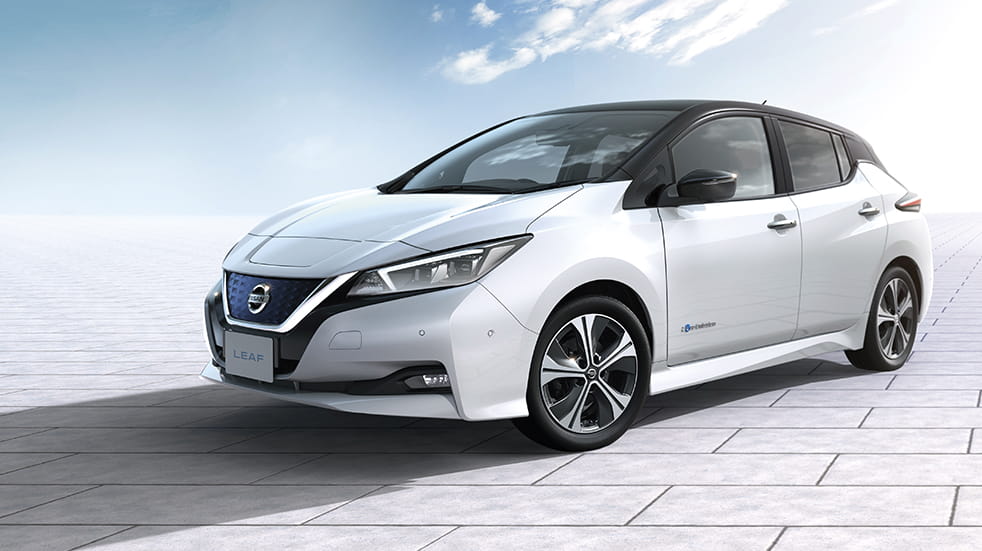 Nissan's electric family hatchback, the Leaf, was introduced back in 2011, so it was about time for an all-new version.
There's nothing radical here, the Leaf bringing what all new cars offer: sharper looks, more equipment and greater economy. With the Leaf, that economy equates to range – a full charge, says Nissan, is 235 miles.
The reality is likely to be significantly less than that, particularly in the winter. It drives well, with crisp acceleration, a decent ride and, largely because of the silence of the motor, excellent refinement.
If you have a regular short commute it's arguably perfect. But, as with any electric car, outside clear-cut parameters you are still stymied by those regularly discussed range and charging compromises.
THE SPEC: VISIA
Engine 40 kWh hour battery pack, front-wheel drive, CVT automatic
Power 150hp
0-62mph 8.6 seconds
Top speed 89.5mph
Range 235 miles (NEDC claimed)
CO2 emissions 0g/km
Price from £26,490-£31,990
---
The best saloon car
4. KIA STINGER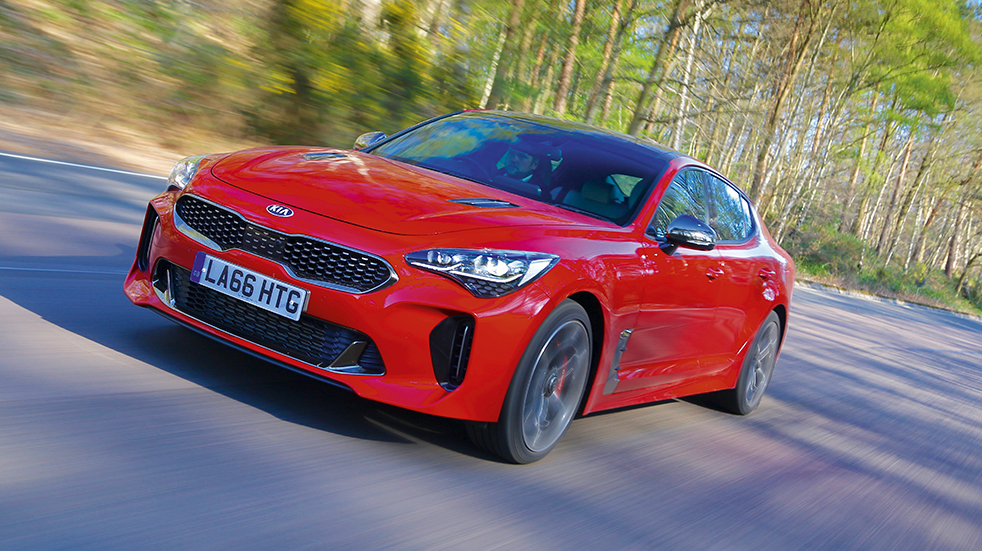 A rear-wheel drive sports saloon aiming at the premium players? If ever there was a signal of the brand's ascendancy and confidence then the Kia Stinger is it.
Bold style, fine dynamics and engaging performance make for a very appealing package. It could wear an Alfa Romeo badge. Actually scratch that. It's better than that – and we're not just talking about its warranty.
There are 'sensible' four-cylinder petrol and diesel choices, but it's hard to ignore the range-topping GT S 3.3 T-GDi. This features a sweet 3.3-litre turbocharged six-cylinder engine, 370hp and 4.9 second 0-62mph capability.
If you can't quite stretch to that, you'll not find the 2.0-litre turbo petrol or 2.2-litre turbodiesel lacking, either.
THE SPEC: GT S 3.3 T-GDI
Engine 3.3-litre, 6-cyl, turbocharged petrol, rear-wheel drive, 8spd automatic
Power 370hp
0-62mph 4.9 seconds
Top speed 168mph
Fuel economy 26.6mpg
CO2 emissions 225g/km
Price from £31,995-£40,495
---
The best hot hatch
5. HYUNDAI i30N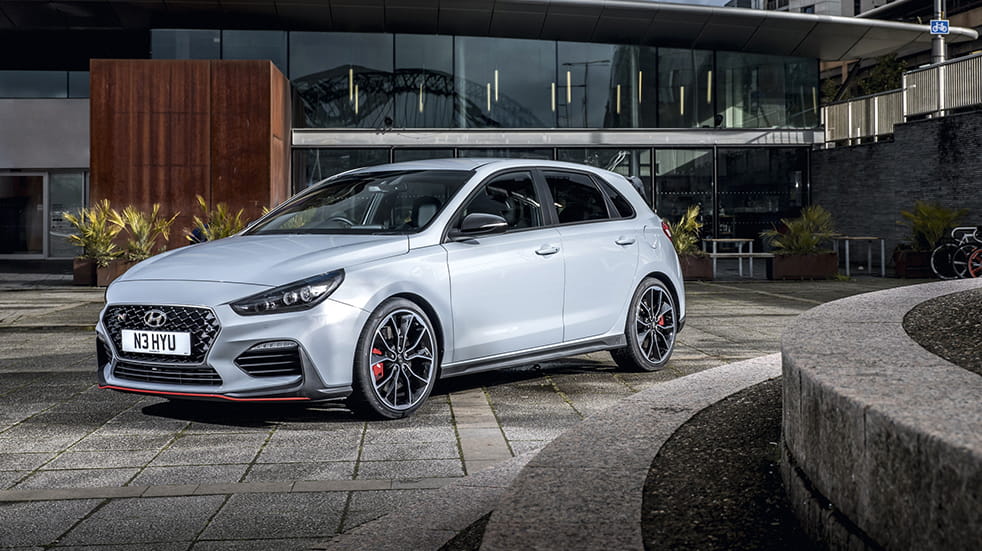 There's a Korean bent to the performance cars here, what with that Kia Stinger, and now this Hyundai i30N. That's N for Nürburgring, if you didn't already know, signalling Hyundai's performance brand.
The i30N, then, knocks the regular i30's pensionable flat cap off, replacing it with a racing helmet, and convincingly.
It's hilariously good fun, with a sparkling chassis, a punchy 275hp 2.0-litre turbocharged engine, and overt visuals that underline its performance. There's rather a lot going on inside, Hyundai offering far too much drive configurability, but find the setting that suits you and the i30N absolutely flies.
All that and it comes in at a good bit less than a Golf GTi. Impressive stuff.
THE SPEC: PERFORMANCE
Engine 2.0-litre, 4-cyl turbocharged petrol
front-wheel drive, 6spd manual
Power 275hp
0-62mph 6.1 seconds
Top speed 155mph
Fuel economy 39.8mpg
CO2 emissions 163g/km
Price from £24,995-£27,995
---
The best supermini
6. VW POLO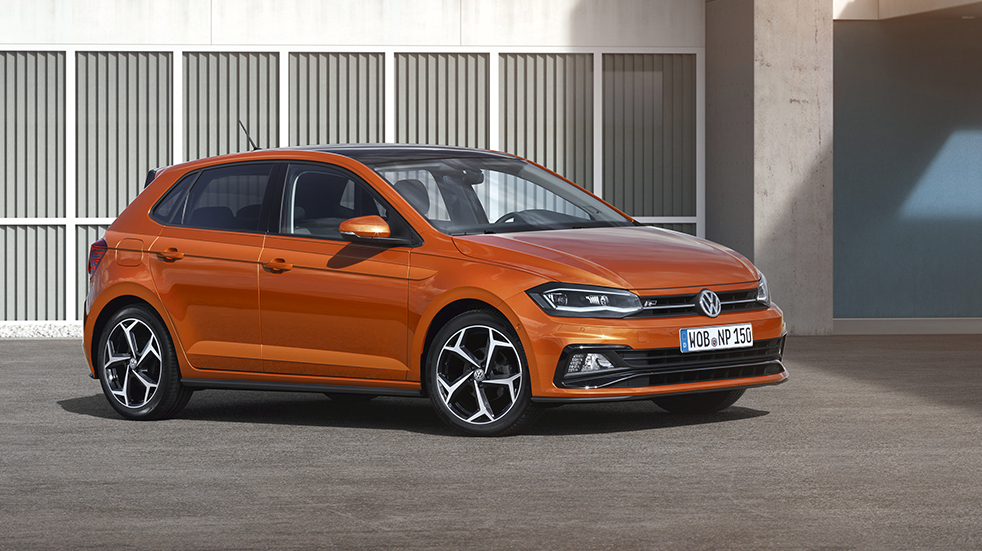 The new Volkswagen Polo was never going to be anything other than impressive – after all, VW's rivals Ford Fiesta and Vauxhall Corsa are never anything but.
Predictable then, yes, and no worse for it. There's a smart new interior, slightly different looks outside and more performance, economy and space. Oh, and plentiful choice too – right up to GTI.
Some interior colour options, like some of the trim levels, can be a little try hard – we're not sure about the relevance of the Beats model to most buyers. A fine supermini regardless, with all the connectivity, some advanced safety kit and plenty of comfort and refinement, too.
The 1.0 TSI 95hp petrol is a sweet spot, in price and to drive.
THE SPEC: SE 1.0 TSI
Engine 1.0-litre, 3-cyl turbocharged petrol,
front-wheel drive, 6spd manual
Power 95hp
0-62mph 10.8 seconds
Top speed 116mph
Fuel economy 64.2mpg
CO2 emissions 101g/km
Price from £11,970-£22,640