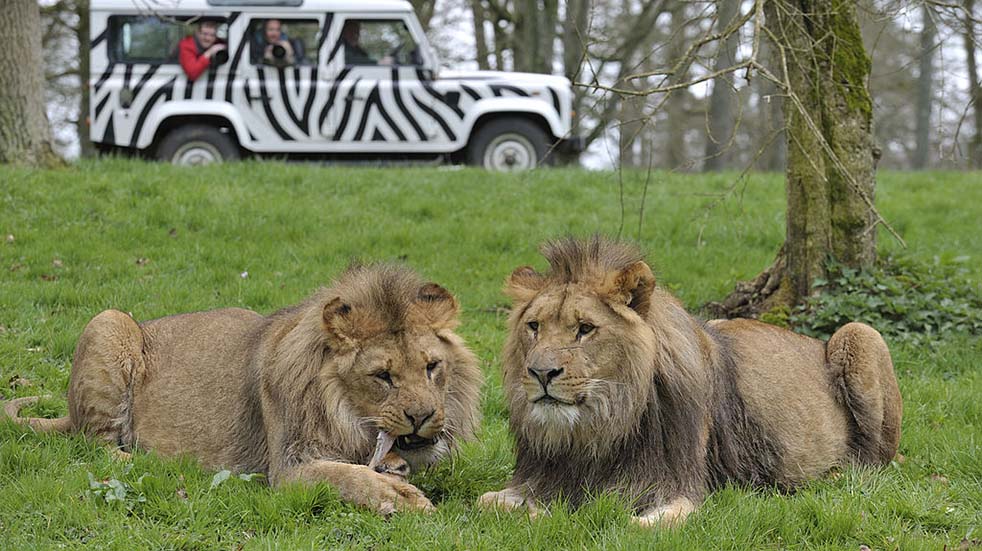 Now that the government has lifted many restrictions on travel and tourism, there's an eagerness among the British public to stretch their legs and explore the best of what these isles have to offer.
With businesses across the UK having to comply with stringent COVID-19 safety procedures (including enhanced cleaning of facilities, one-way systems, etc), it's now possible to enjoy a day out with the minimum of worry. To give you some inspiration, we bring you 10 ideas for socially distanced days out in the UK...
• Click here for our guide to enjoying a safe and happy holiday in the UK
1. Enjoy a bake-off experience with your loved ones
If watching The Great British Bake-Off on TV has inspired you to unleash your inner chef, you could head to one of The Big Bake's marquees, located in Birmingham and London. You'll get given instructions, all the ingredients you need, along with guidance from professional chefs, to help you create a winning bake in your 90-minute time slot.
With everyone getting their own equipment, and bake stations spaced over two metres apart in an airy, ventilated marquee (that also has a five-star hygiene rating), it's a fun, socially distanced day out with friends or family.
2. Go treasure hunting with your phone
Geocaching is effectively the world's largest treasure hunt. Simply download the app to locate caches hidden near you, and trot off on an adventure guided by GPS. With the caches nestled away in some weird and wonderful places, you'll be taken off the beaten track, which the whole family will enjoy.

It's easy to social distance with this activity – just make sure you take some hand sanitiser and a pen to sign the log book at each cache. And if you wish to keep the 'treasure', take something fun and durable to put back in the box for the next geocacher.

• Read our guide to making your walks more fun
3. Search for fossils
Why not try hunting for a millions-of-years-old fossil among the pebbles? The UK is blessed with miles of Jurassic coastline, meaning you can easily keep your distance from fellow explorers.
The most popular area in the UK is the Jurassic Coast World Heritage Site in Dorset. But as UK Fossils points out, there are nearly 400 locations around the UK where budding fossil hunters can get discovering. Its website tells you where and how to find fossils, what equipment you need, and which places get busy in the summer months, to help you stay apart from others.
4. Get up close to the animals with a drive-through safari
By their very nature, drive-through safaris have always been a socially distanced activity. And with the UK having some of the best safari parks in Europe, what more excuse do you need to take a drive on the wild side!

West Midland Safari Park, Woburn Safari Park in Buckinghamshire, Knowsley Safari in Merseyside and Longleat Safari and Adventure Park in Wiltshire have all reopened. Daily capacity is limited, and you'll have to book online, even if you're an Annual Pass holder. Check out each attraction's website for details of their safety precautions.
5. Conquer a castle!
Steeped in history, Britain's castles, Tudor towers, medieval ruins and mighty fortresses are well worth a visit.

From the Scottish stronghold of Edinburgh Castle or the breathtaking clifftop location of Tintagel Castle in Cornwall to the secret wartime tunnels at Dover Castle, there's something for everyone. These last two are both looked after by English Heritage, which has introduced limits on visitor numbers to help keep everyone safe – you'll need to book your timed tickets in advance.

• Don't miss our tips on preparing the perfect picnic
6. Go boating
A great way to avoid the crowds and see life from a different perspective is to get out on the water! Why not try a family canoeing session with New Forest Activities? They are implementing social distancing throughout the sessions, as well as disinfecting the kit after every use, so that you can take part with confidence.
Or how about exploring the unseen side of London with a self-drive boating experience? GoBoat hire, from either Kingston or Paddington, gives you access to a stunning section of the river Thames and the Regent's Canal. The GoBoats are sanitised between each hire, with either two households (max. eight people) or six people from different households, allowed in each boat.
7. Take in a movie at a drive-in cinema
If you've missed going out and enjoying a film on the big screen during the coronavirus lockdown, why not give a drive-in cinema a go? These blasts from the past have become popular again during the coronavirus pandemic, as they enable you to enjoy movies in your own protective bubble.
Drive In Cinemas UK has a directory listing all the drive-in and open-air cinemas in the UK, and you can check online to see how each event is abiding by the current safety advice from the government.
8. Embark on a socially distanced walking tour
If you fancy getting out of the house and exploring one of our great cities, a good place to start would be with Footprints, which operates private walking tours of Bath, Cambridge, London, Oxford and York.
Footprints uses energetic student guides to deliver tours tailored to suit your schedule and topics of interest. They'll bring history to life and show you the best these cities have to offer, all in a safe environment. Guides take daily temperature checks and wear masks, while group sizing is in line with social distancing rules.
9. Stroll through a landscaped park or garden
Nothing lifts the spirits like a walk among nature. The National Trust has now re-opened more than 135 gardens and parks in England, Wales and Northern Ireland. Advanced booking is essential, with tickets released on Fridays for the following week. Its properties include the stunning Fountains Abbey and Studley Royal Water Garden in Yorkshire, which has been granted World Heritage status.
The equally magnificent Royal Botanic Gardens in Kew has also reopened, with some changes. You'll need to book a time slot in advance, and you may need to queue to enter some of the indoor attractions.
10. Take part in some live action gaming
If you're a fan of Fortnite or go crazy for Call of Duty, chances are you'll love getting down and dirty at one of Rumble's live action gaming sessions. Whether you're eight or 80, these team-based adventures will see you kitted out with a (safe) rifle and some ammunition as you try to complete missions in a forest arena.
With the rifles having a 250-metre range, there's no need to get up close with players outside of your group. And for extra peace of mind, Rumble sanitises the equipment between each session.
We'd love to hear from you
Have you enjoyed a fun day out somewhere since restrictions were lifted? Tell us about it on Facebook or Twitter.