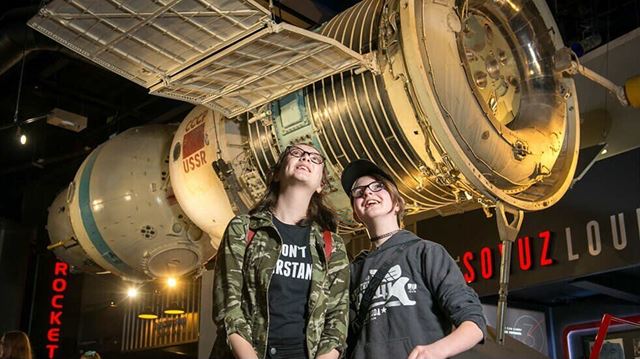 During World Space Week or all year round, the UK offers a range of fun ways to explore the universe for space fans, budding astronauts or astronomers.
From 360º domes, where you feel like you're flying through the stars, to hands-on exhibits, there's something for all the family on these space-themed days out.
1. Winchester Science Centre
Every day
The Planet Show is an ongoing guided tour of the solar system aimed at inspiring children about space. Fly around the universe and visit all the planets in one exciting planetarium show. Autism-friendly and quiet showings are also available. You can also explore 20 modular exhibits in the centre's immersive zone, Explorer:Space, including everything from space discoveries to the first mission to land on the moon.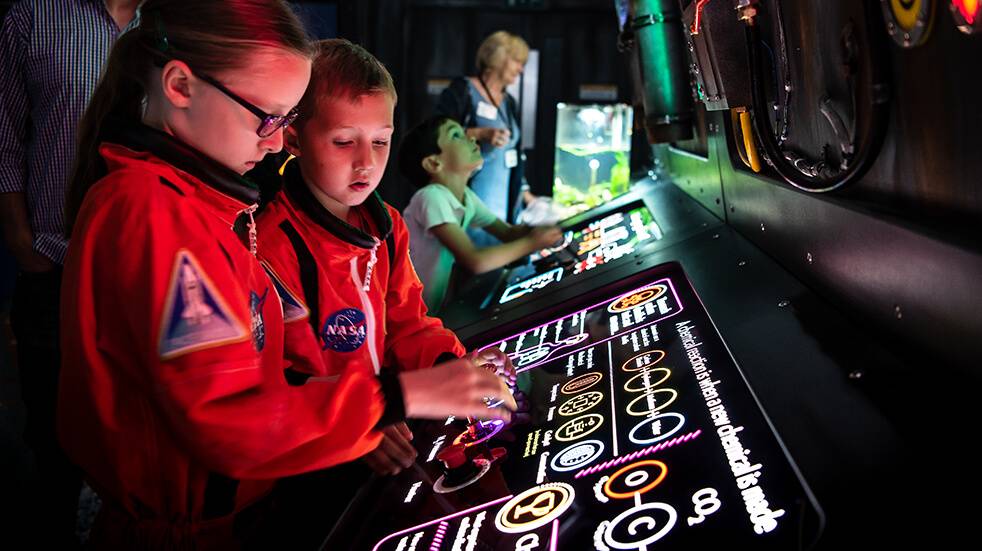 © Harvey Mills 2018
---
Find out more about the best places to stargaze across the UK, from observatories to dark-sky reserves:
Where to see the stars this World Space Week
See our recommendations for a family day out with a dinosaur theme:
The top 10 best UK dinosaur attractions
Browse our list of the best museums in the capital, from chocolate to cartoons:
10 of the best London museums for kids
---
2. National Space Centre, Leicester
Every day
Boasting the UK's largest planetarium, a 3D space-flight simulator, six hands-on galleries, and a 42m high rocket tower, the award-winning National Space Centre is a space fan's dream. Wannabe space pilots can try out being trainee astronauts, hop into the Space-flight Induction Module and see a real chunk of moon rock. When you need a rest, kids and grown-ups will all like the appropriately space-themed café, where you can learn more about man's journeys into outer space while you enjoy your lunch.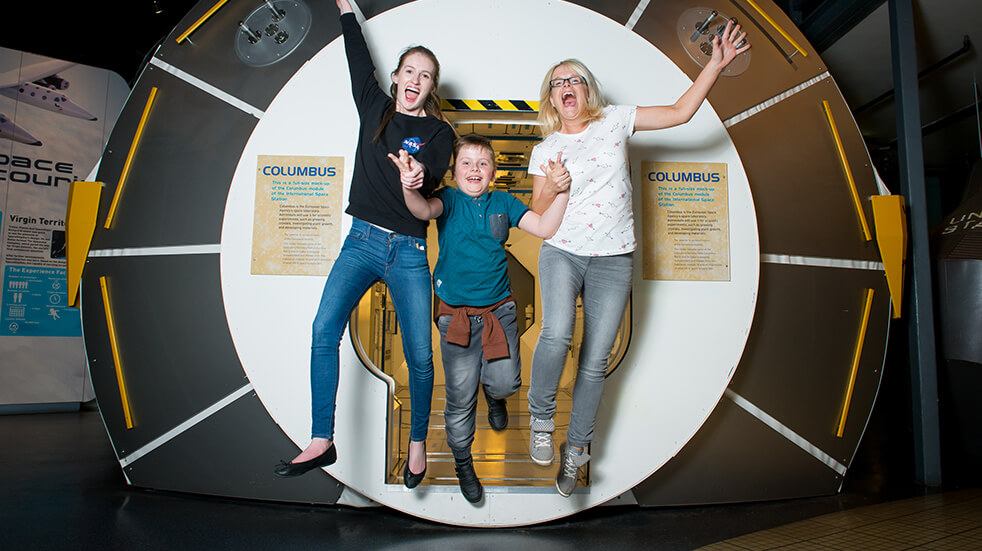 ---
3. We The Curious, Bristol
Every day
We The Curious boasts a shiny silver orb of a planetarium, in central Bristol's Millennium Square, which offers a host of ways to explore space. The over-6s can step inside the UK's only 3D planetarium for the immersive Solar System Odyssey, an interactive voyage led by a presenter, with 28 epic missions to choose from. The under-6s can become space explorers and enjoy the Rocketship Adventure – a 2D voyage into space led by Stella the bear, who is on a mission to find Ursa, the bear who was too big to live in the forest and found a home in the stars and appears as a constellation. Throughout the year, Planetarium Nights offer weekly guided tours of the night sky for grown-ups (16+).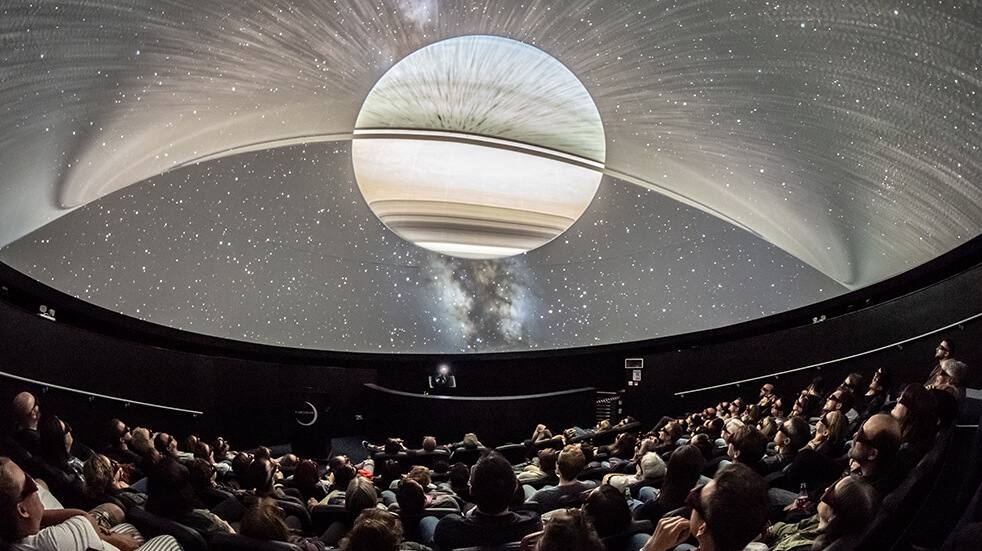 © Lee Pullen
---
4. Jodrell Bank Discovery Centre, Macclesfield
Every day
Jodrell Bank is a working science centre that features the Lovell Telescope, the third-largest steerable telescope in the world. You can see it move as the scientists use it to observe different parts of the universe. There's also an 'orrery', a clockwork replica of the universe that allows you to manually turn the planets and see how they move at their relative speeds and positions. For inquisitive young minds, there are scientists on hand to explain how the universe works, and there are special events for children, but there's also lots to attract grown-up space fans too, such as the research into quasars and radio astronomy. On nice days, you can stroll through the 'galaxy garden', which uses the power of plants to show how the universe is formed.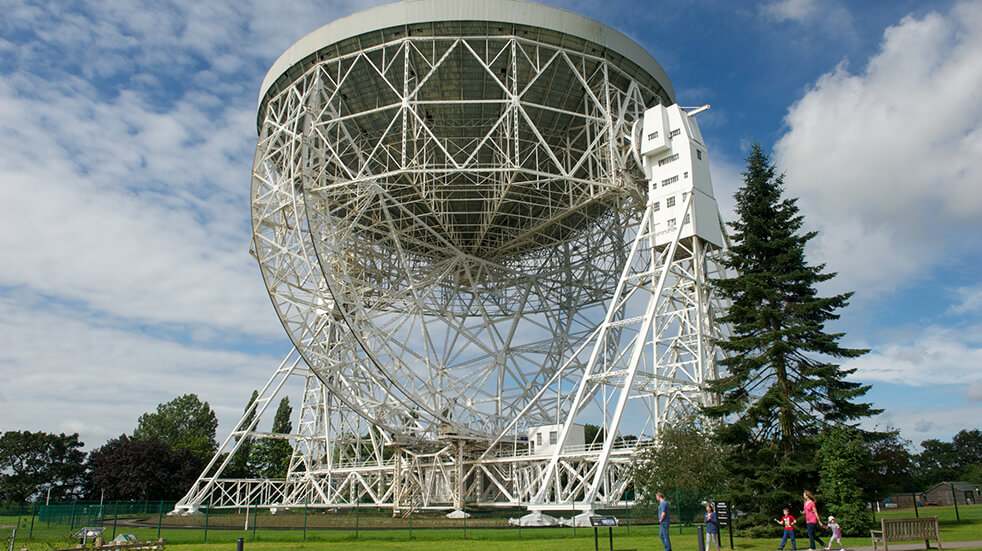 ---
5. The Science Museum, London
Every day
Documenting human development with a world-class collection of scientific, technological and medical advancements from across the globe, the Science Museum is a great day out, offering some out-of-this-world experiences for lovers of all things space. Entry to the museum is free but there are charges for some exhibitions.
6 October 2018 – 6 May 2019
Even though life on Earth depends on it, we still don't know all that much about its nearest star, the Sun. This exhibition explores our relationship with it, from religious artefacts from the Nordic Bronze Age (1400 BC), to upcoming NASA and ESA solar missions. As well as learning about this essential part of our universe, you can bask in the sunlight of an indoor beach, try on a range of historic sunglasses and see the sun rise in different seasons and places around the world in a huge illuminated display.
Every day
Walk with astronauts in IMAX 3D as they embark on a spacewalk to perform one of the most difficult and important tasks in NASA's history. The Hubble Space Telescope was launched in 1990 and is still travelling through space, sending back incredible images of its surroundings that are helping to shape scientist's views of our universe. Narrated by actor Leonardo DiCaprio, Hubble 3D explores Hubble's mysterious and celestial surroundings.
Every day
For the slightly older astronauts of the future (aged 13+) the Science Museum offers the opportunity to experience what it was like for UK astronaut Tim Peake to descend to Earth in a Soyuz capsule. Narrated by Tim himself, you'll get a 360-degree view of the dangerous, high-speed 400km journey home from the International Space Station.
Various dates
Every science fan's dream: to spend a night in a museum after hours. This sleepover for children includes workshops, science shows and inspiring activities, followed by breakfast and a memorable IMAX 3D film. See the website for dates and themes.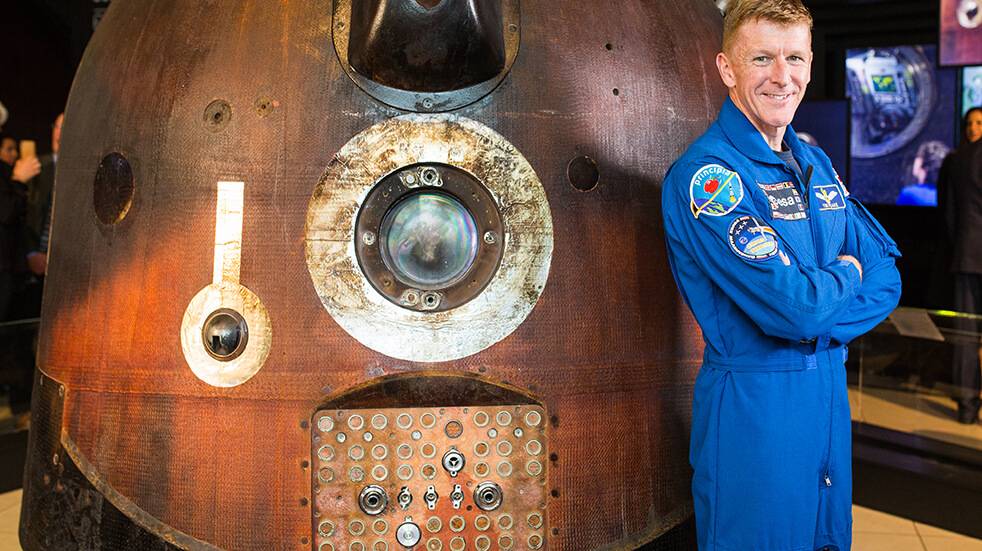 © Science Museum Group
---
6. Thinktank Planetarium, Birmingham Science Museum
Every day
The Planetarium at Birminham Science Museum offers a range of shows perfect for big and little people interested in astronomy and space. Tour around the night sky, go on an adventure around the solar system, and journey to the edge of the universe. Check out the website for forthcoming events.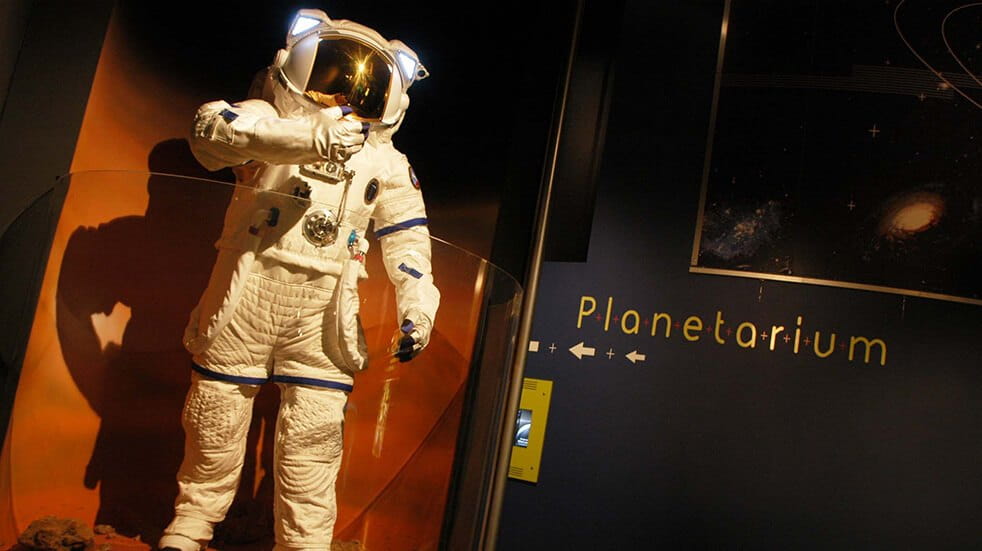 © Birmingham Museums Trust
---
7. See Tim Peake's space capsule
Various dates
You can see the actual spacecraft that brought Tim Peake back down to Earth. The Soyuz capsule is coming to the end of its UK tour, along with his space suit and the Space Descent VR so you can experience it for yourself. You can see the capsule at Peterborough Cathedral until 5 November 2018, then at National Museum Wales in Cardiff until January, and finally at National Museums Northern Ireland: Ulster, until May 2019.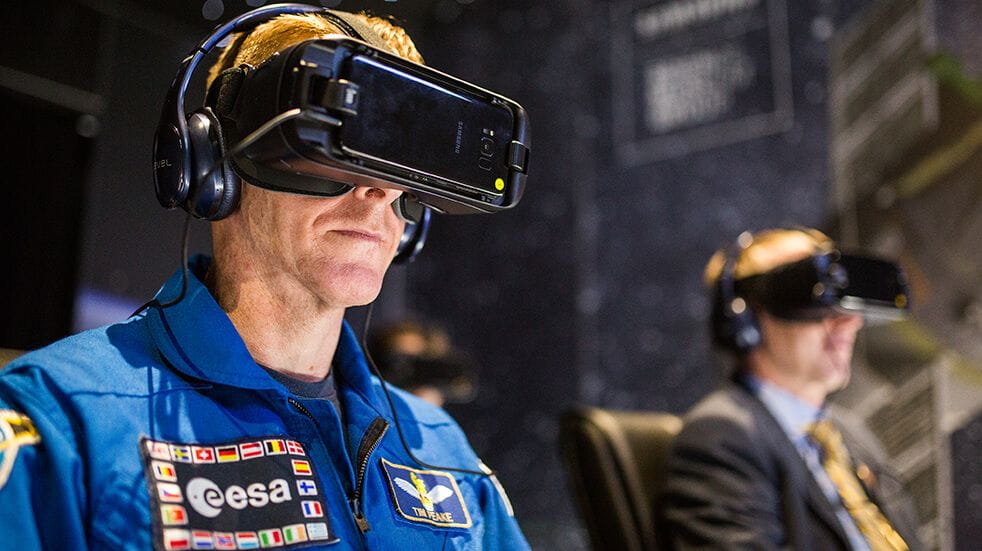 © Science Museum Group
---
8. Explore the universe from Dark Sky Discovery Sites
Various dates
Whether there's a meteor shower coming up, a lunar eclipse happening, or you just want to look for constellations and see what you can see, the UK's Dark Sky Discovery Sites are always there. On a clear night, find your nearest site – there are some in town and city parks, so you don't necessarily have to venture out into the wilderness. Take some hot chocolate, pack some blankets and download a free app such as Night Sky, to help you navigate the stars if you're not sure what you're looking at. Some sites even organise special events when there's a big date in the celestial calendar.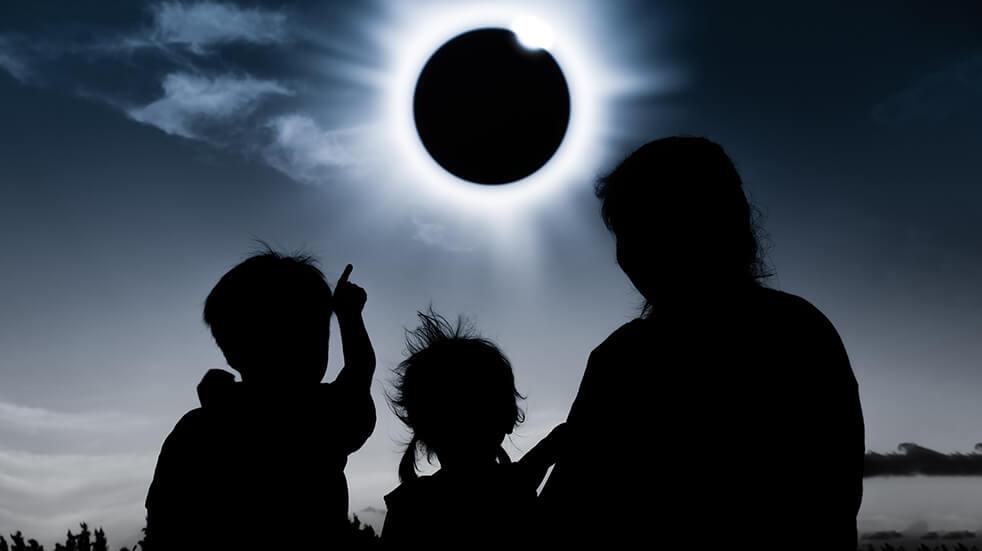 ---
9. Glasgow Science Centre
Every day
The planetarium and Space Zone at Glasgow Science Centre is a must for lovers of all things space. The state-of-the-art dome projects live shows, led by astronomers and other experts, where you can voyage far into the Milky Way and beyond, as well as films including one about the moon narrated by Tim Allen (Buzz Lightyear from Toy Story). As you approach the planetarium, the Space Zone creates an immersive journey through the solar system so you can find out about the planets in our cosmos. Find out what it's like to work in space and get a picture of the family in outer space.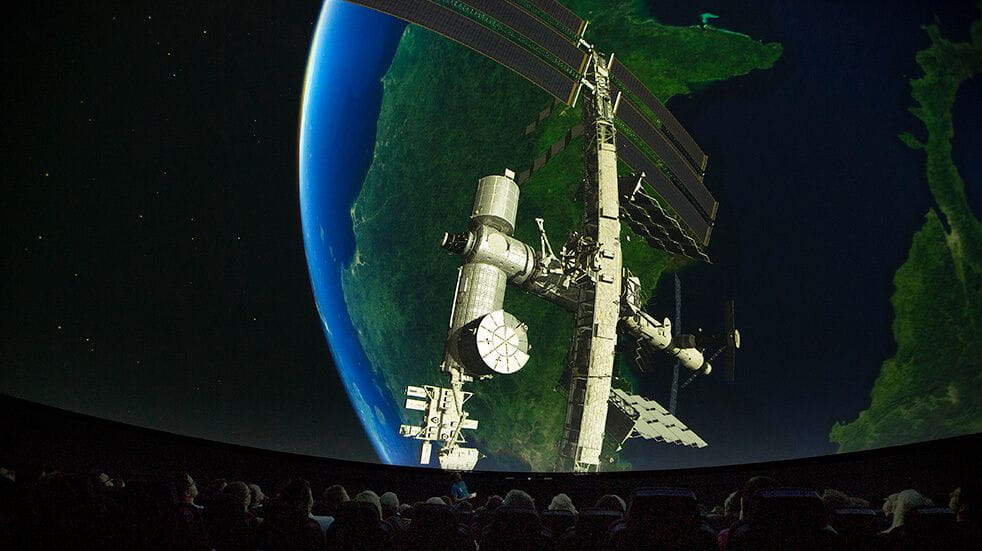 ---
10. Techniquest, Cardiff
Every day
Techniquest is the UK's longest-established science centre, inspiring young minds to take an interest in all things scientific. From its planetarium in Cardiff Bay you can venture out into space to see if there is life on other planets, learn about the Greek mythologies behind the stories of our constellations, and more.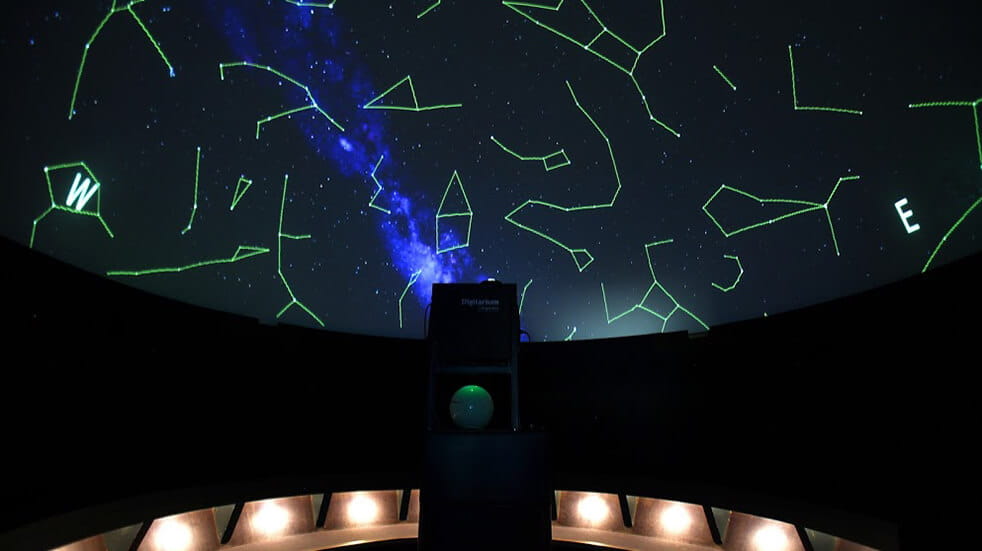 ---
11. Star Centre, Keighley, West Yorkshire
You can't just turn up to Star Centre, but it welcomes teachers with groups from primary and secondary schools, or youth groups. Its aim is not only to inspire young people about space, but to encourage them to turn their passion into a career by pursuing science subjects at school.
They can experience a range of space-related scenarios that cover astrophysics, the planets, what it's like to live and travel in space, how robots are used, building space rockets and space walks. They can also take part in lifelike mission control simulations, drive a planetary rover in the centre's astrobotics area, conduct lab experiments and study the universe in the Cosmodome planetarium.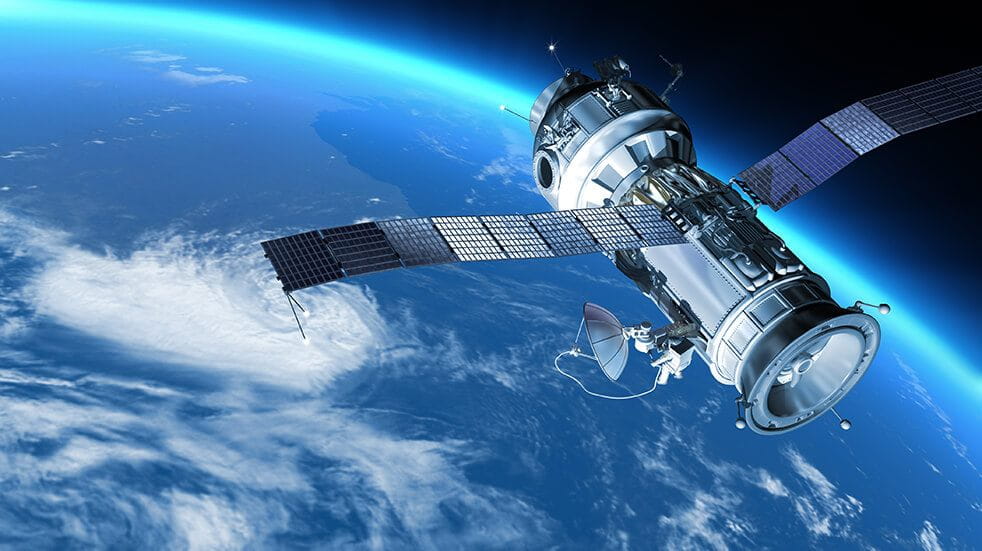 ---
12. The Observatory Science Centre, Hailsham
For budding young astronomers who want to fully immerse themselves in the science of space, The Observatory Science Centre runs half or full-day workshops during school holidays. With activities that cater for different age groups, parents can leave the kids to search for answers to questions like: what's in space, can we see it, and how big is it? Other workshops have included studying the full moon and making your own moon model to take home, as well as other science-y subjects. Check the website for upcoming workshops.
Older children, or parents who have dropped the kids off at a workshop, can also explore the observatory's Domes of Discovery exhibition, which tells the story of Britain's Royal Observatory, one of the world's most famous scientific institutions for 300 years. It is also home to the impressive 38-inch Congo Schmidt telescope, six other interactive exhibits about astronomy, a giant model of the solar system, and more.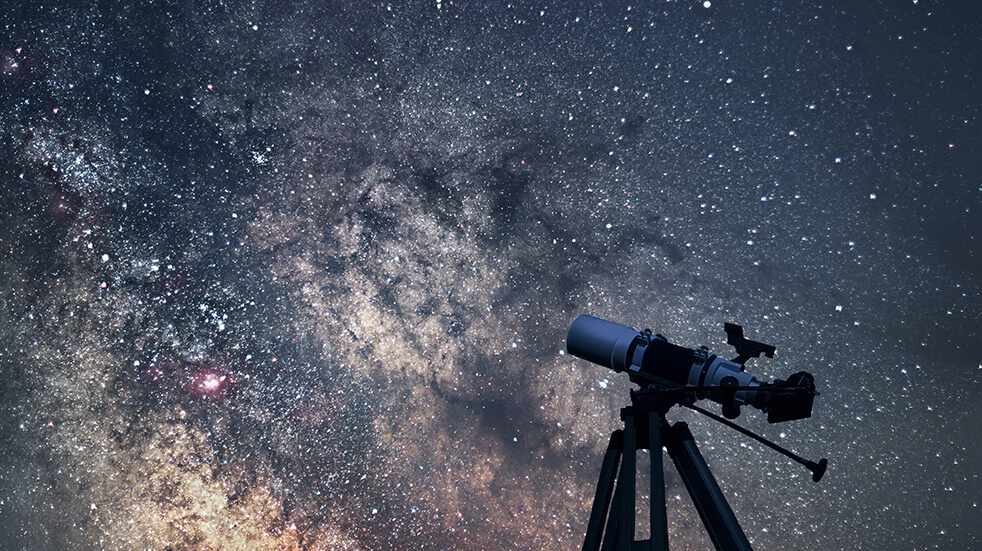 ---
13. Southend Planetarium, Southend on Sea
Explore the universe and ask questions along the way on these live guided tours of our solar system at Southend Planetarium. Led by knowledgeable experts, the talks change throughout the year as different parts of the night sky become visible, covering things like in-depth explorations of the moon and the stories behind the constellations.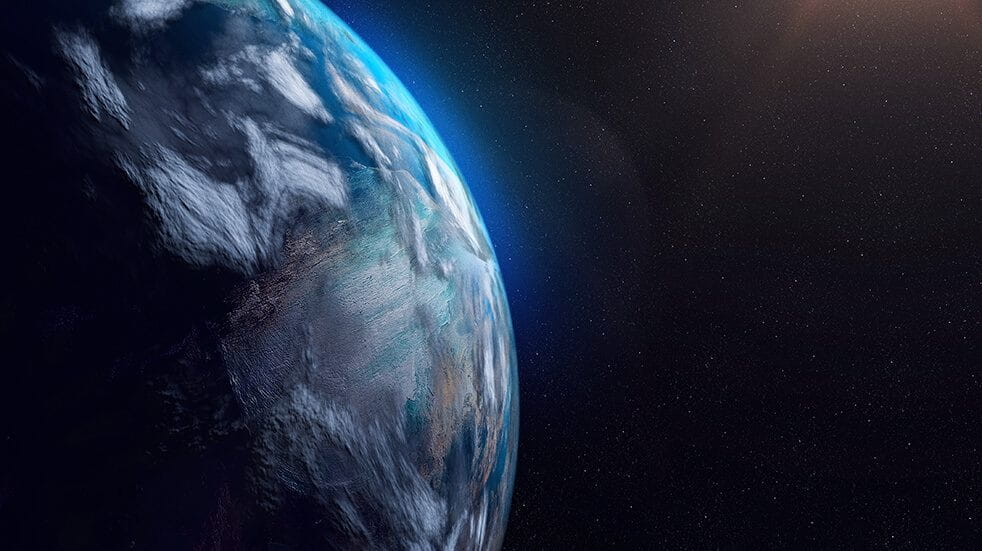 ---
14. Life Science Centre, Newcastle Upon Tyne
Drift away from Earth and up into the stars for a magical experience in the biggest planetarium in the North at the Life Science Centre. See eye-popping space films and visuals in high definition detail, and real-time live views of the universe; whizz through the universe and touch down on planets to investigate their surfaces.
During the centre's Live Skies planetarium shows (which take place on weekends, Bank Holidays and during school holidays) presenters take you on a guided tour of the universe and tell rapt audiences about current space missions to collect asteroid samples, which can tell us a lot about the history of the universe and how the solar system was formed.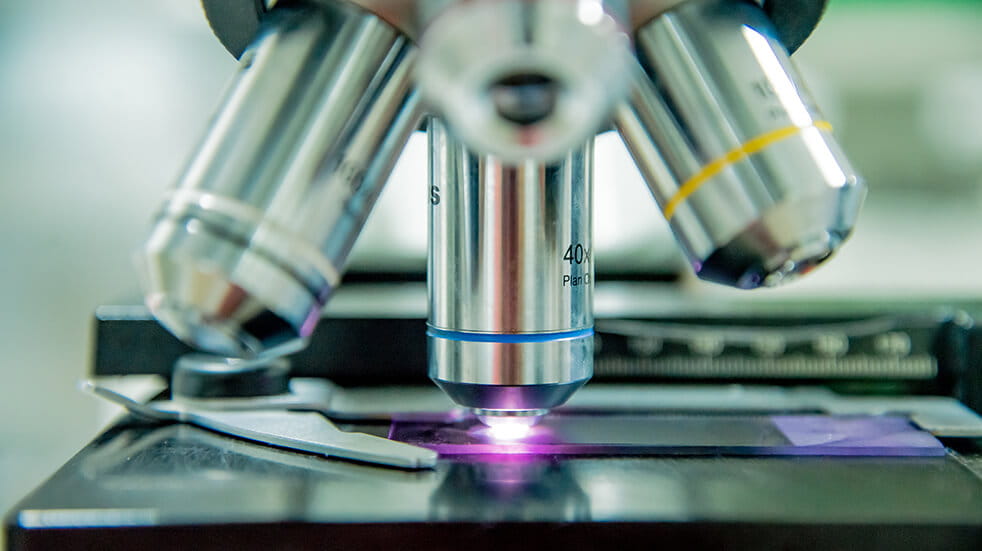 ---
14. The Spaceguard Centre, Knighton, Powys
The Spaceguard Centre – or to give it its full title, The National Near Earth Objects Information Centre – has an important job. As the name suggests, it looks for objects that might come close to our home planet, like meteors and comets, which it calls "the most significant natural danger to life on Earth". From its remote location surrounded by the hills of mid-Wales, a perfect place for studying the great unknown, the working observatory is the main source of this kind of information in the UK.
Unaccompanied visits are not allowed but you can take an informative guided tour of the centre (ages 9+) to see the work that's done there. Given the scientific nature of the tours, it's best for older children with good attention spans.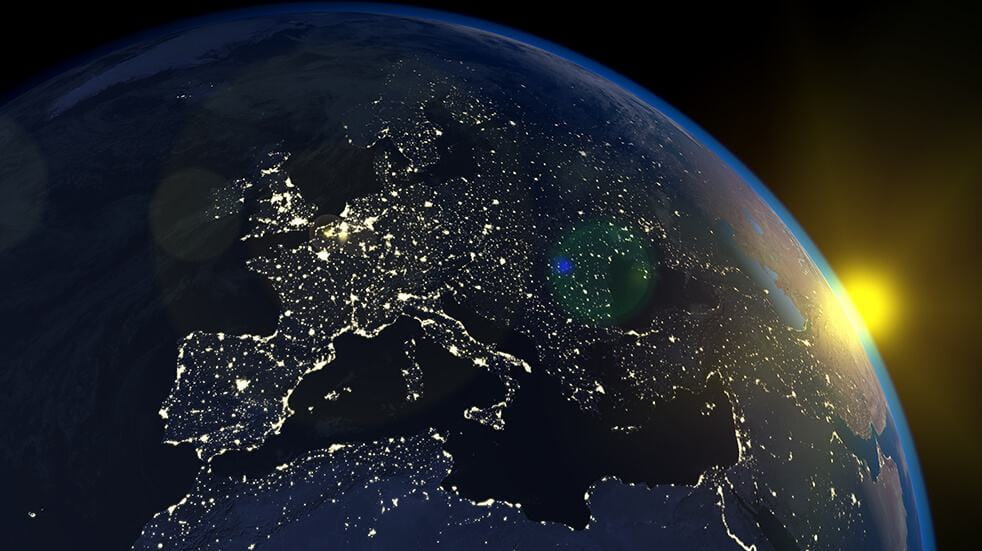 ---
15. Spaceport, Wirral
During a day out at Spaceport, you can go on a trip to outer space in the 360 space dome, head to the observatory where you can map constellations and get close up to stars and planets and interact with a computer generated image of the night sky using a touch screen 'POD' (Personal Observation Deck), and go on an exciting space ride aboard Explorer 1.
You can also mix science fact with science fiction by coming face-to-face with a Stormtrooper, part of a private collector's impressive amount of Star Wars memorabilia, on loan to the centre for their Sci-Fi Icons exhibition. Seeing the immersive scenes and a host of other characters is a must for any fan of the films, kids and grown-ups alike.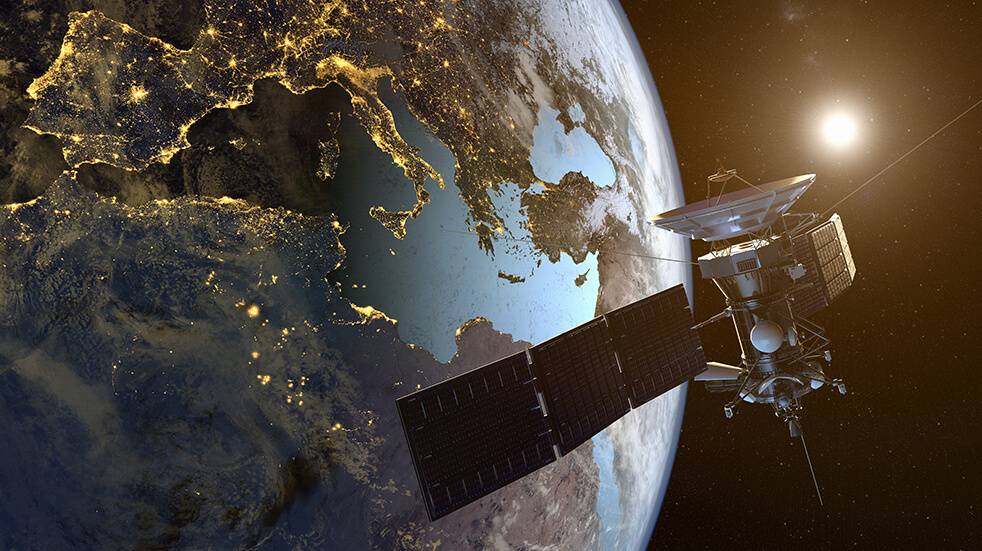 ---
16. World Space Week
4 – 10 October 2019
Looking ahead to 2019, World Space Week takes place every year, bringing together people who love gazing at the stars and exploring the wonders of the universe.