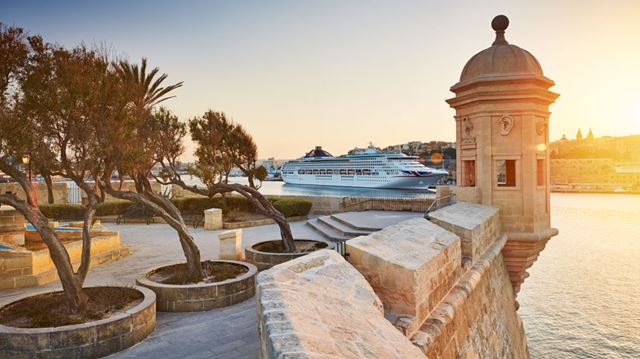 If you want to see the world (and who doesn't?), what better way to do it than from the comfort of a luxury hotel, with your travel, five-star cuisine and world-class entertainment all included in the price?
Whether you're a seasoned sailor or a first-time cruiser, here's why you should consider booking a P&O Cruises holiday with Barrhead for your next break:
1. Brexit peace of mind
There's no need to put off holiday plans with P&O Cruise's Brexit promise, which guarantees you a stress-free booking whatever happens in the coming months. Booking through Barrhead guarantees that your holiday is ATOL and ABTA protected – and you can also avoid currency fluctuations by holidaying in the EU without the need for euros. Book your holiday in sterling and continue to use pounds while on board. Add to that the fact that hundreds of P&O Cruises holidays leave directly from Southampton, and your escape will be plain sailing.
2. Rub shoulders with the stars
Fancy a chance to experience the magic of a Strictly Come Dancing themed cruise and get closer to the Strictly pros on a P&O Cruises holiday? How about a cooking lesson from Marco Pierre White? On a themed cruise you can take a gastronomic tour of Europe or tour some of the best routes P&O Cruises has discovered over its 180 years' experience.
---
Inspired by the idea of a cruise? See Europe's waterways from a different angle
---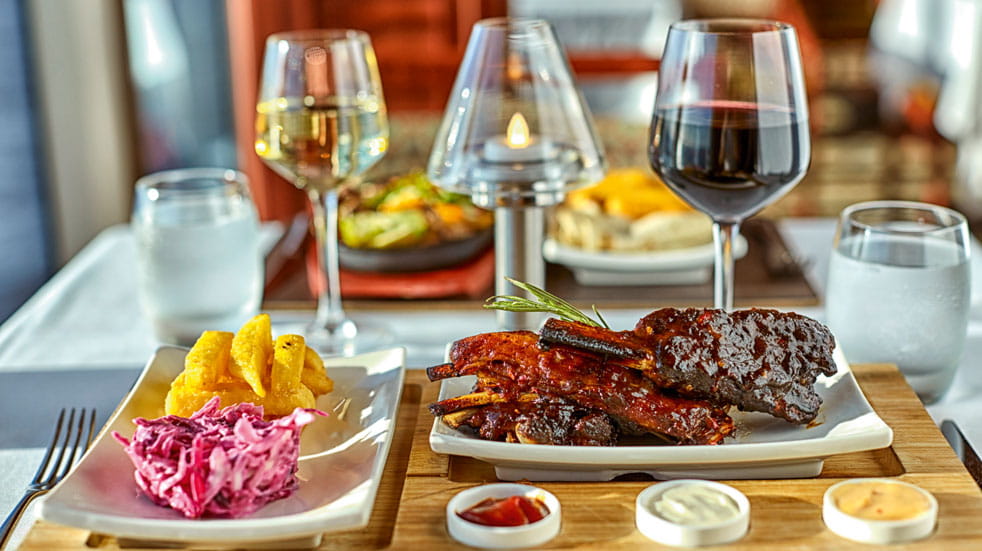 Everyone will find something to tickle their tastebuds with the varied dining experience offered by P&O and Barrhead
3. A feast fit for a king
If you think food at sea means limited options, think again – there's a dining experience to suit every taste. Choose from informal buffets, snack bars and fine-dining restaurants all included in the price. You could even enjoy a delicious six-course menu created by renowned chef Marco Pierre White. New drinks packages are also now available, with four to choose from including kids, non-alcoholic and hot drink packages, with a set price per person per day – so you can dispense with the cash and indulge.
4. Value for money
The best reason to take up any holiday offer? Value for money. Barrhead Travel has negotiated with Boundless to offer its members savings on holidays with P&O Cruises. On top of that, P&O Cruises is currently offering deals including extra spending money on board with selected cabins and no service charge from May 2019. And you can even combine these offers on certain cruises, giving you the best possible deal.
---
Find out when to book your holiday to get the best deals
---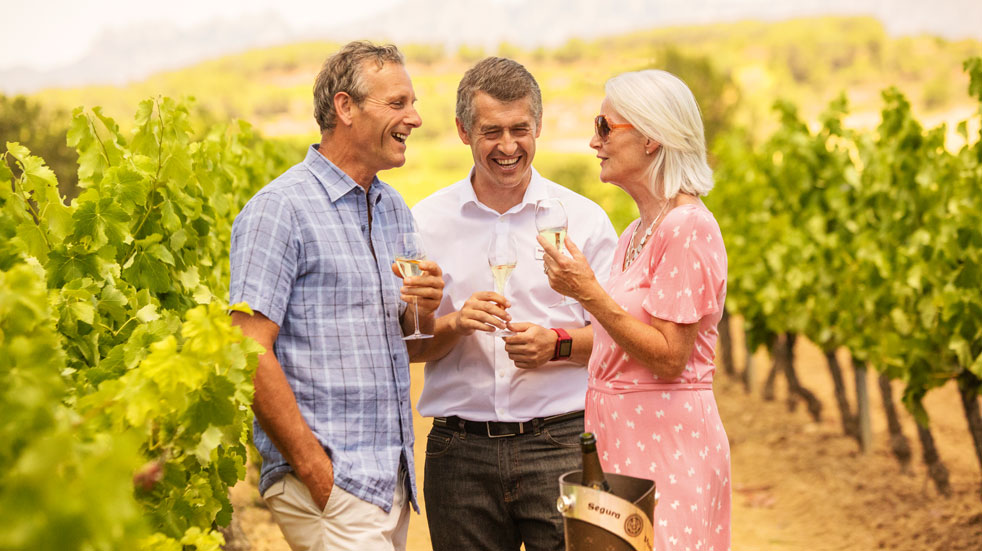 Vineyard visits – just one shore experience offered on a P&O cruise booked with Barrhead Travel.
5. Exclusively for adults
Enjoy a bit of luxury by booking an exclusively for adults cruise with Barrhead Travel. Specifically designed ships for these cruises feature luxurious dining experiences, salons, spas, theatres and cinemas, and all blissfully kid free. Add a bit of glamour with a gala night or black-tie dinner, and kick back and relax with fitness and wellness classes designed to help you unwind.
6. Family friendly, too
If you do fancy taking the kids with you, book on board the family-friendly fleet, which runs school-holiday cruises for every budget. Featuring tailored children's clubs for ages two – 17, family restaurants with early eating times and a range of cabin sizes, a cruise is the perfect stress-free family break. And there's plenty for parents, too. Drop the kids off in the night nursery and enjoy an evening show, or hit the spa while the kids are entertained in the daytime clubs. There are also plenty of family-friendly shore experiences, so you're bound to find something to keep everyone happy.
---
Discover a new side of Europe with these unusual break ideas
---
7. Plenty to do
If you've never been on a cruise before, you might be expecting packed pools and deck games, but there's so much to do on board. While the day away in the library, the art gallery or the gym. Perhaps you'd like to spend some time sharpening your mind and learning a new skill in a class or guest lecture, or indulge in a beauty treatment at the spa? In the evening you can enjoy a West End-style show, cabaret, dance classes or a film. Whether you want shopping or pub quizzes, yoga classes or dancing, there's plenty to keep you entertained. Ships in the P&O Cruises fleet also include internet cafés and laptop hire, so you can stay connected while on board.
8. Something to suit every budget
A cruise holiday doesn't have to mean a long break – Barrhead Travel can advise you about the variety of holidays available. Whether you want to spend 100 nights circumventing the globe or a weekend in Bruges, there's a cruise holiday to suit you. How about a Northern Lights cruise in Norway, island-hopping in the Med, spending a few days exploring the Channel Islands or cruising all the way to Sydney Harbour? A cruise holiday doesn't have to break the bank – inside cabins on short breaks start from just £199pp but, if you want to spend two weeks in the Caribbean in a luxury suite with your own personal butler – well, you can book that P&O Cruises holiday through Barrhead Travel, too.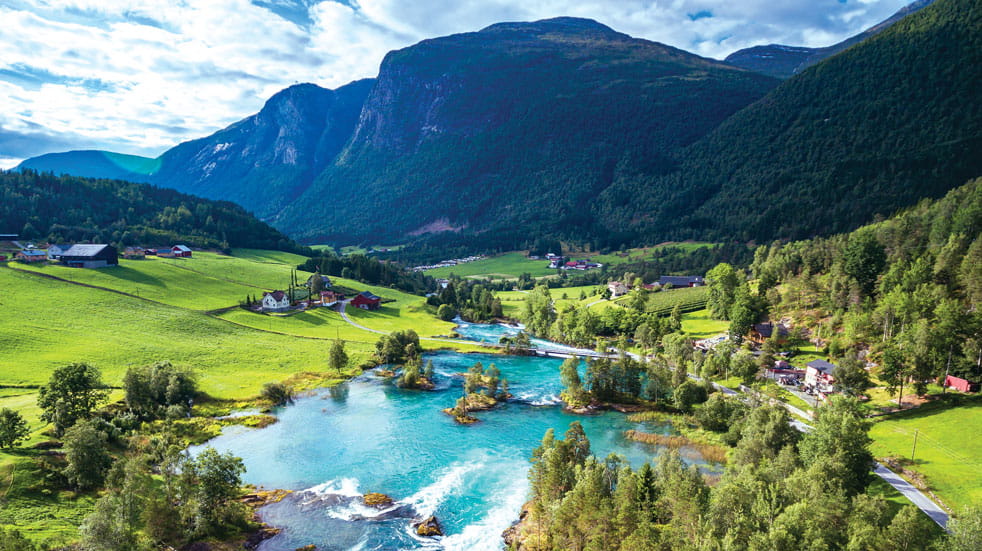 Sail to Lovatnet Lake, Norway, with P&O and Barrhead
9. A shore adventure to remember
Shore experiences are numerous and varied, so you have the flexibility to do as much or as little as you want, and you'll be told about all costs upfront, as well as any changes to the itinerary. Will you choose to ride a snowmobile or dog sled in Iceland, a beach buggy on one of Croatia's stunning islands, or take a submarine tour in the Caribbean? From rainforest walks to whale-watching, and vineyard tours to scuba diving, the world's your playground.
10. It's eco-friendly
P&O Cruises has reduced its CO2 emissions by 24.8 per cent and plans to cut them by 25 per cent by 2020. Meanwhile, the whole fleet has been equipped with exhaust cleaning systems that remove dangerous chemicals from exhaust fumes, and steps are being taken to improve water efficiency on board. Ships are also fitted with recycling facilities and measures are being put in place to cut down on waste, particularly food waste. P&O Cruises also donates to coastal clean-up projects, reforestation measures and wildlife protection programmes.
---
Find out more about Barrhead's P&O Cruises deals at their website. Their current offers include:
Southern Cruise Break
P&O Cruises Britannia • 20 April 2019 • 7 nights
Southampton • Cherbourg • La Coruña • Bilbao • St Peter Port • Southampton
From £649pp
Includes up to £160 onboard spend
Spain & the Canary Islands
P&O Cruises Ventura • 23 April 2019 • 12 nights
Southampton • Madeira • La Palma • Gran Canaria • Lanzarote • Lisbon • Southampton
From £999pp
Includes up to £270 onboard spend
Mediterranean
P&O Cruises Britannia • 4 May 2019 • 14 nights
Southampton • Cadiz • Barcelona • Livorno • Civitavecchia • Cartagena • Gibraltar • Southampton
From £1169pp
Includes up to £320 onboard spend
Norwegian Fjords
P&O Cruises Britannia • 8 June 2019 • 7 nights
Southampton • Stavanger • Flam • Aurlandsfjord • Sognefjord • Olden • Innvikfjorden • Nordfjord • Bergen • Southampton
From £769pp
Includes up to £160 onboard spend
Mediterranean
P&O Cruises Azura • 29 June 2019 • 14 nights
Southampton • Cadiz • Barcelona • Livorno • Civitavecchia • Cartagena • Gibraltar • Southampton
From £1359pp
Includes up to £320 onboard spend
Southern Cruise Break
SHIP EXCLUSIVELY FOR ADULTS
P&O Cruises Arcadia • 13 July 2019 • 7 nights
Southampton • Cherbourg • Santander • Le Verdon • St Peter Port • Southampton
From £829pp
Includes up to £150 onboard spend
Mediterranean
P&O Cruises Azura • 20 July 2019 • 14 nights
Southampton • Cadiz • Barcelona • Monte Carlo • Civitavecchia • Cartagena • Gibraltar • Southampton
From £1479pp
Includes up to £320 onboard spend
Spain & the Canary Islands
SHIP EXCLUSIVELY FOR ADULTS
P&O Cruises Aurora • 20 August 2019 • 12 nights
Southampton • Madeira • La Palma • Tenerife • Lanzarote • La Coruña • Southampton
From £1219pp
Includes up to £250 onboard spend
Central Mediterranean
P&O Cruises Oceana • 29 August 2019 • 7 nights
Fly UK • Valletta • Zadar • Venice • Split • Kotor • Valletta • Fly UK
From £899pp
Includes up to £150 onboard spend
Norwegian Fjords
P&O Cruises Britannia • 31 August 2019 • 7 nights
Southampton • Stavanger • Flam • Aurlandsfjord • Sognefjord • Olden • Innvikfjorden • Nordfjord • Bergen • Southampton
From £849pp
Includes up to £160 onboard spend
No fly Caribbean
P&O Cruises Ventura • 3 January 2020 • 35 nights
Southampton • Madeira • Barbados • St Vincent • Grenada • Curacao • Colon • Puerto Limon • Cartagena • Bonaire • St Lucia • Guadeloupe • St Maarten • Ponta Delgada • Southampton
From £2849pp
Includes up to £1040 onboard spend
Caribbean
P&O Cruises Britannia • 17 January 2020 • 15 nights
Fly UK • Barbados (overnight) • Curacao • Aruba • Grenada • St Vincent • St Lucia • St Kitts • Antigua • St Maarten • Barbados • Fly UK
From £1629pp
Includes up to £400 onboard spend
Caribbean
P&O Cruises Azura • 7 February 2020 • 15 nights
Fly UK • Barbados (overnight) • St Vincent • St Kitts • St Maarten • Grand Turk • Tortola • Antigua • St Lucia • Grenada • Barbados • Fly UK
From £1729pp
Includes up to £400 onboard spend
Mediterranean
P&O Cruises Azura • 3 April 2020 • 14 nights
Southampton • La Coruña • Porto • Cadiz • Gibraltar • Valencia • Cartagena • Lisbon • Southampton
From £999pp
Includes up to £400 onboard spend