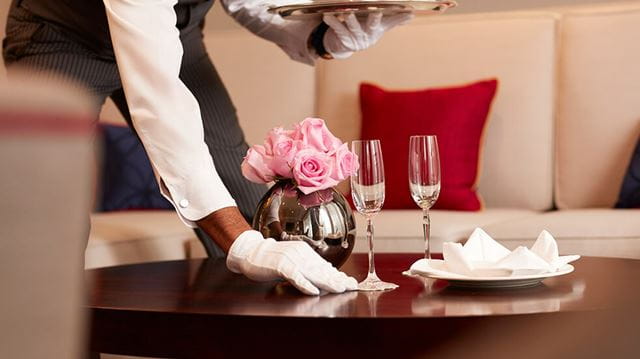 Cunard offers unmatchable service and experiences aboard its three grand vessels – find out about all the exciting and lavish delights you can look forward to on a voyage with this legendary company.
Follow our guide to life aboard a luxury Cunard cruise liner and escape to a world that delivers the trip of a lifetime.
Luxury escape
From the moment you step on board one of Cunard's fleet of three ships, the ups and downs of your everyday life will fade away. It's good for you to get away from your usual daily routines once in a while, but it's even better to really treat yourself. A voyage with Cunard is an escape from all your responsibilities – children included! – and the opportunity to enjoy on-board adventures in the lap of luxury.
Cunard's three ships – Queen Mary 2, Queen Victoria and Queen Elizabeth – offer an unrivalled experience, which includes the famous White Star Service where your every need is catered for with impeccable attention. You enjoy life on board in an ambiance of elegance and style and a menu of varied, challenging or relaxing activities are there for you to choose from. And all this while you're sailing across the waves to exotic destinations and stopovers on every continent.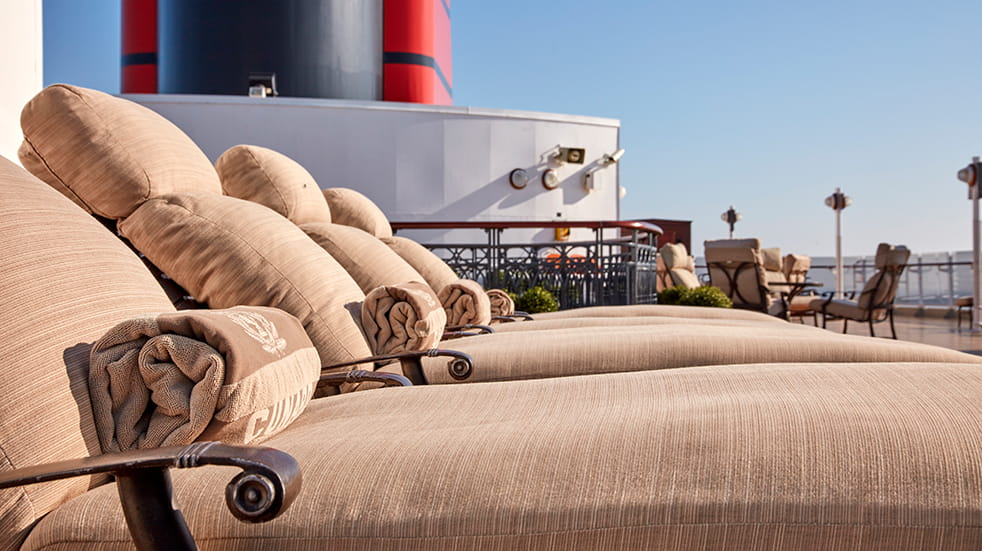 Relax on board your ship on the Cunard Grills Terrace.
A special experience
What does it mean to be on board a Cunard liner and experience their iconic service? The company has a rich history dating back over 175 years and it played a major part in shaping ocean travel over those many decades. All members of staff go through rigorous training at the White Star Academy to emerge with the knowledge, capabilities and desire to enhance your experience as a guest from start to finish. Highlights of life on board include afternoon tea at 3.30pm every day, with this classic British delight served by white-gloved waiters.
If you prefer evening entertainments, gala balls, every evening, bring glamour and magic as you dance to a live orchestra in the magnificent ballroom. Inspiring and award-winning daytime events include talks from all manner of experts from well-known novelists to astronauts.
You'll particularly appreciate the feeling of space on the ship. You might be on board with over 3,000 other people, but the spacious decks and airy atriums mean you enjoy a restful and relaxing experience with space to breathe in deeply the therapeutic sea air and appreciate calming distant horizons. In fact, there is more space per guest on a Cunard ship than on any other liner of a similar size.
Dining on board is an experience in itself too. Your style of stateroom will link you to a specific restaurant, where you can enjoy delicious dining options all day, but you have much else to choose from, including other bars, lounges, cafés, buffets, cuisines from around the world, dining al fresco – every taste is catered for.
That's entertainment
For activity-orientated guests, have a go at a gentle, or even competitive, session of shuffleboard, a game that has been available on board since the first Cunard ship inaugural journey! Or up the ante and take part in a fencing lesson, a dance class, or pick up a table tennis or paddle tennis bat for a more energetic pursuit. With the more leisurely traveller in mind, the spa offers a range of pampering treatments, art classes can inspire or yoga will ensure all is harmonious…
Theatre-goers don't need to miss out either as a full-sized theatre includes West End calibre performances of musicals, comedies, dramas and more.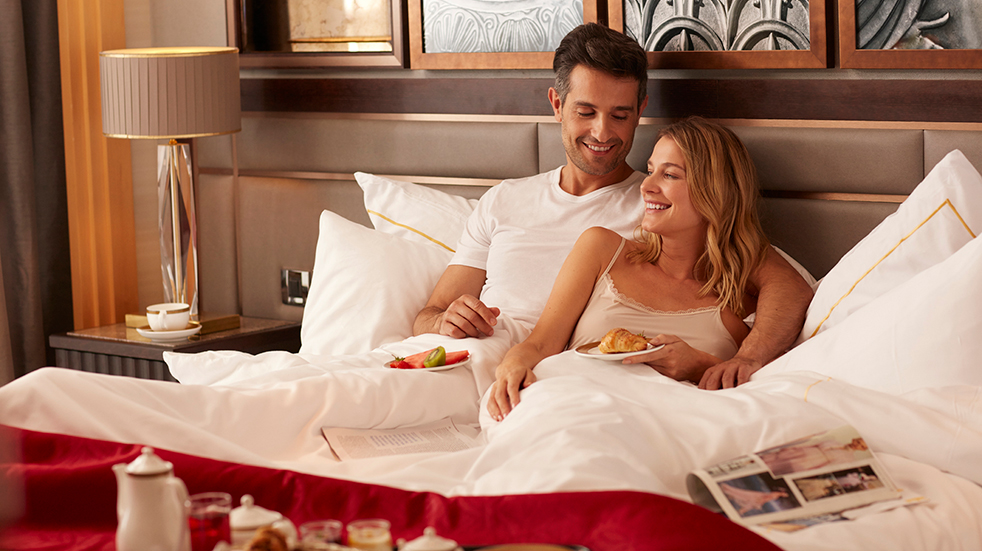 Upgrade to the Queens Suite and enjoy the Cunard White Star service.
Voyages of discovery
If you'd like to have an especially unique experience, a Cunard Event Voyage is made for you. Themes for these voyages include a literature festival, fashion show, Voyage du Vin and a celebration of the world of dance among others. These creative cruise events complement your on-board experience, taking you up close to a subject that is of special interest to you. The transatlantic route to New York is also an extraordinary journey that was established in 1847 by Sir Samuel Cunard as the first regular crossing on this iconic route.
Upgrade your cruise
Life aboard a Cunard liner is a special pleasure under any circumstance, but upgrading your stateroom to a Grills experience takes tlc to a whole other level. You will have even more space, even more attention, even more luxurious surroundings to enjoy.
Sail beyond your imagination, with a little extra from Cunard and Barrhead Travel
Selected 2020 voyages of 7 nights or more will benefit from additional onboard spending money when booked before 1 August 2019.
For more information about having a sailing experience that takes you to a world of luxury, glamour and easy elegance, visit Cunard Cruises on the Barrhead Travel website or call 0330 094 8364 to speak to the Barrhead Travel cruise specialists.
---
Spending money: Book a Cunard Fare holiday and receive additional on board spending money to spend during your voyage in the on board shops, bars, photo and art galleries and on internet packages, restaurants, spa and shore excursions booked on board. On board spending money varies by stateroom grade and duration. Applicable to new Cunard Fare bookings on selected voyages of 7 nights or more departing 2020 booked by 1 August 2019. On board spending money is additional to the Cunard Fare benefit of on board spending money/car parking/return coach travel (choice of benefit dependent on cruise type, duration and time of booking). On board spending money amount shown includes the Cunard Fare benefit of on board spending money plus the additional on board spending money. On board spending money can only be spent whilst on board. Offer is only applicable to Cunard Fare bookings, based on 2 people sharing and cannot be exchanged for a cash alternative.