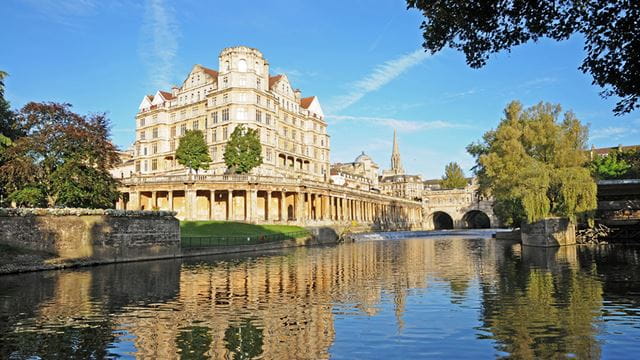 ---

What do you like most about Bath?
I love that independent aspect, the independent shops and restaurants, and there's always something happening most months of the year. We were involved with the music festival recently. It is a city that has a real personality and we are very keen to add our stamp to that. One of the themes we have is that we have a very strong art collection, within the hotel we display art from artists around Bath, equally we work with Bath's School of Art and Design (artdesign.bathspa.ac.uk). We go to their degree show and we show work from lots of young up-and-coming artists. Bath hosted the forest of imagination (www.forestofimagination.org.uk) in June, which had trees, made by schools and artists, 'planted' around Bath Abbey - it's that constant innovation of different things happening all the time that adds vibrancy to the city. It really is a vibrant city with a lot going on.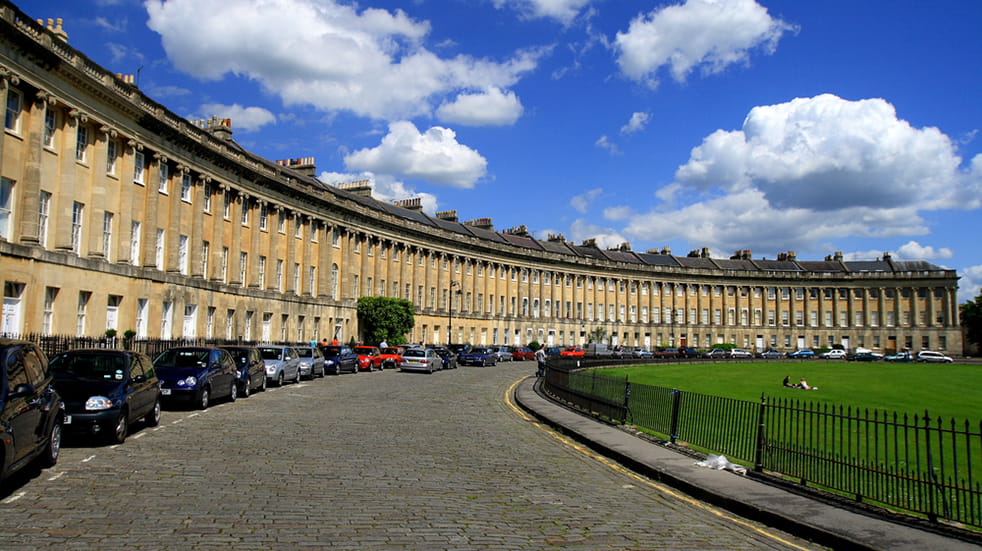 If you had a free day in Bath, where would you go?
Victoria Park is a lovely park here in the city, perfect for a picnic and it's central, just behind Royal Crescent. [pictured. Built between 1767 – 1774 by John Wood the Younger, Royal Crescent is an impressive sweeping crescent of 30 terraced houses regarded as one of the best examples of Georgian architecture in the country]. You can walk and see a lot of all the major sights pretty much within 20 minutes, so it's a very walkable city. You don't always want to be jumping in and out of cars or on and off buses.
If you were mayor for a day, what changes would you make?
I think the main change would be to try and tackle the transport, because getting in and out of Bath at certain times of the day can be very difficult. There's a one-way system that I'd like to try and do something about.

Do you have a piece of advice for tourists?
Visit the Holburne Museum, which is a wonderful place with ever-changing pieces of art – Great Pulteney Street, a beautiful wide street. So, coincidentally, is our new boutique hotel, 15 Great Pulteney Street, opening in August!

What's your favourite day trip out of the city?
I would say the prehistoric sites of Stonehenge [pictured] and Avebury. Neither are very far from Bath and both are very interesting.

What's your favourite sight in the city?
I think definitely Bath Abbey [pictured]. We get beautiful views from the Abbey Hotel – if you're on the top floor, you can see the spire.
Where's the best view in the city?
I think if you are coming into the city, down the A46 at dusk, it's a wonderful view over the whole of Bath. It's a very pretty skyline.
What local drink should every visitor try before they leave?
The Great Chase! It's a refreshing long drink, which is made of vodka, elderflower liqueur, lemon juice and a soda top – it's perfect for summer.
Best place for a dinner ?
We obviously have our restaurant, The Allium, which specialises in dishes with an Asian twist, but I'd also recommend The Porter on George Street, it's British/European with quite a classic menu.
Best place for street food?
Down by SouthGate shopping centre there are loads of street food stalls set up from Thursday to Saturday throughout the summer.
Where would you take a friend from out of town that the tourists wouldn't usually see?
There's a new place that has just opened called the Locksbrook Inn – it's right on the canal with a beautiful outdoor terrace.

What's your favourite time of year in the city?
I love summer, but I also love Christmas, the first couple of weeks in December when Bath's got the Christmas market [pictured] and we also have our apres-ski bar (abbeyhotelbath.co.uk/pop-ups/apres-ski-bar), which we put up on the pavement outside the hotel from the last week in November through until the first week in January.
How has the city changed in the last 20 years?
I have noticed changes in just the last five years. We have seen many more restaurants come into the city. Bath wasn't really that well known as a great city with restaurant choice, but now I think there is a very good range of independents and chain operators, it has a very good mix, and that just keeps growing.
---

Ian Taylor and his wife Christa own boutique accommodation The Abbey Hotel (abbeyhotelbath.co.uk) and Villa Magdala and are set to open a Georgian townhouse at No 15 Great Pulteney (no15greatpulteney.co.uk), all in the heart of the World Heritage site of Bath.