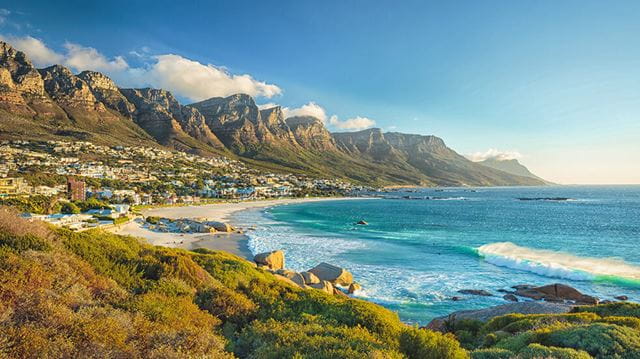 Memories are guaranteed on Africa Sky's 10-night motoring tour of South Africa's Western Cape.
Every element of your Africa Sky holiday – be it geography, gastronomy, history or hospitality – is carefully cherry-picked to thrill.
On the tour of the Western Cape you'll start by flying direct to Cape Town with British Airways. There's time to visit the world-class Zeitz MOCAA contemporary art museum or take a township tour before a fine-dining experience to savour at the Twelve Apostles Hotel & Spa. In its Azure Restaurant, a fusion of local and international cuisine is served on a beautiful terrace with panoramic views of the sea and mountains.
Such a gourmet experience sets the tone for this itinerary, whose next stop is Constantia, an affluent, wine-growing suburb. Premium cool-climate sauvignon blancs and sweet muscats are produced here in 'Cape Town's vineyard', and likely to be stocked in the Cellars-Hohenort subterranean wine store – where you'll have a romantic candlelit dinner. A two-night pause at this hotel also allows ample time to enjoy the century-old German-style manor house's large pool, tennis court, putting greens, acclaimed restaurants and glamorous Martini bar.
Next comes the famously picturesque Cape Winelands region, whose peaks and plunging hillsides provide an ideal climate for some of the world's great wineries, with cabernet sauvignon and chenin blanc among the specialities you'll encounter along Route 62, supposedly the world's longest wine route.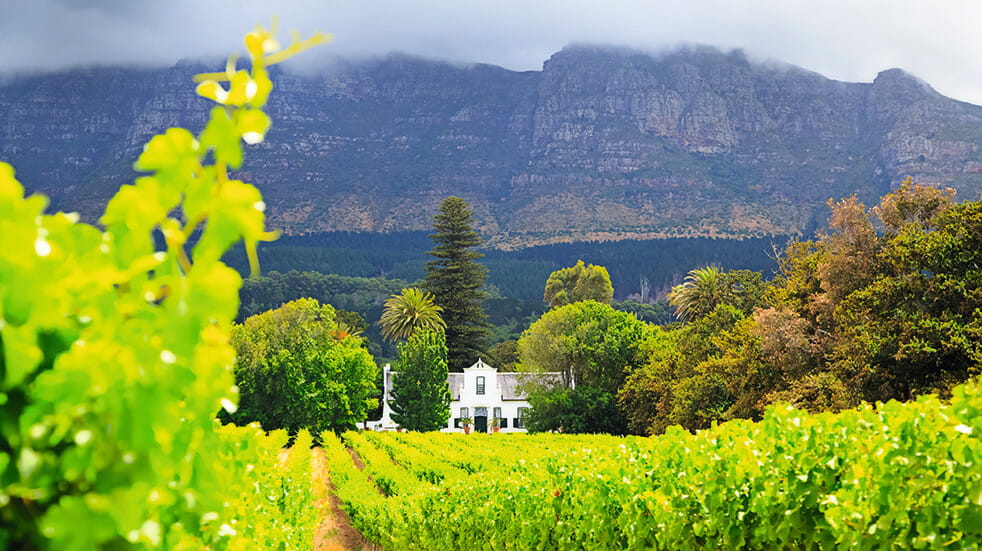 South Africa's beautiful Cape Winelands.
A couple of nights at Babylonstoren, arguably the area's finest hotel, anchors your exploration – including of local restaurants, with this area home to many acclaimed, daring young chefs. Time should also be allotted to the tranquil, 300-year-old working farm itself: gorgeous grounds and orchards, farm-to-fork restaurants and a garden spa combine to render stress virtually impossible.
A third Winelands night is spent at the Robertson Small Hotel, a 10-room, two-pool bolthole – complete with cyclical art displays and Italian-inspired nosh dreamt up by Skye Gyngell's protégé Rose Ashby – in a lesser-visited part of the region. Robertson's scattered estates are unpretentious, and the attractive town unassuming and charming in equal measure. Surrounding Breede River Valley is, for good reason, known as the 'Valley of Wine and Roses', and well worth a gentle drive or tranquil saunter.
Scene stealers
East of Robertson begins the Karoo. It's a sparsely populated semi-desert sprawl of open plains and distant, silhouetted mountains, of flat-topped hills and needle-straight blacktop. There are wild meerkats, too, and the lovable animals can easily be observed during a two-night stay at Rosenhof Country House, just outside Oudtshoorn. Close by is Meerkat Adventures, a conservation site operating guided dawn tours.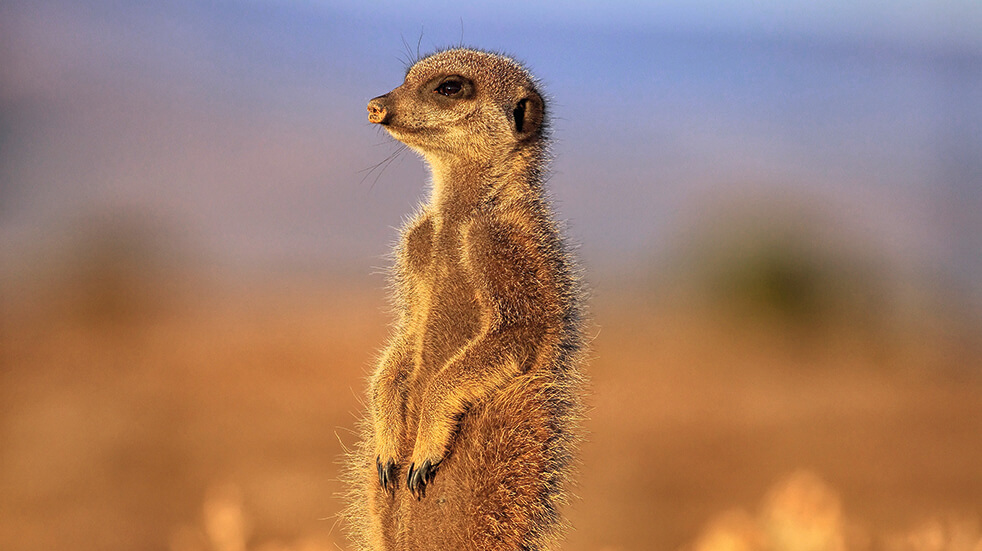 A meercat stands guard in the semi-desert of the Karoo.
Also in reach are the area's ostrich farms and extensive, painting-packed Cango Caves, plus 18-hole golf courses. Amidst it all, beautifully renovated Rosenhof offers a different kind of South African stay: decadent, yet wholly relaxed. Fragrant rose bushes explain its name and, as at every hotel on this itinerary, you'll eat exceptionally well: the traditional South African cuisine here has scored Rosenhof international renown.
Stay among the treetops
Journeying south of Oudtshoorn, you'll hit upon South Africa's most famous drive: the Garden Route. Few journeys can offer so many outdoor wonders squabbling for attention: among them are surf-thrashed sandy beaches, walk-worthy forests, waterfalls, whale-watching hotspots, precipitous cliffs and sunsets so good you'll want to cry.
Handily located between the two main hubs of Knysna and Plettenberg Bay is your unique base, Tsala Treetop Lodge. Constructed from stone and thatch, its one-bedroom suites and two-bed villas are stilted on raised platforms, some as high as six metres, amid a wooded river valley. Suites come with floor-to-ceiling views through glass walls, plus observation and pool decks.
---
Discover more of Tropical Sky's range of holidays
Explore Canada's Rocky Mountains with Tropical Sky
Head down under for an unforgettable adventure in Australia and New Zealand
See more of south-east Asia and South America with Tropical Sky
---
Just as remarkable is the main lodge, designed to resemble the ruins of an ancient African civilisation; just the sort of place Indiana Jones routinely stumbles upon. In this case, Indy would wind up enjoying al-fresco meals at restaurant Zinzi. With a final two nights here before travelling home from Port Elizabeth via Johannesburg, Zinzi's delectable international fare can bookend days of Garden Route exploration and bring the curtain down on this epic, delicious South African driving holiday.
Explore South Africa's Western Cape with Africa Sky
Enjoy a range of exclusive upgrade options with the Tropical Sky group, a new Boundless Approved Partner – including Africa Sky's 10-night self-drive Western Cape tour, which costs from £3,295pp for members between May and September. This includes British Airways flights from London to Cape Town, returning from Port Elizabeth via Johannesburg. Also included for members is 11 days' car hire with a five-category upgrade worth over £250pp, B&B stays at six luxury, food-focused properties as described and a free food-and-drink day tour in Constantia.
Alternatively, members qualify for £100pp-worth of upgrades and excursions on another Africa Sky South Africa self-drive tour of 10 nights or more. To find out more about the full range of tours, visit Africa Sky or call 01342 332691.