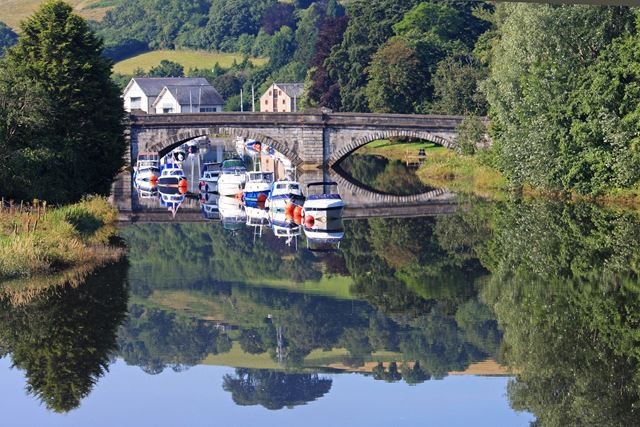 ---

Wild swimming
The River Dart lends its name to many of the places it meanders through on its 46 miles from the moors to the sea, and has helped to mould southern Dartmoor and many of the towns and villages it touches.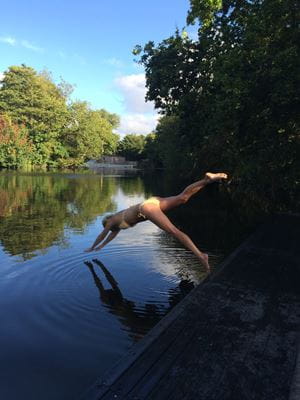 The river begins as two separate branches, the East and West Dart, along which feature a number of pretty waterfalls and stone bridges until it joins at Dartmeet and meanders through Buckfast Abbey, Buckfastleigh, Dartington and Totnes, from where the river is tidal until it reaches its mouth.
If you're up for a bit of wild swimming, there are numerous places you can take the plunge.
Sharrah Pool on Dartmoor is a favourite spot, with its 100-metre crystal-clear stretch of the River Dart, sandwiched between smooth granite boulders. Access is by foot only, through ancient woodland.
Totnes itself also has some nice access points. Although knee-grazingly shallow in many places, on the day I chose to swim, the river looked so deep, black and cold as to appear almost viscous.
Heavy rains can make the Dart a fast and dangerous flowing river, and I can't help but recall the ancient local saying: 'Dart, Dart, cruel Dart, every year thou claim'st a heart' as I dive into the deep water. Always different, always invigorating.
wildswimming.co.uk/devon-and-dartmoor
---
The heart of glamping
Devon has been at the centre of the glamping revolution right since the beginning.
The county now has yurts, bell tents and eco-pods dotted all over, with backdrops both coastal and countryside.
I can't think of a better way to to experience the tranquil beauty of Devon than sleeping out in nature, so I head straight for a glampsite at Otterdene, a privately owned equestrian centre on 14 acres of land.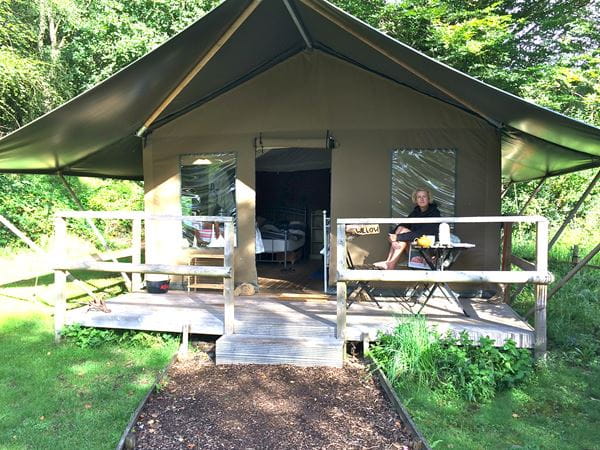 Two large colonial-style safari tents, big enough to sleep four comfortably, and a shepherd's hut, warm enough to stay in during the winter months, are tucked away under trees backing onto the Venn Ottery reserve, which houses 40 species of bird and a herd of Devon wild horses.
A Bengal cat appears (and makes itself at home for the rest of my stay) as I admire the spacious interior with double bed, dining table and corner kitchen.
Heavy rain gives me a grand excuse to light the antique wood burner inside my tent and burrow into the mound of cushions on the day bed, while consuming tea and some delicious homemade cake left out to welcome me.
As dusk falls I decide to stay in the tent rather than nip into a nearby town to eat, loving the heavy silence and the gathering darkness.
I'm truly 'off grid' here, with just a flickering lantern and crackling stove for light making me feel incredibly warm and cosy while the rain pours down outside.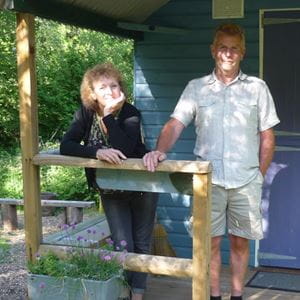 Looking through the visitors' book the next morning as I eat breakfast on the sunny verandah, I notice how many families have returned to this idyllic spot (run by uber-friendly owners Judy and Ed, left), which is home to four generations as well as various horses and ponies.
Artist and designer Judy Edwards sells her artwork locally and runs art classes, while Ed makes all manner of things, including shepherd's huts. How I'd love to have one of those at the bottom of my garden...
Quality Unearthed offers stays at the Willow Safari Tent from £125 per night, for a minimum stay of three nights, based on up to four sharing.
Visit qualityunearthed.co.uk or call 01348 830922
---
More beaches than you can shake... er, a bit of seaweed at
South Devon has some of the best beaches in England – some only accessible by boat, and many by clambering down steep cliffs.
From long, languid beaches to secluded coves, the coastline is so varied you can always find somewhere to suit, whether its family friendly, dog friendly, good for surfing and other watersports, or just a quiet cove to relax in.
East Prawle is the most southerly point of Devon and very popular amongst campers, some of whom return every year.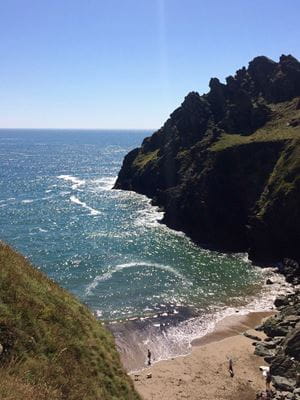 I rounded the headland after a thrilling and at times perilous 3km clifftop walk (left) to see waves pounding the beach far, far below and tiny people basking on the rocks like seals.
Well worth a visit is Prawle Point, one of the many lookout points run by the National Coastwatch Institution (NCI), where a team of volunteers treat visitors to stories about dramatic incidents at sea averted by the committed team. (Follow the increasingly narrow road right down to the National Trust car park to save yourself a half hour walk from East Prawle village to the coast.)
The NCI is self-funded and keeps an eye on Britain's coastline 24/7. Visit nci-prawlepoint.org.uk if you'd like to find out more, or to make a donation so they can continue their essential work.
Ansteys Cove is a popular place for rock climbing followed by a swim. Once a favourite spot of author Agatha Christie, who apparently used to visit for moonlight picnics with her friends, the tiny shingle beach is backed by steep rocks, with access very steep in places.
Around the coast towards Plymouth you could do worse than visit Mothecombe Beach, one of the quieter beaches in South Devon as it's privately owned.
Open to the public on Wednesdays, Saturdays and Sundays, it has a large and unspoilt sandy bay, and the owners have an award from the Marine Conservation Society for keeping the sea and sands clean.
---
Picture postcard towns
Totnes, the quirky market town on the Dart known for its 'alternative lifestyle' tag, is reputed to have more listed buildings on its main street per head of the population than any other town.
It also has an array of gift shops and eateries and more than 40 independent coffee outlets, to cater for people seeking an authentic Italian espresso... or an organic soya latte.
Writers, musicians and artists are drawn to the town for its strong arts-and-crafts pedigree – and this also extends to nearby Ashburton, which also offers some gentle browsing in its numerous art galleries and shops.
Bovey Tracey, often called the gateway to Dartmoor, is a charming and historic place to stay, with a strong rural heritage. The town boasts a wide range of independent retailers, with delicatessens, high-class butchers, farm produce and fair-trade shops. Plan a visit to the Devon Guild of Craftsmen in the converted Riverside Mill to watch craftsmen and women create jewellery, sculpture, prints, glass and textiles.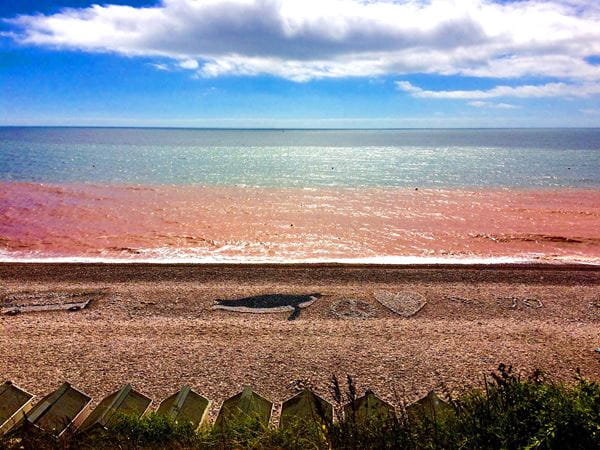 Budleigh Salterton, a pretty seaside town with its own beach, has a dramatic line of imposing red cliffs.
Walking up to the vantage point by the red cliffs, after a walk round this sleepy seaside town, I'm treated to a stunning view of the sea, churned by last night's rain to form a dramatic deep red stripe, running along the coastline as far as the eye can see – and before that a line of charming pebbled mosaics, created by a local. I'm rather pleased with the resulting photograph (above).
Salcombe (below) can get very busy but with good reason: it's a charming, vibrant little town that still manages to retain its magical Devon charm, and thousands flock to see the regatta held here every year.
---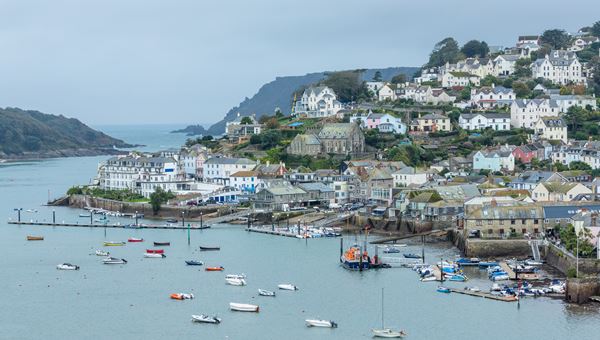 Walking, climbing… or just paddling
Walking is good for body and soul, so where better to get your walking boots on than among some of the most stunning landscapes in the world? Dartmoor is the largest open space in southern England at 954 km2 (368 square miles) and has everything from challenging treks across windswept moors to relaxing strolls through secluded woods.
There are some great circular routes for families, lasting from an hour to a full day, and if you don't fancy trying to read a map in high winds, these days its easy to download an mp3 audio walk to guide you. In late autumn the moors radiate a rich tapestry of moorland colours.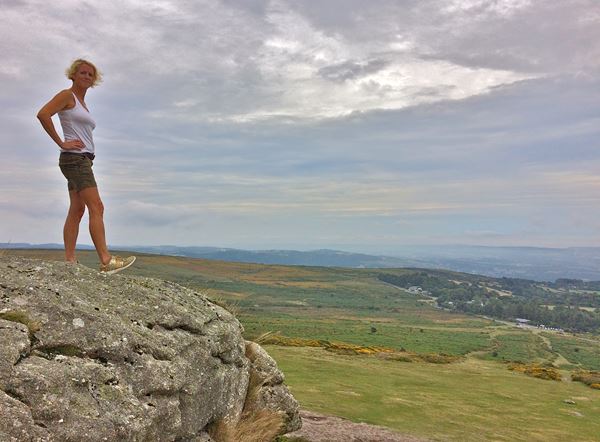 Haytor, a granite tor visible for miles around, is one of Dartmoor's most famous landmarks. At a height of 457 metres (1499 ft) on the eastern side of the moor, Haytor gives excellent views of the coastline, the Teign Estuary and the rolling countryside all around.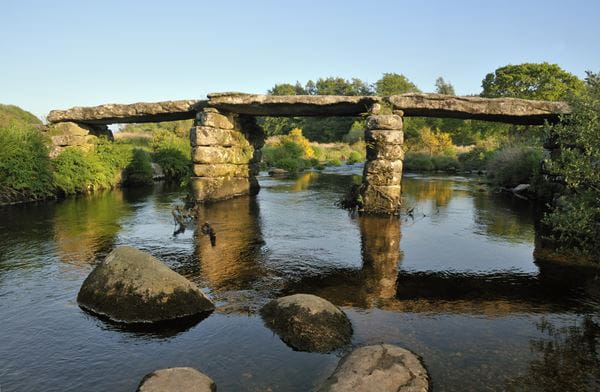 The iconic clapper bridge at Postbridge is a typical stone bridge for the area, and nicely situated in the little town of Postbridge, near the Dartmoor National Park Visitor Centre. Good for a quick dip or paddle in the river or for dogs to cool off, it's also a good spot to get your camera out.
---
The food and drink
Devon is well known for its pubs, many of which date back to the 16th century or earlier, many of which are in stunning locations.
There are few nicer places to sit on a sunny afternoon than in a beer garden overlooking the river, and the Watermans Arms at Ashprington (below) fits the bill splendidly.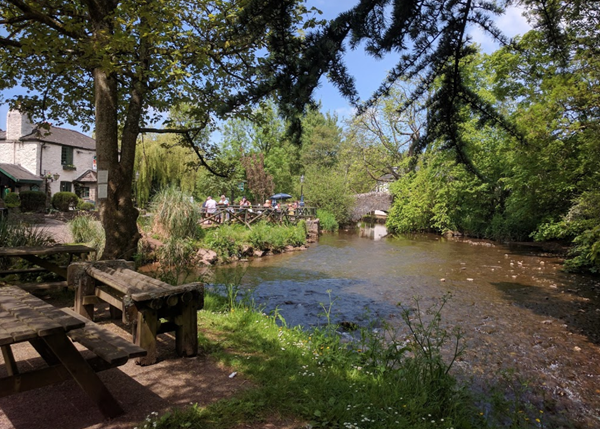 Meanwhile the picturesque Ferry Boat Inn, situated right on the shore of the River Dart, has one of the most stunning views you'll ever see from a pub window, with a small ferryboat which whisks visitors across the river right next door.
Harberton's Church House Inn dates back to 1329 and entering the long main room really is like stepping back in time.
Or, after a glorious afternoon on the beach at East Prawle, go for a pint at the Pig's Nose Inn – a quirky little pub on the village green which apparently hosts the best New Year's parties you'll find.
Riverford Organics has its HQ in Buckfastleigh, between Totnes and Dartington. The Field Kitchen is its award winning organic restaurant (you'll need to book to get a table) or you can just grab a coffee and organic breakfast while you browse fruit and veg at the nearby farm shop.
Guided tours of the farm with the head gardener are available by advance booking, and they'll even lend you wellies if needed.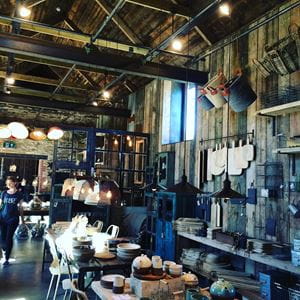 Nkuku Lifestyle Store and café (left) at Harbertonford is a 'must visit'.
Whether it's for the to-die-for homewares and textiles, displayed in a huge, stylishly converted barn, or for its equally yummy artisan food and drink (and cocktails in the evening), this is the place to sit out in the courtyard and work out how much you'd like to buy that set of gold-plated cutlery...
Or, for eating out in the evening with a bit more of a busy vibe, try Rumour in Totnes, with a menu varied enough to appeal to most tastes and the pleasant buzz of happy townsfolk and visitors all around.
---
And to top it all off, a spot of luxury
The rather wonderful Ilsington Country House Hotel (below) on the edge of Dartmoor National Park is a family-run hotel which has been servicing walkers for many years, but which has recently upped its game significantly with the addition of a new state-of-the-art spa.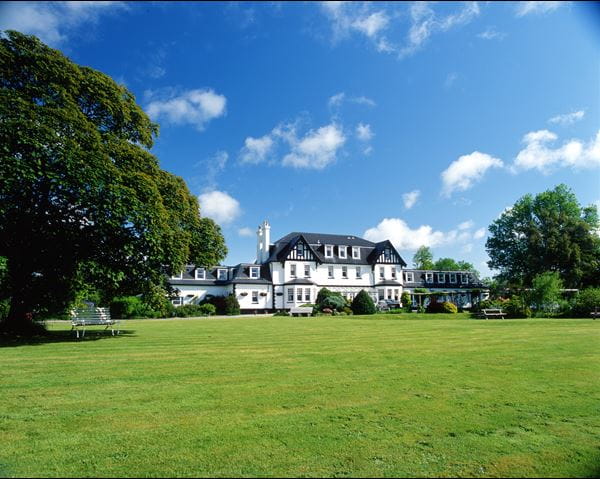 Surrounded by heather-clad rolling hills, ancient woodland and stone tors, the hotel – set in 10 acres of gardens – oozes country charm and serves award-winning food and cream teas to boot.
My room, tucked in the eaves, combined traditional styling with a modern bathroom and offered a fantastic view of the sunset over the moors.
A reasonably priced dinner menu includes vegetarian gems such as 'goats cheese spring roll with yellow pepper tartare, braised celery, balsamic walnuts, grapes and beetroot gel' or adventurous meat dishes such as 'breast of duck with hogs pudding press, rosti, spinach, pickled cherries and sauce d'epice', and I can see why the chef has earned numerous plaudits and awards.
The hotel has some special Spa Day packages at very reasonable prices, and all the treatments you'd expect from a top spa, with its tranquil atmosphere and hydro-therapy pool, making it a welcome end to a long day's walking on Dartmoor.
Top tip: You can even buy eggs from reception to take away when you leave, laid by the hotel's very own brood of chickens, roaming the grounds, a nice touch.
Rooms start at £125 per night based on a standard double on a B&B basis and full use of the spa facilities.
A two-night "Relax and Recharge" package costs £285 per person, based on two sharing, half-board accommodation, a bottle of Prosecco on arrival, two-course lunch on the spa day plus a choice of massage.
Visit ilsington.co.uk or call 01364 661452