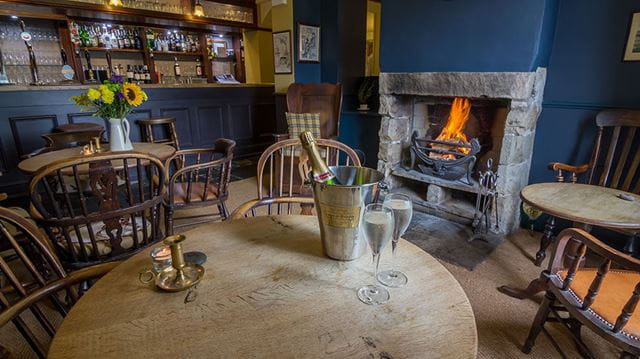 Wherever you find yourself on a chilly winter's day, you won't be too far from one these welcoming retreats to warm up while enjoying some quality food and beer.
As a gust of wind signals autumn's arrival, pubs across the UK start the serious job of making everyone feel at home. Joints are basted, potatoes roasted and ales the colour of caramel and treacle are rolled in, while walkers warm their cockles (and soggy hiking socks) before a crackling fire.
There are locals in every county making their customers feel loved. We'd love to list them all, but these are the ten pubs we feel it's worth travelling for. You can seek them out on foot or by car. Most also have rooms so you can hunker down for the night
The Red Pump Inn, Ribble Valley, Lancashire
The picturesque Red Pump Inn in the Ribble Valley is set within the Forest of Bowland is the perfect destination after a bracing hike. You can reward yourself with a 40 day-aged steak from butcher The Ginger Pig, sink a few local ales, and then bed down in one of the luxury heated yurts, which offer unrivalled views of the Ribble Valley.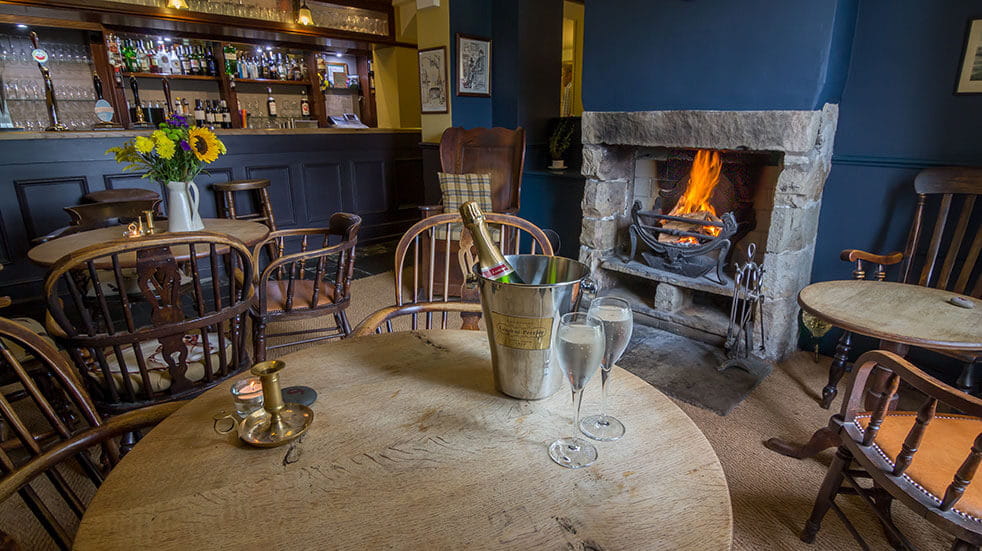 The Stag, Hampstead, London
After a quick stomp across the heath, or an exhilarating plunge in the swimming ponds, The Stag in Hampstead has small tables, hearty food and wood fire are all you need to relax. There's a rotating list of 24 American, British and German craft ales to keep beer lovers smiling, and the Sunday roasts are worth making a pilgrimage for.
---
Methuen Arms, Corsham, near Bath
The remote Methuen Arms in Corsham, complete with roaring fire in the bar, turns out award-winning locally-sourced food with a twist – boar suet pudding and baked tofu sit side-by-side with classics like local-ale battered fish and chips. Retire to one of the tasteful rooms so you can sample the homemade breakfast muffins. Bath, with its spa and Christmas markets, is just a short drive away.
---
Discover more great autumnal days out across the UK
The best places to see autumn colour in our trees and woodlands
The best autumnal walks in England
The best places to eat with a sea view
---
Mermaid Inn, Rye, Kent
If the walls of this Medieval pub could talk, they'd tell a tale or two. The Mermaid Inn in Rye harbours ancient cellars, secret passageways and a priest hole tucked inside its giant chimney breast, which hid Catholics fleeing the Reformation. But, it's not just a history lesson. The cosy bar has an extensive gin menu and serves classic food in its two AA-starred restaurant.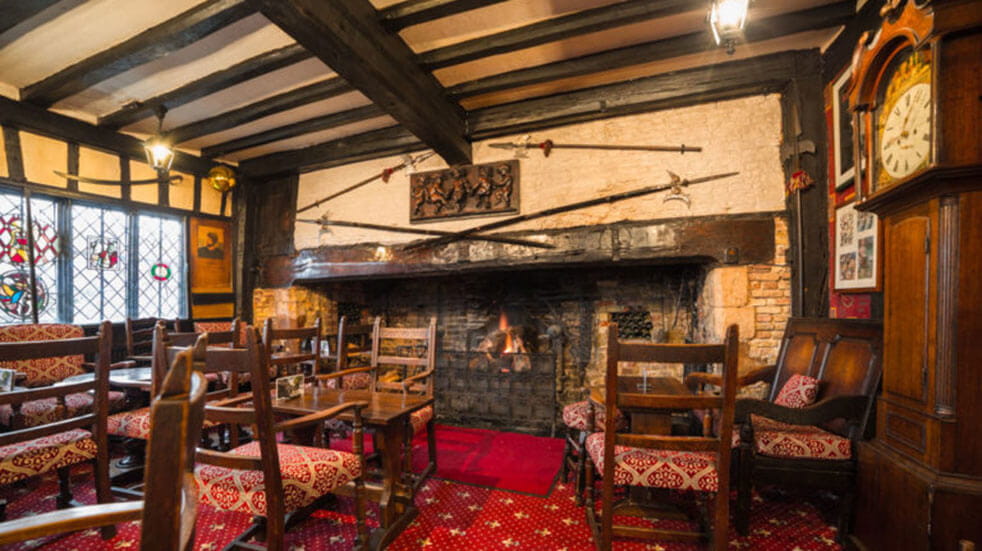 Anchor Inn, Seaton, Dorset
Escape the wind whipping in off the sea and duck into the Anchor Inn in Seaton on the Jurassic coastal path. Sit fireside and drink local ales or a flight of hearty rum. The food makes the best of the pub's location, perched between land and sea. It's pub grub, elevated – fish in a malt vinegar and sea herb batter or brisket slow-cooked for 24 hours.
---
The Fox & Hounds, Glamorgan
The lights of this village pub outside Barry are like a beacon on a cold winter's night. You're as likely to see hikers popping in to the Fox & Hounds in Llancarfan for a pint as you are locals, day-trippers and airport-bound travellers looking for a few home comforts. Dine on the pub's signature FFC (Fox's Fried Chicken), and then tumble into one of the comfortable rooms to sleep off pints of real ale and cider.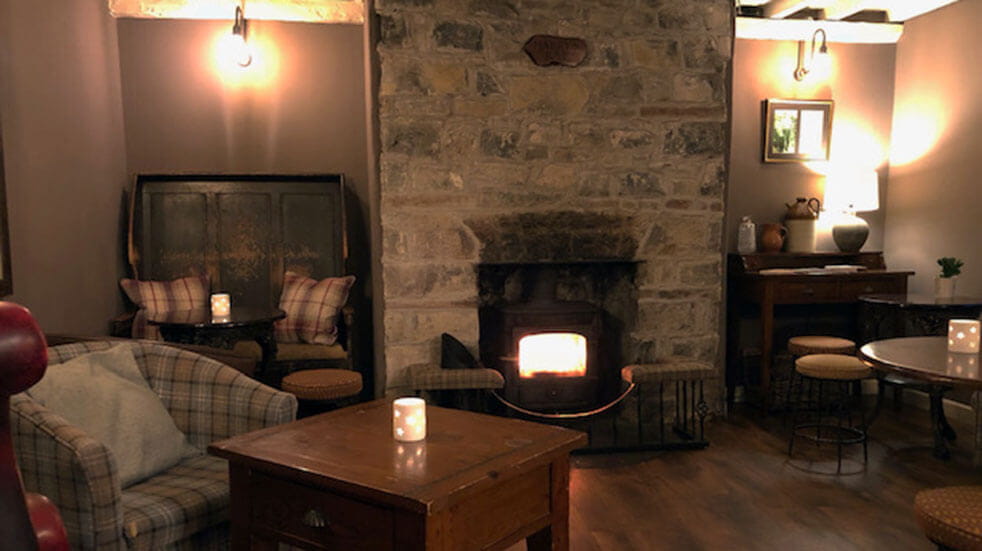 The Wiveton Bell, Norfolk
A stone's throw from the North Norfolk coast and its wintering colony of seals and their pups, the boutique Wiveton Bell near Blakeney in Norfolk with rooms is serious about serving local. Here, you'll find Norfolk's best ale, gin and produce served in a rustic, cosy dining room. The Sunday roast is so good, it's almost better than mum makes.
---
The Mishnish, Tobermory, Scotland
You could brave the 2-hour hike from Aros Park to Tobermory Bay, and really work up an appetite before landing at the welcoming, bright yellow Mishnish pub in Tobermory by the shore. But, even if you decide to show up by car, you'll appreciate the roaring log fire, live music and locally-sourced seafood.
---
The Swan Inn, Swinbrook, Cotswolds
Perched on the River Windrush, the picture-perfect Swan Inn gastropub in the Cotswolds was previously owned by 'Debo' Duchess of Devonshire – the last surviving of the high society Mitford Sisters. Dine on roe deer burger and chunky truffle fries, while the Mitford sisters gaze down from above the fireplace. The best of the 11 rooms is dedicated to Debo – a massive suite with separate sitting room, naturally.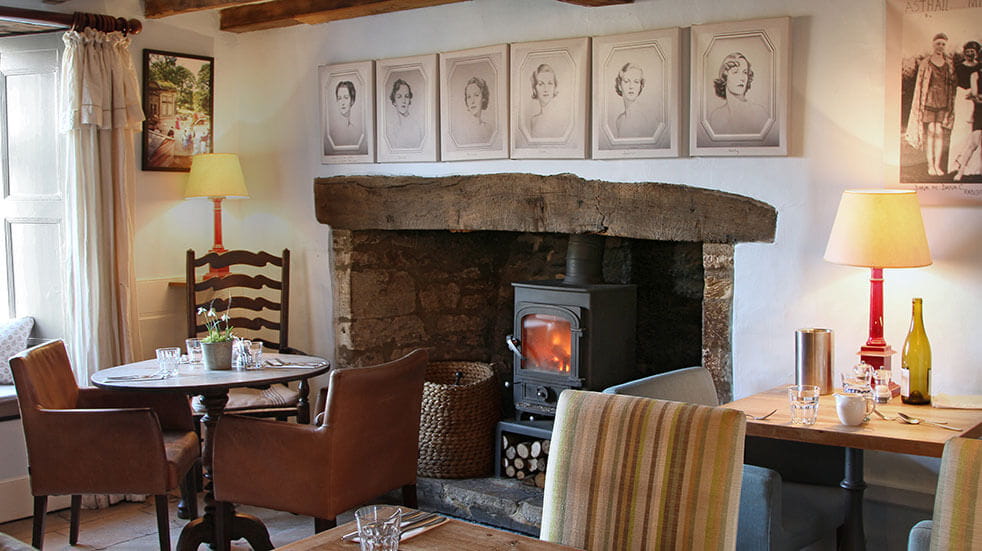 St Kew Inn, St Kew, Cornwall
This traditional St Kew Inn in St Kew, Cornwall has been serving famished farmers and thirsty villagers since the 15th century. Now, it welcomes hardy walkers with St Austell ale, interesting food and excellent wines from its vast cellars. Expect to find sirloin with bone marrow butter and lamb rump smoked in hay. And make sure to leave room for the sticky toffee pudding.