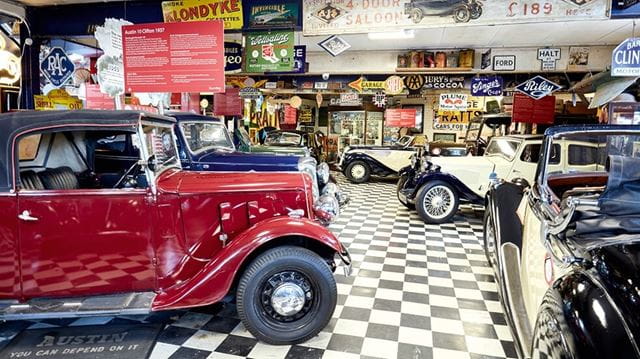 As the Cotswold Motoring Museum celebrates a milestone, Kate Evans takes her family to Bourton-on-the-Water to see what 40 years of motoring history (and more) looks like.
Bourton-on-the-Water is a quintessential Cotswold village, complete with pretty stone houses, clipped grass verges and ambling tourists enjoying the sunshine on the village green. Right at its heart are four Boundless cottages – and that's where I'm spending the weekend with my daughter and son, Olivia and Jacob. In Stepping Stones cottage, to be precise.
There's much more to this classic English village than meets the eye – it's also home to Boundless's award-winning Cotswold Motoring Museum, a treasure trove of motoring memorabilia and a heart-warming collection of toys from days gone by. The museum is celebrating its 40th birthday this year, making it positively ancient in the eyes of a six- or nine-year-old child. "It's the same age as you, Mummy," they jibe (more times than are strictly necessary), taking great delight in pointing this out to everyone in earshot.
Outside the museum, you're greeted by a Mini-shaped topiary hedge and signposts pointing you to Car Heaven and Memory Lane. They're not wrong. Right from the off, it's like stepping back through time into a world without iPads, mobile phones and satnavs; for anyone born in the last century it's a nostalgic trip into childhood, reminding me of life before Pokémon and Minecraft. The special '40 Year Flashback', a new addition for this special year, is devoted to the other momentous events of 1978 – the release of movies including Grease, Superman and Watership Down, and TV debuts of Blake's 7, Grange Hill and Cheggers Plays Pop.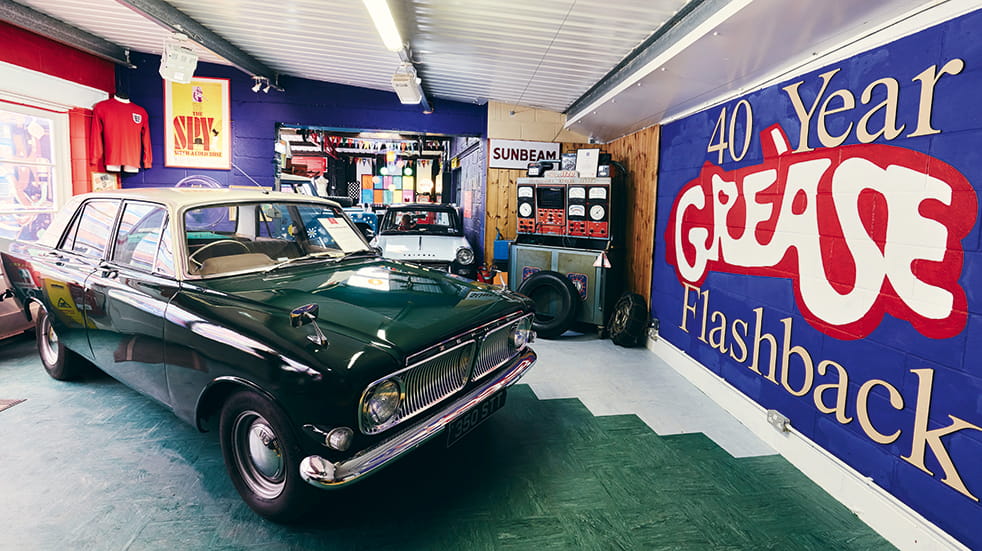 Take a trip down Memory Lane
We discover that there really is something for visitors of any age and memorabilia that engages the eye at every turn. We wander past cars, caravans, bikes and motorbikes, taking in the hundreds of information signs on the walls and floors, and reading the jokes that hang from exhibits.
The kids are entertained by a quiz sheet that encourages them to look closely at the cars, including a gleaming Jaguar XK140, and to seek out an engine-powered bicycle. They explore the labyrinth of treasures, wide-eyed and racing to beat each other to the next answer. I, on the other hand, notice small items I haven't seen since my own childhood and am awash with nostalgia.
Every inch of the buildings is crammed with memorabilia, complete with the sounds and smells of yesteryear's machinery and vehicles. The walls and ceilings are a patchwork of illuminated petrol pump globes, vintage enamel advertising signs and oil cans. Glass display cabinets are bulging with crockery including Art Deco race car teapots, Bakelite telephones and antique cameras. "Was this what it was like when you were a little girl?" the kids tease.
This first room of the museum, the Mill Gallery, is also home to Brum, the small yellow car that starred in its own TV series in the '90s. Although Olivia and Jacob are too young to remember him, they love watching the video clips and are quick to spot that the museum plays backdrop to Brum's adventures. They're fascinated by the small cut-throughs of engines, explaining how the internal combustion process works, and are encouraged to turn the handle to make the mechanics move.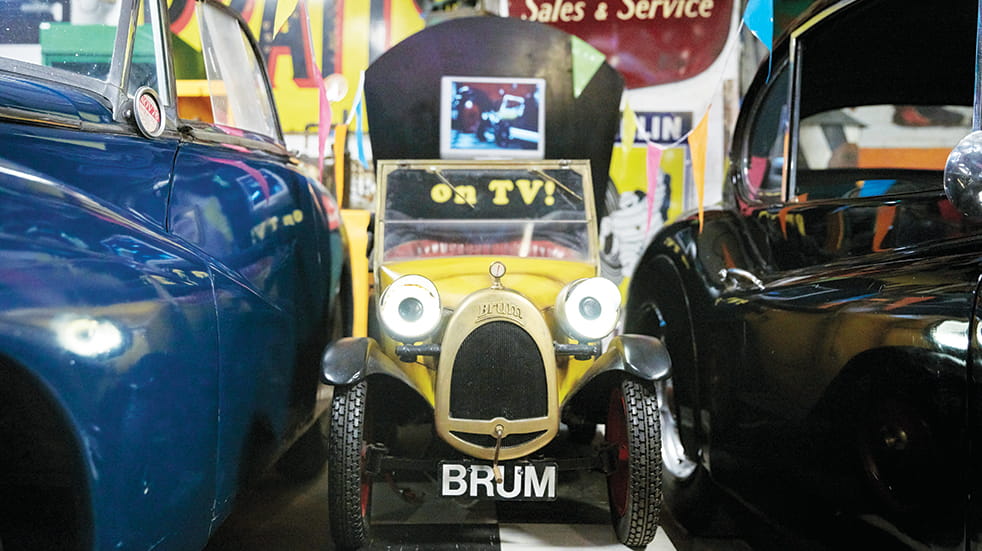 We follow the clear route through the various buildings, which ensures you don't miss anything important. It leads us through a blacksmith's workshop and into Jack Lake's garage – a tribute to Bourton's first country mechanic. It feels like we've wandered into a working garage from history, complete with realistic smells; we hold our noses through one particularly pungent room.
Those walking through the museum at a pace could reach the end within half an hour, but there are so many tiny details that it could easily fill a couple of hours or more. The team of dedicated volunteers is a font of knowledge, down to the very smallest exhibit, and they are eager to answer any questions and point out models you may not notice. Like most kids, Olivia and Jacob are fascinated by the idea of learning to drive, and as we walk, they chat about how cars are likely to change – whether they will ever drive a car in the same way as we do now, or whether autonomous (or 'automonous' as Jacob pronounces it) motoring will take over.
The final rooms take you into the toy museum and children's play area: another collection of cars, planes, boats and dolls that have been loved by children over many generations, along with pedal cars and bikes of all sizes. Olivia tries the challenge of the vintage ball bearing maze, which is much trickier than it looks. And for Boundless members there's an area of highlights from the history of the club, along with a brilliant little gift shop of toys and souvenirs.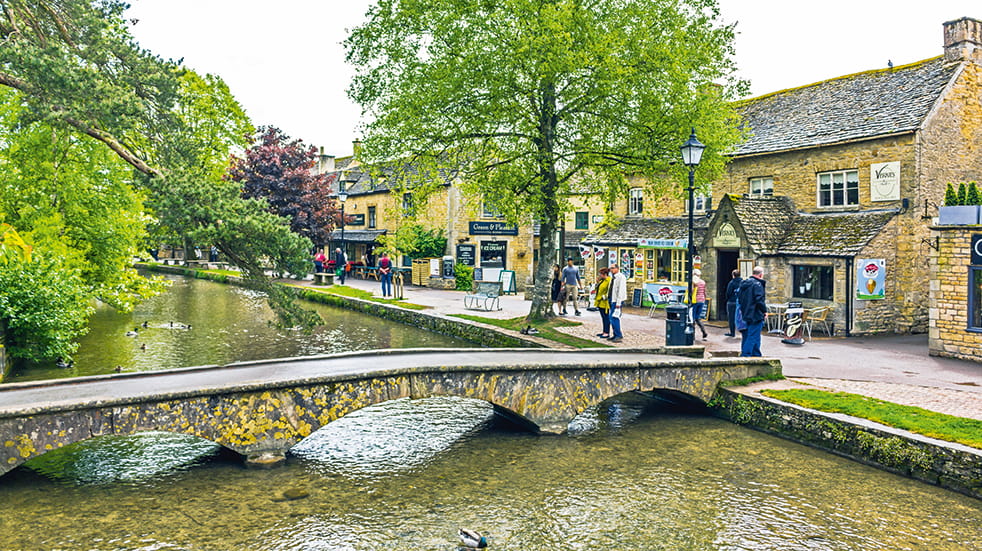 Bourton-on-the-Water
All this exploring means we've worked up an appetite, so we reluctantly leave the museum and head out into the sunshine to explore the village. The river – still icy from a chilly spring – is crystal clear and irresistible to children so we strip off our socks and shoes. Soon trousers are rolled up to knees and they're in as deep as they dare; some braver souls are wading across from bank to bank, but we decide it's high time we venture further into Bourton. This, of course, means a visit to the traditional sweet shop and a heavenly tea of fish and chips, eaten on a picnic bench on the riverbank. We enjoy a game of Poohsticks from one of the many low bridges, then retreat back to the cottage for some quiet time before bed. Despite all protestations to the contrary, they are both fast asleep within 20 minutes.
The cottage has everything you could need for a rural retreat – a bright and modern kitchen, cosy living room with plenty of fluffy blankets (perfect for curling up with a book), and a great choice of games and DVDs if you don't fancy an evening in one of village's four charming pubs. It's hard to imagine a better start to the day than waking up in a picture-perfect Cotswold village, with the water lapping the riverbank just inches away. Indeed, it's this sound that lulls me to sleep after our busy day.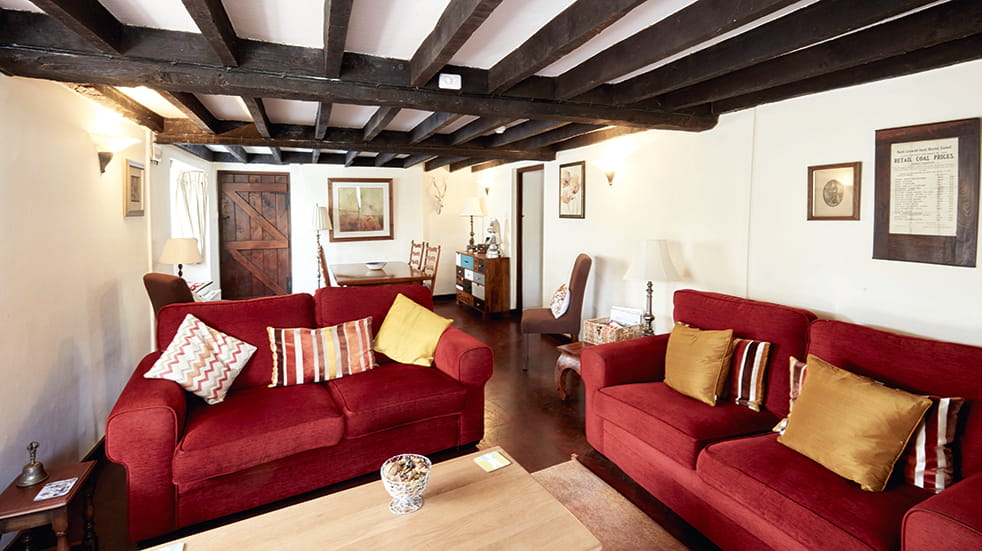 Read more of the family's adventures in Bourton-on-the-Water in the July/August issue of Boundless magazine, delivered free to members.
Do more with Boundless
Stay
If you fancy your own Cotswold adventure, you can save up to 20% on Cotswold Cottages bookings, where you'll enjoy free entry to the Cotswold Motoring Museum and discounts on other attractions. And with late-booking discounts, you can save even more.
Visit
Boundless members get free entry to the museum (plus one free adult guest and up to five free children). Boundless membership card must be shown on arrival.