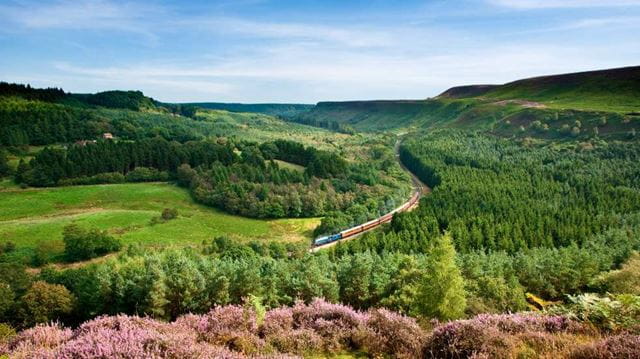 Your expert: Lottie Gross is a travel writer for numerous magazines and broadsheets, and this summer sees the launch of her new guidebook for Bradt, 50 Breaks in Britain For You and Your Dog.
1. Stop in at a stately home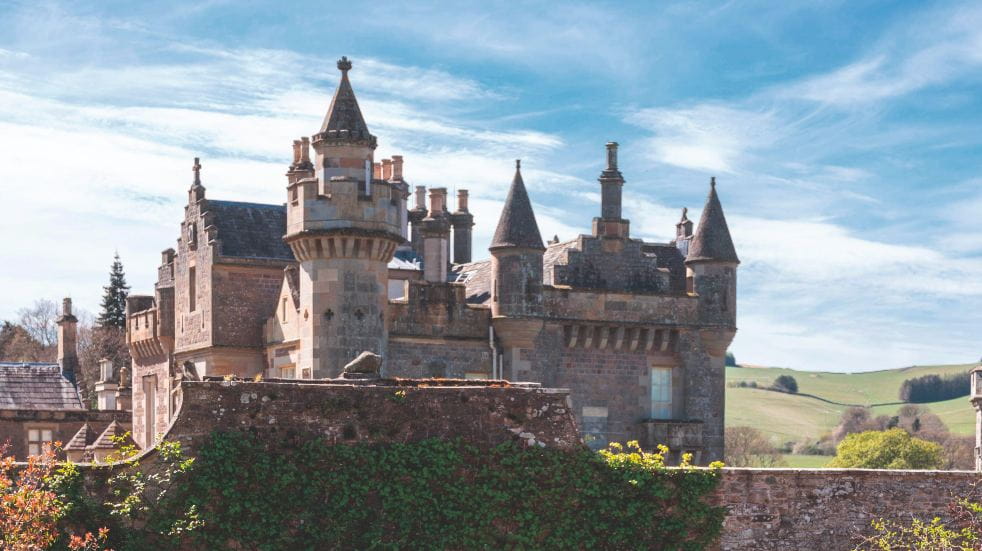 No country does stately homes quite like Britain, and few palaces are as opulent as Blenheim (blenheimpalace.com), the Woodstock home of the Duke of Marlborough. This splendid Baroque behemoth is an arresting sight amid the bucolic Blenheim Estate, where gently sloping hills lead down to glistening lakes. Go for the full tour and you'll get to see some of its spectacular state rooms, filled with historic paintings and priceless antiques. There are ever-changing exhibitions and you can even take a miniature train to the colourful walled garden.
A smaller though no less regal affair can be found in the Scottish Borders at Abbotsford (scottsabbotsford.com), pictured above. At this former home of Sir Walter Scott, unusual gargoyles look down on visitors to the armoury while the River Tweed trickles through a huge, wild estate. Around 130 miles south, you could promenade across the manicured lawns of Castle Howard (castlehoward.co.uk), an almost obnoxiously decadent private home in North Yorkshire that's open to members of the public who fancy mooching around it.
---
2. Indulge in a cream tea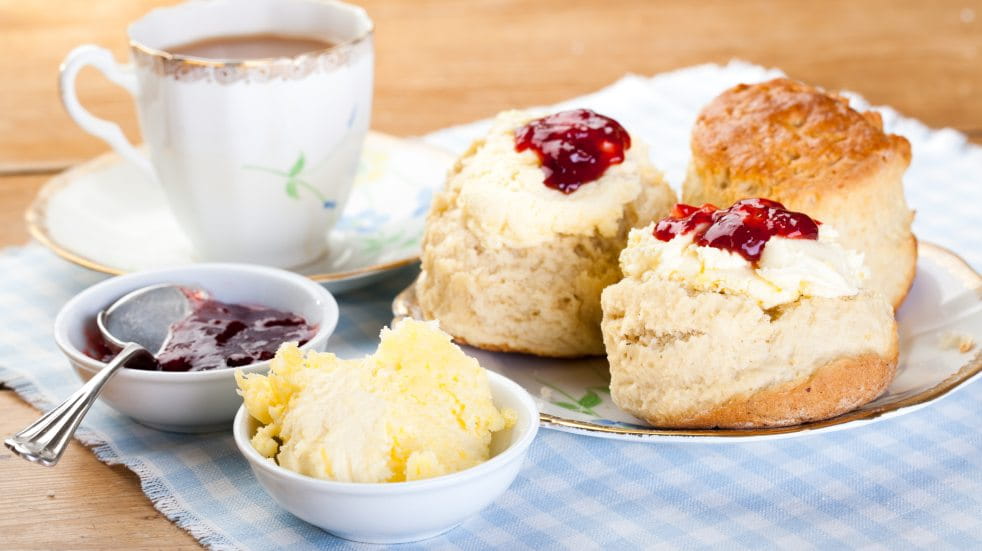 Utterly irresistible and completely calorific – and all the better for it – a cream tea is an essential for any British day out. Scones, jam and cream, washed down with sips of proper British tea. However, there are some politics you need to consider: have it in Devon, perhaps at the delightfully quaint Nelly May's Parlour (nellymays.co.uk) in Ilfracombe, and you'll need to put your cream on first, then the jam. But venture into Cornwall, where a daily cream tea comes with your room at The Nare Hotel (narehotel.co.uk) at Carne Beach, and it'll be jam first. Head up to Harrogate on the edge of the Yorkshire Dales and, at Bettys Tea Room (bettys.co.uk), nobody cares how you have it – just as long as you're having a Yorkshire Tea alongside your scones.
---
3. Spend a summer's day on a narrowboat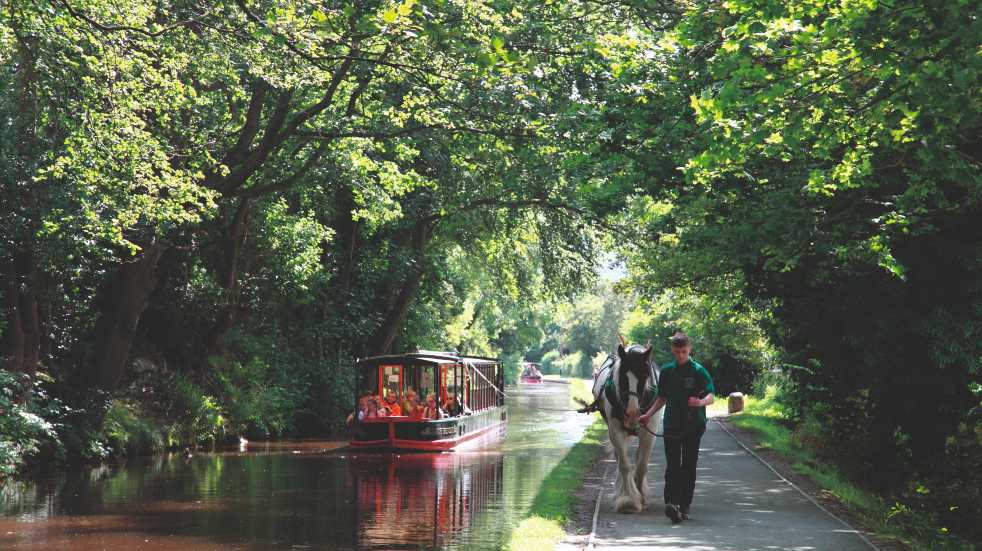 An icon of the Industrial Revolution, narrowboats are ubiquitous on Britain's canals and rivers. Once used to transport all manner of goods, from coal to building materials, today they offer a far more leisurely experience and you can hop on one in London for a cruise on the Regents Canal. The London Waterbus Company (londonwaterbus.com) has a handsome vessel that runs between Little Venice and Camden Town, offering a serene way to see the city's colourful boats.
For a closer look at the genius engineering that went into building Britain's canals, hire your own boat for a day from Aldermaston Wharf (aldermastonwharf.com) in Berkshire and tackle the locks and bridges on this quiet, quaint part of the Kennet & Avon Canal. At Llangollen Wharf in Denbighshire, Wales, you can travel even further back in time with a horse-drawn boat trip on the Llangollen Canal (horsedrawnboats.co.uk).
---
4. Scoff fish & chips by the sea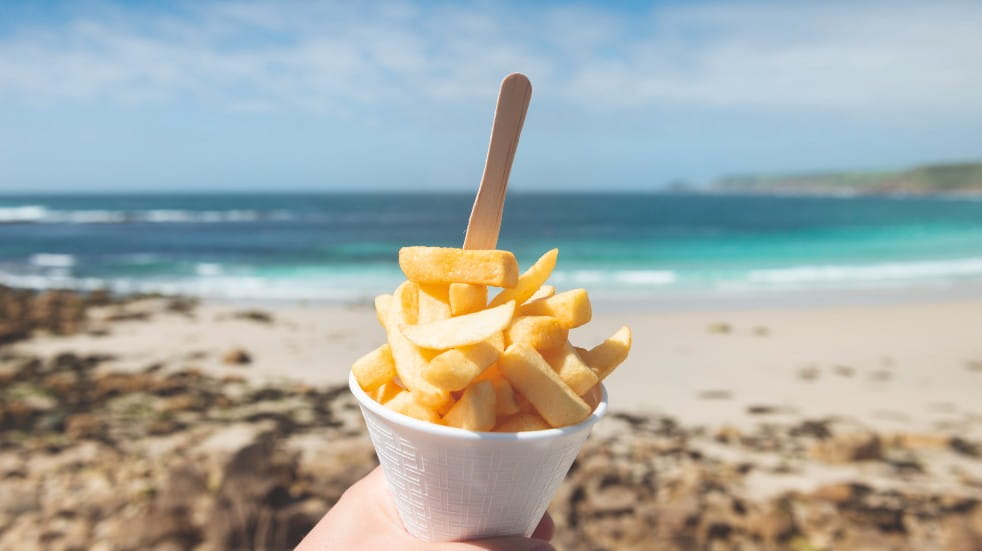 Is there a holiday that's any more British than one that includes the nation's most traditional takeaway, eaten by the sea? And is there any better destination for it than Bournemouth, with its spectacularly long sweep of soft yellow sand and uninterrupted ocean views from the end of its 250m-long Victorian pier? Fish and chips have never been so pleasing. Enjoy a sit-down lunch at Key West Bar & Grill (keywestbournemouth.co.uk), right on the pier, or nip into Harry Ramsden's takeaway (harryramsdens.co.uk) and chow down on your flaky fried cod on the beach.
Leave room for an ice cream afterwards, and then retreat to Boundless's very own West Cliff Hotel, where you can lounge by the indoor pool for the rest of the afternoon. Of course, fish and chips aren't unique to Bournemouth. Scotland's Isle of Mull offers a gloriously remote lunchtime experience at The Creel seafood bar at Fionnphort (isle-of-mull.net) where you might even spot Highland cattle lazing around on the beach as you eat. In Wales, you could head to The Oystercatcher (oystercatcheranglesey.co.uk) on Anglesey's south-west coast for an upmarket experience overlooking the sand dunes.
---
5. Travel by steam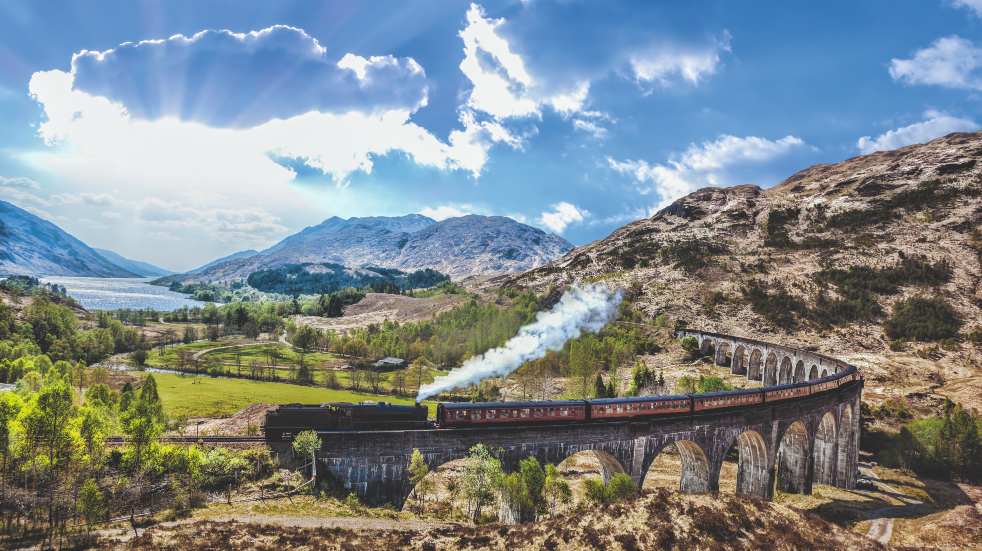 Few things evoke industrial-era Britain more sharply than the shrill whistle of a steam train. At Pickering station, inside the North York Moors National Park, that's exactly what you'll get as heritage locomotives prepare to depart for 90-minute excursions (nymr.co.uk) through the rolling hills and heathland of the moors. On this dreamy journey, you'll sit in historic 19th-century carriages and watch the stunning North Yorkshire scenery pass, eventually alighting in Whitby for a few hours by the sea before returning, once again by steam.
With its mining heritage, Wales has a wealth of railways that once teemed with steam trains packed with coal and slate, and in Snowdonia National Park you can hop on the Ffestiniog Railway (festrail.co.uk) for a tour of the mountainous landscape. Of course, one of Britain's most famous steam journeys is on The Jacobite (westcoastrailways.co.uk), the one used in the Harry Potter films, which passes over the impressive Glenfinnan Viaduct in the Scottish Highlands.
---
6. Walk into the wild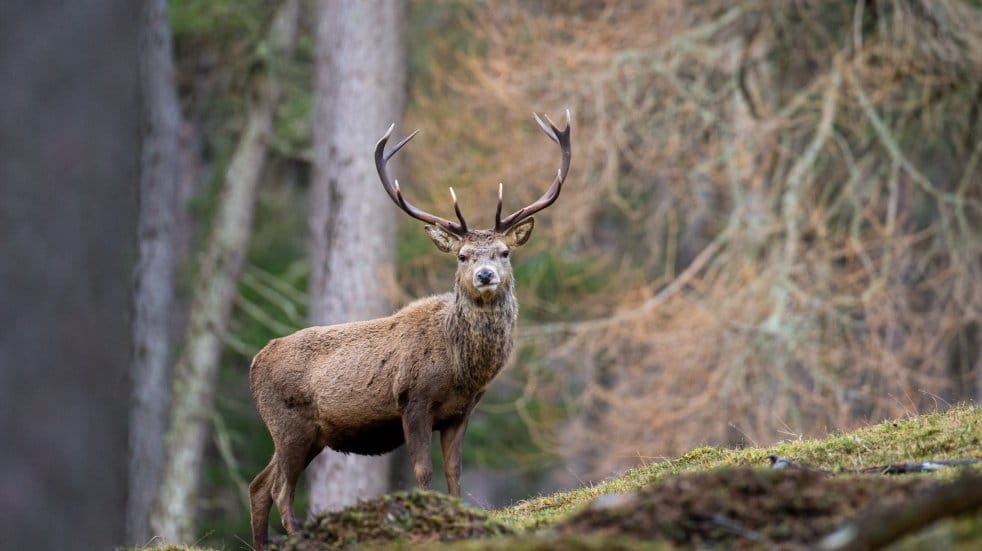 Britain is a walker's paradise, with footpaths, byways and National Trails aplenty criss-crossing its coastlines and countryside. The South Downs Way (nationaltrail.co.uk) is one of the country's finest, stretching all the way along a chalk ridge from Winchester in Hampshire to Eastbourne in East Sussex. You can tackle sections of it on circular walks around Alfriston and the River Cuckmere, which takes in the beguiling Seven Sisters Country Park and views over the English Channel.
For more ambitious walking, make a beeline for the Brecon Beacons in Wales, where you can scale peaks like Pen-y-Fan on the Horseshoe Ridge (breconbeacons.org). Or head to Scotland's Cairngorms National Park, where you can walk the trails of the Queen's Balmoral Estate (walkhighlands.co.uk) and discover a smattering of cairns dedicated to royals past and present that offer brilliant views down to the castle.
---
7. Tackle a traditional sunday lunch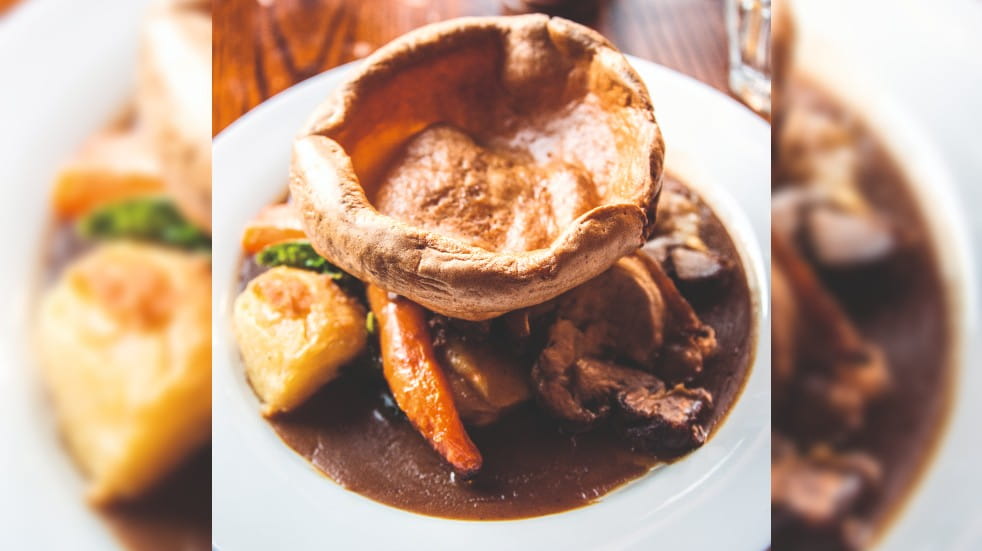 It can't be Sunday if you haven't eaten half your weight in roast potatoes. The Bottle and Glass Inn (bottleandglassinn.com), a 300-year-old thatched pub in the Chilterns, is one of the best places in the south-east to overindulge. On a typical Sunday there's rump of Galloway beef, shoulder of lamb, and charred cauliflower steak for the vegetarians – best paired with a local Loddon ale or a sparkling English wine from Henley's own Kingwood Estate. Walk it all off in the surrounding woodland. It's an equally indulgent affair at former coaching hostelry The Sun Inn (thesuninndedham.com) in Dedham, Essex. And up in Northumberland, The Black Bull Inn (blackbulllowick.co.uk), established in 1817, serves up moreish Cheviot ales alongside succulent roasts.
---
8. Taste village life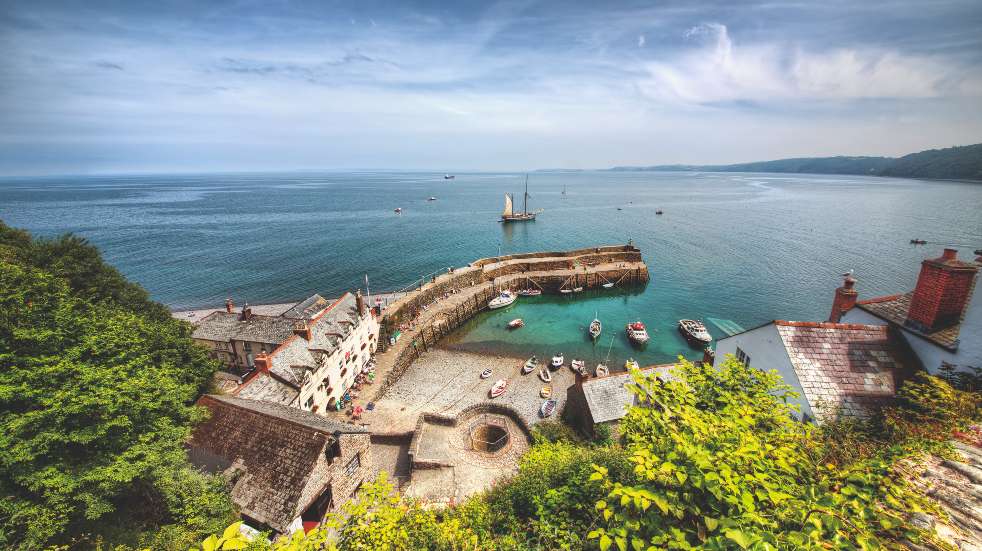 Centuries-old thatched cottages and handsome, stone-built arched bridges make Bourton-on-the-Water one of the Cotswolds' most enticing villages. Little has changed here over the centuries, so there's a quaint vibe amid its tea rooms and tiny boutiques set around the River Windrush. This elegant destination has plenty to entertain, too, with the peerless Cotswold Motoring Museum (cotswoldmotoringmuseum.co.uk), a model village and a bird park. You can even stay overnight in a rustic Boundless-owned cottage to make the most of this very British experience.
The Cotswolds doesn't have a monopoly on charming villages, though, and on the north Devon coast Clovelly (clovelly.co.uk) is an equally delightful spot with tiny museums and a historic harbour. In Scotland, the East Neuk of Fife (welcometofife.com), just above Edinburgh, has a smattering of quaint fishing villages – St Monans is one of its most pleasant.
---
Do more with Boundless
Save when you stay at west cliff hotel
Save up to 20%* when you stay at this Boundless-owned spa hotel in Bournemouth, where you can offset your fish and chips with a swim in one of its two pools. bournemouthwestcliffhotel.co.uk
Enjoy social trips with local groups
Did you know that Boundless member-led groups often offer activities such as those featured here, and are open to all members? You're sure to receive a warm welcome when joining in. boundless.co.uk/community