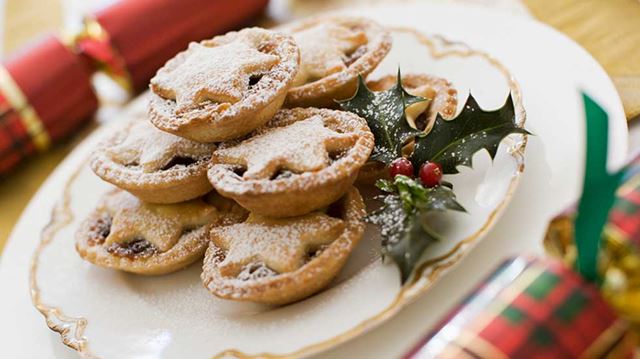 Mince pies – Christmas just wouldn't be the same without them, would it? They're as much a part of the festive tradition as the tree, the tinsel and the turkey.
But what are the best mince pies you can buy this Christmas? With every supermarket in the land offering up its own version of the seasonal staple, deciding which to go for is something of a lottery.
Or at least it would be if a crack team of Boundless writers hadn't selflessly volunteered to taste each and every one of the supermarket mince pies on sale in 2020, all in the pursuit of quality, unbiased journalism (and nothing at all to do with the fact that they were a bit peckish).
The rules were simple: each writer would test mince pies from three different supermarkets, giving their marks out of 10 for appearance, aroma, taste and texture. To ensure a consistent appraisal, all of the mince pies had to be eaten at room temperature, with no cream, and definitely with no sherry to wash them down (although we can't be certain that anyone stuck to the last bit).
The overall winner of best mince pies 2020 can be found at the bottom of the page...
You can get money off your Christmas food bill with a Boundless discount shopping card – click here to find out more.
Aldi – Holly Lane 6 Deep Filled Mince Pies (79p)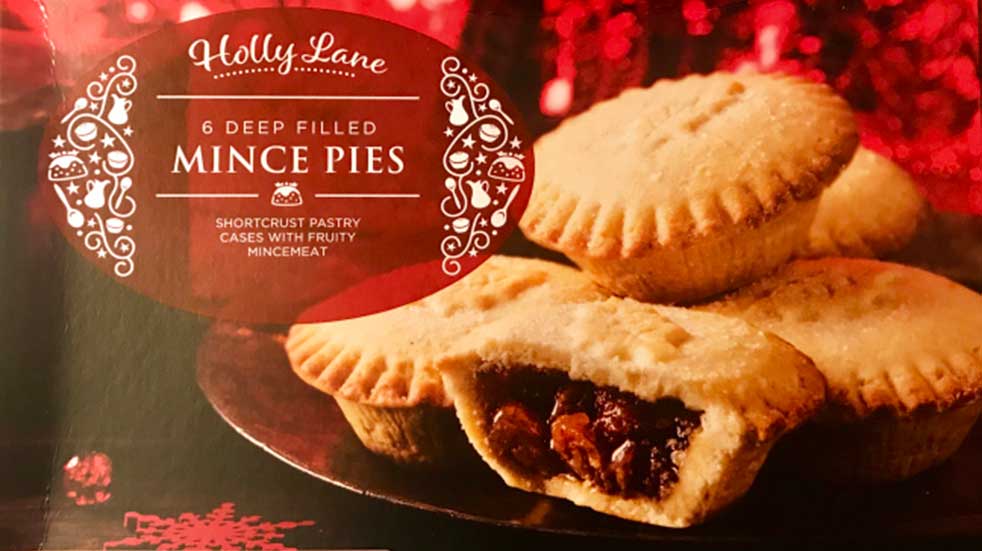 Paul Dimery
Aldi came top in Which? Magazine's 'Best Premium Christmas Pudding' test last year, but I'd be surprised if these mince pies earn a similar accolade. I thought they smelt a bit fatty, tasted a little tangy and crumbled too easily, though I was impressed by their fulsome and even aesthetic – and you can't argue with the price!
Appearance: 7
Aroma: 5
Taste: 6
Texture: 7
Katrina Hendley
The elaborate snowflake on top looks pretty, but there's an undisguisable uniformity to these mince pies. The pastry is crumbly and the filling looks congealed, with no discernible fruit. All in all, an over-processed pie with a slightly sharp flavour.
Appearance: 7
Aroma: 7
Taste: 6
Texture: 5
Total score for Aldi mince pies: 50 points
---
Asda – 6 Mince Pies (87p)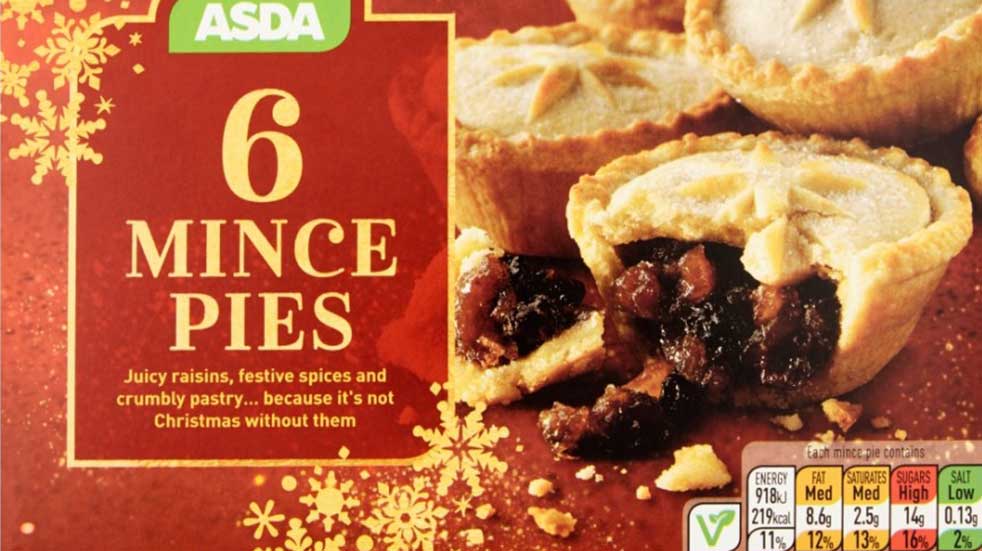 Katrina Hendley
These mince pies look nice enough from the outside – barring a rather unsubtle smattering of sugar over the star on the lid – but inside is a sludgy filling that can't compete with the overbearing, soggy pastry case. Let's just say I didn't reach for a second one.
Appearance: 6
Aroma: 5
Taste: 5
Texture: 4

Katrina thought the Asda mince pies looked the part but was put off by the texture
Jamie Bolton
Disaster! I couldn't even get my mince pie out of its case, and when I did, it crumbled everywhere. There's no aroma of the promised 'festive spices', which should have managed my expectations for the filling – the pastry overwhelms any semblance of flavour. They might be cheap but it's probably worth spending a bit more!
Appearance: 6
Aroma: 1
Taste: 3
Texture: 3
Total score for Asda mince pies: 30 points
---
Co-op – 6 Mince Pies (£1)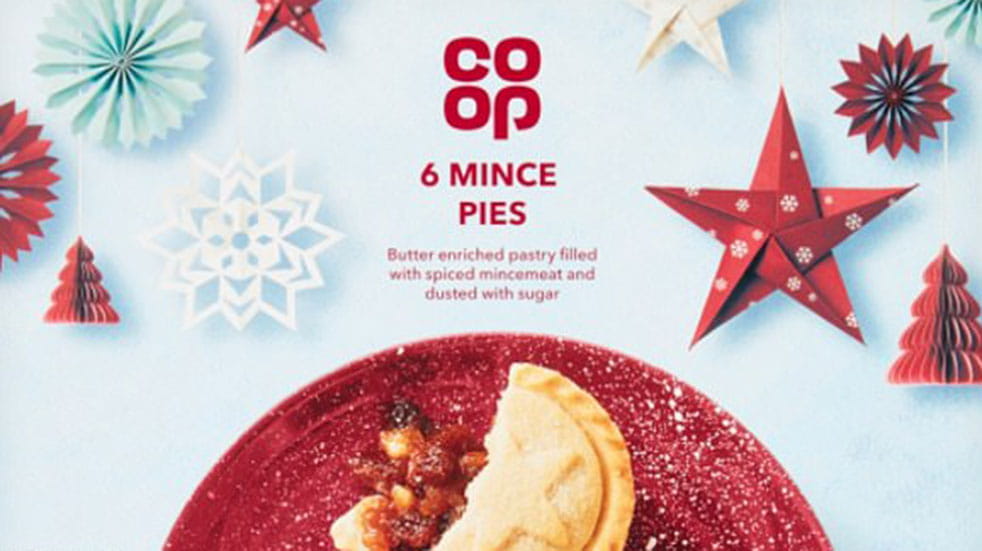 Hannah Raymond
These mince pies went down a treat with the whole family, and I think they are the best value of the three types I tasted. What they lack in aroma, they certainly make up for in taste. The pastry is thick and packed full of mincemeat.
Appearance: 8
Aroma: 6
Taste: 8
Texture: 9
Dan Linstead
Nobody wants a mince pie that looks like it's come from a factory, and there's a pleasing touch of wonkiness in the presentation of Co-op's basic offering. Inside, it's a businesslike operation, with a good pastry-to-mince ratio, a sultana-forward filling and a dusting of sugar to sweeten the deal. Nothing flash, but a good all-rounder.
Appearance: 7
Aroma: 6
Taste: 8
Texture: 7
Total score for Co-op mince pies: 59 points
• Create the ultimate Christmas dinner at home with these delicious recipes
---
Lidl – Favorina 12 Mince Pies (£1.59)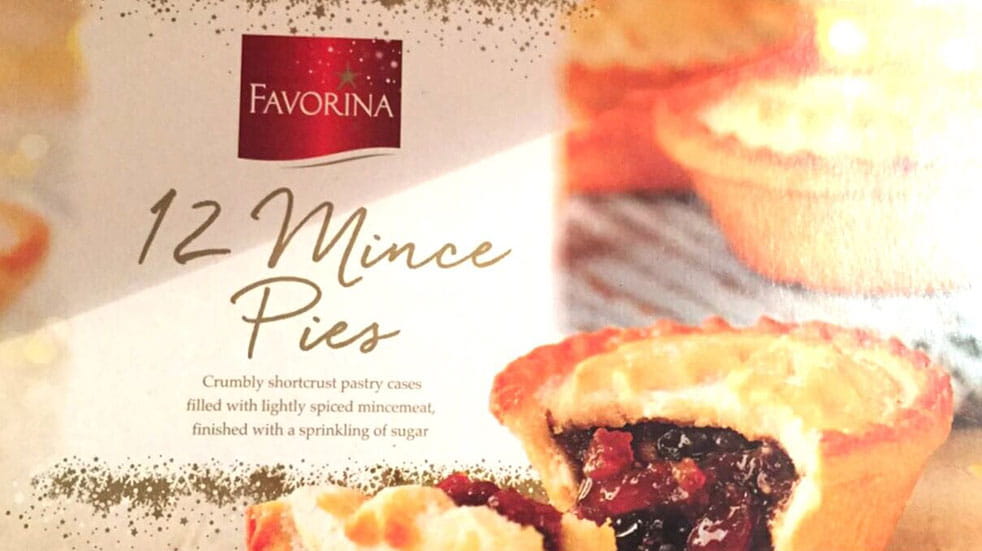 Harriet Hardwick
They may look slightly anaemic, but these mince pies are generally well-balanced with a tasty pastry and high-quality mincemeat that contains discernible chunks of fruit. A word of warning: they're a little on the crumbly side, so it's probably best to enjoy them in the company of people you know well. A fair price for a good product.
Appearance: 6
Aroma: 6
Taste: 8
Texture: 8
Paul Dimery
It's probably an exaggeration to say that these look like something a kid would make in home economics, but I'm not sure Paul Hollywood would stand for their uneven surface and chipped rim. Looks can be deceiving, though, and the pies' sweet, buttery aroma combines with a subtle yet satisfying flavour to deliver a Christmassy treat that you won't tire of eating. Just as well, really, as there are loads of them.
Appearance: 5
Aroma: 8
Taste: 7
Texture: 8
Total score for Lidl mince pies: 56 points
---
M&S – M&S Collection 6 Mince Pies (£2.50)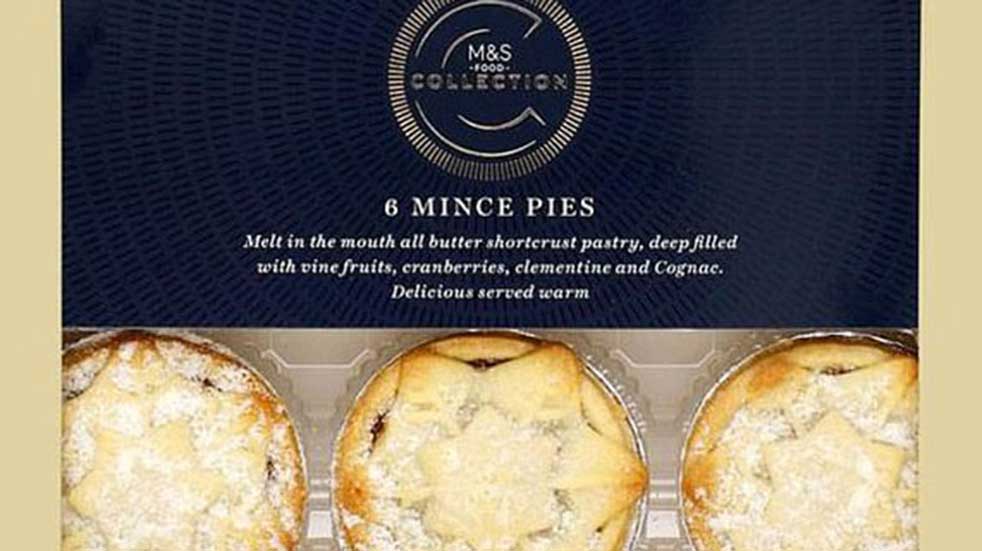 Dan Linstead
Looking for all the world like they've just emerged from the oven of a snow-dusted Cotswold cottage, these are gorgeously artisan treats from M&S's higher-end Collection range. But good looks and a richly tangy, Cognac-laced mince were undermined – quite literally – by highly collapsible pastry. Eat them in a mouthful or use a plate – otherwise expect chunks all over your lap.
Appearance: 9
Aroma: 8
Taste: 8
Texture: 5
Hannah Raymond
When you buy anything from M&S, you expect the best – but I have to say that these pies are somewhat lacking when compared to the others I tested. They're tasty enough, but they don't have the M&S sparkle that I've come to love.
Appearance: 7
Aroma: 7
Taste: 7
Texture: 7
Total score for M&S mince pies: 58 points
---
Morrisons – The Best 6 Deep Filled Mince Pies (£2)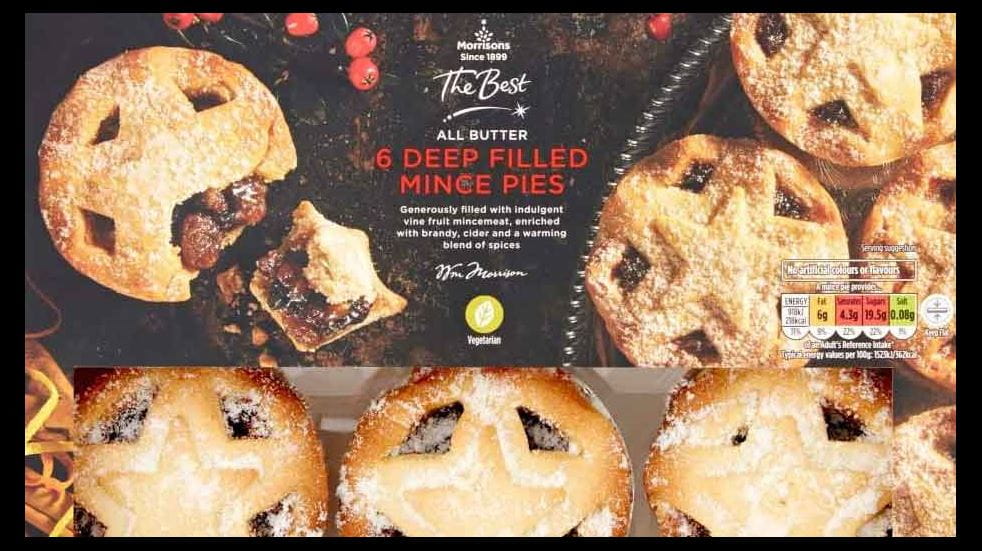 Harriet Hardwick
I found that these mince pies smelt a bit medicinal, with very little fruity aroma coming through. As for the flavour, that's rather contradictory, with lovely buttery pastry encasing an unsatisfactory mincemeat that leaves an after-taste. Moreish, they are not – and they're certainly not worth paying extra for.
Appearance: 7
Aroma: 4
Taste: 4
Texture: 5
Hannah Raymond
These felt Christmassy from the word go! As soon as I opened the pack, the sight of the pastry star on top and the smell of brandy and cider mixed with spices, made everyone's face light up. The pastry-to-filling ratio is spot-on, while the hint of alcohol makes them feel like a real treat.
Appearance: 10
Aroma: 8
Taste: 9
Texture: 9
Total score for Morrisons mince pies: 56 points
• Read our guide to the best Christmas TV and radio this year
---
Sainsbury's – 6 Deep Filled Mince Pies (£1)
Katrina Hendley
A biscuity brown darkening of the lid's crimped edges and decorative Christmas tree evokes the uneven cooking of a homemade mince pie – and I mean that in a good way. Plump sultanas and a hint of cinnamon in the mincemeat partner with light, firm pastry to make these a tasty treat.
Appearance: 8
Aroma: 8
Taste: 7
Texture: 7
Jamie Bolton
These mince pies combine a lovely, buttery pastry with a juicy, fruity filling that's not overwhelmingly sweet – though it could do with a little spice. They aren't quite as deep as the picture suggests, but for the price you can't go wrong.
Appearance: 6
Aroma: 5
Taste: 7
Texture: 7
Total score for Sainsbury's mince pies: 55 points
---
Tesco – 6 Mince Pies (87p)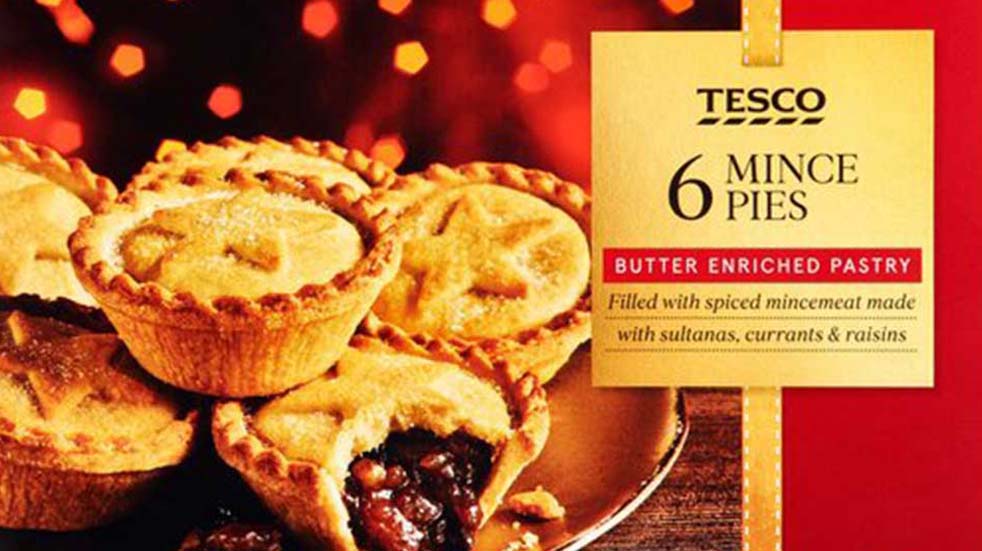 Harriet Hardwick
The first thing that struck me about these mince pies was their generous fruity filling, which contains pleasantly surprising citrus notes. With a good pastry-to-fruit ratio, they represent solid value for money.
Appearance: 8
Aroma: 5
Taste: 7
Texture: 6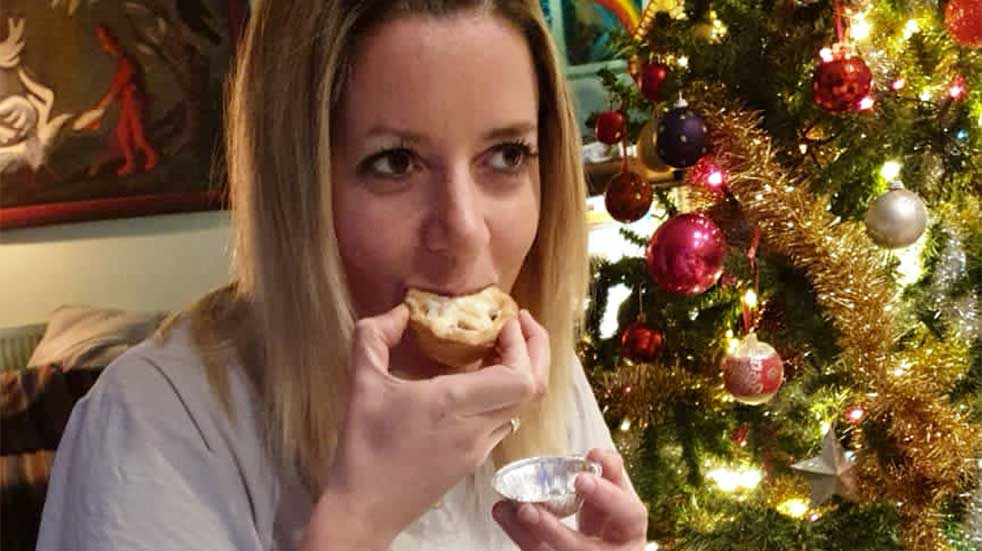 Harriet enjoyed the Tesco pies' citrussy filling
Paul Dimery
Like a child unwrapping a pair of Christmas socks, my disappointment was tangible as I clapped eyes on these slightly insipid-looking pies. But inside, these bargain treats are absolutely delicious, stuffed as they are with squishy sultanas and raisins. They're robust, too, meaning you're not left with a pastry tie once you've finished.
Appearance: 6
Aroma: 6
Taste: 9
Texture: 8
Total score for Tesco mince pies: 55 points
---
Waitrose – No 1 All Butter Mince Pies (£2.50)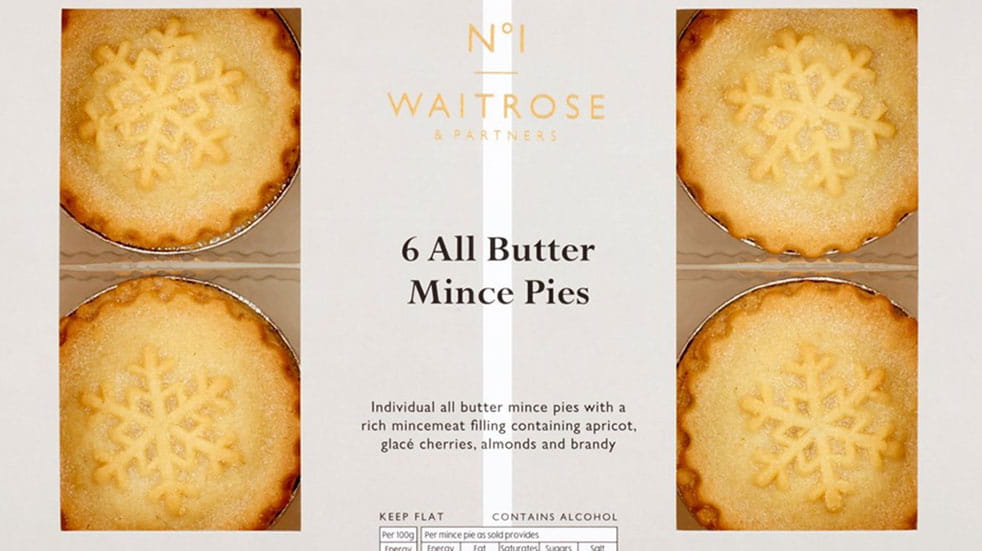 Jamie Bolton
These classy-looking mince pies scream Christmas! The pastry is really nice and buttery, crumbling in your mouth, and the filling is tasty, with the almond and brandy coming through – my only gripe is that there could be more of it. Overall, these are nice mince pies, but I'm not sure they are worth the price.
Appearance: 9
Aroma: 8
Taste: 8
Texture: 9
Dan Linstead
A rather plain-looking but sturdy offering from Waitrose, with a chunky, snowflake-capped pastry case holding up to bite after bite. But when they say 'All Butter', they mean it – all that creamy pastry threatens to overwhelm the fruit and makes gobbling more than one in a go a slightly sickening prospect.
Appearance: 7
Aroma: 6
Taste: 8
Texture: 8
Total score for Waitrose mince pies: 63 points
• Save money on Christmas presents with the Boundless gift guide
---
And the best mince pies of 2020 are...
Waitrose – No 1 All Butter Mince Pies (£2.50)
Waitrose didn't 'mince' their words when it came to their festive pies, labelling them 'No 1'. But it turns out their bold claim was justified, with our ravenous writers scoring them higher than all of the rival products in this test.
Yes, they're the joint most expensive mince pies on the list, but just think of the brownie points you'll get when Santa finds one waiting for him at the bottom of your chimney. Merry Christmas!
Main photo: Getty Images