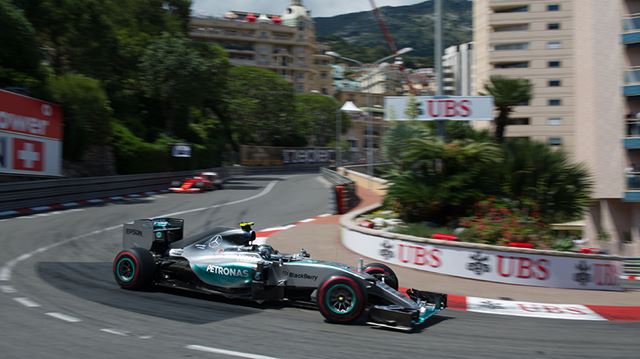 Camera and Grand Prix technology combine to take you on a high-speed spin round Silverstone, am amazing experience for F1 fans.
HELP: Click anywhere on the movie to start the video. Then click and drag on the video while it's playing to pan the camera in any direction.
Have a look at this: this is the all-conquering Mercedes F1 car taking a spin round Silverstone -shot with groundbreaking new on-board cameras that allow you to switch between angles while watching the video. Simply click and drag your mouse on the video to change the point of view.
Any experience that gives you a better idea of what it's like to ride in a modern F1 car - the speed and sound, and the extreme forces acting on the driver - is bound to excite even the most part-time of motorsport enthusiasts. So Mercedes' new series of 360-degree films are bound to be popular. The films mark the first time that on-board footage has been captured of a turbocharged, V6, 2014 F1 car - in this case, the Mercedes AMG Petronas F1 W05 of Nico Rosberg and Lewis Hamilton - plus it debuts an innovative, 360-degree filming technology to allow fans to watch the action from any angle.
The best experience is available to iPad users, who can download the footage for free via the App Store - look for 'F1 360' - as the iPad's gyroscopic sensors can track your movements and alter the camera angle accordingly. However, footage can also be viewed online at www.MercedesAMGF1.com with the user controlling the camera angle via their mouse. There's also plenty of high-quality, directional sound to make the experience even more vivid.

The film was taken at Silverstone Circuit, in high definition, using an array of six cameras recording 40 frames per second.