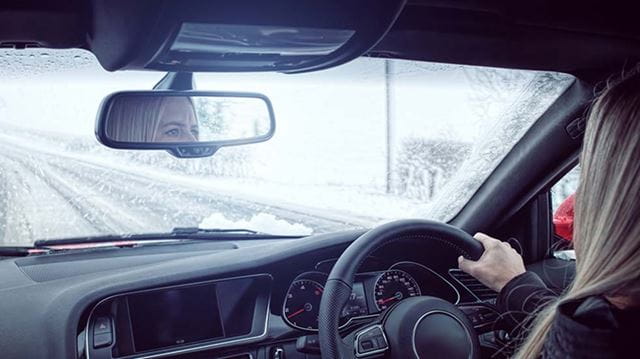 Winter can be a dangerous time for motorists, with fog, snow, ice and rain causing all manner of hazards on the road.
According to recent research, more than a fifth of road accidents in the UK are caused by adverse weather conditions, making it absolutely essential that you and your car are well prepared for those wintry excursions.
To help reduce your chances of being involved in an accident, we got together with our partner LV= insurance to compile a list of things you should pay attention to before driving in wintry weather. Once your vehicle is ready, read the second part in the series, 16 essential tips for staying safe on the road.

Driving in snow and ice is hard enough without having poor visibility, so ensure that your windscreen is clear
1. Switch to winter tyres
Winter tyres are designed to give you more traction when driving in snow and ice, reducing the chances of you skidding off the road or into the path of another vehicle. Yes, you'll notice a reduction in performance when driving on dry roads, but this is a small price to pay for added peace of mind.
2. Check tyres for wear
Unless you have a set of brand-spanking-new winter tyres, you'll need to ensure that your treads are deep enough to provide grip when driving in snow and ice. The deeper the tread, the shorter the stopping distance, which is vital in wet weather. Getting them checked out at your local garage shouldn't cost much, and will give you peace of mind on those winter outings.
3. Check your tyre pressure
Another thing to bear in mind with tyres is that their pressure will drop as the climate gets colder. So make sure you check them regularly – at least once a week is advised. Stick to the manufacturer's recommended pressures, and only inflate them when they're cool – if you do it straight after a drive when your tyres are heated up, you'll get a false pressure reading.
4. Clear your windscreen properly
When your windscreen and windows are covered with a thick layer of ice, chipping away at them with a credit card is never going to clear them sufficiently – and you can be fined for driving with reduced visibility. Invest in a top-quality ice scraper or, if you can't be bothered with the effort, buy a bottle of de-icer. This article by the Independent will tell you how to de-ice your windows quickly and safely.
5. Check your wipers and heater
Speaking of reduced visibility, ineffective windscreen wipers could potentially be deadly if the heavens open – especially if you're driving in the dark. Driving with faulty wiper blades is also illegal in the UK, so make sure yours are still in good working order before the chill sets in. The rubber blades crack and tear easily, and even more so when they're being used to clear frosty glass. The good news is that they're quick, easy and cheap to replace.
It's really frustrating to discover you can't clear your windows or heat your cabin on a cold winter's morning when you need to get going, so test your car's heating system before temperatures plummet. Try to do it on a cool day when there's condensation to clear to truly test your system's efficacy.
6. Brush any snow off your car
While it's tempting to only clear your windows before setting off, it's important to also brush off any thick snow that's accumulated on your roof or bonnet. Failure to do so may result in large chunks of the white stuff falling onto the road while you're in transit, potentially causing a hazard for other motorists and also cyclists.
7. Remove leaves
If you park near trees, chances are your car is regularly covered in leaves, especially during autumn. Remove as many as possible to avoid blocking your scuttle panel vents and check under the bonnet too. Accumulated leaves can lead to a build- up of water in rainy conditions, which could flood your electrics.
8. Make sure your car has enough antifreeze
Antifreeze is vitally important during the winter, as it stops your engine's cooling system from freezing. Before setting off on your journey, ensure that your vehicle has a sufficient amount – this article by the AA will tell you everything you need to know.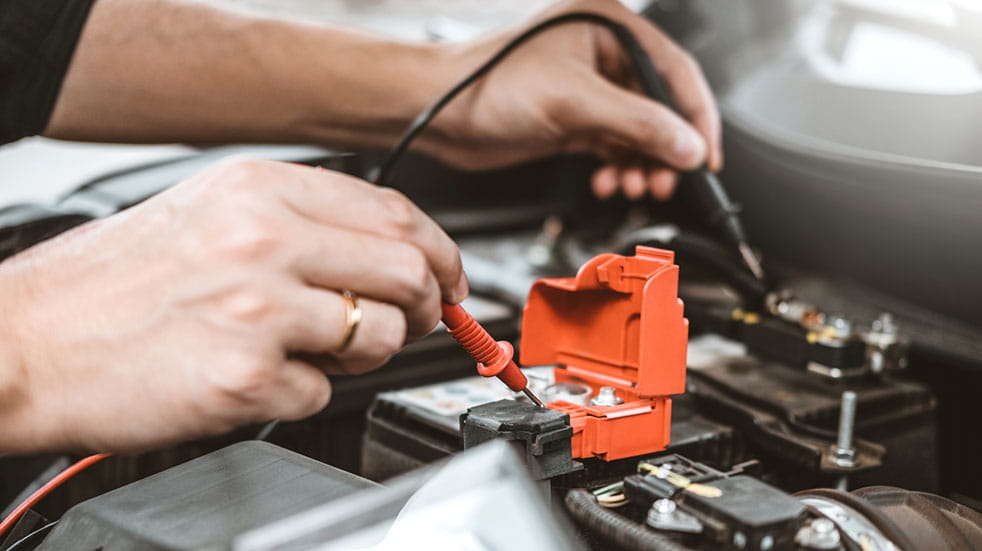 Ensure that your battery has sufficient power before you set off
9. Test your battery
Beware – the performance of your battery can suffer when the temperature drops. To avoid becoming stranded somewhere, ensure that you have a good-quality jump starter in the car – preferably one that's powerful enough for multiple starts. You should always check your battery before heading off on a winter drive, though – this article by Haynes will show you how.
10. Get your brakes checked out
For obvious reasons, your brakes will need to be in tip-top condition when embarking on a winter drive. Don't wait until the weather gets really bad – book an appointment with a professional now. They'll check your brake pads and brake fluid, and ensure that everything is working perfectly for when conditions deteriorate.
11. Make sure your suspension is working
Your car's suspension is more important than you might think during the winter months, as it can affect handling, stability and stopping distances. So while you're getting your brakes looked at, ask the mechanic to check your springs too. They can easily get damaged around this time of year, with poor road surfaces, salt from grit and general wet weather all contributing to their demise.
12. Put together some emergency supplies
Even the most reliable cars can get stuck sometimes, and being stranded for hours without any supplies is no fun at all – indeed, it can be downright dangerous. Always, always carry a blanket or two in the boot in case your heater packs up. Make sure you have a few bottles of drinking water on board. And don't forget to charge your phone before setting off – you'll need it in an emergency.
13. Test your lights
It's not rocket science – as the nights draw in, you'll need to see where you're going if you're travelling after dark, so switch on your headlights and circle around the car to make sure every light is illuminated. You'll need a second pair of eyes to help check your brake lights. Give them all a wipe regularly so that they shine brightly.
14. Get the right cover
For extra peace of mind when driving in snow and ice, make sure your car insurance includes breakdown cover. The last thing you want is to be stranded in the middle of nowhere in the freezing cold, with no means of getting home. With 4,000 breakdown professionals located across the UK, and no call-out charges, LV= Britannia Rescue's breakdown cover will give you peace of mind when you set off on your journey.
Boundless members can also get up to 8% off general public prices on LV= car insurance.
Get money off motoring services with Boundless
As a Boundless member, you can benefit from great deals on car maintenance, tyre fitting, motoring insurance and more. For further details, visit our dedicated motoring deals page. You can also enjoy discounts from Halfords and many other high-street retailers with a Boundless shopping card. Click here to find out more.
Photos: Getty Images