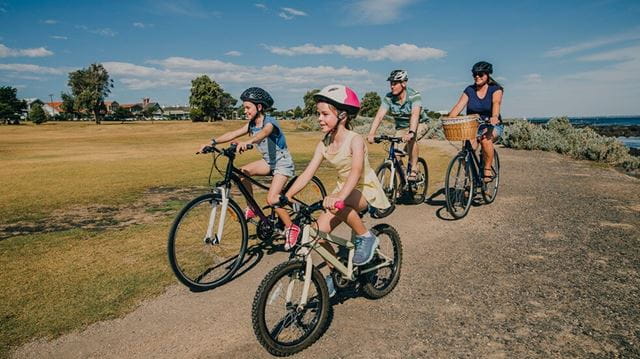 Make the most of the changing seasons and plan some outdoor activities that embrace the wilds, come rain or shine. It'll boost your family's mental and physical wellbeing.
At the Human-Environment Research Laboratory at the University of Illinois, researchers have found that spending time outdoors with trees and greenery can improve kids' ability to learn and even reduce children's symptoms of Attention Deficit-Hyperactivity Disorder. So there's good reason to try one of our ten ideas for getting connected to nature this summer and boost your wellbeing.
---
You can find more ideas for activities kids will love at:
---
1. Rewild your child
If you feel frustrated by how much time your kids are spending inside and on their screens, rewilding is the perfect antidote. As The Wild Network's Richard Louv says, "the more high-tech schools become, the more they need nature", so encourage your family to climb trees, pick up sticks and look under logs for minibeasts. Find out more at The Wild Network.
2. Take a photo walk
If your kids enjoy sharing snaps on social media, encourage them to develop their photography skills with a photo challenge. Check out @tschang on Instagram for examples of landscapes and street signs that will inspire your kids to get out and walking to snap the perfect shot.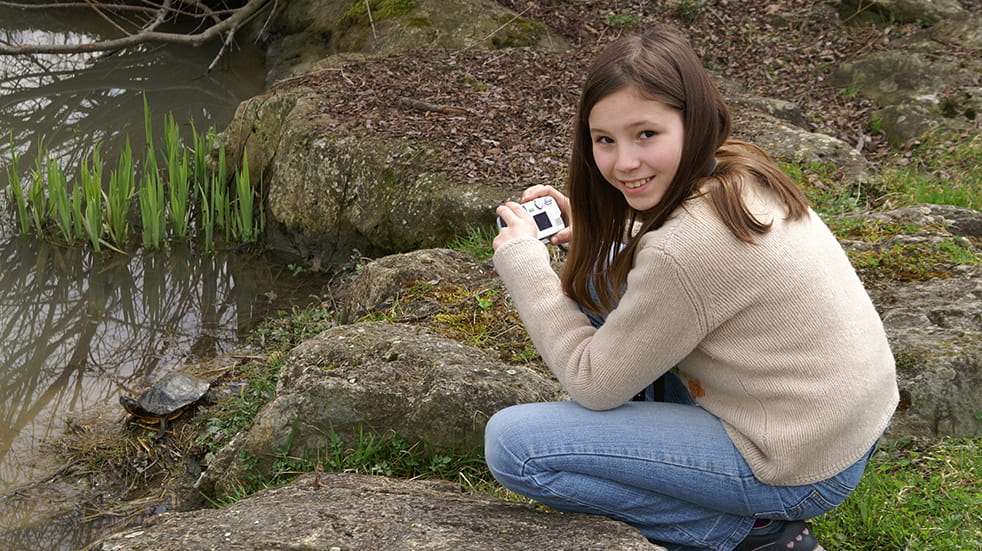 3. Aim for a daily mile
Some screen time is beneficial, especially for older kids who benefit from social interaction with friends. But to balance the sedentary use of phones and tablets, aim for an hour of activity every day – some schools have started encouraging pupils to complete a Daily Mile, but you can start with a walk to the shops, a bike ride or a gentle game of football. Activity tracking devices such as the Garmin Vivofit Jr 2 are aimed at kids over four, or the Fitbit Ace for over-eights, with activity goals for kids and their parents to join in.
4. Eat outdoors
Meals are more fun away from the dinner table, so pack up a picnic and head outside – even if it's only into the garden. An al fresco meal means spills are less of an issue and it's a great chance to try something new; find ideas for finger foods at My Fussy Eater.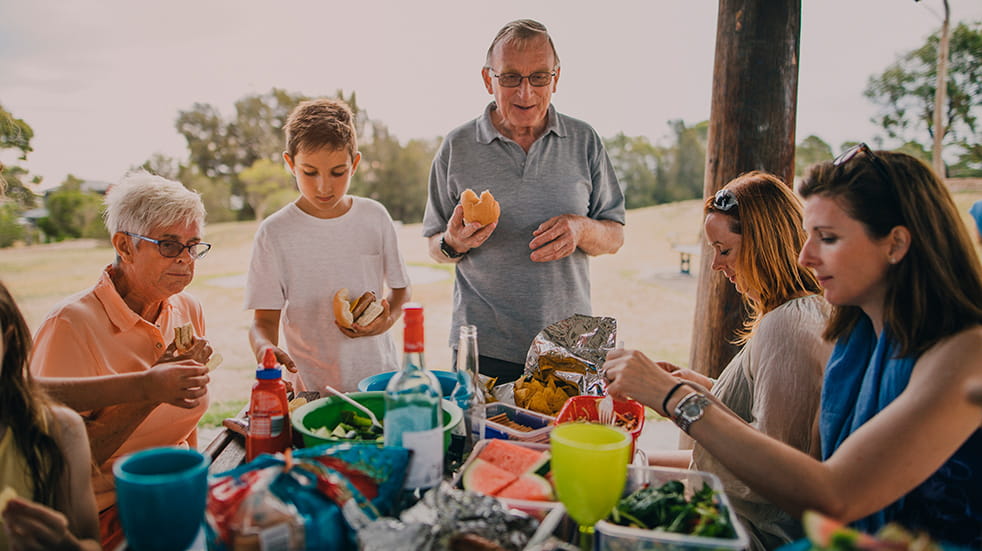 5. Make your own sun dial
On a sunny day, use shadows to mark the passing hours on a sundial. Stand a stick in the ground and surround it with 12 different stones to plot the passage of time, or if you're on solid ground use chalk to make a central point and draw around the kids' shadow each hour. For more tips see SunClocks.
6. Hunt for Zog in a forest
This year the Forestry Commission – now known as Forestry England – is celebrating its 100th birthday. Follow an activity trail starring Zog, the friendly dragon from the Julia Donaldson and Axel Scheffler books. You can download and print free activity sheets from the Forestry England website, and then complete challenges and collect stars along the way as you walk through some of the country's best woodlands.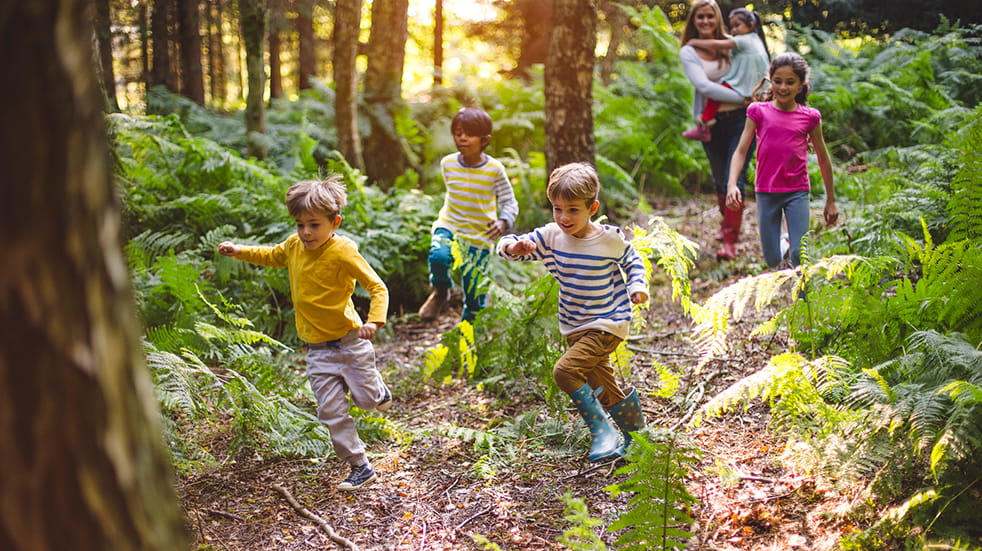 7. Make a mosaic
With a pack of air-drying clay, you can create your own stunning artwork from items found on a walk in woods, the beach or around the park. Get creative with pebbles and stones, shells, petals and leaves in as many different colours as you can find.
8. Build a garden tipi
Use garden chairs, bamboo canes or broom handles to construct a den in your garden or in the park. Use string or thin rope to fasten your structure together, and cover it with old blankets or sheets. Remember to only use sticks from the ground, never break any from trees or bushes. If you want to make a more permanent den, there are some handy instructions from Yorkshire Dad.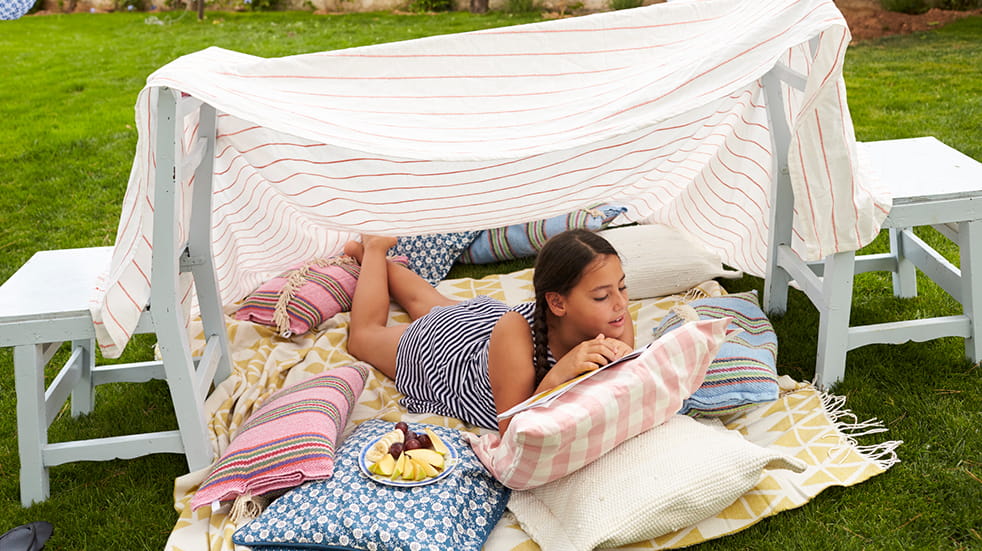 9. Create a treasure hunt
If your kids are up for a challenge, design a treasure hunt around in your local streets. Set a time limit for them to find a list of items such as a particular colour car, solar panels on a roof, a pine cone or leaf, a squirrel or cat, and the street sign containing the most letters. Or if the children are older you could ask them to create a bingo-style game for each other – the first to spot all their items is the winner.
10. Go geocaching
If you're happy for your kids to use a mobile phone or GPS device, a geocache hunt is a great way to get outside and exploring. Like a treasure hunt, millions of geocaches have been hidden by participants around the world, the whole family can get involved to track them down. Once you've found one, sign the log book and leave it there for the next explorers to discover. Find out more on the Geocache website.