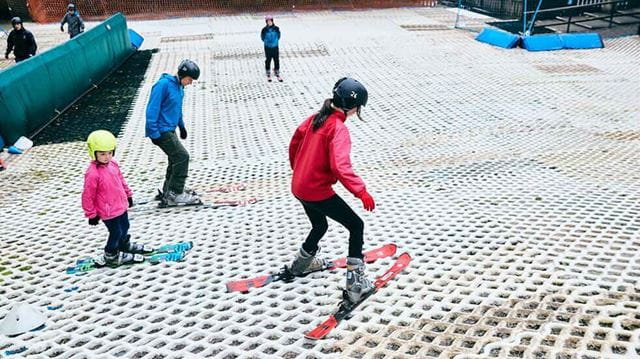 Skiing novice Patrick Kinsella takes to the dry ski slopes with beginners' lessons in Somerset to test out his ski legs, along with his children.
"Learn to ski on this stuff, and you'll absolutely shred it when you hit the real slopes." Our instructor, Chloe, means this bold statement in the most positive way, and I feel instantly enthused. But my eldest child, a far shrewder character than I, cocks an eyebrow. She takes after her mother, who is looking a little askance at the dry ski slope we're about to tackle. "But, doesn't that, like, mean that this is really hard, then?" observes Ivy, a 12-year-old, semi-retired go-doer on the cusp of adolescent floppiness and full of pre-teen insouciance.
"Well… not exactly," counters Chloe. "It's just that it's a less responsive surface than actual snow. The principle is the same, and this is a great way to find your feet and learn the basic techniques that you need for skiing. Come on – you guys will smash it. Let's go."
The four of us grab our skis and walk – in the clumsy Cybermen-style gait that people unused to strolling around in heavy ski boots tend to adopt – up the stairs to the bottom of the run. "Whooohoo! This is going to be awesome," yells Alice. "…I think."
At seven years and one day old, she's torn between irrepressible enthusiasm for new adventures and an inherent level of suspicion about whatever it is I'm asking her to do. Paramount in her mind, though, is the opportunistic angle she can work to her advantage in any given situation.
"I can't hold these skis, Dad. This looks hard. Can you carry me? Ok, ok – don't frown. I'll try. Do they sell chips here? What about hot chocolate?"
---
Read more of our guides to skiing holidays
How to choose the best skiing resort for you
Skiing and snow sports for all the family in Samoëns
Five reasons to love Val Gardena
---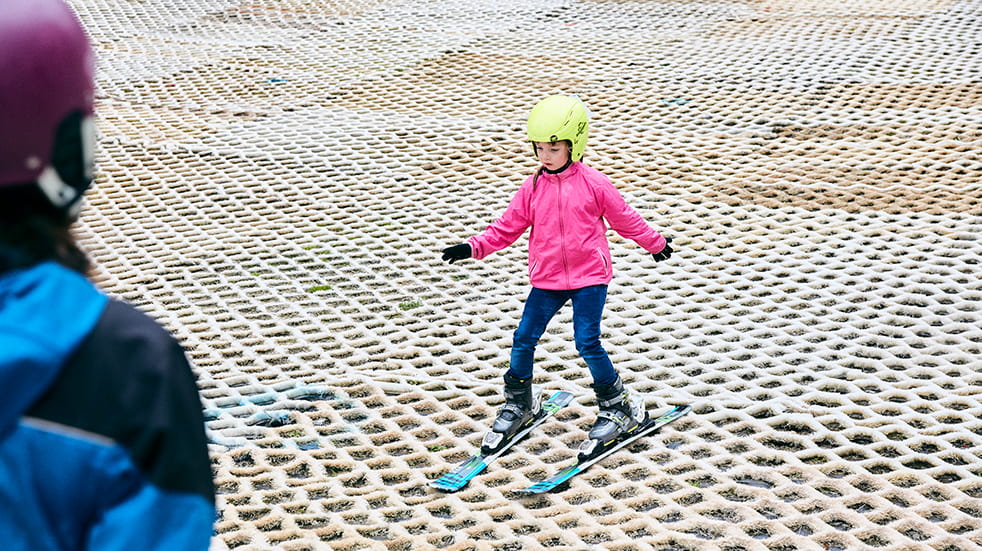 Seven-year-old Alice takes to the dry ski slopes on a family lesson.
Summertime skiing
It's late August, and the Beast from the East is a distant memory. But it was during that weird white month, on the opposite side of an equally unusually hot summer, that we first decided it was high time for a family holiday to the snow.
The girls had enjoyed the sledging, sliding and snowman building so much that they even stopped bickering for a while, and the chances of our seaside home in England's sunny south-west transforming ever again into a scene from Frozen seemed so remote, that a sojourn to some seriously snow-covered slopes seemed like a brilliant idea. And so we booked one.
But none of us have ever done any downhill skiing before, and no one – certainly neither of my kids – wants to go on holiday and end up back in class, even if it is ski school. So we thought we'd do the smart thing and sort out some lessons before leaving. And here we are, in the incongruously Christmassy surrounds of the Mendip Snowsport Centre in Churchill, near Bristol, sweating in our gloves in summer.
Gloves are required to protect hands from the surface, which is completely different to what I expected. "It's like loads of toothbrushes," Chloe had told us while we got suited and booted. "If you can imagine that."
Frankly, I can't. But it makes slightly more sense when we actually step out onto the artificial ski run, which is made of wire arranged in vaguely hexagonal shapes and coated with bristles. More like a scale model of the Giant's Causeway made from a million bottlebrushes, if you can picture that. No, probably not. But anyway, it works and that's the main thing – the instant the ground assumes any sort of gradient, we start sliding around in our skis, slapstick style, and have to clutch onto one another to prevent falling over in a heap.
The first steps of skiing
The expression 'dry slope' is a misnomer, though. There are little jets of water lubricating the bottlebrushes all over the place, presumably to provide perfect conditions to slide. Although, after what feels like months of non-stop sunshine, the rain clouds have today gathered for a gander at our attempt to learn skiing, and they're wetting themselves laughing.
Other people, far more advanced than us, appear from somewhere behind the trees high above, to swish and swoop down the steep slope to the bottom of the ski lift. Alice's eyes widen with every pass. "Am I going to do that?" she wants to know. "Probably not today," Chloe admits. "We're going to be staying on this part of the run." And she points at the learner slope, marked out in colours.
The process is much more methodical than I thought it might be, with our patient instructor talking us through every single step, starting with how to clip into the ski bindings. Next we learn how to stand, and then push along on one ski on the flat, and then finally how to sidestep a little way up the hill, before turning and getting into a position where we're pointing downhill.
"O.M.G." Ivy huffs after her first attempt doesn't result in a textbook descent. "I can't do this!" "You can, you just need to look where you're going, not at your feet," soothes Chloe, calmly, while I bite my tongue to stop any stupid dad comments leaking out. Alice has a go, from slightly lower down, instinctively leans back and ends up on her bum, bellowing. But the noise is laughter, and she's bursting to have another go. Or to watch me make a fool of myself.
I remind myself of Chloe's words of wisdom earlier. Put in the hard yards here, and we'll be thankful when carving up the slopes on holiday. But now, barely halfway up the baby slope, knees bent awkwardly inwards, pigeon-toed and with every muscle south of my belly button clenched uncomfortably tight – it feels like the only thing I'm going to be shredding is any residual rags of respect my onlooking daughters might have for me.
"Relax those knees a little, look up and stand straight," orders Chloe. I do as instructed, and I'm no longer stationary. I'm skiing. Sort of. Moving down a ski slope in a vertical position, at least. Although not vertical enough for Chloe's liking. "Straighten your back more," she shouts to me. "Get that bum in!"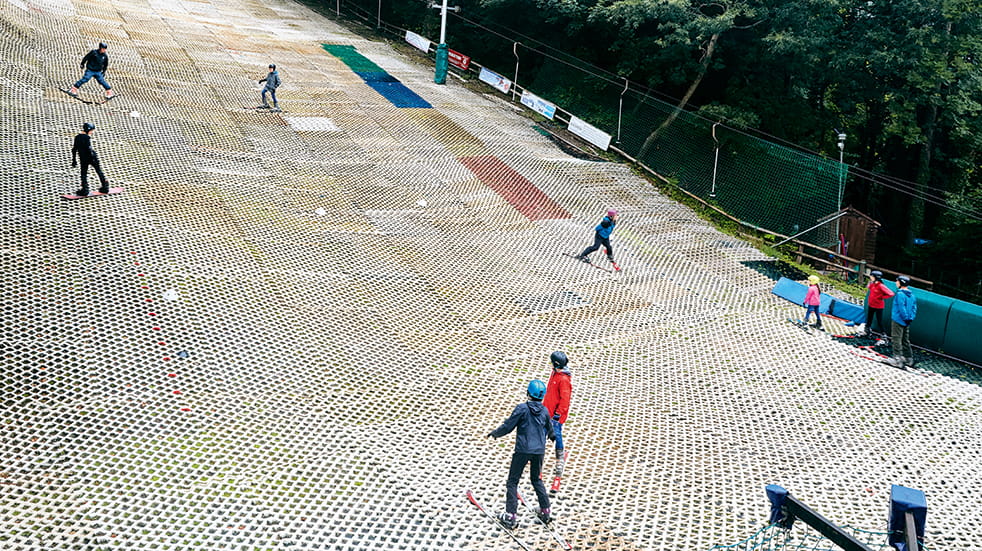 Ski instructor Chloe demonstrates how to negotiate the slope, while other learners edge a little higher up as they gain confidence.
Alice howls with glee at me getting told off. And then she's off again. Followed by Ivy. We take it in turns, learning new tricks and edging slightly higher up the slope with each go. And the progression is quite amazing. On her third run, Alice stays on her feet all the way down, and midway through the session I notice Ivy is forgetting to frown.
Our confidence is growing, and already we're discussing the next step – another lesson. But first, a quick blast on the toboggan run (which I've been dying to try ever since spying it on the way in, and I almost have a tantrum when I learn it's for 12-year-olds and under.)
To calm me down, Alice hastily reminds me that some sustenance is required, in the shape of hot chocolate and chips in the rooftop Alpine Lounge. As I come back to the table, juggling mugs overflowing with an avalanche of whipped cream, Ivy is wearing a wide smile I've not seen for a while, and which I don't think is entirely provoked by the calorie fix she is anticipating.
"Nice one Dad, that was great," she says. "When are we coming back?" O.M.G. I nearly drop the hot chocolates. Unsolicited thanks for something I had to drag her out of bed to do. Could skiing be the antidote to adolescent indolence? Watch this space.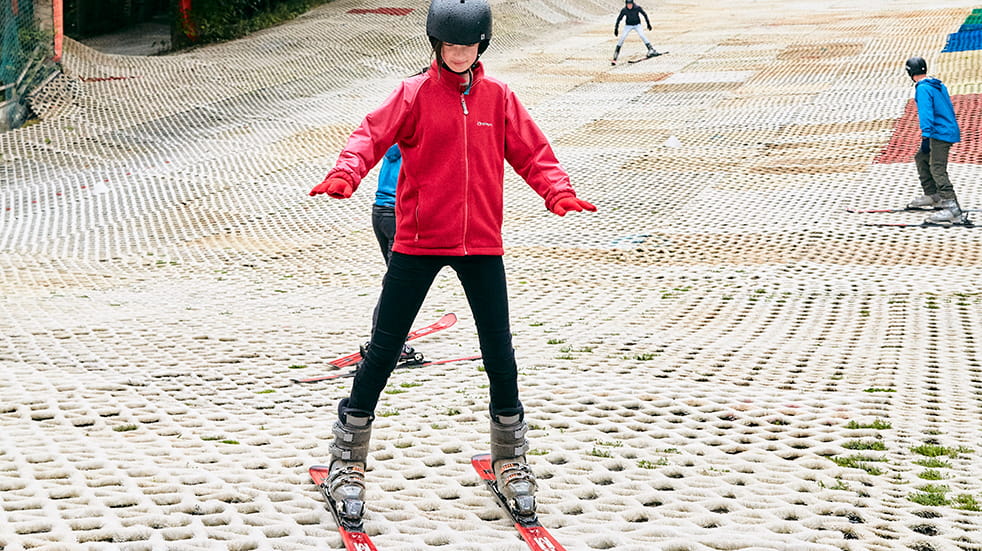 Ivy works on her technique before the family enjoys apres-ski in the Alpine Lounge: hot chocolate with an avalanche of whipped cream.
UK snow centres and dry slopes
If you're planning a skiing holiday and your technique is a bit rusty, or you are a complete novice, a few sessions at a snow centre could be a very shrewd investment of time and money.
At the Mendip Snowsport Centre you start with a 'Try Skiing' (or Snowboarding) lesson, where you master the basics, then progress from 1-Star to 4-Star lessons, learning everything from how to catch the ski lifts to making smooth turns and going over bumps. The intro lesson is £20, each star lesson costs £30 and packages vary depending on the season.
There are dry slopes at many other places around the UK, such as Aldershot, Southampton, Christchurch, Sunderland and Edinburgh. And some indoor snow centres – including Glasgow, Castleford, Manchester, Tamworth, Milton Keynes and Hemel Hempstead – have real snow. You can find a list of both types on the Ski Club map.
Did you know?
Jenny Jones – the first British athlete ever to earn an Olympic medal in a snow event – learned her craft at the Mendip Snowsport Centre.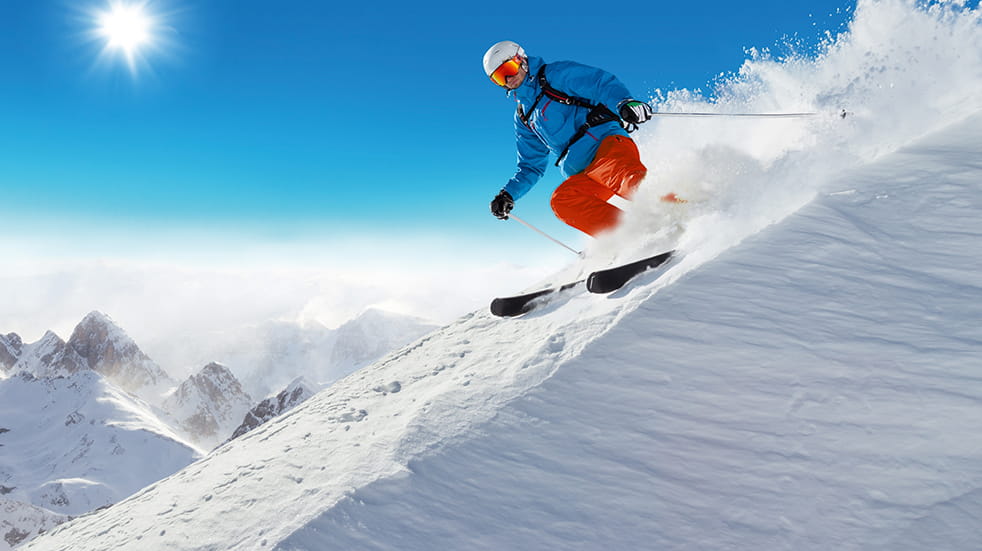 Six cost-saving ski hacks
As travel writer and expert skier Gabriella Le Breton demonstrates, skiing holidays needn't cost the earth.
1. Where to go on a skiing holiday
Avoid skiing hotspots in favour of lesser-known destinations, such as Haute-Maurienne (France) and Galtür (Austria). If you won't compromise on the extensive ski areas offered by the big hitters, consider a satellite village such as Brides les Bains, Méribel. You'll lose the glossy nightlife but still have lift access to the pistes.
2. When to go skiing
While Christmas, the New Year and school holidays may be off the cards, don't rule out Easter, which can be affordable when it falls late. Booking early and late season guarantees cheap digs but also lowers the chances of snow cover, so stick to high-altitude resorts. Best of all, travel in the last three weeks of January when prices are low, snow is good and resorts offer discounts.
3. When to book a ski trip
After a transatlantic ski break? Book early (ie pre-October) for discounts of up to 50% on packages to resorts like Whistler from operators like Ski Independence. Unless you book an entire season ahead, the late bird gets the juiciest Alpine worms: book late and be flexible for the best deals.
4. How to save on ski passes
Look out for packages with passes included and two-for-one deals from tour operators like Crystal Ski and Inghams. If travelling independently, buy your pass in advance online and don't buy a full area pass if you're a beginner or tentative intermediate as you're likely to be content with a local pass.
5. Where to stay for a skiing holiday
If you're happy with simple digs, packed lunches and modest dinners, a French UCPA package or Swiss Youth Hostel offers fantastic value for money. If, however, you love your wine and food, going catered or all-inclusive can work out cheaper than dining out.
6. How to save on ski transfers
If you don't book a package including resort transfers, they can be extremely expensive. Pre-booking is essential and opting for shared transfers with companies like Ben's Bus and SkiidyGonzales helps keep costs down.
Save on your family skiing holiday with Barrhead