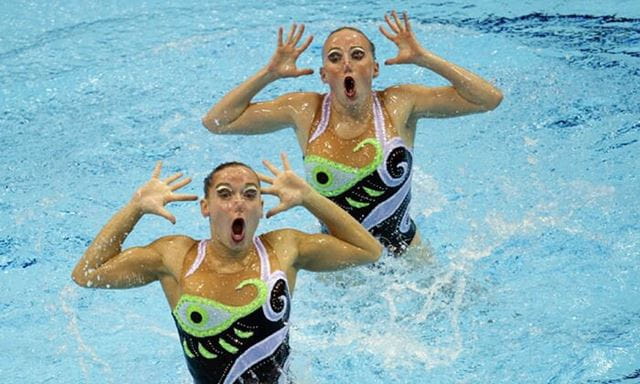 Holding your breath, performing acrobatics, staying afloat and looking graceful, and all in time to music – how hard can synchronised swimming be, wonders Jenny Bliss?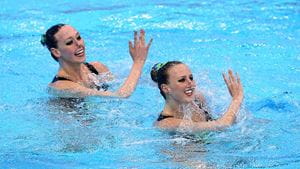 My brand new swimming hat is forming an uncomfortable indent on my forehead, my cheap goggles are letting in water and various small feet intermittently jab me in the head and ribs, but I am refusing to let any of this put me off. I must focus on waving my hands like mad behind my back and pointing my toes till they turn white. This is my first attempt at synchronised swimming and I am with the beginner group at Brighton Swimming Club, consisting mainly of 10-year-old girls, whose little bodies float effortlessly on the surface, while mine, despite my best efforts, appears to want to sink to the bottom.

Synchronised swimming is often dismissed as a frivolous activity. It wasn't introduced into the Olympics officially until 1984, amid complaints that it wasn't a proper Olympic sport. It's nice to look at, with the girls in their matching sparkly costumes, performing in a perfectly coordinated formation in the water, but it isn't considered the most athletic of sports.

Although when it was first demonstrated at the turn of the 20th century it was actually men that took part in 'water ballet', it was quickly found to be more suited to the female physique. It became the women's alternative to the more aggressive, past-paced water polo played by men.
Compared to the three kilometres that can be swum during a full water-polo game, I thought this would be a breeze. I was rather looking forward to an easy hour of floating around the pool on my back, kicking my legs in the air.

As the rest of my group did lengths of the pool on their backs, and I swallowed yet another mouthful of pool water, I regretted my over confidence. I felt embarrassingly like a big, slow kid who had been held back a few school years and still wasn't quite up to speed. I could just about handle a forward roll in the water, though going backwards gave me a horrible feeling in my nose.

The hardest part of synchronised swimming is realising that I don't have the basic skills that are essential to succeed in the sport. I cannot hold my breath for any period of time under water, I cannot float easily on the surface and I cannot tread water for very long. Not that synchronised swimmers even tread water. They used the 'eggbeater' technique, which involves a rather more complicated method of moving your legs in a whisk-like motion. The entire class stays afloat using the eggbeater for a whole hour lesson, while I am reaching for the side every few minutes.

I am told that although kids pick it up quicker than adults, the older swimmers tend to have better technique and so I persevere, encouraged by the ever-patient and smiling coach, Lesley. She tells me that there is actually a technique to the mad hand waving I am doing, it's called 'sculling' – a method of cupping or flexing the hand and moving the arms in different directions, that should aid my buoyancy and help me move my body.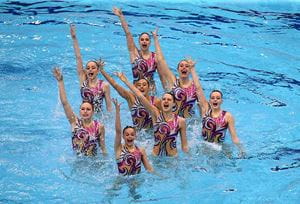 The lessons here are run by Lynn Mackenzie; a competitive swimmer from childhood, she only took up synchronised swimming in her 30s – and aged 68 she's still hooked. As I struggle to keep my head above water, I see Lynn's perfectly poised legs disappear in one smooth movement beneath the surface and I wonder what it is about 'synchro' that has kept her captivated for over 30 years.

While I catch my breath at the side of the pool, Lynn explains, 'After the contention over synchronised swimming being included in the Olympics it was put to the test against other Olympic sports and they found that it ranked first for strength, stamina and suppleness: what's not to like about that?

'There is always something to learn. I've been doing it for 33 years and I still haven't learnt everything. With swimming, once you've perfected a stroke, there's nowhere else to go with it really.'

In my case there is still everything to learn, and I am quickly discovering that synchronised swimming is neither frivolous nor easy. Competitive swimmers master two full routines, which they perform to music, either solo, in pairs or as part of a group. One is a shorter technical routine, in which a series of specific moves are performed, and the other is free and choreographed by the individual swimmers. The routines are marked on a range of elements, including execution, difficulty and synchronisation.

I am treated to a demonstration by Liz Fitzsimons from Brighton Dolphin Swimming Club. This is a group of intermediate and elite synchronised swimmers, some of whom compete in international competitions. Liz has just returned from The Fina World Masters Swimming Championships in Italy with a bronze medal, one of two that the club won.

Liz bursts into action as the first bars of Caro Emerald's 'That Man' ring out across the swimming pool. The music also comes out of an underwater speaker to help her keep in time. Managing to look both dynamic and elegant, she expertly works her way across the water, head held high above the surface. She even incorporates a 'vertical', one of the most advanced synchronised swimming moves, holding herself upside-down in the water, both legs above the surface. She literally dances through the water.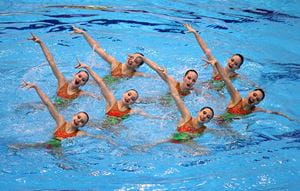 I may not quite be dancing, but by the end of my session I am happily floating from one end of the pool to the other, waving my arms above my head. I've even learnt a move call the oyster, which involves floating flat on your back on the surface and then pulling your arms over your head and bringing your feet up to join them. Holding this position, you disappear below the surface, fingertips and toe tips last. I am secretly rather impressed with myself.

I'm told that some of the swimmers have begun practising for the annual fringe festival show, after just a few sessions, but I think my technique needs a little more honing before that… The show involves both clubs coming together to perform a series of routines, based on a theme, with music, costumes and over 30 swimmers. Last year's performance celebrated 50 years of James Bond, incorporating a medley of movie soundtracks, with Lynn performing the finale to 'From Russia with Love', complete with ushanka fur hat! It is the highlight of the year for most of the Brighton swimmers as there are no longer any competitions at recreational level. The decision was made 15 years ago to stop recreational competitions and, despite the sport's popularity at the Olympics, with venues often sold out, it has declined at local level.

Liz explains, 'When we could only compete in the big regional meets, a lot of people were put off. Gradually the rest of clubs in Sussex disappeared and only the two Brighton clubs kept going.'

The lack of clubs to compete against in the county has led the two Brighton teams to turn what could have been a rivalry into teamwork and channel their energies into the show. From the littlest one at just seven years, to the oldest who is nearing 70, this teamwork is essential. As I watch Liz's advanced team training, I see how they improve even over the course of an hour as they learn a new set of moves and gradually coordinate it. By the end of the session they are moving in time and maintaining a tight square formation. Having tried it myself, I have a new found respect for what they have achieved. But it's not all about serious training and drilling routines, as Dolphins swimmer Laura Evans tells me, 'If you're not swimming you're laughing. We'll be in formation and then somebody will make a joke and you'll see everybody sink. You can't swim and laugh at the same time!'
• For info on lessons in Brighton, visit Brighton Swimming Club or Brighton Dolphin Swimming Club
• To find out your nearest synchro club, contact the ASA: Karen Thorpe at ASA