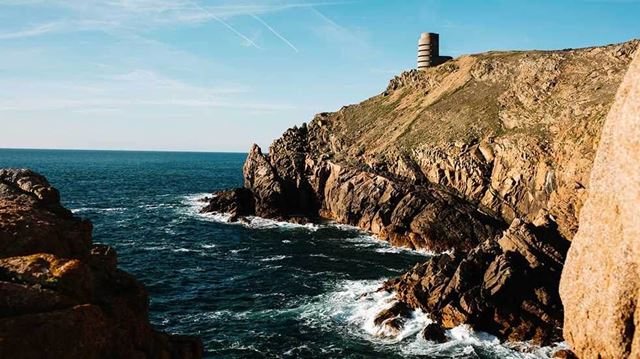 The perfect short break is a tantalising idea. Especially over the past couple of years, who hasn't dreamed of escaping home for just a few days of relaxation and discovery – think wave-crashed beaches, woodland trails, grand castles to explore – and recharging those batteries?
But where to go? Finding somewhere that's genuinely different but doesn't take an age (and a lot of planning hassle) to get to – that's the great short break challenge.
Enter Jersey. The largest of the Channel Islands is just a short flight or ferry crossing away, and part of the UK's Common Travel Area – so getting there and back is as straightforward and stress-free as travelling to any other part of the country. But when you get there, you'll find an island that's tailor-made for rejuvenation.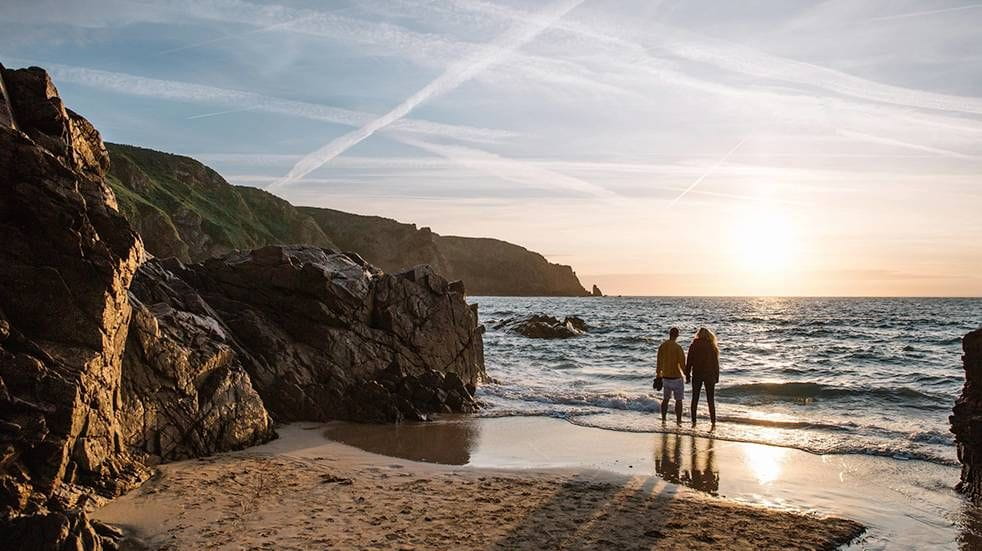 Partly it's the sun – with more higher average sunshine hours than anywhere else in the UK, a few days in Jersey will have you brimming with offers more chance of topping up with mood-enhancing vitamin D. But it's also the unspoilt landscapes, the slower pace of life, and the close connections between people and land that makes for mouthwatering local produce (from field-fresh Jersey Royals to succulent oysters) on menus all over the island.
It's also the compact scale of the place – perfect for exploring over a long weekend. Jersey is just nine miles long by five miles wide (smaller than Greater London), and you're never more than 10 minutes from the sea. So, whether you base yourself by the bustling marina of St Helier, or at a spa hotel overlooking the broad sands of St Brelade's Bay, or a country house hotel nestled in the sleepy heart of the island – you can explore the best of Jersey with ease.
A cyclist's paradise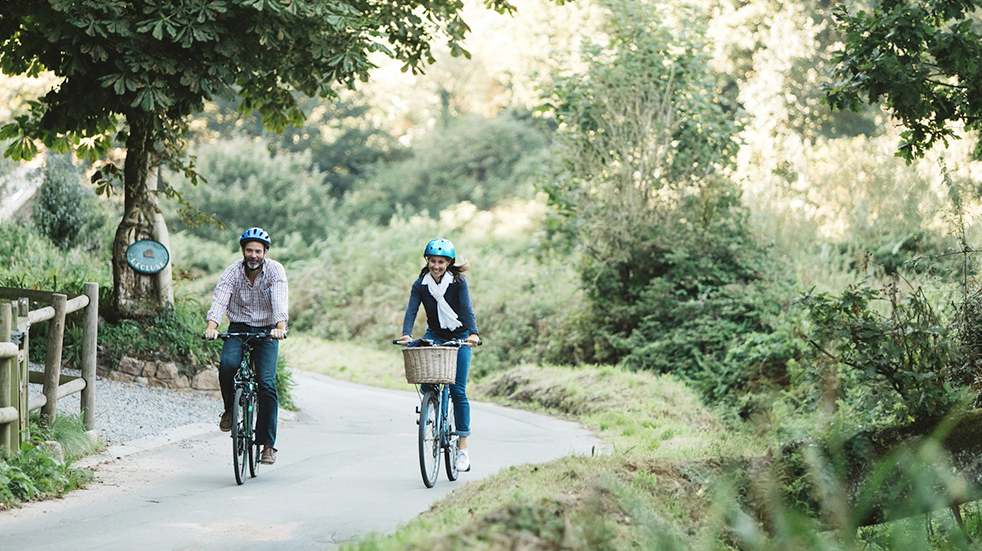 One favourite way of getting about is on two wheels. We're not talking lycra-clad expeditions here: cycling on Jersey is a leisurely affair, enabled by a 48-mile network of Green Lanes where speeds are restricted to 15mph and cars give way to all other road users. These lovely lanes and coastal routes also take you to some of the island's best gastronomic haunts, meaning you can combine some gentle exercise with delicious local fare. If you're based in the capital St Helier, there's a particularly appetising circular foodie tour which takes in a strawberry farm, an award-winning gastropub and a dollop of local Jersey Dairy ice cream (as well as the world-famous Jersey Zoo) – very much our kind of bike ride.
Getting closer to nature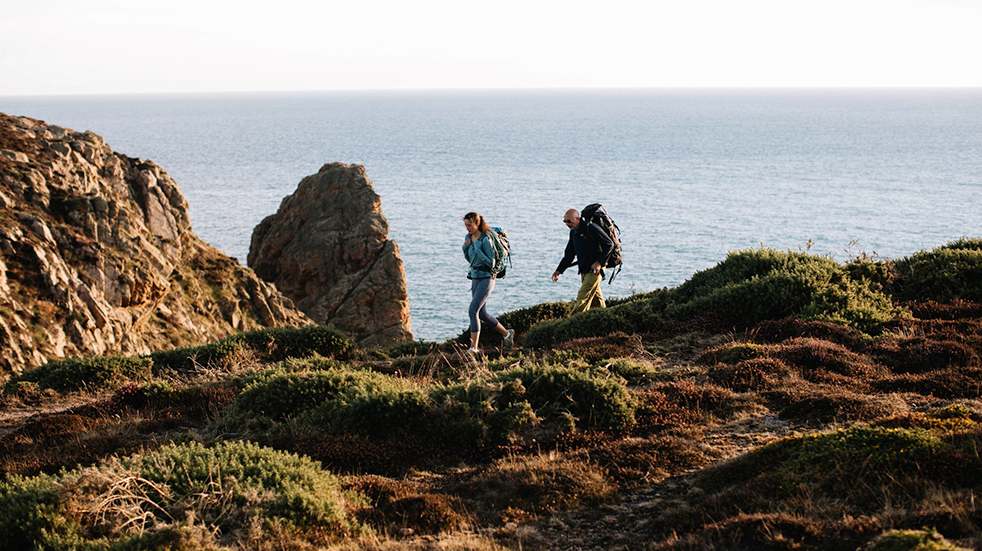 We all know that nature has an incredible power to revitalise us – spending even a short time in the great outdoors helps with anxiety, SAD and other mental health disorders as well as just giving a boost to our daily mood. And Jersey is blessed with natural wonders, including a National Park which wraps round much of the island's spectacular coast. Take a walk along cliffs and beaches, feel the sand between your toes, catch the Atlantic surf at St Ouen's Bay or walk through a waterfall at Plémont – immersing yourself in nature is easy on Jersey. And to take nature's therapy to a new high, why not try an outdoor yoga session? Locals gather at some of the island's most scenic spots to rebalance mind and body – join them for a truly revitalising experience.
Step into the past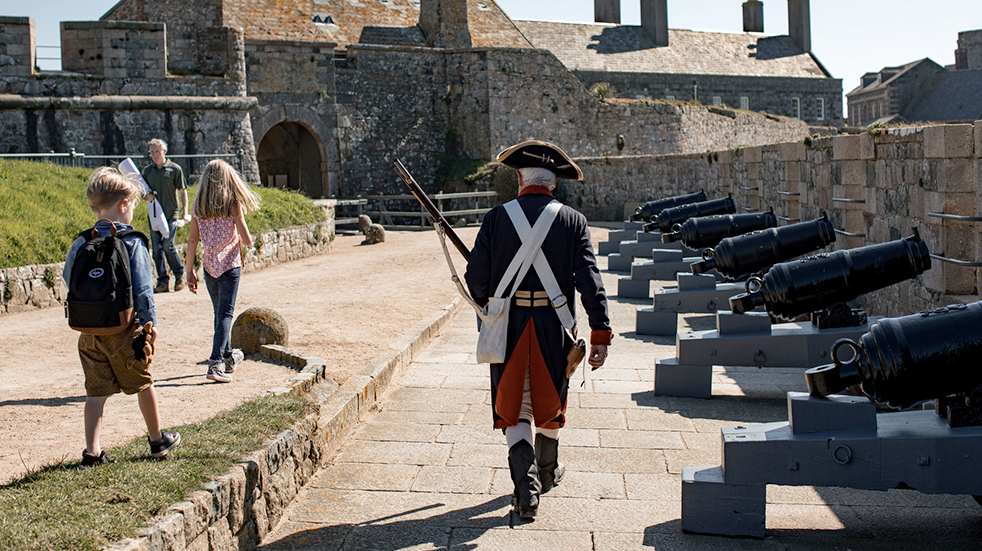 If a great short break means escaping the everyday, Jersey's rich history is another calling card. Closer to France than mainland Britain, the island has always been a strategic outpost – as the magnificent Elizabeth and Mont Orgueil castles testify. The Channel Islands were also the only occupied part of the British Isles during WWII – pay a visit to the Jersey War Tunnels or join a Bunker Tour with History Alive! to step back in time and immerse yourself in occupied island life. And if you really want to escape the modern world, Jersey has some extraordinary prehistoric sites, including Neolithic dolmens and a major Neanderthal site dating back 50,000 years.
So, whether you're looking for a mood-enhancing dose of nature, culture, sunshine or good food on your next break – the prescription could well be Jersey.
Save 10% on Jersey holidays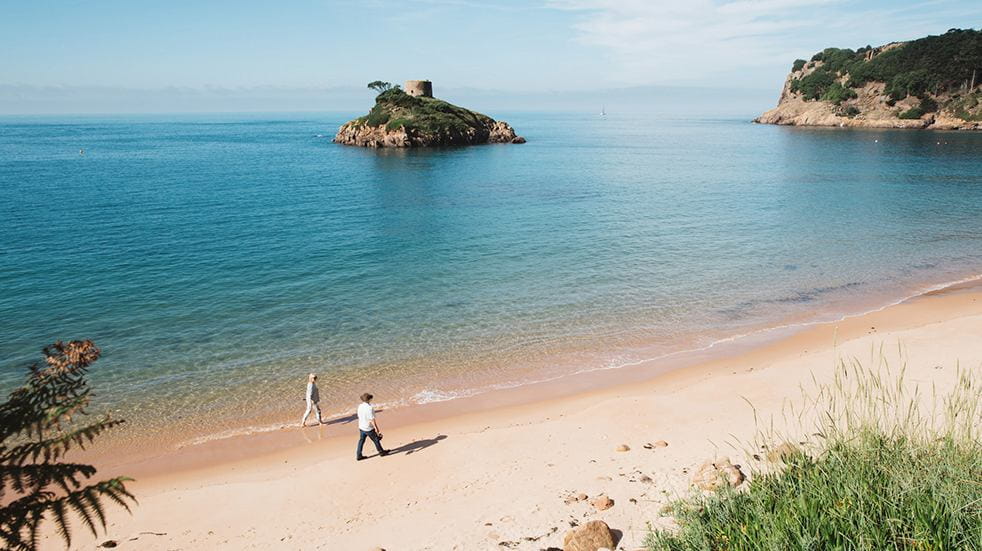 Boundless members can enjoy a 10% discount on all bookings made through JerseyTravel.com. To plan and book your trip, click here or call 01534 496664, quoting reference BOUND10. Stays of three five nights or more that include travel and accommodation will also receive a voucher for a Jersey Heritage Pass by email. This can be exchanged at any Jersey Heritage site reception for one Heritage Pass per person on the booking, allowing access to any four of the Jersey Heritage visitor sites, including Hamptonne Country Life Museum, La Hougue Bie and Mont Orgueil Castle.
Photos: Visit Jersey.