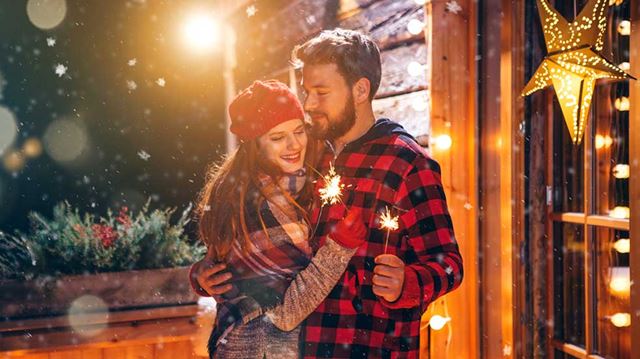 If you've ever dreamed about celebrating Christmas in a picture-postcard setting, away from the hustle and bustle of everyday life, then you've come to the right place.
All of the resorts owned by Boundless welcome guests over the festive season, giving you the opportunity to enjoy this special time of year in style. Whether you want to stay in the spectacular Lake District, amid the rolling hills of the Cotswolds or close to the rugged Cornish coastline, Boundless Breaks can make your dreams come true.
To give you an idea of what you can expect if you book a festive holiday with Boundless Breaks, we asked a member of staff from each of our destinations to describe a typical Christmas at their particular resort...
Please note: due to COVID-19, some of the events and activities mentioned in these write-ups may not be taking place this year. Check local press for the most up-to-date information.
Festive adventures amid the Lakes
Parkergate Cottages in the Lake District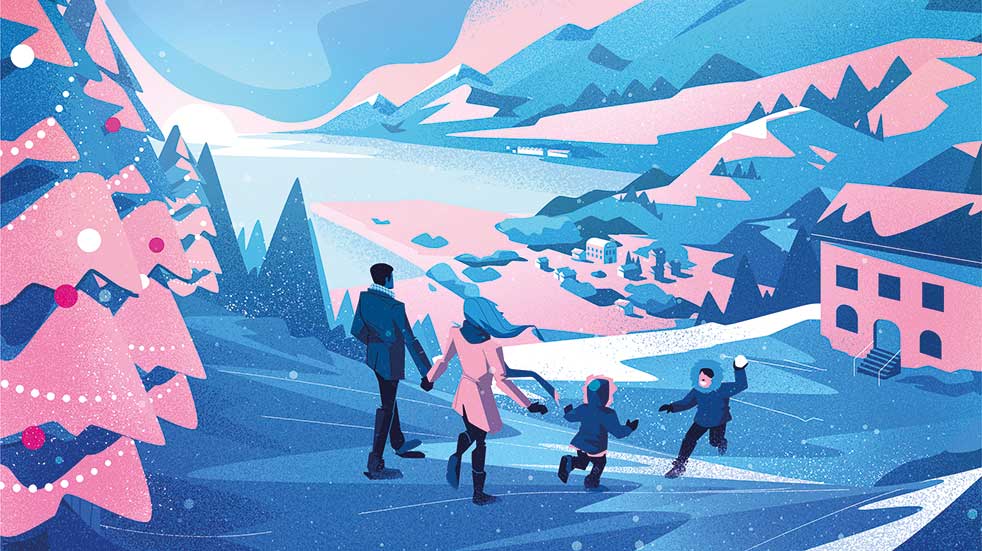 For me, Christmas Day is all about getting out and about. Some years, we go scuba diving at Crummock Lake – just me, my partner and my daughter. It's a beautiful freshwater lake, which somehow feels even more special on Christmas Day. Or we'll walk up Sale Fell, with tinsel wrapped around our hats and the dog's collar: it's not a high hill, but it's a refreshing walk nonetheless. Just the ticket after a big Christmas dinner.
I love how people seem to move into Parkergate's cottages when they arrive for Christmas. Some families come year after year and they've become like friends, while others book for a one-off celebration or to shake up their festive traditions. One thing's for sure, though: they make themselves at home – bringing decorations, the dogs, the lot. One of our regulars even sets up her sewing machine.
The festive fun starts in November, with the Christmas markets and lights in all the local towns. My favourites are in Keswick and Cockermouth: they've got reindeer, live music, mulled wine stalls – and the surrounding mountains are usually snow-capped, too. You don't have to be a hill-hiker to enjoy the area, because the lakes offer some lovely accessible trails. I recommend a wander around Buttermere lake, or a stroll from the cottages to St Bega's. It's a pretty little church on the edge of Bassenthwaite lake, close to the beautiful Mirehouse estate – around an hour's walk from Parkergate.
On Boxing Day, I look in on the cottages – just to make sure that everybody has everything they need. Then, I'll meet friends in the pub, or perhaps climb another of my favourite fells. Rather than getting hung up on presents and television at Christmas, we like to have an adventure or two. That's the beauty of the Lake District. It never gets boring – and the guests seem to love that just as much as I do.
Sarah Newport, Cottages Manager
Christmas 2020: A five-night Christmas break from 23–28 December costs from £71* a night for two people. Click here to find out more.
Sparkling seasonal entertainment at the seaside
West Cliff Hotel in Bournemouth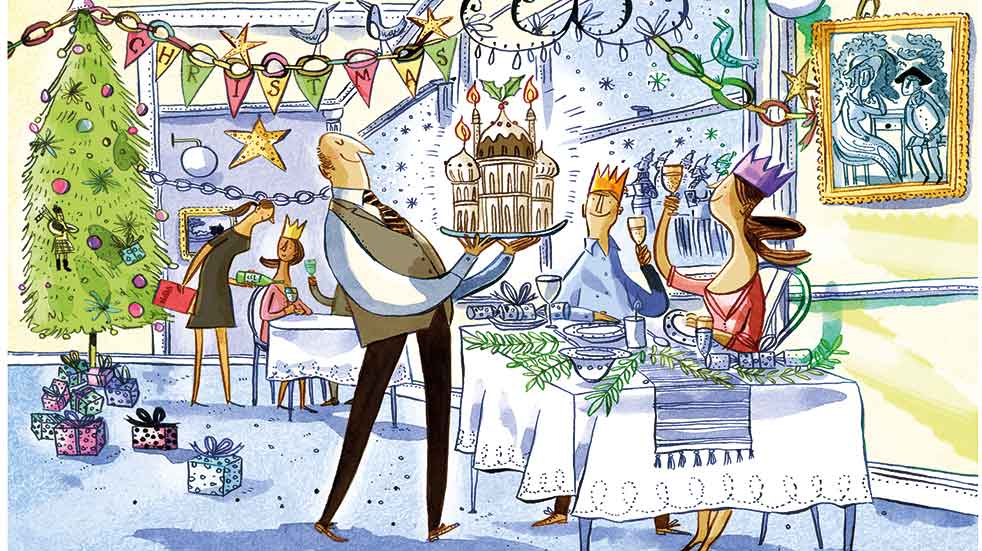 It was around 1am on Christmas Day and a group of guests had just returned from Midnight Mass. They were cold, tired, and ready for bed – but then the snow started to fall. So we served hot chocolate beside the twinkling tree, and watched through the window as the outside world turned into a winter wonderland. It was late at night and I'd been on my feet all day, but that was a moment I'll never forget.
The festive season at West Cliff is always fun and bright – with lots of live music, entertainment and excellent food. Christmas morning starts with a glass of Prosecco at breakfast, then there's a decadent five-course lunch. We have a pianist playing everyone's favourite songs and a band or singer afterwards too. Guests usually take a walk on the beach before it gets dark, or head into town to see the illuminations.
Bournemouth is a great summertime destination, but it's also really special in winter – with an outdoor ice rink, Christmas market and amazing festive light show.
I've been at West Cliff for almost 11 years and have worked most Christmases. Though it's always a privilege to be part of guests' celebrations, I must admit that I enjoy having Christmas Day off now – and I'm looking forward to a family celebration at home this year. I'll be with my mum and my sister, eating lovely food and playing games. These days, Christmas is all about spending time with my family and – at last – putting my feet up too.
Rohana Mallya, Administrations
Christmas 2020: The hotel is unable to run its usual festive offering, but why not stay if you're visiting friends or family locally? Rooms cost from £63.20* a night from 24–26 December. Click here to find out more.
Peace, quiet and a touch of magic
Treworgie Barton Cottages in Cornwall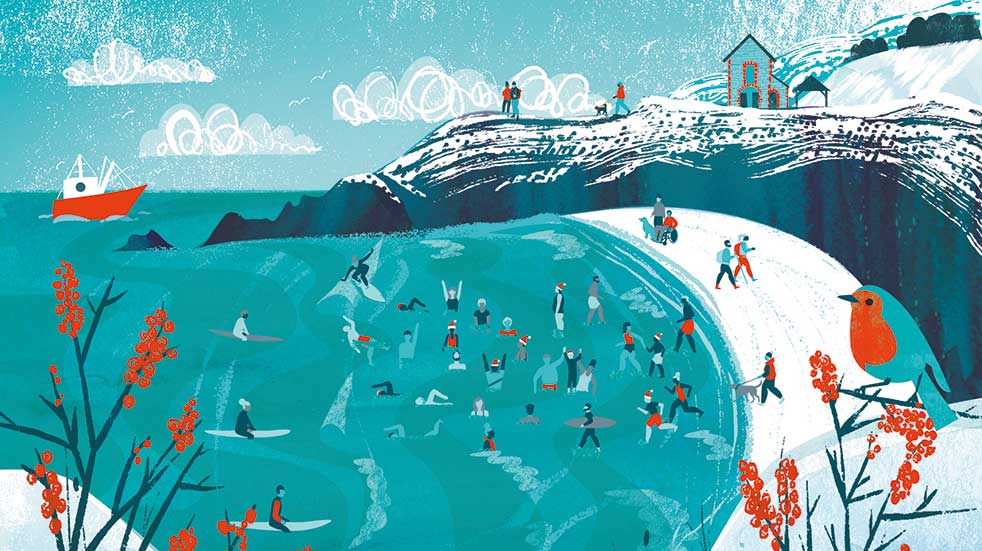 I don't really have any memorable moments from past Christmases at work – but that's no bad thing. You see, Treworgie Barton is the kind of place where people come to get away from it all, to enjoy their privacy and relax in peaceful surroundings – not to have big glitzy events, or blow-out celebrations. We have 36 acres of beautiful farmland on our doorstep, with views over woodland and fields to the sea beyond. It's a haven for hikers, dog-walkers, surfers and people who love the quiet life – or at least a bit of quiet for a week or so.
I take Christmas Day off every year, but I'm always on call – just in case anything goes awry at the cottages. But it never has, so I usually spend the day with my wife, our son, our daughter, her boyfriend – and the dog, of course. We have turkey with all the trimmings, and perhaps head down to the beach for a walk: I particularly love Widemouth Bay for a wild, windswept ramble.
Cornwall is so popular in summer, but in the winter I think it's one of the UK's best-kept secrets. The weather is mild and the crowds are few – but there's still a lovely atmosphere. You've got the festive markets, the carol singers, the Christmas Day swim on Bude beach… not that you'd ever catch me doing that!
There are 11 cottages at Treworgie Barton, and each one is completely self-contained – which seems to suit our guests perfectly. They order supplies from the local farm shop and make their own plans; or, more likely, no plans at all. It's lovely to have people here over the festive season – but unless they specifically need anything, our paths rarely cross. That's the magic of Treworgie Barton. Whether for a few days or two weeks, it's their home too.
Simon Guthrie, Manager
Christmas 2020: A five-night Christmas break from 23–28 December costs from £125* a night for two people. Click here to find out more.
Christmas cheer in the Cotswolds
Cotswold Cottages in Bourton-on-the-Water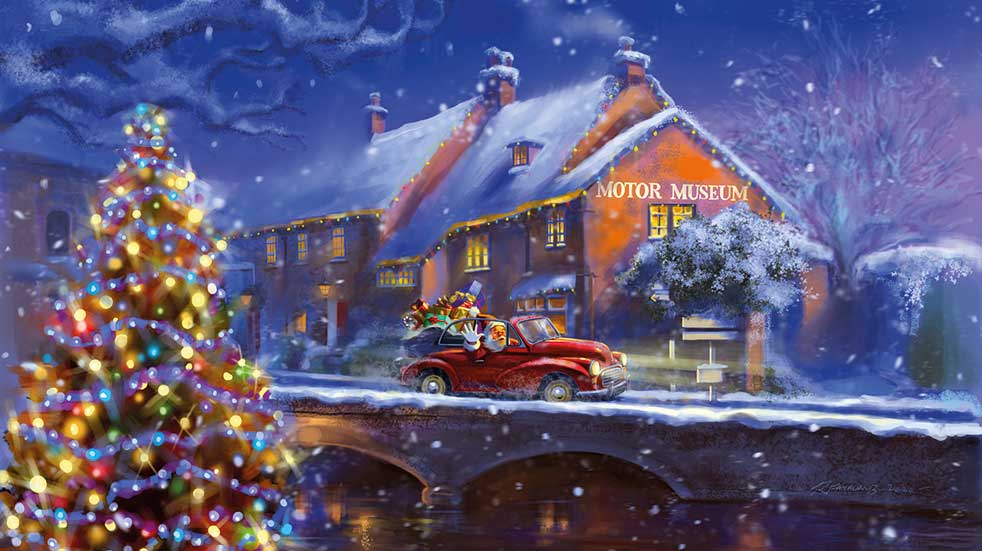 The Cotswolds is always special at Christmas and the village of Bourton-on-the-Water is no exception. Here we have cosy pubs with open fires, choirs singing in the street and even a Santa's grotto. One year, however, there was a problem: the charity that organises the grotto had to cancel their plans, so they asked if Boundless could host it instead. Of course, we said yes – and for five nights, the forecourt of the Cotswold Motor Museum became a little Lapland. The scene was absolutely stunning, and even Boundless's former chairman Peter Jones got involved: he played Father Christmas!
It has been a difficult year for many people, so I hope we can look forward to a restful and happy festive season. Over Christmas I will almost certainly be on call, but I rarely have to go to the cottages on the 25th – so I'll probably enjoy a quiet day with my family at our home in Cirencester.
In Bourton, there's a rather unique tradition of putting a big Christmas tree in the middle of the river: it's winched on to a platform and decorated with hundreds of lights. It's so spectacular, casting glittering reflections over the water – and is just a two-minute walk from Stepping Stones, our three-bedroom property. We also have four one-bedroom apartments, set in a beautifully-restored 250-year-old mill – the same building as the Motor Museum. It's a joy to trim it with lights and garlands every year, and some guests bring their own decorations too.
Maybe Santa will return to Bourton this year? I hope so. Every time I think of that grotto, it reminds me of the spirit of Christmas. You do everything you can to make that magic happen, but really it's just about pulling together – friends, family, everyone. And this year, of course, that has been more important than ever.
Michael Tambini, General Manager
Christmas 2020: Christmas breaks have sold out at Cotswold Cottages but there are dates available in the lead-up to Christmas or before New Year, costing £92.80 per night*. Click here to find out more.
*Price includes member discount. West Cliff Hotel price is room only, with two people sharing.
We'd love to hear from you
Have you enjoyed a stay at one of our resorts lately? Share your experience with Boundless members on Facebook or Twitter.