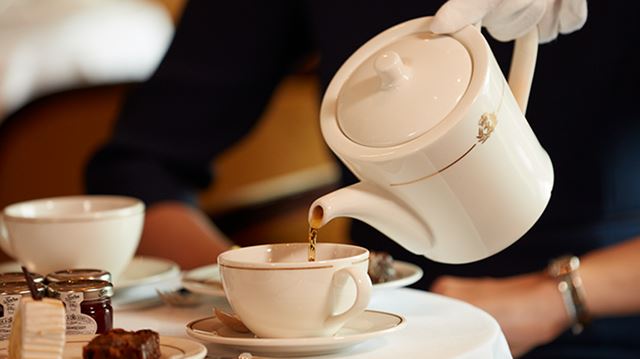 Here's why you'll never get bored of wining and dining on board a Cunard ship. Varied and lavish doesn't even begin to cover it…
One of the highlights of any cruise is the dining experience, and Cunard prides itself on the standard and the range of wining and dining options available on board.
Some aspects of dining on board ship remain loyal to cruising traditions, while others have been brought up to date – a mix designed to suit Cunard's discerning passengers. So, for example, you will be allocated a place at a dining table (you will be able to amend it if you wish), as is common with cruises, and Cunard offers a classic British afternoon tea, served by white-gloved waiting staff, every day at 3:30pm. But gone are the days of a few huge dining rooms to accommodate passengers – Cunard offers myriad dining experiences to suit all tastes and moods. Here's an overview of the culinary delights that await you.
Breakfast, lunch and dinner is offered in the restaurant linked to your stateroom – the Britannia, Britannia Club, Princess Grill or Queen's Grill restaurant – each offering varied and thoughtfully curated menus that reflect the regions you'll be exploring on your cruise.
There are plenty of other dining options, too. Aside from the traditional afternoon tea mentioned above, there are numerous buffets, bars and cafes to choose from whenever you're in the mood for a snack or a more casual meal – and the Carinthia Lounge is always open for you to enjoy a light meal or a handmade patisserie. Light bites, snacks and drinks can be enjoyed en-suite if you prefer, and Princess and Queen's Grill guests can also enjoy in-suite dining from their Grill restaurant menu.
You also have the freedom to treat yourself to something different simply by booking yourself into one of the alternative dining options available on board. Cunard's special double spending money offer*, makes this even more affordable.
Alternative dining on-board your ship
Whether you're in the mood for specialty seafood, haute cuisine, regional fare or al fresco dining, there's something to tempt you every day in the alternative dining options on board – all you need to do is decide where you want to head for a culinary treat, and book it in advance. You can also upgrade your afternoon tea to a Champagne or a Godiva afternoon tea to make the experience even more memorable or celebrate a special occasion.
There are as many different bars and lounges on board as there are restaurants and cafes. You can relax and enjoy anything from a specialty coffee to a unique cocktail. Sip a pre-dinner cocktail in the Commodore Club, overlooking the ship's bow, head to Gin & Fizz for, yes, you guessed it, opt for the Golden Lion pub if you're in the mood for a pint, or choose one of the other welcoming venues.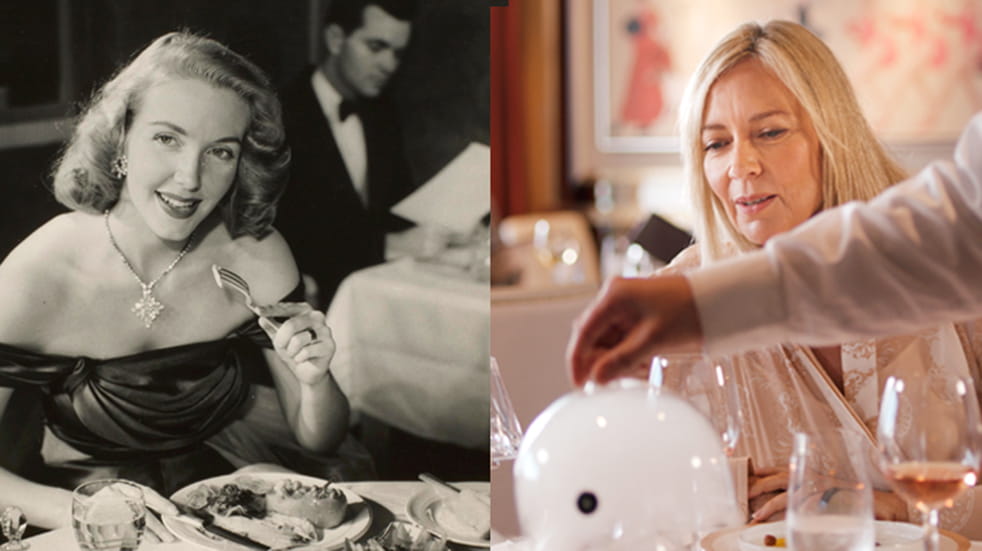 Relive the glamour of the early days of cruising when you enjoy a Cunard voyage.
You can opt to pay for a drinks package before you sail, or while you're on board, including a wine collection – a tailormade selection of 6 or 12 bottles – or if you prefer to pay as you go, that's fine too.
Whether it's vegan, kosher or gluten-free, Cunard's on-board chefs can cater for almost any special requirement. You'll still enjoy meals that are every bit as memorable, the only difference is that you'll select them from a menu a night in advance. Children's meals and baby food are also available on board.
Dressing for dinner on a cruise
Cunard's modus operandi is that as the sun goes down, the style goes up. There are dress restrictions for the bars, restaurants and entertainment venues, but nothing too arduous if that's not up your street.
On two or three occasions during every seven days of a voyage, there are special Gala Nights, often considered a highlight of the cruise. These are an opportunity to dress to impress – but if you prefer to spend your evenings in more relaxed attire, a selection of casual dining and entertainment venues are always available.
With so many options to enjoy, you are bound to be tempted by a special evening in one of the alternative dining venues, or perhaps to indulge in an extra-special bottle of wine for a memorable occasion. Lucky, then, that Cunard has a special offer to help you indulge in such treats.
If you book before 30 April 2019 you'll receive double the complimentary on-board spending money for any trip over seven nights. For example, if you book a 12-night 2019 voyage you'll be given $400 to spend on board per stateroom, on any activities and classes along with elite dining. For details visit the Barrhead Travel website, which includes our Iceland cruise from £1249pp. Our experienced holiday experts will be able to build you the perfect Cunard voyage.
*Based on 12 night 2019 voyages in a balcony. Amount shown is per stateroom, based on 2 sharing, and includes Cunard Fare on board spending money and additional on board spending money. Book an applicable 2019 Cunard Fare holiday and receive additional on board spending money to spend during your voyage in the on-board shops, bars, photo and art galleries and on internet packages, restaurants, spa and shore excursions booked on board. Applicable to new Cunard Fare bookings on selected voyages of 7 nights or more departing 2019 booked by 30 April 2019. On board spending money is additional to the Cunard Fare benefit of on board spending money/car parking/return coach travel (choice of benefit dependent on cruise type, duration and time of booking). On board spending money amount shown includes the Cunard Fare benefit of on board spending money plus the additional on board spending money, which doubles the total. On board spending money can only be spent whilst on board. Offer is only applicable to Cunard Fare bookings and cannot be exchanged for a cash alternative. 5% deposit offers are valid until 30 April 2019 on selected 2019 departures departing from 1 May 2019.