We speak to three multi-generational family groups who have made the most of their quality time with holidays in the UK.
---
Lisa and Ian Warren
Enjoying their first big family trip since their grandchildren were born (pictured above).
A birthday celebration was all the reason the Warrens needed to bring the whole family together over a glorious long weekend at Whitemead Forest Park.
"We first went to Whitemead in 1996," explains Lisa Warren, who – with her husband, Ian – has gathered her two sons, James and Tom, and their families at the holiday park to celebrate her 66th birthday. "Back then the swimming pool was in a wooden hut and you would carry your dinner from the bar back to your cabin on a ceramic plate, and return it the next day. It's changed a lot since then!"
Indeed it has: the pool and other on-site facilities have had several upgrades over the years and they're a major draw for the Warrens, who have visited Boundless-owned Whitemead Forest Park many times – but perhaps the biggest attraction is the choice of accommodation available. "It's the first time we've all gone away together so we booked three of the woodland lodges – one per family," explains Ian. "That way we each have our own space."
"Though as it's turned out, we've spent more time together than apart, which has been lovely," continues Lisa. "Thankfully, the individual lodges are the perfect size for all 10 of us to be together. We're staying for three nights and each of us is taking their turn to host, so no-one does all the catering."
As for the motivations behind organising such a gathering, it's about more than just celebrating. "Getting everyone together can be tricky, especially given how busy life is, but having a firm date helps," explains Lisa. "It's so worth the effort. It's wonderful to see the children together, enjoying each other's company, and for the adults to reconnect. Whitemead has so many things to do – it really makes for an enjoyable stay." So will they be arranging similar trips in the future? "James has already asked how I'm planning to celebrate my 67th birthday..." laughs Lisa.
---
Valerie and Nick Drew
Holidaying with their sons annually for the past six years.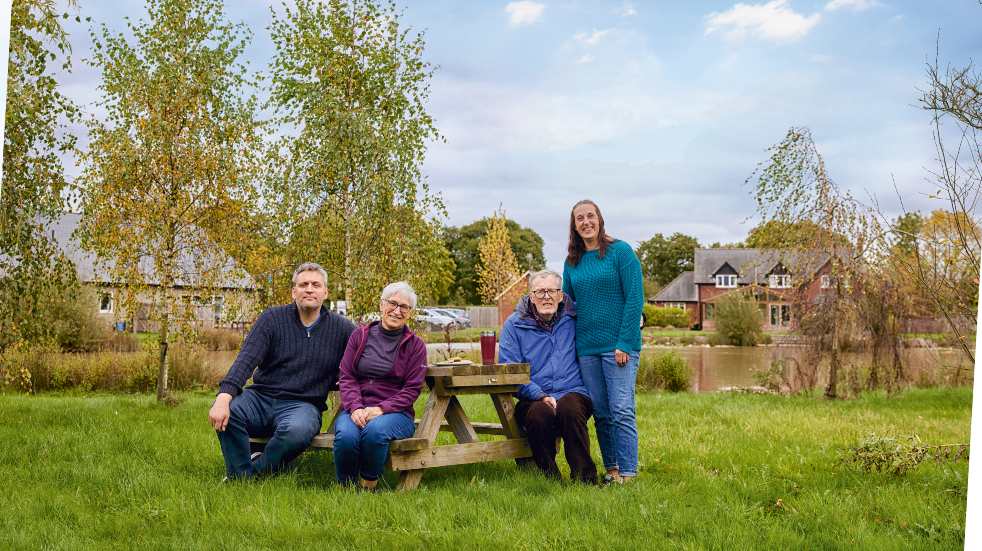 After a two-year travel hiatus, former teacher Valerie Drew and her husband, Nick, finally managed to get away with their son and daughter-in-law.
"Covid scuppered the holiday plans we'd arranged to celebrate my 70th," explains Valerie Drew, a retired teacher from the south west. "We'd intended to go to Devon with our sons and their partners for a week, but it was not to be."
Happily, since restrictions have lifted, the Drews have been able to claw back some of that time with their younger son, Chas, and his wife, Marianne, both secondary school teachers from Swindon – this time on a five-day visit to the historic county of Cheshire.
"Like most families in the early '80s, we travelled a bit when the boys were younger and made some lovely memories," explains Nick. "I suppose we thought that would naturally come to an end as they grew up and started families of their own, so to still be able to enjoy this special time with them feels like an incredible gift."
Valerie continues: "They encourage us to do so much more than we would if we were holidaying alone, whether it's scaling hilltops to inspect castle ruins or trekking along coastal paths – these aren't things we'd necessarily do if it was just the two of us."
But is there a secret to making family trips like these work? "Everything's decided by committee and without any pressure, so if we don't fancy what's on the agenda, we make alternative plans. Or no plans at all. There's a lot to be said for taking a good book with you on breaks like these," explains Valerie with a knowing smile.
"Also, our past successes have been in the planning. We both research properties and then choose the one that best suits our needs; we arrange a few meals beforehand so we don't need to cook every night, and we always arrange a shop to arrive on the first day so we don't waste precious time in the supermarket." Her smile broadens: "We'll always factor in time for a farm shop visit though – that's a must!"
---
Jane and Martin King
Breaks spent with their grandchildren over the last 13 years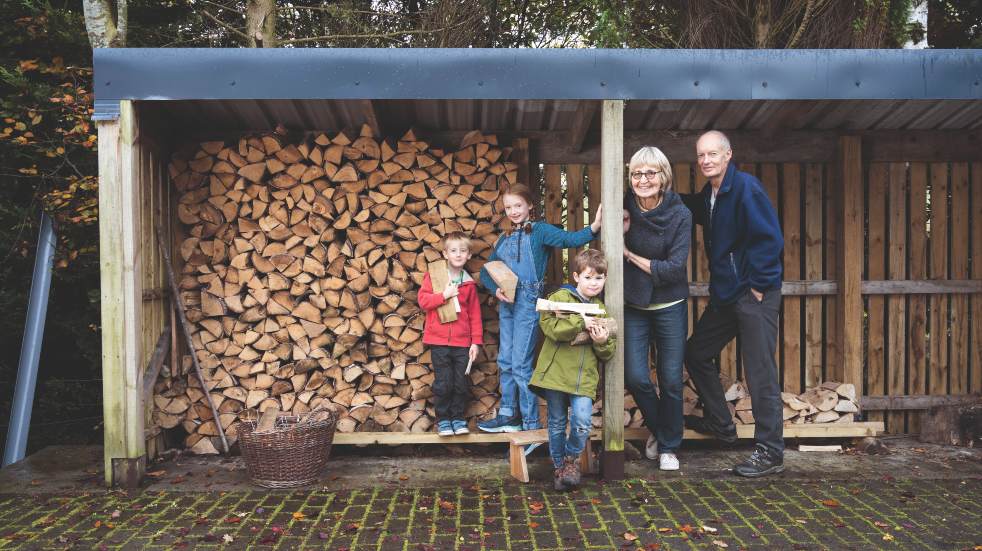 Three of the couple's 10 grandchildren joined them in Perthshire, with access to Scotland's glorious hills and glens, for a few days during October.
"We had Lauren and Tom, our elder son's children, staying with us for a few days in half term and then our elder daughter came and dropped off six-yearold Luke, too," smiles Jane. "That made a real difference to the dynamic, and it's been interesting to watch."
Jane and her husband, Martin, have enjoyed countless breaks with various permutations of their 10 grandchildren since the oldest was born 13 years ago. These often take place during winter stays in Perthshire, Scotland, as well as at their grandchildren's homes. "It means you don't have to think too much about the purpose of your retirement," laughs Jane. "It's clear that your grandchildren, certainly at primary school age, love being with you because they get a different kind of attention. It feels right to help out our own children like this – they have busy lives – but it also keeps us young and provides huge amounts of fun. Grown-ups our age need to play."
The highlight of this particular holiday has been a trip to the nearby bluebell wood. "There's a swing there, and it hangs from the highest branch you can imagine," explains Jane. "The arc it describes means you can end up almost going through the canopy, and seeing across to the hills of Angus and Dundee – it's really stunning. Lauren calls it the best swing in the world. We take a circular walk to get there – we always believe in exhausting them physically, if we possibly can, whatever the weather!" Indeed, one of Jane's tips for success is good outdoor gear so the children can spend time outdoors through the winter.
"A burst of time outside, followed by lighting a fire and drinking hot chocolate with marshmallows works well. You just have to be prepared, really," she says. "Make the cooking as easy as possible, have a plan and make a note of what works and what doesn't. These stays are such a pleasure, and just watching our grandchildren is lovely."
---
Save With Boundless Discounts
If you're planning a trip this year, explore the wide range of travel savings available with your membership at www.boundless.co.uk/save-more/travel