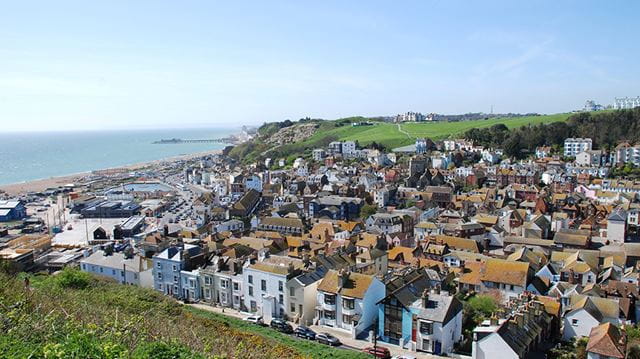 George Street
This pedestrianised road in the Old Town is one of Hastings's most charming, home to independent shops, cafés and an intriguing public open space, Butler's Gap, which features a landscaped seating area, a giant chessboard and chess sculptures by local sculptor Leigh Dyer. You'll also notice several curious little alleyways as you walk along; perfect for disappearing for an adventure around the Old Town's cobbled backstreets.
---
The Crown Pub
Despite its recent renovation from traditional boozer to trendy drinking establishment, The Crown is still a town favourite, serving the best of local food and craft ales, as well as hosting a huge range of events, from music and craft sessions, to quiz nights and even cocktail making.
thecrownhastings.co.uk
---
Fishermen's Net Huts
These imposing black-boarded Grade I-listed net huts are an interesting feature that add atmosphere to Hastings's historic Stade – a shingle fishing beach that's used for landing boats for more than 1000 years. The huts are still used today by the town's working fishing fleet (the largest beach-launched fleet in Europe) to store the nets and as fish shops.
---

Cliff Railways
For best views of the town and Sussex coast, take a ride on one of two funicular railways built in the late 1800s. The West Hill lift uses original Victorian coaches and runs part-way through a tunnel from its charming lower station up West Hill to a café for views stretching to Beachy Head; while East Hill gives access to Hastings Country Park overlooking the Old Town and Rock-a-Nore.
Hastings Cliff Railways
---
Penbuckles Deli
Stock up on provisions for an extravagant beach picnic at this little deli abundant with artisan cheeses, meats, breads and other enticing accoutrements like olives and antipasti. If you want to sit inside, they also serve light lunches and tasting platters in a small, cosy room at the back.
penbuckles.co.uk
---
Hanuschka Coffee Shop
This quirky café on George Street doubles as an unofficial library or reading room, with floor-to-ceiling shelves all around filled up with books that customers are free to read alongside their morning cappuccino and muffin, or lunchtime snack.
---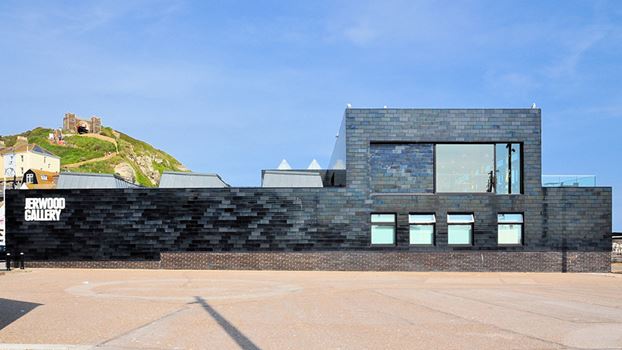 Jerwood Gallery
Set in a striking square-box building covered in black tiles, this contemporary art gallery next to The Stade has been designed to blend in with the neighbouring fishermen's net huts. It focuses mainly on British artists and features more than 200 works by 20th-century artists such as Lowry and Wallis.
jerwoodgallery.org
---
AG Hendy and Co
Alastair Hendy spent three years restoring a Georgian home in Hastings to its former glory, turning it into a – some might say contrived, pretentious but nevertheless interesting – 1950s-style homeware shop laid out like a house. In one room you'll find just about every kind of brush you could ask for, in another there's vintage linen and shirts, and beyond there are piles of china and enamelware. There's also a study, an upstairs bathroom and utility room – all filled with things to buy, and a restaurant open at the weekend for lunch.
aghendy.com
---
Shirley Leaf and Petal Co
You'd be forgiven for at first thinking that this wonderfully old-fashioned looking establishment is a florist. It is, to a degree, but its astonishing array of flowers, leaves and petals aren't real – they're actually made of antique fabrics on the premises. You can buy a memento if you like, but their main customers are theatres and opera houses, as well as film and TV companies around the world. Don't miss a trip downstairs to the shop's tiny museum featuring some 10,000 Victorian cutting tools and flower irons that are still in use.
shirley leaf & petal co
---
Electric Palace Cinema
Grab a glass of wine, slice of cake and settle down in one of the comfy red-velvet seats at this tiny single-screen independent cinema on the High Street. It was opened in 2002 to offer film-loving locals more choice of entertainment, is entirely staffed by volunteers, and a lovely place to watch one of the many latest or classic films shown each week from Thursday to Sunday.
electricpalacecinema.com
---
Hastings Castle
Take the funicular to the top of West Hill where you'll find the ruins of this old Norman castle built by William I after his victory at the Battle of Hastings in 1066. Open March to October, there's also a dungeon, a cloistered chapel and an audio-visual show inside a tent giving visitors a potted history of the Battle of Hastings and the castle itself.
---
Maggie's
Fish and chip shops crowd the streets of Hastings, but this is the only one right down on the beach itself in the town's historic fishing quarter. The best tables are by the window or out on the small terrace, overlooking the fishing fleet. The café itself is a no-frills place but the fish and chips are amazing and cooked to order by Maggie herself in an open kitchen. Warning: portions are huge and it's only open for a couple of hours each lunch time.
---