For gastronomy fans: Puglia, Italy

Flight time from UK: less than 3 hours
Why?
Sitting in the heel of Italy's boot, Puglia enjoys warm autumn days when the beaches are empty and the autumn harvest results in an abundance of glorious foods in the restaurants of lovely towns such as Ostuni, Lecce and Alberobello.
What's the appeal for gastronomes?
Puglia's microclimate ensures fantastically tasty fruit and vegetables, and its tradition of cucina povera makes the most of simple local ingredients. Recipes include orecchiette with cima di rape (a local pasta favourite) and fave e cicoria (fava beans and chicory), both traditional peasant dishes which are full of flavour.
What else to do, eat and drink

Walk off your lunch by exploring gorgeously baroque architecture in Ostuni and Lecce or getting lost in the città bianche (white towns) like Cisternino, Martina Franca and Locorotondo. Also don't miss the higgledy-piggledy streets of villages in the Itria Valley, where impossibly sweet clusters of trulli (conical-roofed houses) give way to olive groves stretching as far as the eye can see.
---
For wildlife and walking fans: The Azores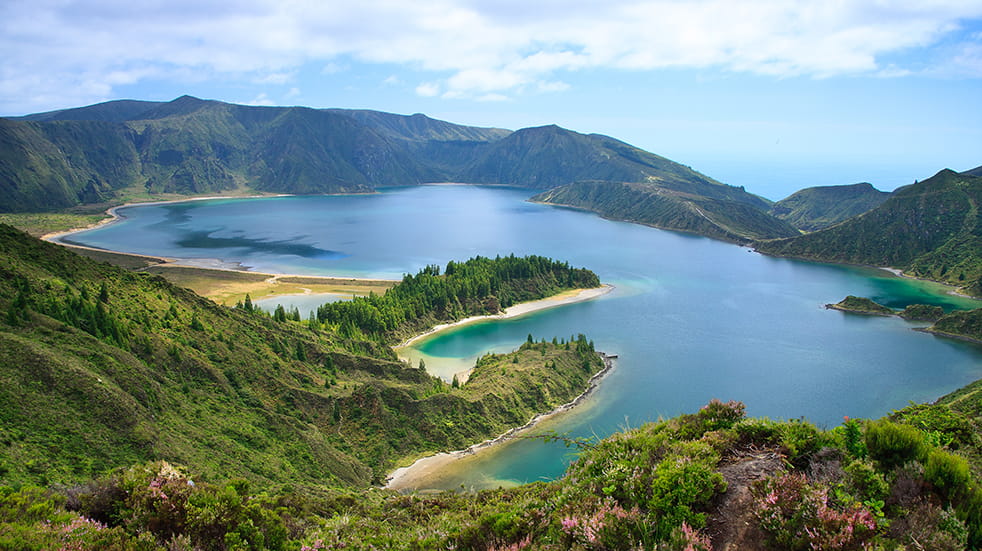 Flight time from UK: around 4 hours
Why?
These nine volcanic islands lie some 1000 miles west of Portugal. With their dramatic black beaches and arresting geological features, the lush Azores lay claim to amazing wildlife and sparsely populated diverse landscapes that are heaven for ramblers.
What's the appeal for walkers?
The main island of São Miguel boasts a landscape that ranges from volcanic calderas to some of the best whale-watching in the world. But all the islands have something to offer, from Flores's surreal basalt structures, cliffs and waterfalls to the central group of Terceira, Graciosa, São Jorge, Pico and Faial. These have a range of attractions that include Portugal's highest mountain on Pico, and rolling downs, hedgerows and open green spaces on São Jorge.
What else to do, eat and drink
São Miguel features Europe's only commercial tea plantations, and unmissable is Terceira, where the capital Angra do Heroísmo is on the UNESCO Heritage list. Try local specialities like cozido do Portugal, a stew which in the village of Furnas is cooked slowly in thermal springs.
---
For sun worshippers: Santorini, Greece
Flight time from UK: 3 hours
Why?
You can take direct flights to this paradise-like member of the Cyclades islands, but the best way to appreciate its beauty is to approach it by sea on a ferry from Athens. The island's dramatic crescent-shaped cliff – topped with sugar-cube houses and blue domes – is a stunner.
What's the appeal for sun worshippers?
The range of beaches here is legendary, spanning as it does black sand volcanic beaches like southerly Kamari and Perissa, the famous Red Beach of red and black pebbles near the ancient site of Akrotiri, the sheer white cliffs backing the White Beach in the cove next to it, and the spectacularly wild Cape Columbo.
What else to do, eat and drink
The clifftop village of Oia is the star of a million Instagram posts – equally lovely is Emporio, where the castle, churches and tavernas offer lots of spots overlooking the beaches of Perissa and Perivolos. Sit on their terraces and enjoy barbecued meats and lamb dishes such as souvlaki and gyros, or try more unusual fare like spanakopita (spinach pie).
---
For families: Tenerife, Canaries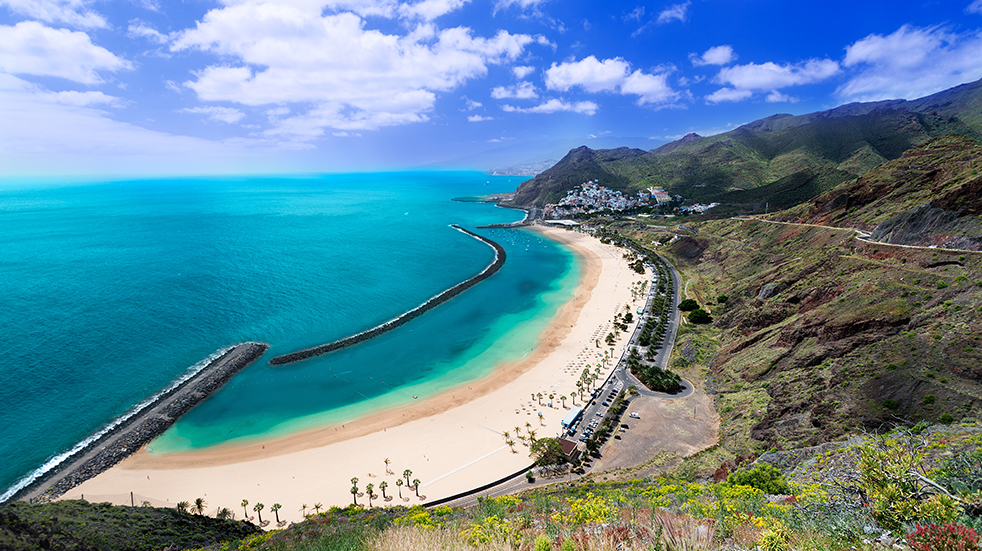 Flight time from UK: just over 4 hours
Why?
All the Canary Islands make great family holidays, but Tenerife has everything from water parks and aquariums to great beaches and a wealth of outdoor pursuits, including paragliding, mountain-biking, kayaking and whale-watching.
What's the appeal for kids and families?
A new wave of ecotourism means you don't have to stay in a resort unless you want to, although most of these give you access to a wide range of kids' activities. Away from your resort, the 3718m Mt Teide is the third-highest volcano in the world and offers hiking and a thrilling cable-car ride.
What else to do, eat and drink
The capital of the Canaries, Santa Cruz, makes a great day out – at the Mercado de Nuestra Señora de Africa, cafés serve up local fare, or try an energy-boosting barraquito, a concoction of coffee, evaporated milk, cinnamon and Licor 43. In the protected coastal conservation area of Puertito de Adeje, the marine life includes an abundance of exotic fish and sea mammals, including green turtles, octopuses and sea horses.
---
For culture and history: Malta
Flight time from UK: around 3 hours
Why?
A rich and fascinating history based on Arabic, Roman and British and relationships, coupled with mysterious megalithic complexes, makes Malta a treasure trove for fans of history and culture.
What's the appeal for culture and history fans?
Dotted throughout a landscape filled with natural colours, and a coastline dotted with beautiful bays and dramatic cliffs, are arresting sights like the Ta' Kenuna Tower, a semaphore tower built by the British, and the lovely fortified city of Mdina.
What else to do, eat and drink
Malta's capital Valetta is the icing on a very rich cake. Here, the excellent Archaeological Museum and St John's Co-Cathedral are must-sees. Across the harbour, in the Three Cities of Cospicua, Senglea and Birgu, the country's Second World War history is told via an impressive range of museums and experiences. Food here is varied so will suit all appetites: from salad platters featuring local cheeses and olives to local fish specialities including lampuki and heartier specialities like rabbit stew and mqaret, deep-fried pastries stuffed with spiced dates.
---
All-rounder: Costa del Sol
Flight time from UK: under 3 hours
Why?
It's not unusual to be able to swim in the sea in November along the Andalusian coast, and autumn days are still exotically warm. It's also a great time for some lovely walking in the Alpujarras.
What's the appeal?
Wooded valleys, pine forests and narrow gorges interspersed with pueblos blancos (white villages) make for great inland trekking. Malaga offers a fine clutch of attractions for culture vultures, and the city's beaches are perfect for autumn tanning.
What else to do, eat and drink
As you'd expect, the birthplace of Pablo Picasso has a top-notch museum dedicated to its most famous son, but also offers a permanent collection of Spanish art at the Carmen Thyssen Museum. Gardens are a feature in this lively city but, to really explore nature, head to the Poqueira Valley in the Alpujarras and hilltop towns like Frigiliana. Social life is outdoors, as is eating and drinking: try a glass of jerez with local tapas like gambas al ajillo (prawns fried in garlicky chilli oil) or berenjenas con miel de caña (deep-fried aubergines with molasses).
---