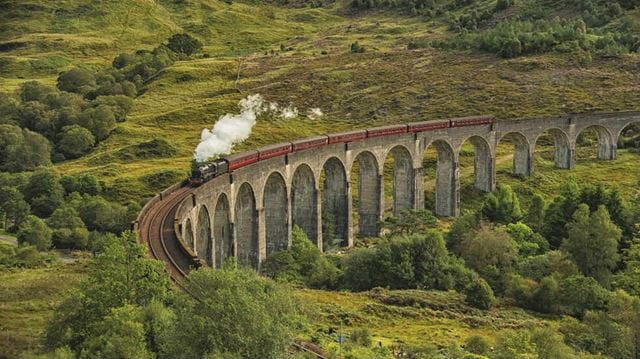 Full steam ahead: explore Britain's railways to see dramatic Highland views, taste the sea air and experience true vintage train travel.
The Jacobite: best for dramatic Highland scenery
Fort William, Highland PH33
The West Highland Line from Fort William to Mallaig has topped many a list of the world's great railway journeys, and steam power has been a feature of the line since 1984. Dramatic landscapes fill the window for every minute of the journey (tunnels apart), with miles of running beside freshwater and sea lochs and the islands of Muck, Eigg and Rum in the distance. In sun, the shallow waters can be a translucent emerald green.
The graceful curve of the pioneering concrete viaduct at Glenfinnan featured in Harry Potter films, and the House of Stuart's last throw of the dice is recalled by the Jacobite monument at the head of Loch Shiel. The journey takes around two hours from Fort William to Mallaig, and the train runs on weekdays between 22 April and 25 October, and on weekends from 4 May to 29 September. To catch the train from Fort William, take a connecting train or drive the A82 from Glasgow.
An adult day return ticket costs £37.75.
---
Vintage Trains: best for a mainline trip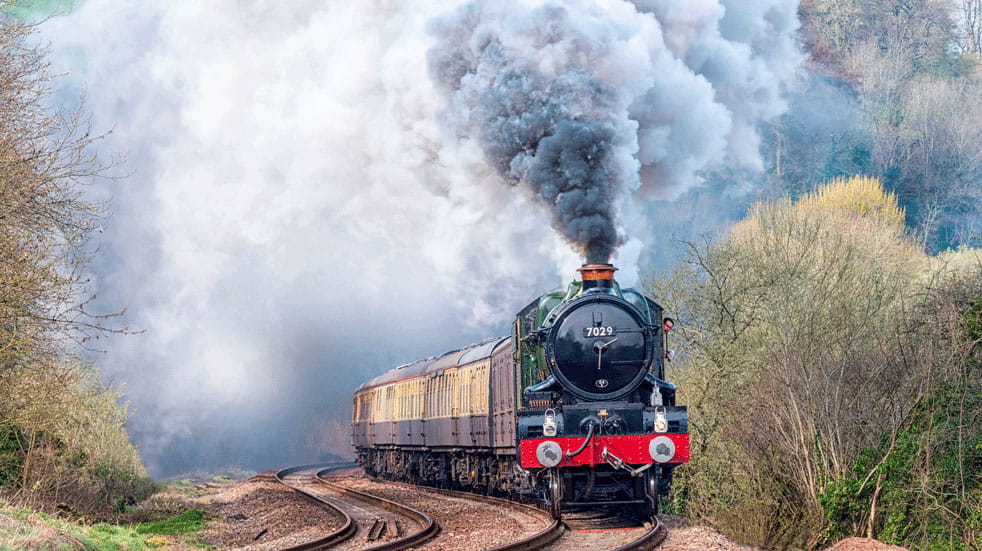 Tyseley, Birmingham, B11
Mainline steam trains have been a feature of the 'big railway' since 1971, often combined with one or more meals at a table of white napery, silver and glass – a pleasure that has all but disappeared from daily trains.
One of the main operators is Vintage Trains using a fleet of steam locomotives based at its Birmingham engineering works and depot. The programme of day excursions includes the Welsh Marches via Gloucester, the Severn Estuary and Hereford with a break to explore the cathedral city.
Meanwhile the scenic North Warwickshire line is set to become Britain's premier main line heritage railway following a unique agreement to develop the historic and architectural features of its stations. Another regular train is the evening three-and-a-half-hour run through the Worcestershire countryside to the county town with a four-course dinner en route. Excursions run all year round, and the journeys take from an hour and a quarter each way. Take a train to Birmingham, or leave the M6 at junction 6.
Adult fares start at £17.50, up to £250 or more for the special experiences.
---
Discover more great railway journeys
---
Ffestiniog and Welsh Highland railways: best for stunning Snowdonia landscapes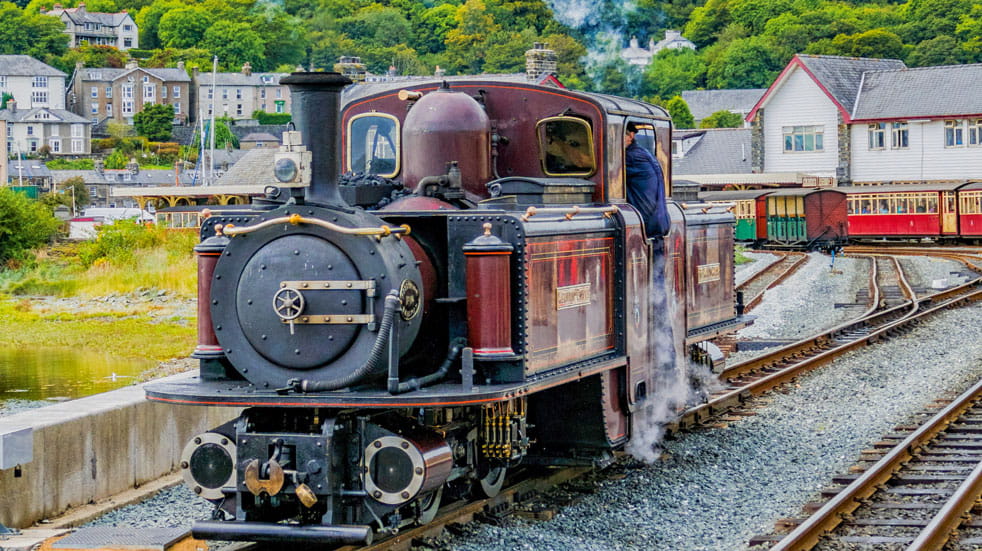 Porthmadog, Gwynedd, LL49
The two narrow-gauge railways of Ffestiniog and the Welsh Highland Railways join at seaside Porthmadog and provide unrivalled ways to enjoy the dramatic landscapes of Snowdonia – or reach the innumerable walks through its valleys and up Snowdon.
Railway engineers from all over the world visited Ffestiniog – the world's oldest narrow-gauge railway – in 1870 to assess the trials of a pioneering Fairlie articulated locomotive, and it's usually a Fairlie that hauls trains along the twisting climbs today. Journeys take an hour and a quarter each way and run daily until 3 November.
The even steeper gradients and sharp curves on the Welsh Highland line call for hefty Beyer Garratt articulated locomotives repatriated from South Africa. The trains run until 2 November and take just under two and a half hours hours each way; an adult return ticket costs £41.50. For both lines, you can catch the trains and alight at either Porthmadog or Blaenau Ffestiniog (for the Ffestiniog or Caernarfon (for the Welsh Highland line). Catch a train from Shrewsbury, or drive along the A5/A470/A487.
Adult return trips cost between £21.75 and £25.60.

---
North Norfolk Railway: best for fish and chips with a twist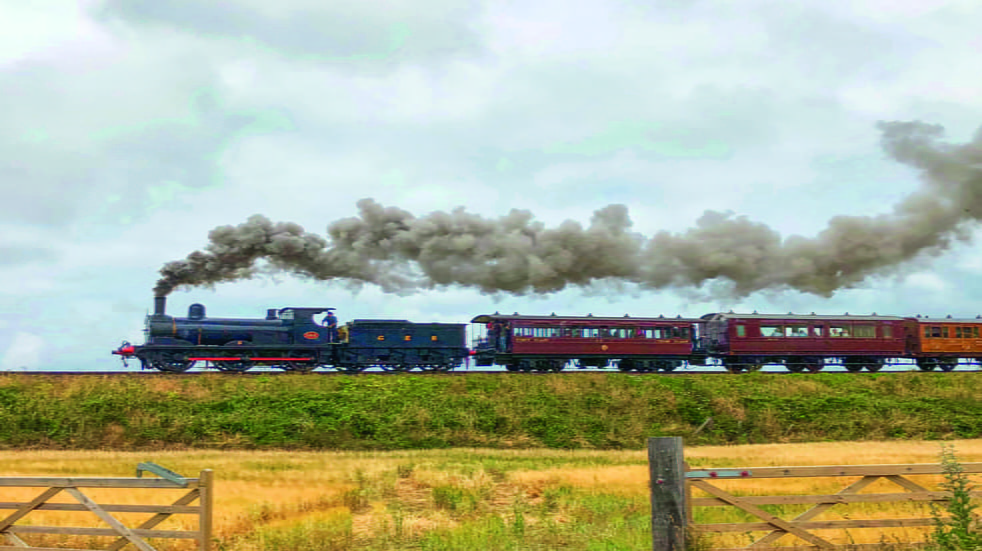 Sheringham, Norfolk, NR26
Marketed as the Poppy Line, the North Norfolk Railway was once part of a cross-country line that ambled across Norfolk. The railway climbs from its principal station at seaside Sheringham into the low hills that form part of Sheringham Park, landscaped by Humphry Repton who thought it had 'more natural beauty and local advantages' than any place he had ever seen.
A nature trail leads to Kelling Heath from Weybourne station, and the market town of Holt is a half-hour walk from its station. Among various culinary excursion trains is the appropriately named North Norfolk Fryer, which serves fish and chips followed by ice-cream. The journey takes 25 minutes each way; board and alight at Sheringham, Holt, which can be reached by mainline train or along the A148 from King's Lynn or A140 from Norwich. Trains run daily until 3 November.
A Hop-on Hop-off Day Rover ticket costs £13.50.
---
The Bluebell Railway: best for a colourful springtime journey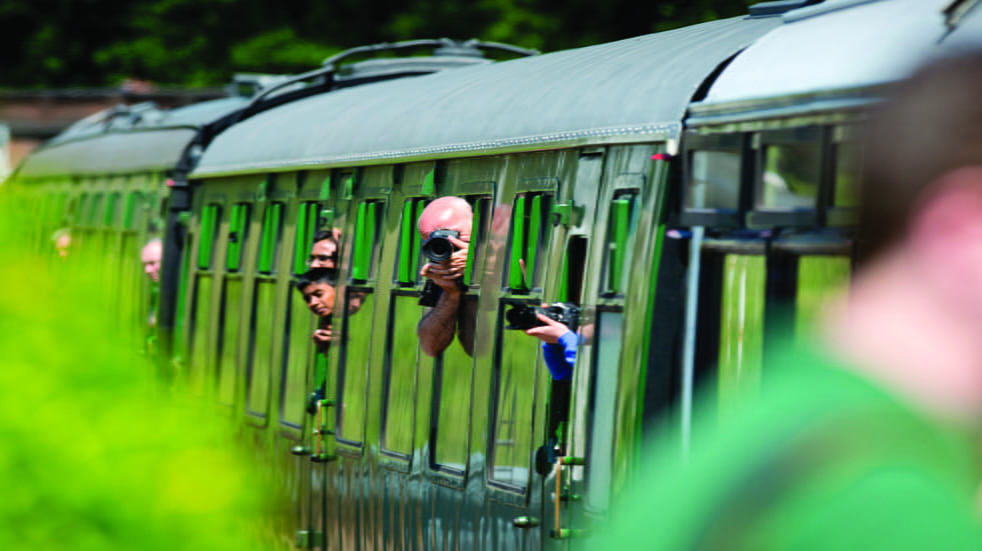 Sheffield Park, East Sussex, TN22
Britain's oldest preserved standard-gauge railway is deservedly well known for its historic carriage and enchanting stations, redolent of another age. The Bluebell Railway was re-opened for business as long ago as 1960 and runs 11 miles through the Sussex countryside. Each station is restored to a different period: Sheffield Park to the 1880s; the country junction of Horsted Keynes with its refreshment room to the 1920s; Kingscote to the 1950s.
As the railway's name suggests, the Sussex woodlands bordering the line are at their best in spring, a mass of deep blue among the trees. Among the railway's historic carriages are two 1920s Pullman cars, which form part of the Golden Arrow Pullman dining train on Saturday evening and for Sunday lunch. Among many other culinary treats are evening jazz trains with sausage and mash and real ale. The journey time is 40 minutes each way, with trips almost every day until 3 November.
An Adult return/advance purchase All Day Rover ticket costs £16. Family tickets cost from £28 (one adult and three children) and £44 (two adults and three children).
---
Dartmouth Steam Railway: best for sea views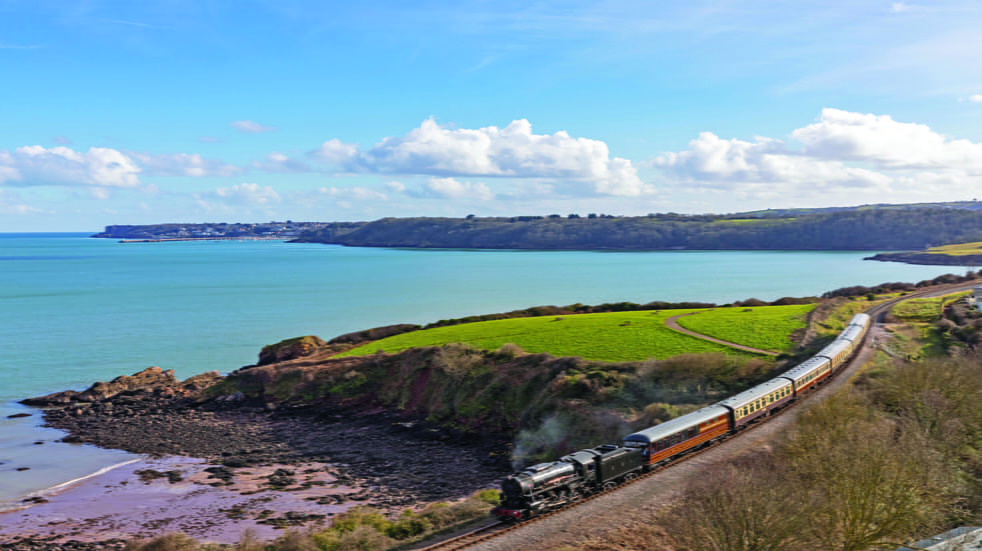 Paignton, Devon TQ4
Few of the many West Country branch lines offered such glorious views over the sea as the line taken by the once all-Pullman Torbay Express to Torquay, Paignton and Kingswear. Today the steam railway links Paignton and Kingswear, on the opposite side of the Dart Estuary from Dartmouth.
Leaving Paignton the Brunswick green locomotives and their train of chocolate and cream carriages climb into the hills with a panorama to the east over Torbay before turning inland at Broad Sands, then dropping down past the back of Agatha Christie's holiday home at Greenway (now a National Trust property) and finally descending to the Dart Estuary. Trains run daily until 2 November.
An adult return costs £18.25, and a family ticket (two adults and three children) is £39. Footplate Experiences are available from £89.
---
North Yorkshire Moors Railway: best for dramatic moorland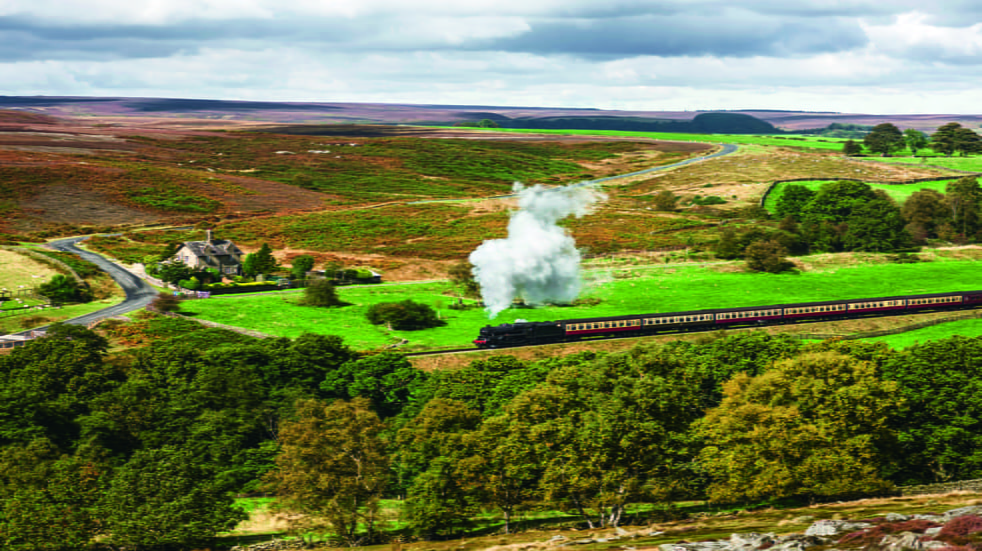 Pickering, North Yorkshire YO18
Running for much of its length through the North York Moors National Park, this 18-mile line from Pickering to Whitby carries more passengers than any other heritage railway. For railway buffs, the fierce gradients required to build the line through dramatic moorland landscapes translate into stentorian exhaust beats from the locomotives and a real test of skills on a wet rail. The stations have been restored with care and imagination – at Pickering, there's a well-designed exhibition about the line's history and construction by George Stephenson.
Besides forest and moorland walks from intermediate stations, Whitby is packed with history and architectural delights, and Pickering's 13th-century castle is close to the station. A programme of Pullman lunch, tea and dinner trains uses the railway's four 1960s-built Pullman cars.
The journey takes 65 minutes from Pickering to Grosmont, or 1.75 hours from Pickering to Whitby.
Adult return, Pickering to Whitby: from £27. Family ticket (two adults and two children) return: from £60. Footplate experience: £190.
Images © Getty, iStock and Alamy