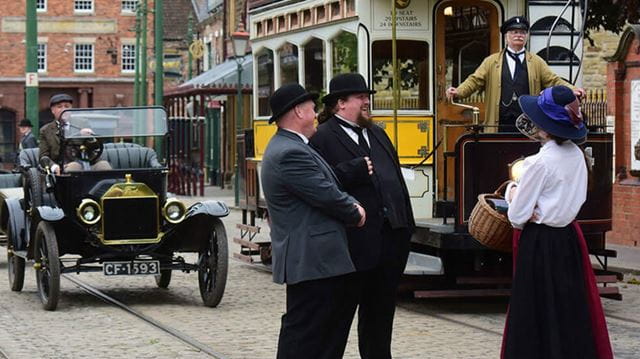 From Anglo-Saxon battles to Jane Austen's Bath, going back in time is an adventure for any age – discover the best UK days out.
1. Beamish Open Air Museum
Beamish, County Durham, DH9 0RG
Beamish Open Air Museum is a recreation of a small Georgian-era village in the north-east of England, where you can ride a steam train, visit a 1900s Co-op store, and discover what life was like on the Home Front during the Second World War. The buildings have been moved, brick-by-brick, from their original locations to the museum, and costumed guides are on hand to complete the experience. Your entrance tickets are valid for a year and include daytime special events too.
---
See more of your favourite attractions with our exclusive member days out.
---
2. Ironbridge Gorge Museums
The Ironbridge Gorge, Shropshire, TF7 5UD
In 1986 the Ironbridge Gorge was one of the first UK locations to be designated as a World Heritage Site – recognising the area's contribution to the birth of the Industrial Revolution in the 18th century. Now Ironbridge Gorge Museums is home to lots of brilliant exhibits and captivating interactive experiences. See what life was like more than 100 years ago at Blists Hill Victorian Town, how 'the other half' lived during the 18th & 19th centuries at the Darby Family homes, and step into a time capsule at former clay tobacco pipe factory Broseley.
---
3. Black Country Living Museum
Tipton Road, Dudley, DY1 4SQ
The Black Country also has a huge industrial heritage. Well-known for wrought iron and associated metal works, this famous corner of the West Midlands now boasts the brilliant Black Country Living Museum, which celebrates the innovation and manufacturing skills that blossomed here in the 1830s. Watch metal workers in in action, ride the local tram, and even have a traditional ale at the Bottle and Glass Inn.
---
4. Portsmouth Historic Dockyard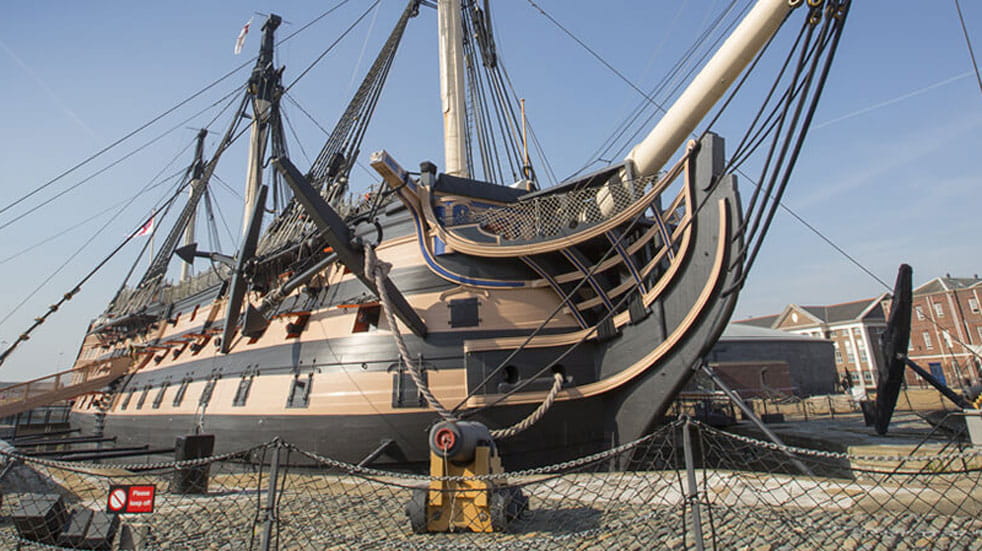 From Napoleonic warships to today's submarines, there are plenty of exciting vessels to explore at Portsmouth Historic Dockyard.
Portsmouth, Hampshire, PO1 3GW
A British navy has called Portsmouth home for 1200 years, so there's plenty of nautical history to get stuck into at the Portsmouth Historic Dockyard. Find out what it was like to live and work on board the HMS Warrior, the largest, fastest and most powerful warship of her day and the pride of Queen Victoria's fleet. Spend the day exploring real ships and submarines, and make sure to find time for the 45-minute harbour tour.
---
Discover the best free days out in the UK
---
5. Cosmeston Medieval Village
Lavernock Road, Penarth, Vale of Glamorgan, CF64 5UY
Cosmeston Medieval Village was originally discovered in 1978, and is now restored as a museum set in the year 1350. The fully furnished buildings and grounds are fascinating to wander round while you imagine how the community lived there nearly 600 years ago.
---
6. Weald and Down Living Museum
Singleton, Chichester, PO18 0EU
At Weald and Down Living Museum, rescued homes and buildings tell the stories of people who lived and worked in rural south-east England over 1,000 years. There are more than fifty to explore, from a replica of an Anglo-Saxon hall house to an Edwardian tin church. You can see lots of traditional demonstrations, too, including milling in the 17th century working watermill and cooking in the Tudor kitchen.
---
7. St Fagan's National Museum of History
Cardiff, CF5 6XB
Visit St Fagan's National Museum of History to explore the past of Wales through the lives of everyday people. Over 40 original buildings have been re-erected here, including houses from different eras, a farm, school and chapel. It's a truly living museum, where you'll find workshops with craftsmen demonstrating their traditional skills, produce on scale, native breeds of livestock in the fields and farmyards, and the Welsh language being used by craftsmen and interpreters.
---
8. Jane Austen Centre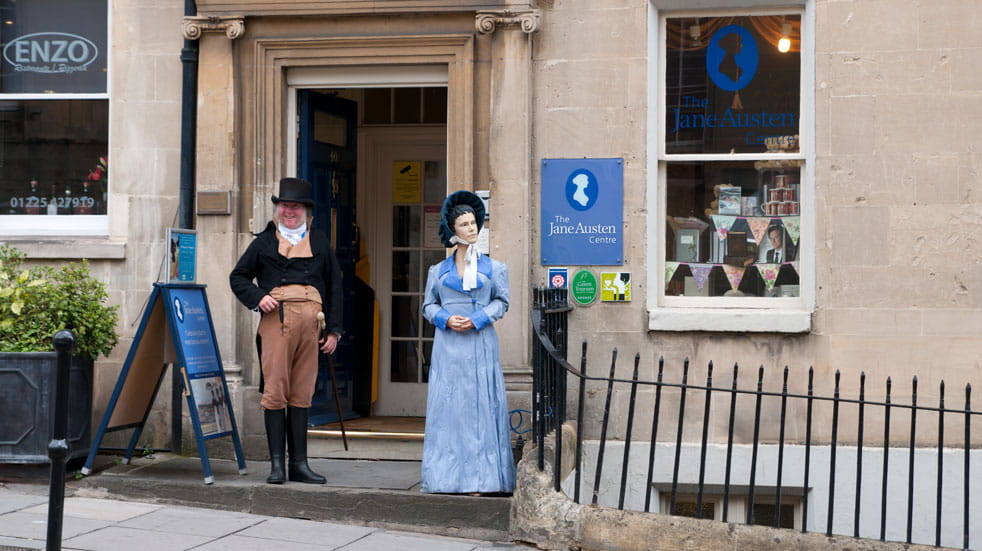 A waxwork of Jane herself now greets visitors at the Jane Austen Centre in the middle of Bath.
Bath, BA1 2NT
Book fans will adore the Jane Austen Centre in Bath. Situated in an original Georgian townhouse, it tells the story of Jane's time in Bath – her home from 1801 to 1806 – and its effect on her writing. As you may know, Bath is the backdrop to two of her novels – Northanger Abbey and Persuasion – even though Jane herself wasn't the biggest fan of the city. There are costumed 'character' guides and an opportunity for a game of 18th century dress-up, as well as a new tea room.
---
Discover amazing free days out across the UK this week

---
9. Morwellham
Morwellham Quay, Tavistock, Devon, PL19 8JL
Morwellham Working Village played a key part in Devon and Cornwall's mining heritage, bordering the beautiful River Tamar. It's a fun and informative day out, where you can ride the copper mine train and explore the mine, see traditional crafts like blacksmithing and pottery, and even try your hand at panning for gold and kneading your own bread.
---
10. Highland Folk Museum
Newtonmore, Cairngorm National Park, near Inverness
The Highland Folk Museum will give you flavour of how Highland people lived and worked from the 1700s up until the 1950s – with 30 furnished historical buildings, furnished appropriately to their time period. Some have been built from scratch on site and some have been moved here from other locations.
---
11. The Historic Dockyard Museum Chatham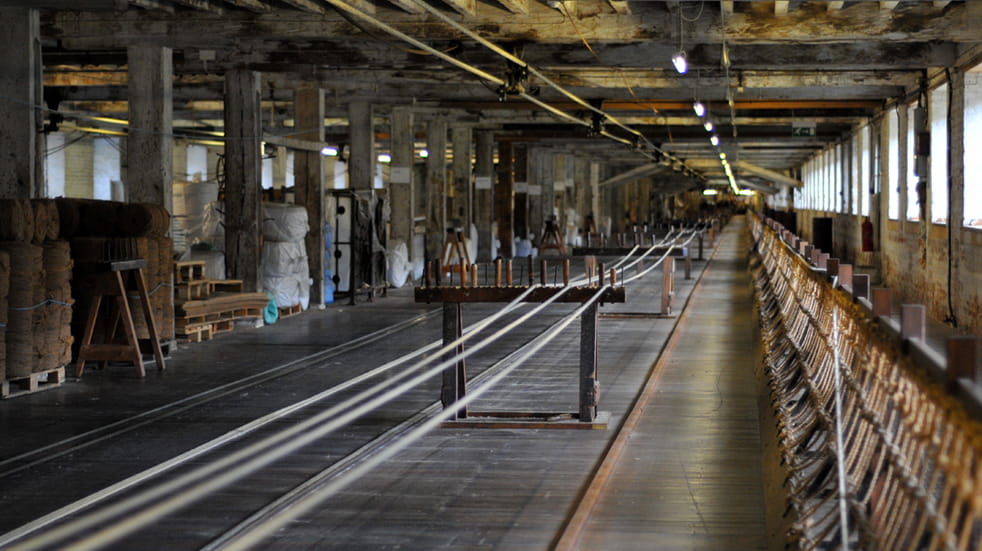 Explore the ropery at The Historic Dockyard Museum Chatham.
Chatham, Kent, ME4 4TZ
The Historic Dockyard Museum sits on part of the site of the former royal/naval dockyard at Chatham in Kent, and celebrates the site's massive maritime history from 400 years ago to this day. There you can find three historic warships, an RNLI historic lifeboat collection and the great 'Command of the Oceans' exhibition, which reveals the full dockyard story and how ships, including HMS Victory, were designed and built there. During the week you can also see master ropemakers in action, and one of several tours offers a walk-through of HMS Ocelot, the last Royal Navy warship built at Chatham.
---
12. Ulster American Folk Park
Omagh, BT78 5QU
Ulster American Folk Park brings to life the story of the emigrants who made the journey across the Atlantic to America hundreds of years ago. Its thatched cottages and log cabins are full of costumed characters for you to talk to and see work on traditional crafts. Then it's time to make the trip to America! Board a full-scale ship to see under what kind of conditions they sailed.
---
13. 1066 Battle of Hastings
1066 Battle of Hastings, Abbey and Battlefield, Battle, East Sussex, TN33 0AD
This is the biggest event in the English Heritage calendar and one you shouldn't miss. Over 600 warriors clash majestically with a thunder of hooves in a lifelike re-enactment of the Battle of Hastings; in 2019 it's taking place on Saturday 12th and Sunday 13th October. Learn about 11th century army life from the Norman and Saxon soldiers themselves in the camps, meet falconers and admire majestic birds of prey, try your hand at archery and watch superb displays of cavalry horsemanship. You can even get into the spirit of your Norman and Saxon ancestors by trying a horn of mead! Lots of souvenirs to take home too.
---
14. Oakham Treasures
Oakham Farm, Portbury Lane, Portbury, Bristol BS20 7SP
Oakham Treasures is an unusual and interesting collection of memorabilia from the last century. Made up of an historic grocery store, sweet shop, hardware store and more, older generations will experience an uplifting trip down memory lane whilst youngsters might find something entirely new. Want to see whether OXO or Coca Cola has changed over the years? Or find some brands like Smiths Crisps and Black Boy Coffee that are now long gone? Visit Oakham.